본문
Jeju's Best Activities & Adventures
Jeju Island is unique and interesting in more ways than one, and you're probably going to want to enjoy as much of it as possible. Looking for some excitement? We've rounded up some of the best activities for your next trip!
Review

0

Lookup

5,005

Share SNS

17
Jeju's Best Activities & Adventures

Jeju Island is unique and interesting in more ways than one, and you're probably going to want to enjoy as much of it as possible. For your photo and social media needs, Jeju's natural scenery is breathtaking and will make for some awesome once-in-a-lifetime photos.




Looking for some excitement? We have lots of seas and sky for some adrenaline-inducing wind and water sports. Or are you looking for something a little more chill and relaxing? You can go horseback riding, play a round of golf, or even do some forest bathing while you're here. We've rounded up some of the best activities for your next trip to Jeju right here!
Jeju Island's unique landscape makes it a very popular destination for wedding and engagement photos. Korean couples will fly down to Jeju to take advantage of the natural wonders that are here just for their photos, because you really can't find anything like it anywhere else in Korea. You can get great shots in any season, but spring and fall are the most popular for the mild weather and seasonal plants and flowers.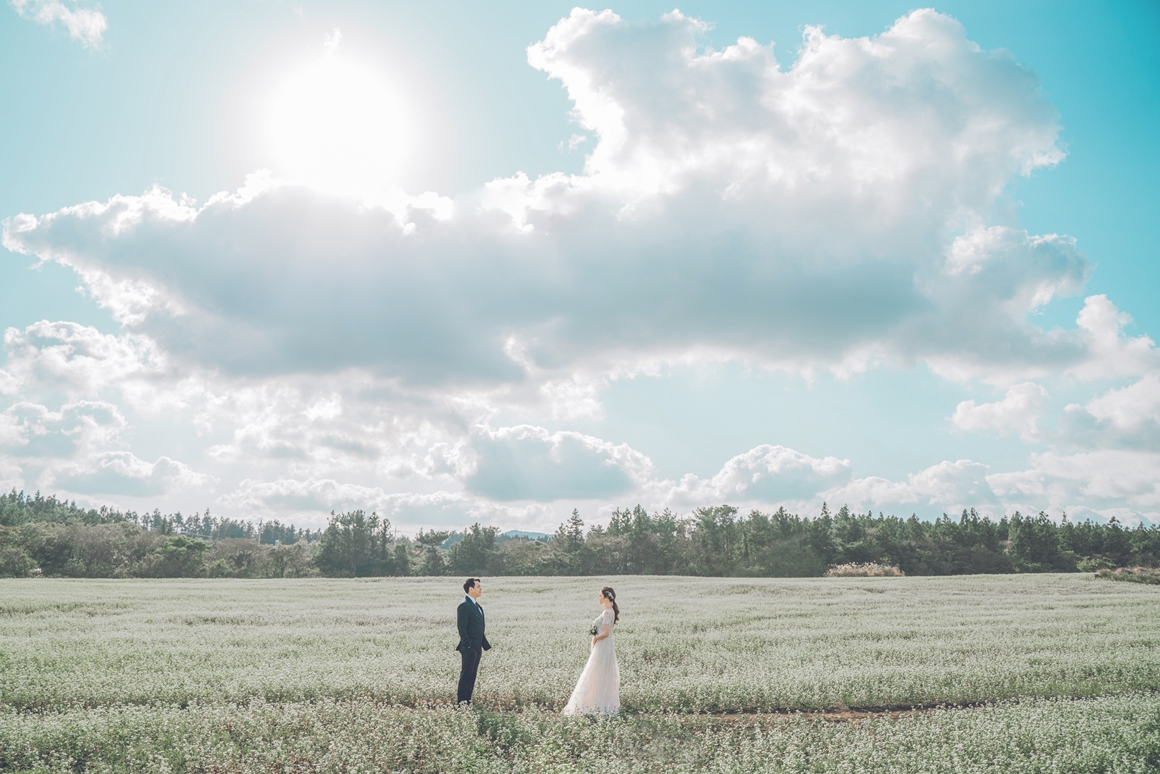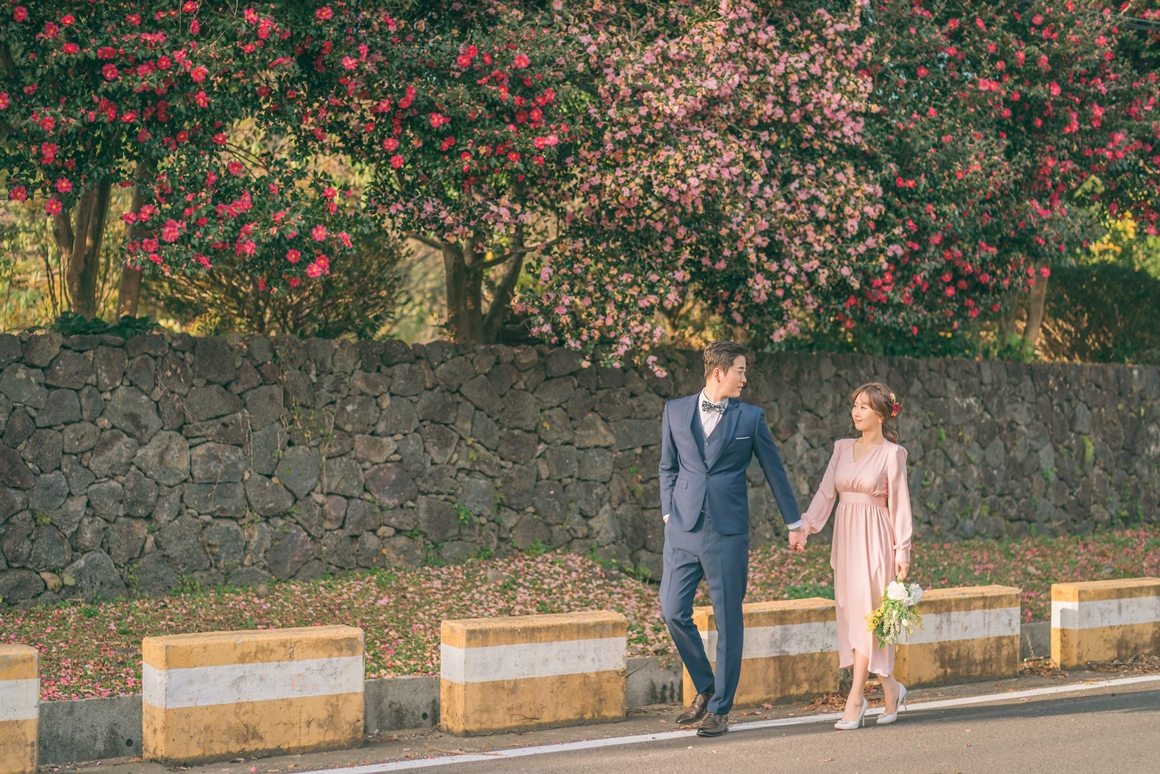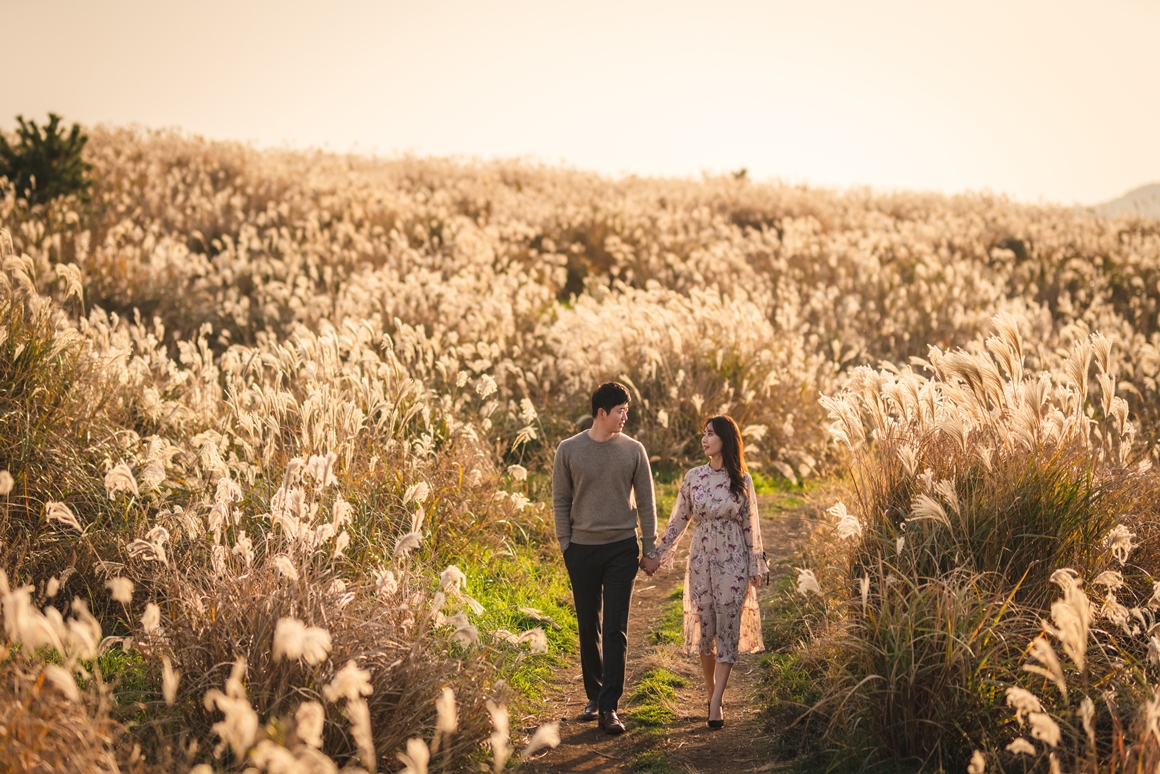 Jeju's bright yellow canola flowers in spring and vast fields of silver grass in autumn make for some stunning backdrops. Camellia flowers in the winter are breathtaking, as well. You can either hire a professional photographer, or if you want something more all-inclusive, some studios offer packages that include hair, makeup, a dress and suit, and even wedding hanbok, the traditional Korean attire.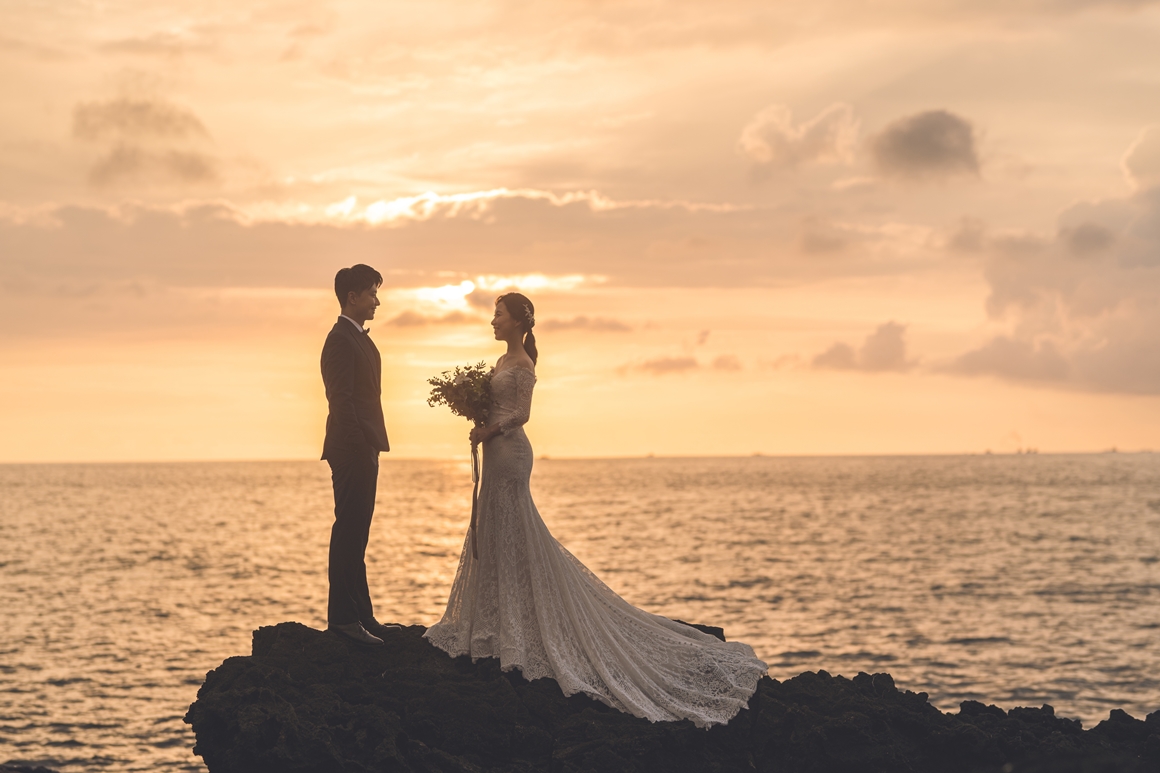 ONCE-IN-A-LIFETIME PHOTO SPOTS
Spring canola flowers and cherry blossoms, summer hydrangeas, autumn silver grass, and winter camellia flowers are representative of the seasons and make for some really beautiful photos. If you're looking for Jeju's iconic geology, the Yongmeori Coast is a sandstone bed that is millions of years old, and Jusangjeolli Cliff is made of hexagonal volcanic rock pillars that seem almost alien.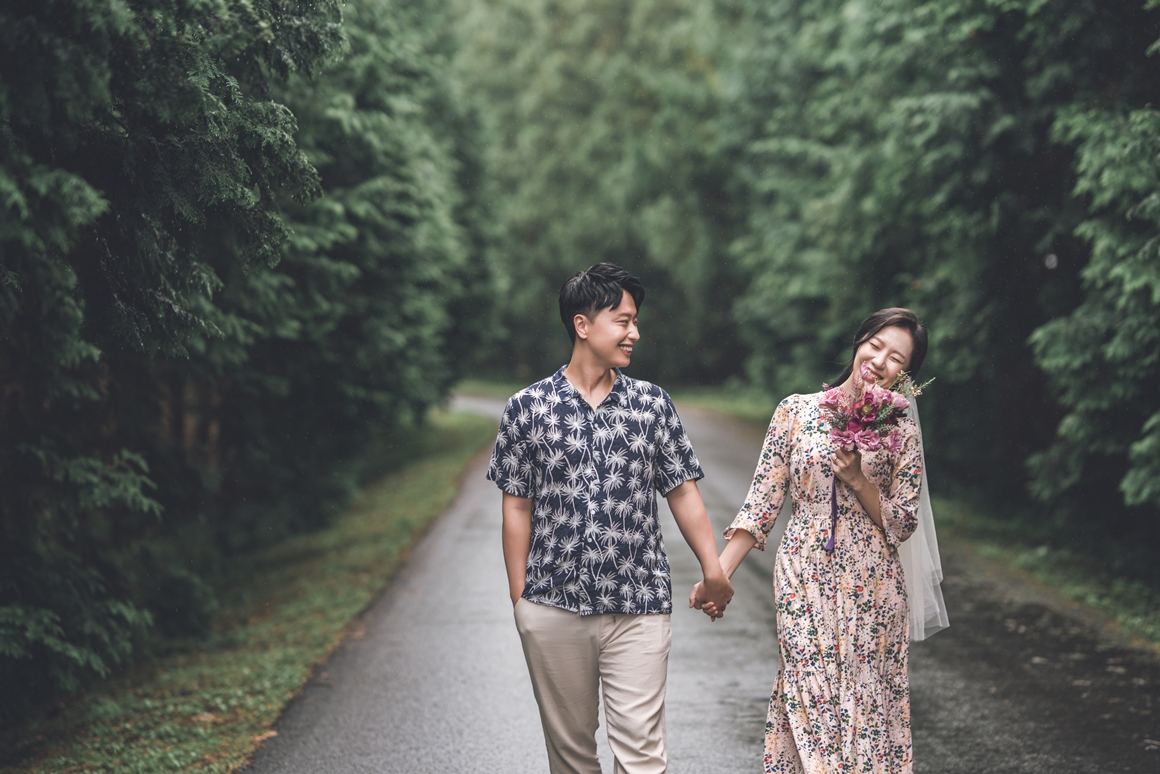 For an amazing photo with Seongsan Ilchulbong Peak as a backdrop, try Gwangchigi Beach, where you can frame the entire mountain along with lots of sea and sky. A couple of oreums, or parasitic cones, that are sure to tickle your photographing fancy are Abu Oreum Volcanic Cone, which was featured on the hit TV show "Lee Hyori's Bed and Breakfast", and Baekyaki Oreum Volcanic Cone, featuring a wide expanse of a hilly landscape.
For an unparalleled aerial view of Jeju Island, try paragliding! This wind sport is becoming an increasingly popular activity on the island, and with hundreds of oreums across the island, Jeju's landscape is perfect for it. Your paragliding location will depend on the weather, and the company will let you know the location according to your dates. Geumak Oreum Volcanic Cone is Jeju's first official paragliding hub and remains the most popular site to this day.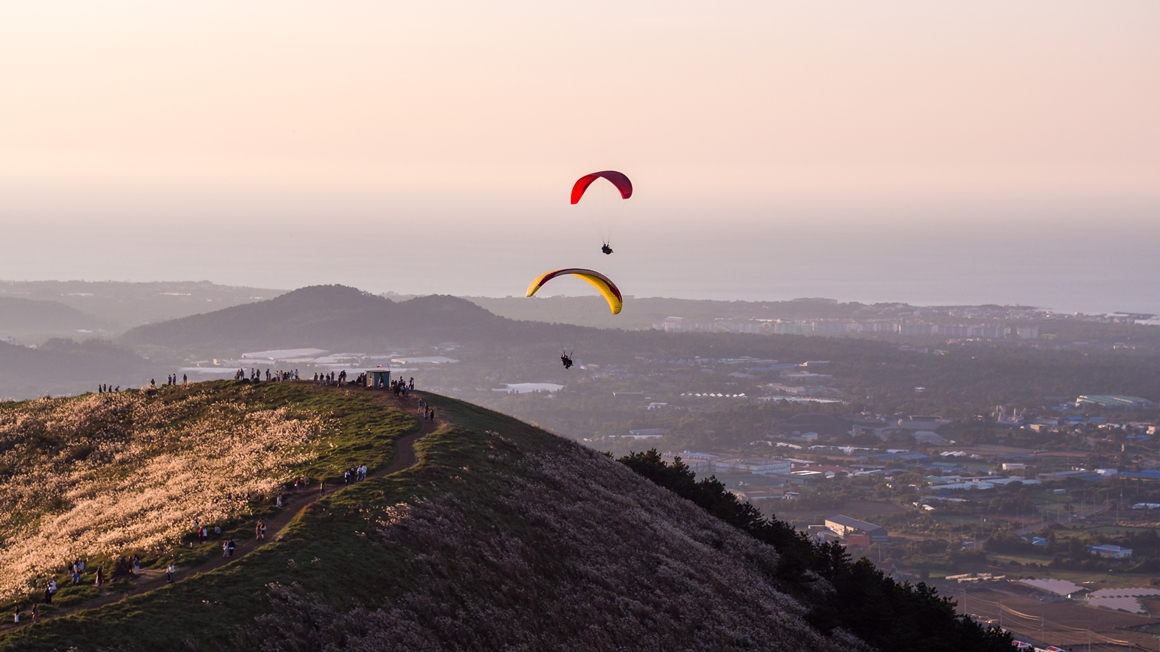 WATER RECREATIONAL ACTIVITIES
Jeju Island is a paradise for water sports. In the summer, a variety of leisure and sports activities are available for you to try, but even when the weather isn't warm, there are still things you can do in the sea. If you want to give surfing and paddle boarding a try, the Jeju SUP Surfing Club gives lessons in English and Russian, and they're open year-round.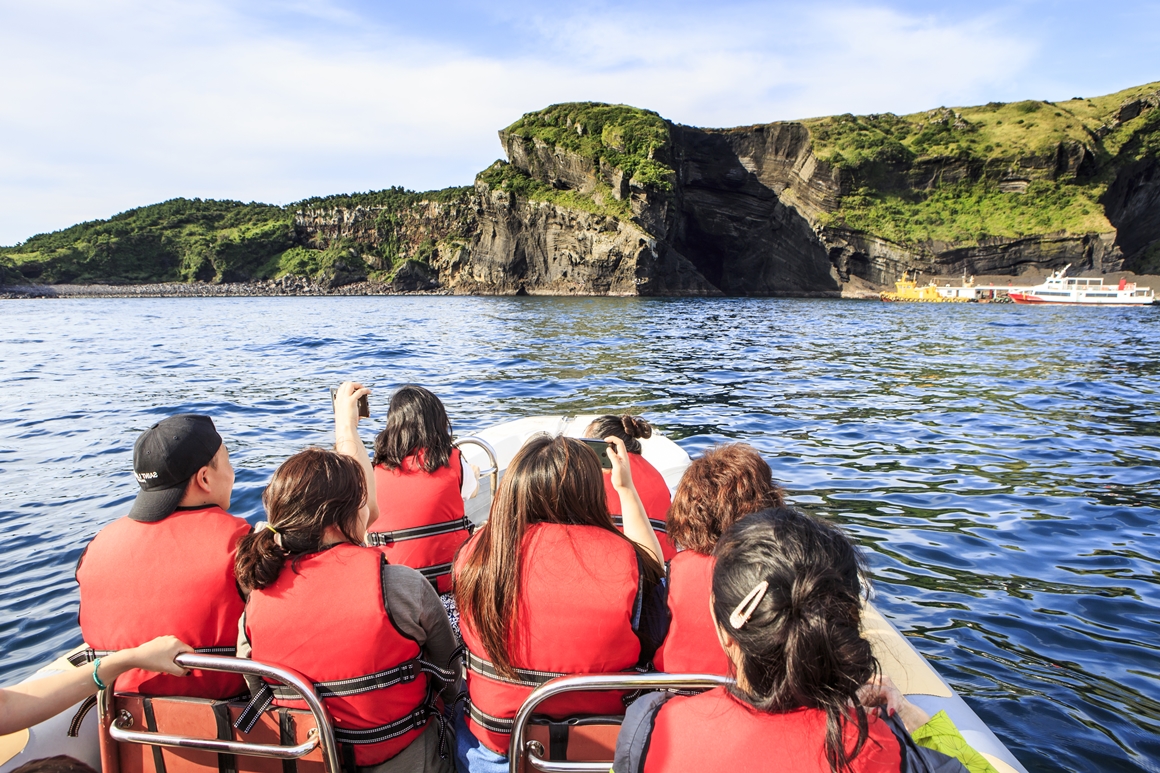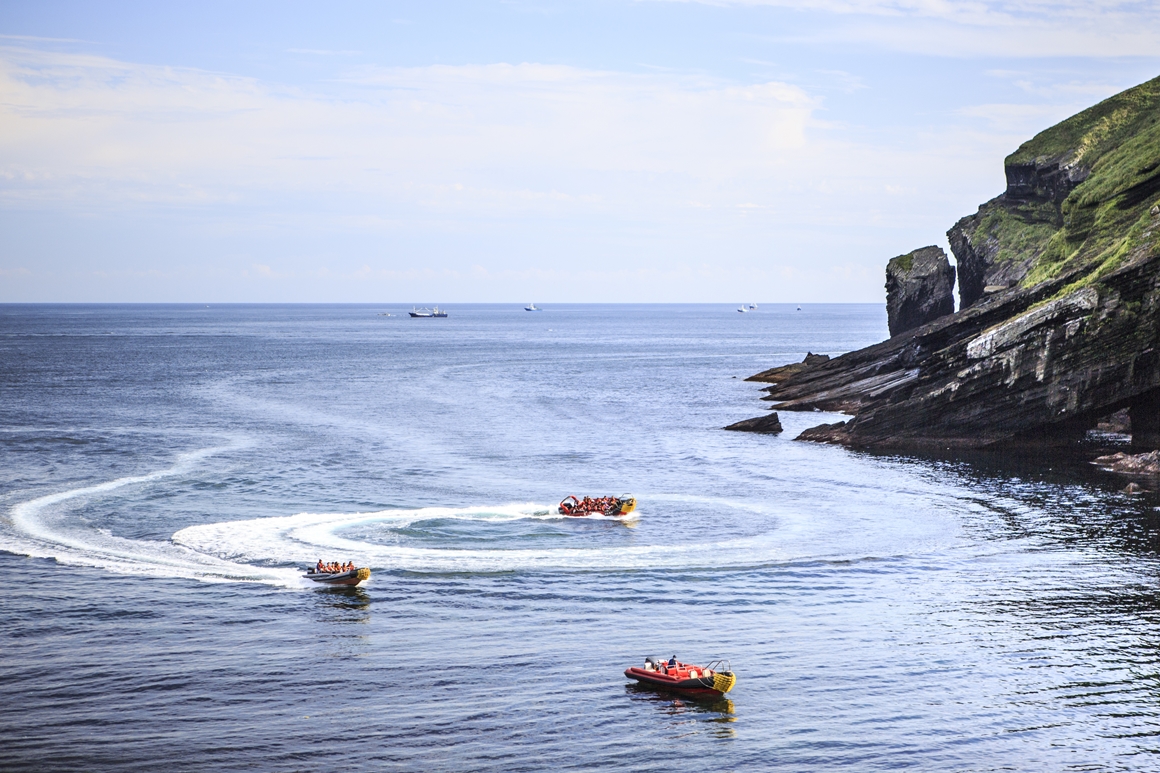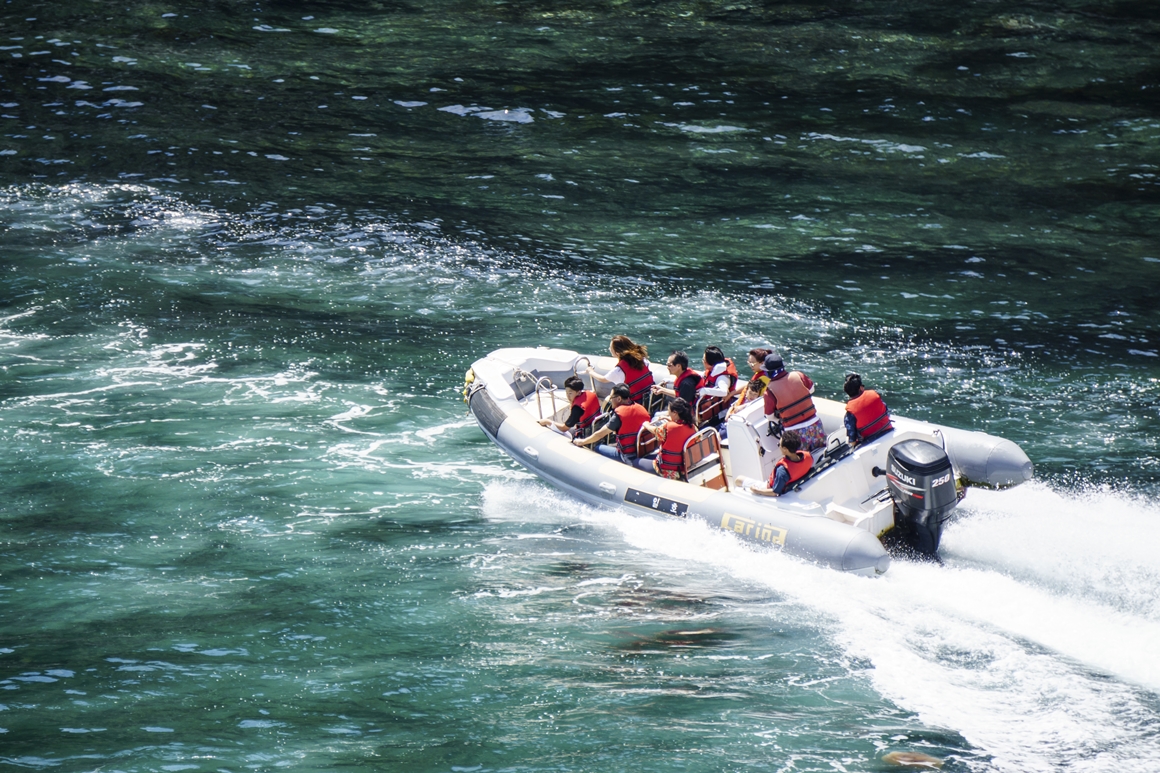 Some other great water activities you can find near major beaches are jet boats, parasailing, and transparent-bottomed kayaking. If you want something a little more luxurious, a yacht tour would be perfect for you. A yacht tour offers a ride around Jeju's coast with complimentary snacks and drinks. At Blue Ocean Yacht Tour, you can rent an entire yacht to yourself for a private tour around Chagwido Island, one of Jeju's most beautiful islets located on the western coast.
SCUBA DIVING & SNORKELING
Scuba diving and snorkeling enthusiasts from all over the nation come on a year-round basis to enjoy Jeju's waters and the treasures beneath it. A great place to dive is Hwanguji Coast near Oedolgae in the south. Encircled by rocks, it is a natural seawater pool that is so remarkable that it's said to have been the bathing pool of fairy goddesses.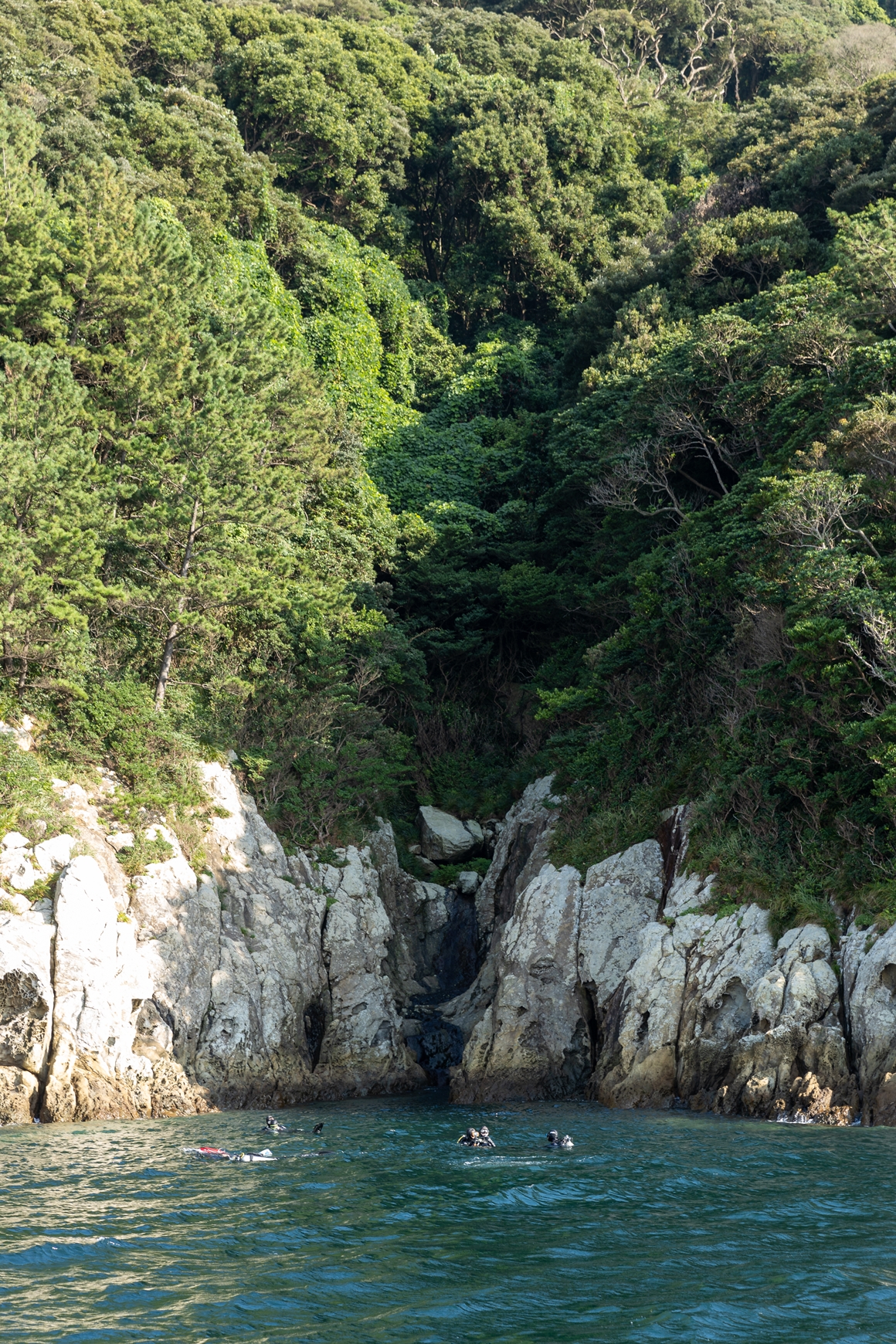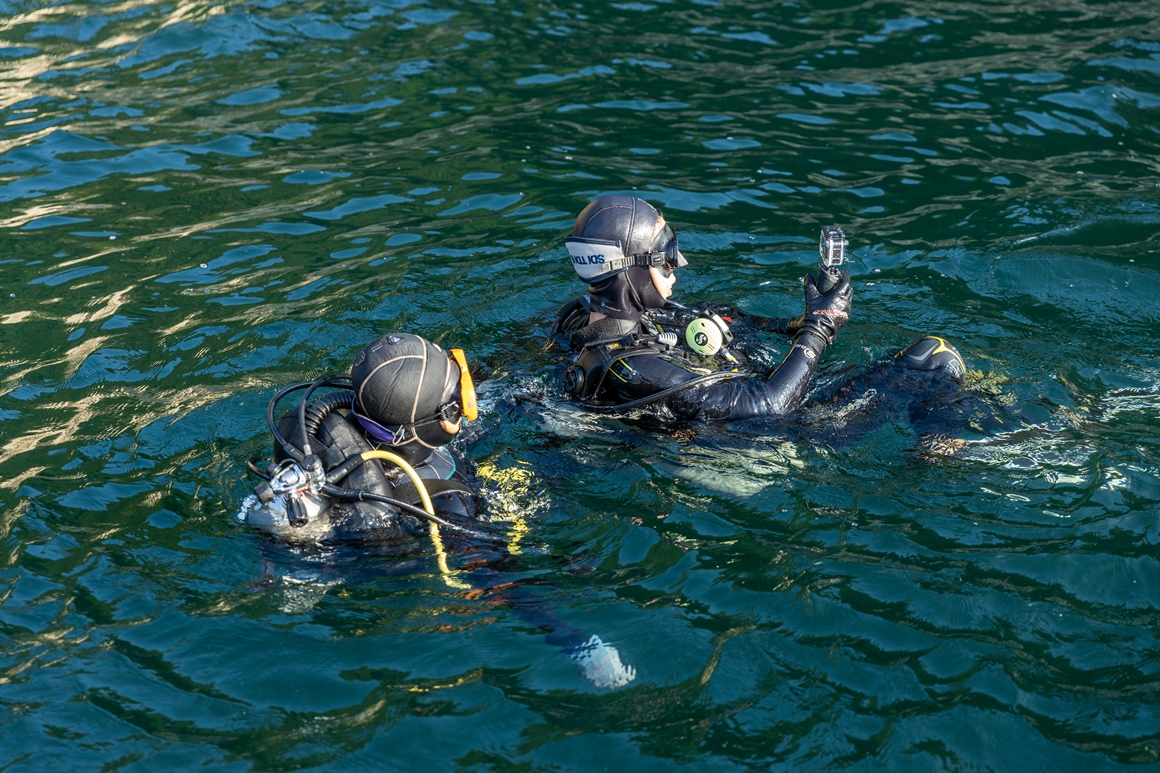 If you're in Jeju and you want to go scuba diving but you don't have any gear - no worries! You can reserve a dive with a scuba school that will provide everything you need. You can even choose to dive by boat, yacht, or even do a nighttime dive. If you are an experienced diver and you want to dive on your own, scuba schools offer rentals as well.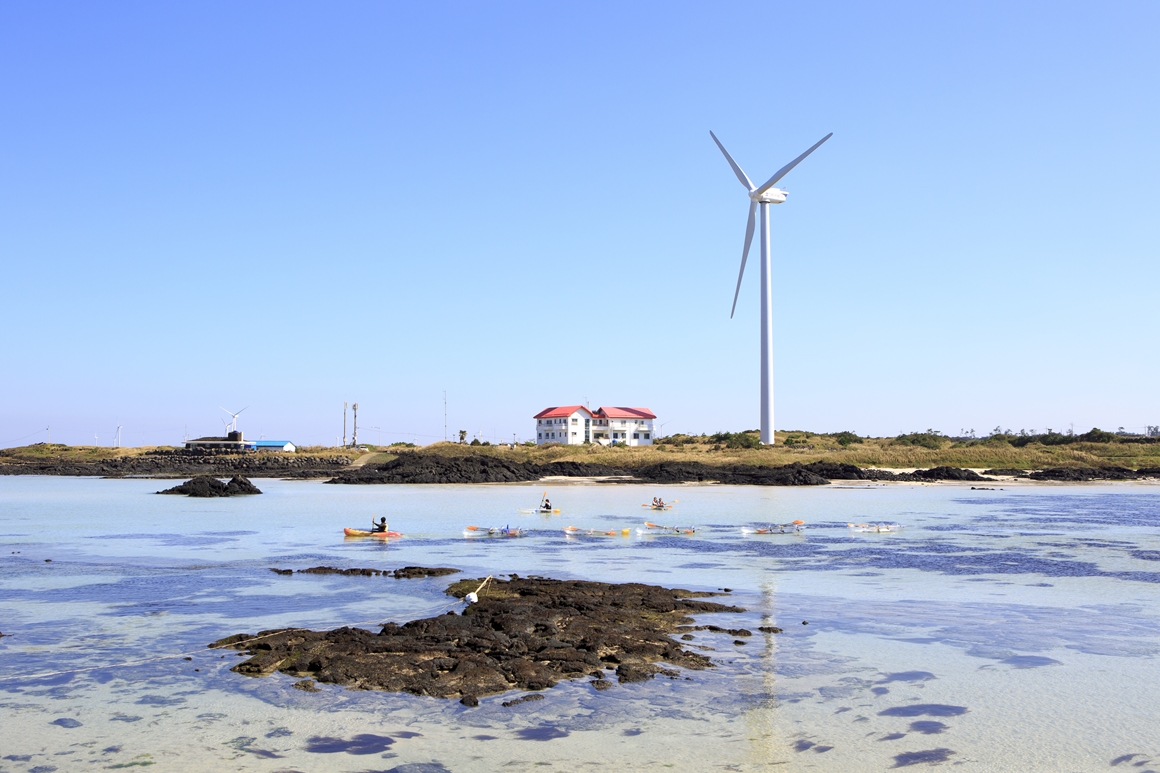 Discover Jeju has some great diving options, including a "hopping tour" where they'll take you onto an uninhabited islet with a secret beach. If you're looking to do some snorkeling, it is important to mention that it is illegal to snorkel in certain areas, so for your safety, please make sure that you stay within safe zones or travel with a licensed company.
Sometimes, if you're watching carefully enough, you'll see dolphins swimming and jumping along the coasts of Jeju. For a relatively affordable price, you can purchase a ride into the ocean on a dolphin tour boat. It's the simplest of options that gives you everything you're looking for without the frills.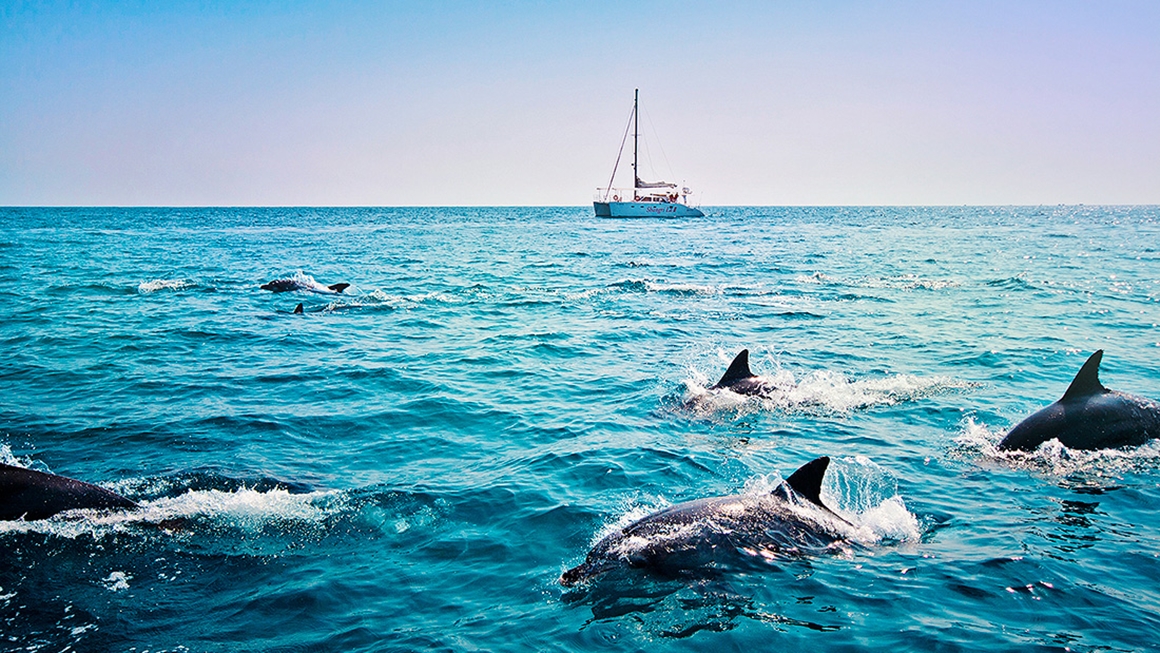 However, if you want to go dolphin watching in luxury, there are several yacht tours that are available both on the north and south side of the island. In the north, Gimnyeong Yacht Tour offers luxury yachts that come with complimentary snacks and beverages. If you're traveling with children, the friendly captain may even let your little ones hold the wheel! You can also try your hand at some fishing as a fun activity while you're lounging on the sea.
Whether you're a fishing enthusiast or simply want to enjoy a fun recreational activity, boat fishing has its perks. You can ride along with Jeju fishermen for an authentic fishing experience, which is sure to make memories that will last a lifetime. If you want to keep it simple and recreational, Discover Jeju has a square barge fishing experience that is suitable for beginners and children.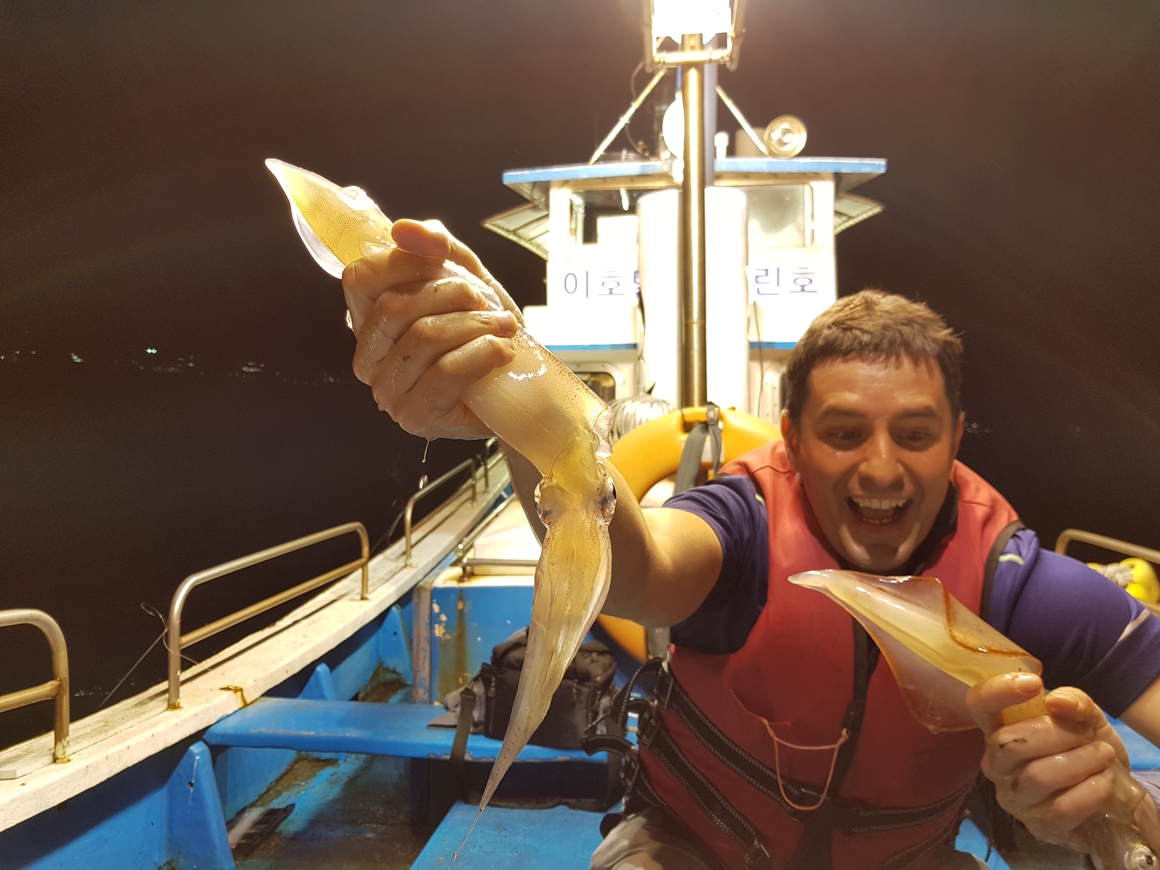 Forest bathing, a form of ecotherapy, is a very common and much loved recreational activity in Jeju. Forest bathing is the act of walking, or being, in a forest that has benefits to both mindfulness and physical well-being. Scientific studies have shown that phytoncides released from trees increase the activity of our body's Natural Killer Cells, which kill virally infected cells and also control early signs of cancer.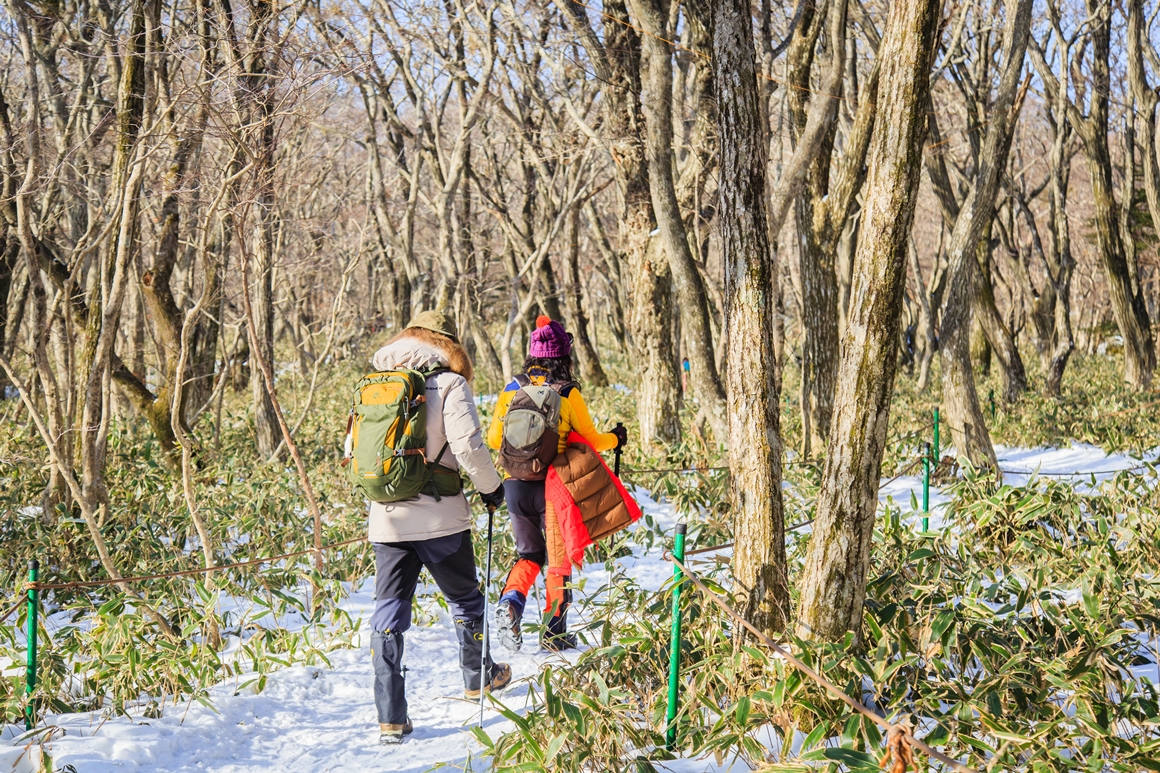 One way to partake in forest bathing is to walk amongst the trees on one of the numerous forest trails on the island. Bijarim Forest is a forest of Torreya trees that are aged between 500 and 800 years old. It is also home to the oldest Torreya in Jeju, the mother tree called the "Tree of One Thousand Years".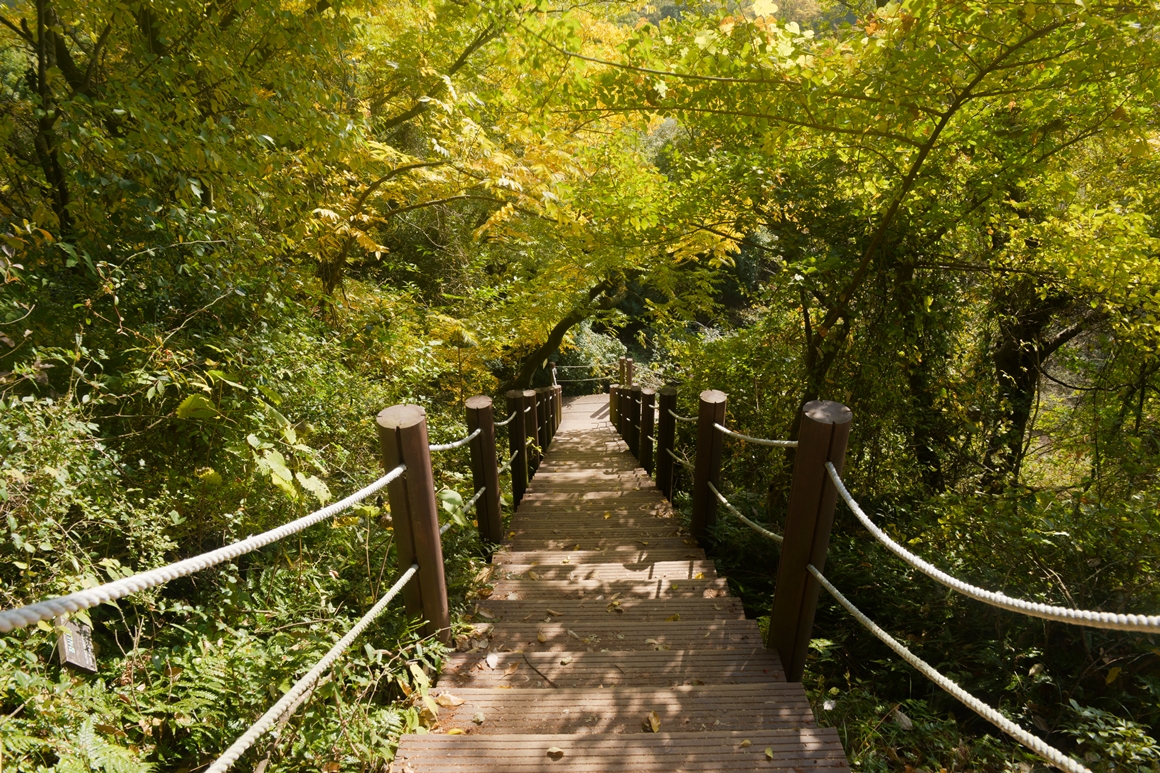 The Saryeoni Forest Path nearby is another wonderful trail that is considered one of the 31 hidden wonders of Jeju-si. The Gotjawal, a lush, green forest that is essential to the ecology of Jeju Island can be found on the east-west axis of the island on either side of Hallasan Mountain. It is called "the lungs of Jeju", and you can walk through it at Hwansang Forest Gotjawal Park on the west and Eco Land Theme Park on the east.
The vast grasslands of Jeju coupled with the lack of wild beasts helped horses here to thrive. Today, over half of Korea's horses are in Jeju, making the island the unofficial horse capital of the nation. If you want to try horseback riding for yourself, the world's first horse-themed park, Raon The Ma Park, offers rides for beginners up to advanced riders.The wide, unobstructed landscape here gives you breathtaking views of the ocean on one side and Hallasan Mountain on the other.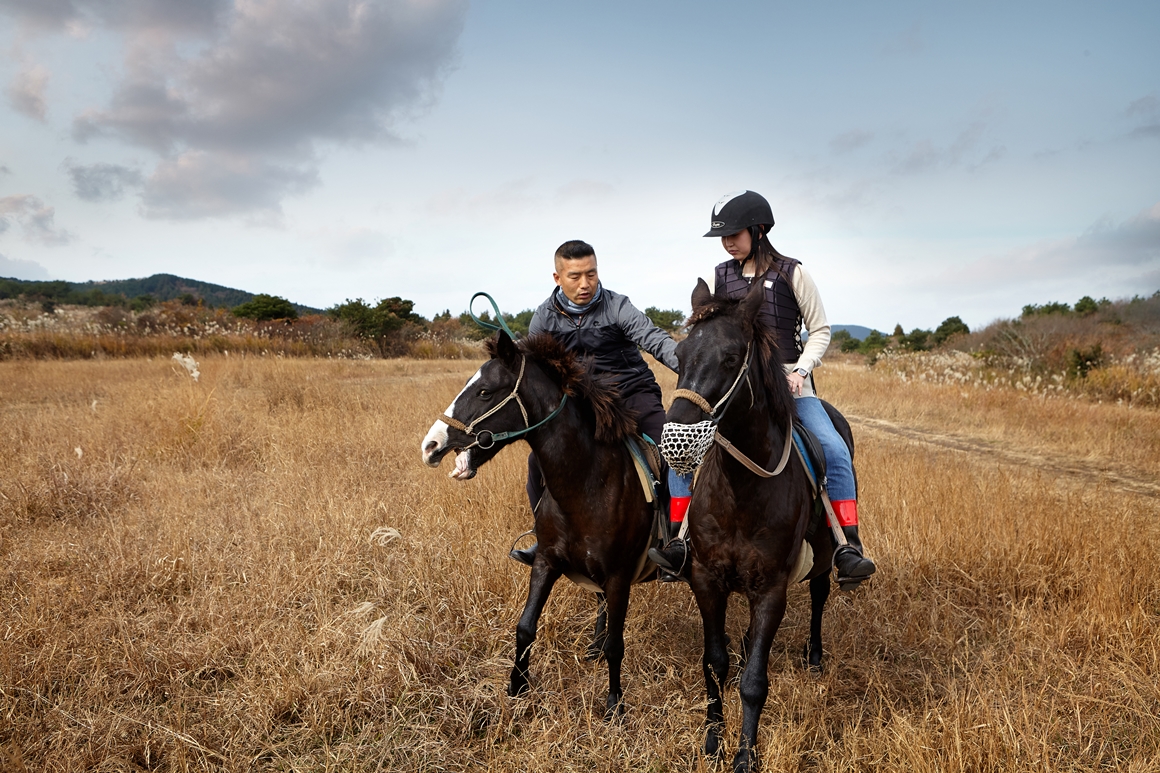 Golf's popularity in Korea has exploded since the late 90s, and during the boom, Jeju Island emerged as the winning province for golf lovers all over the nation. Some of South Korea's most renowned golf courses are in Jeju, including The Club at Nine Bridges, which, before the Covid-19 pandemic, was the home to THE CJ CUP, the only official PGA Tour event in Korea. Jeju is also home to Pinx Golf Club, which was the first Korean golf course to be nominated by the US publications Golf Digest and Golf World as one of the top 100 golf courses in the world.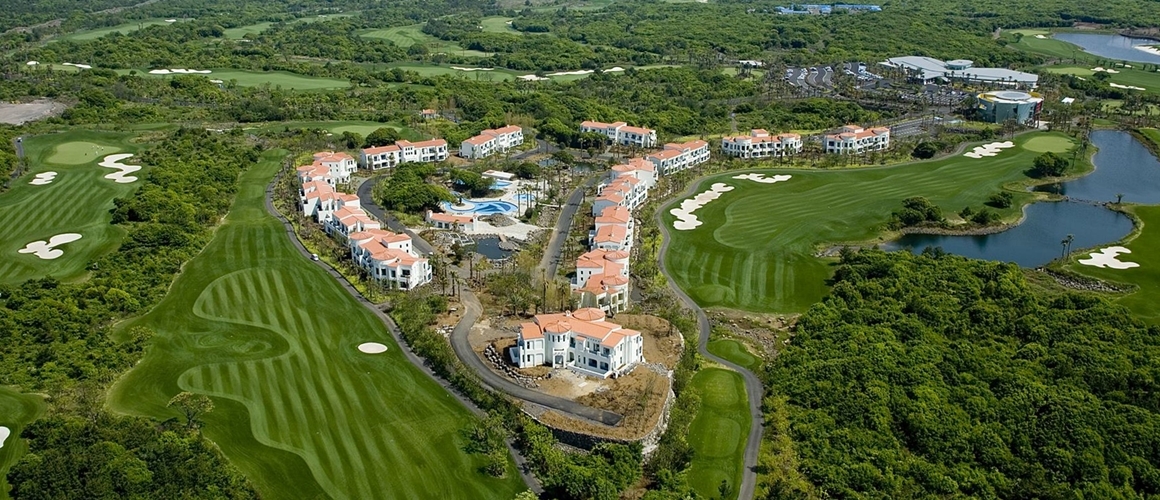 Other renowned golf clubs are Black Stone Golf & Resort, and Saint Four Country Club on the eastern side. Clubs on Jeju are generally open to the public and green fees cost about 100,000 to 250,000 won for non-members. If you need more information, feel free to call the Jeju Tourism Information Center at 064-740-6000.
Notice

※ The above information was written on 2022-01-08. Please confirm the information prior to your trip.
※ Unauthorized use of the content above (text, photos and videos) is prohibited and subject to copyright by the Jeju Tourism Organization.