본문
Jeju Weather & Seasonal Activities
Like the rest of South Korea, Jeju Island enjoys four seasons. In spring, it's a flower wonderland, autumn brings seas of swaying silver grass, and winters are perfect for viewing vast landscapes covered with pristine snow.
Review

0

Lookup

29,568

Share SNS

10
Jeju Island Weather & Seasonal Activities

Like the rest of South Korea, Jeju Island enjoys four-season weather, so there will always be something unique and fun to enjoy on your Jeju vacation.




Summer is the most popular season for its beaches and water recreational activities, but other seasons offer activities that are just as fun and memorable. When the weather warms up in spring, Jeju Island transforms into a flower wonderland, autumn brings seas of swaying silver grass and fluffy pink muhly, and winters are perfect for viewing vast landscapes covered with pristine snow.




Read on to discover everything you need to know about Jeju's climate and all the things you can enjoy in every season.
They island of Jeju has a climate that is temperate humid, which means that winters are mild and summers are hot and rainy. Spring and autumn are mild transitional seasons and are quite pleasant. Jeju Island gets a lot of rainfall throughout the year, making it generally humid. Large amounts of rain can come in any season, with monsoon season bringing an extended period of rainfall for about two weeks every summer.
Jeju is also known for strong winds, particularly on the coastal regions. Although temperatures are generally the same across the island, the southern side of Hallasan Mountain usually has slightly warmer temperatures than the north.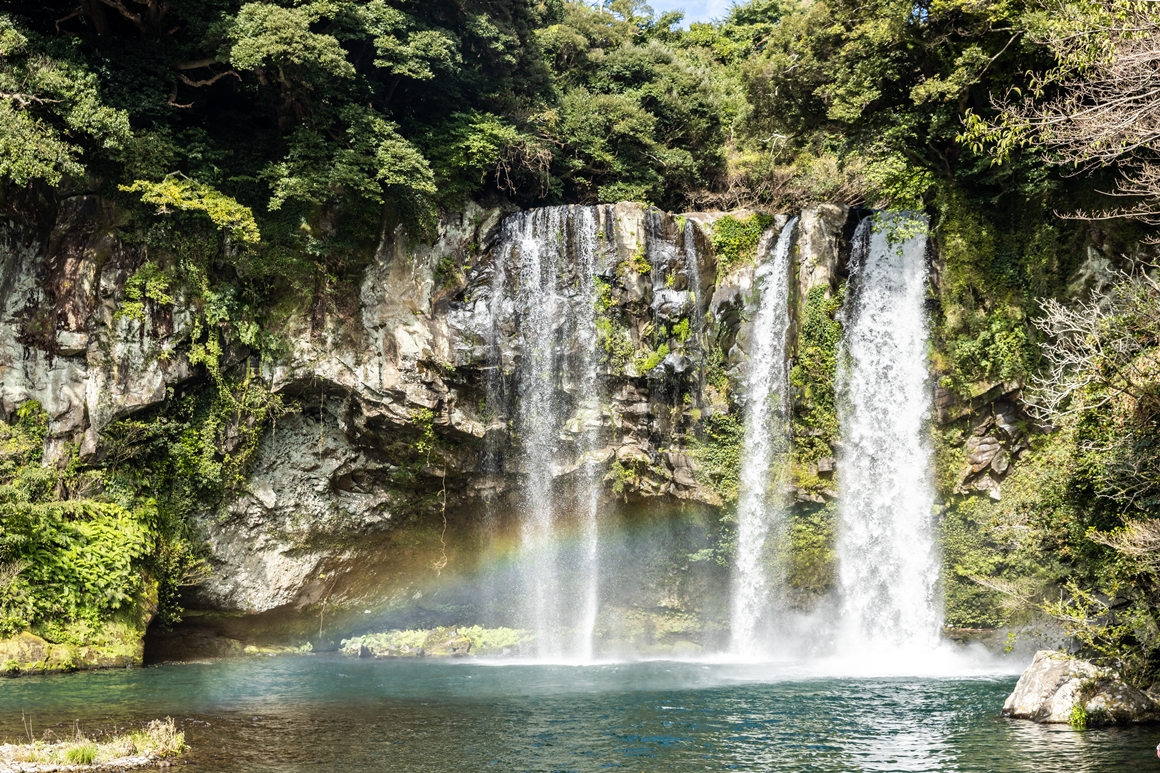 JEJU'S SPRING SEASON: BALMY AND BEAUTIFUL
Springtime (mid-March to June) in Jeju brings clear days and beautiful, mild temperatures. Although it can take a few weeks for temperatures to rise to a comfortable level, by mid-spring, winter jackets are finally being put away and stored. With the warmer weather comes an abundance of colorful, fragrant flowers and turns the island into a floral wonderland.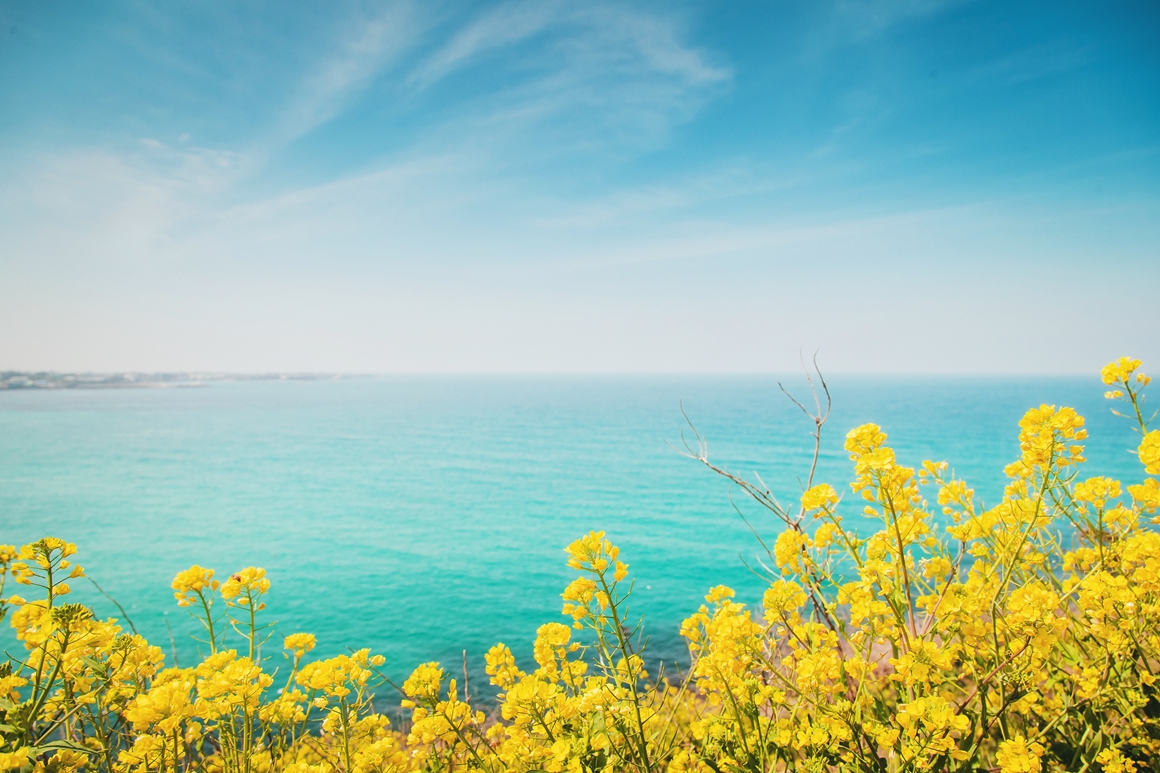 The two representative springtime flowers of Jeju are the canola and the cherry blossom. Bright yellow canola flowers grow in fields and grassy areas all across the island, so if you come in the spring, you'll pretty much see them anywhere you go. The Seogwipo Canola Flower International Walking Festival* is a "Big 3" festival of Jeju that is held every year specifically to enjoy these flowers.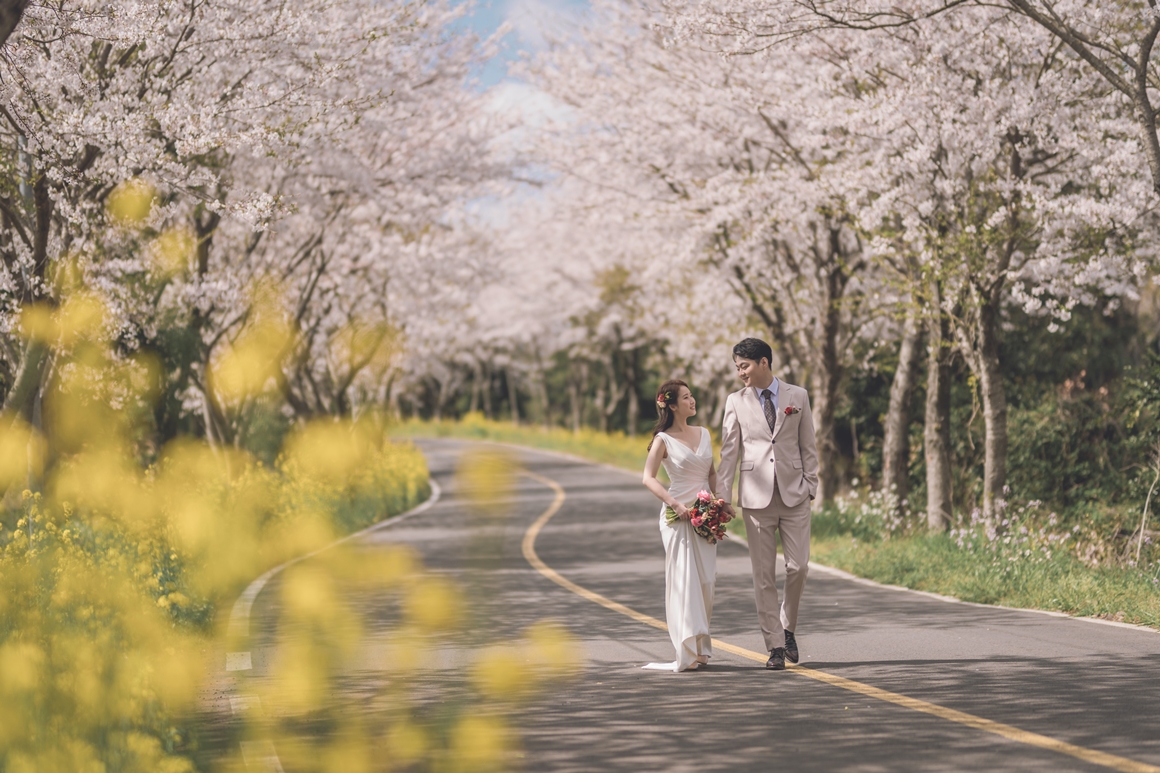 SPRING FLOWERS: CHERRY BLOSSOMS
The Jeju Cherry is an indigenous tree to Jeju and has been designated as natural monument No. 156. Cherry blossoms are famous for being an ethereal flower that is short-lived, and they can be found in abundance in Jeju. Cherry blossom festivals* are held in Jangjeon-ri and Jeonnong-ro on the north side of the island, and if you're on the south side, you can check them out in the Wimi-ri area of Namwon-eup or at most flower parks on the island.
Make sure to drive down Noksan-ro when the blossoms are in bloom for a breathtaking sight of yellow canola and pink cherry blossoms blooming together along a country road.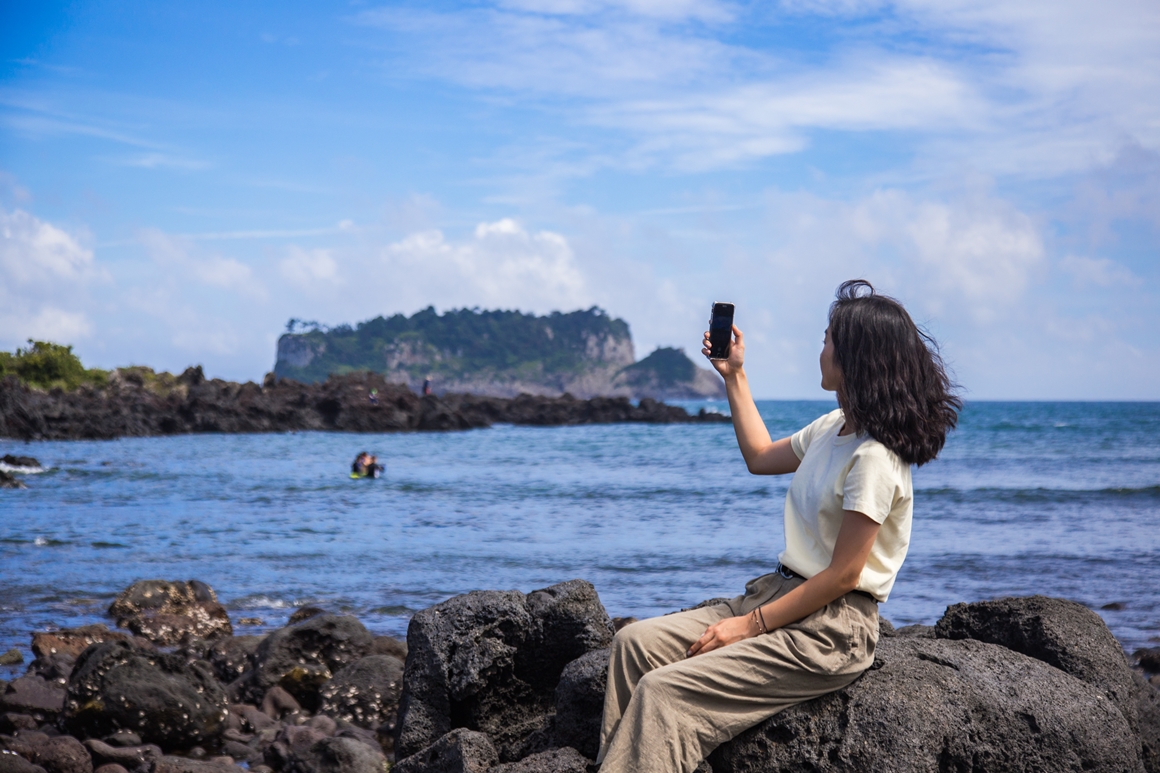 JEJU'S SUMMER SEASON: BRIGHT SUNSHINEY DAYS
Jeju's summer (July, August) is hot and humid, and minus the couple weeks of monsoon rains and the occasional typhoon, summer days are bright and full of sunshine. The hot and humid climate makes the sea and springs especially enticing, and thankfully, Jeju has plenty of both. Jeju Island boasts some of the most beautiful beaches in the nation, and you can find one within a reasonable distance wherever you are on the island.
Jeju Island's beaches are so famous and popular, that it's safe to say that many tourists who come to the island during the summer come mainly for the beaches. Beautiful beaches are scattered along the coast all around the island, and each comes with different characteristics that will appeal to a different type of tourist.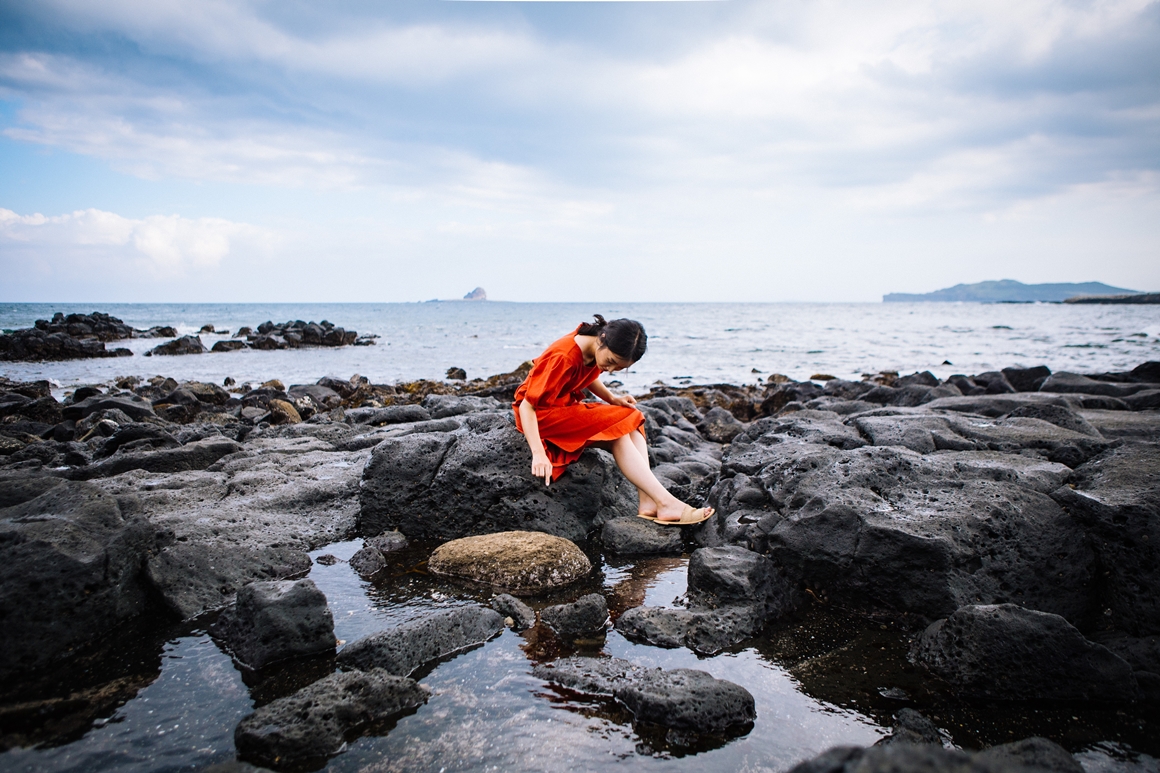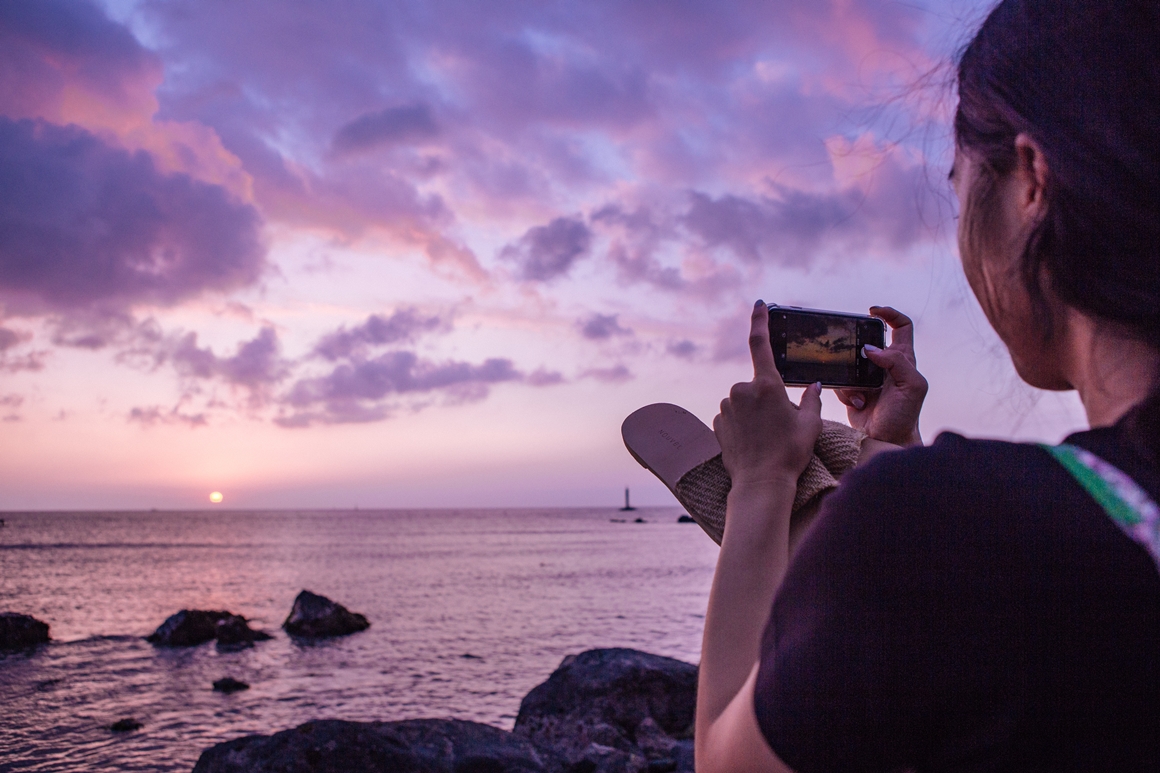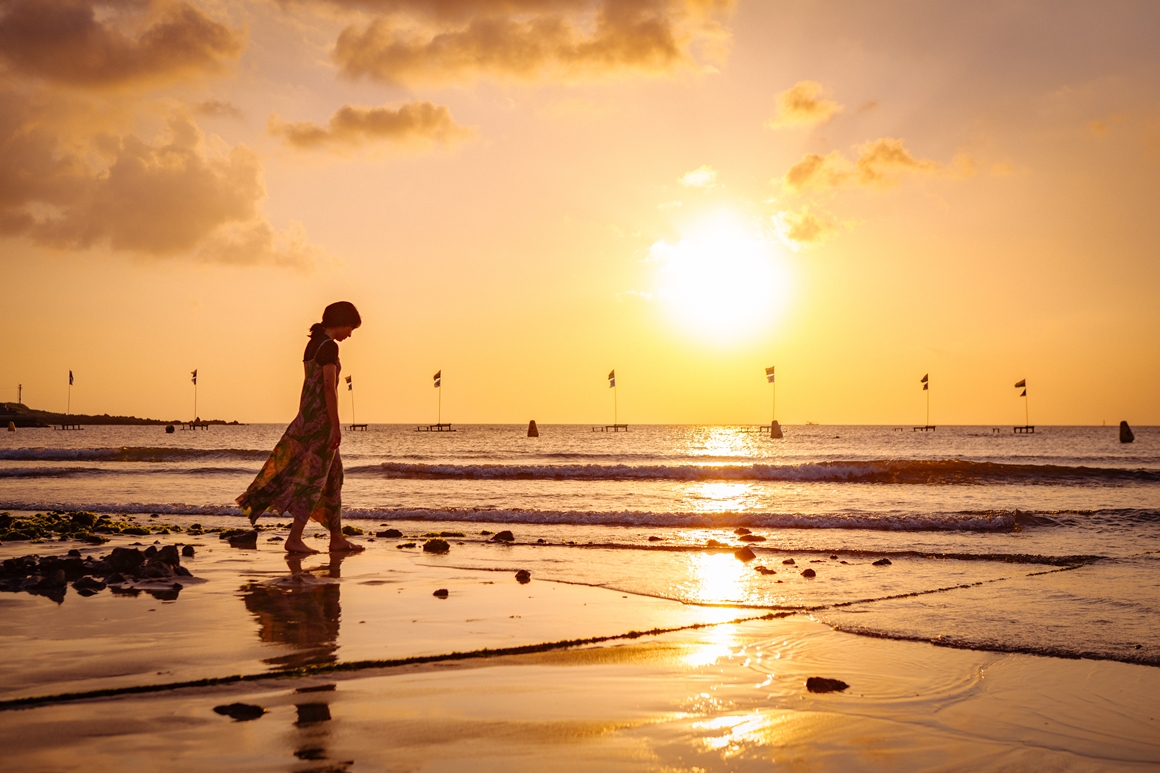 Beaches like Geumneung and Hyeopjae are popular amongst families with small children because of the shallow and calm waters. Surfing enthusiasts like to go to Jungmun Saekdal Beach for its powerful waves, while coffee lovers choose to go to Woljeong-ri Beach, as it's lined with dozens of cafes that overlook the clear, turquoise waters. If you're staying in the city and don't want to travel too far, there's even a beach for you, the Iho Tewoo Beach.
RECREATIONAL WATER ACTIVITIES
Besides swimming or lounging on the beach, there is a myriad of other ways to enjoy Jeju's ocean waters.
Snorkeling and scuba diving are popular summer pastimes, but if you're not into swimming and want to stay above waters, there's something for you, too. You can rent paddleboards or clear bottom kayaks, or if you want a more luxurious experience, there are yacht tours you can take around the island.
You can also go dolphin watching by boat, or if you want to keep it personal, just rent a whole yacht for yourself.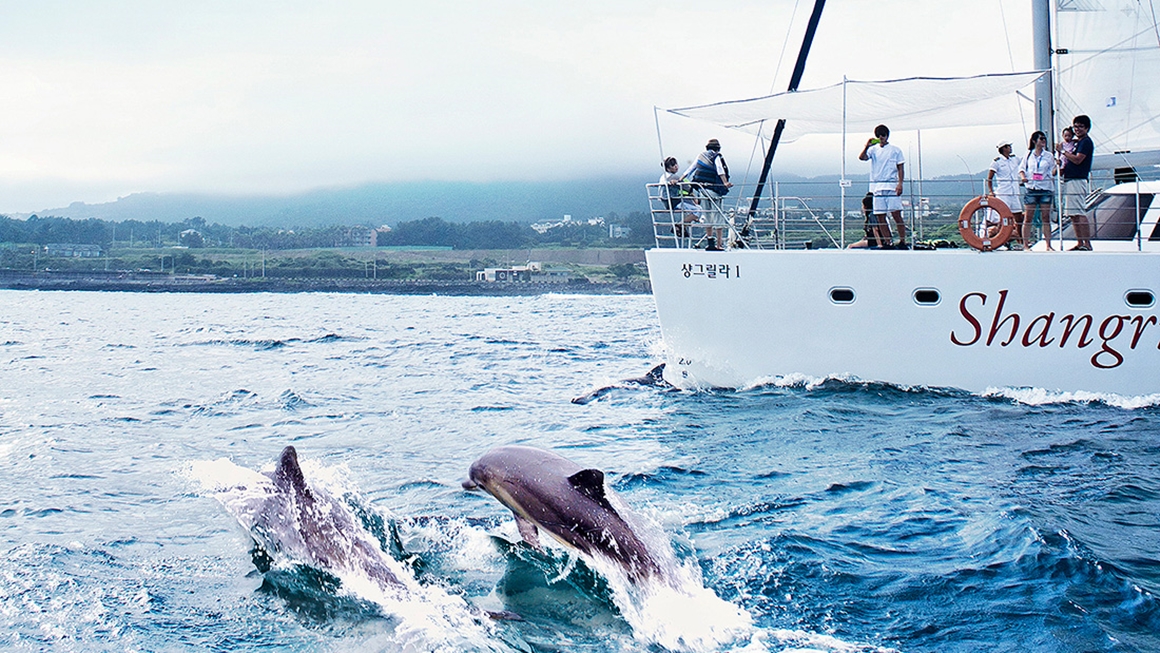 JEJU'S AUTUMN SEASON: WHIMSICAL AND ROMANTIC
Autumn (September to November) in Jeju is quite beautiful and perfect for romantics. As hot summer days cool down, the temperature gets wonderfully pleasant, and you can enjoy mild days still bright with sunshine.
The fall is the perfect season to visit oreum, the iconic volcanic cones of Jeju Island, as many are covered in fields of swaying silver grass. Pink muhly is another grass that grows in the fall, and the fluffy pink plant has become a popular photo backdrop.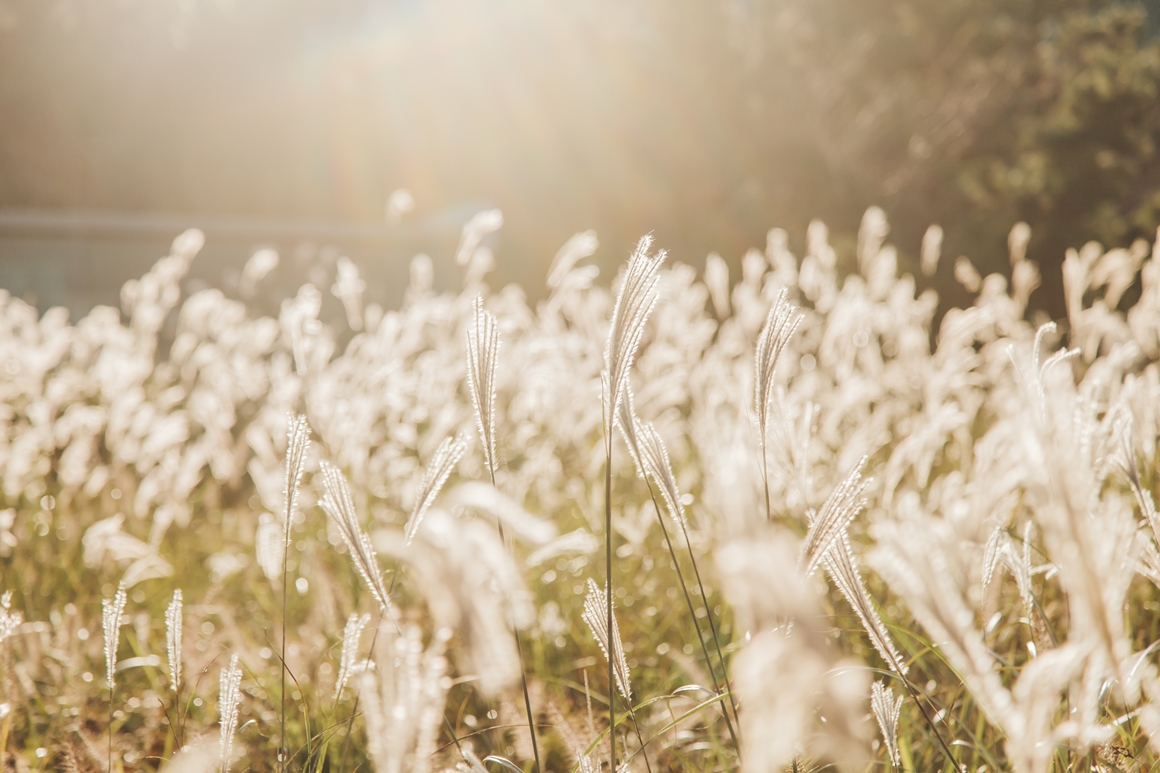 AUTUMN SIGHTS, SILVER GRASS & PINK MUHLY
If you come to Jeju in autumn, you won't want to miss your chance of seeing vast fields of silver grass. As the fluffy, feather-like heads of silver grass sway gently in the wind, you can't help but be in awe of the beauty of nature.On the east side, Ttarabi Oreum, known as the "Queen of the Oreum", is one to try, along with Akkeundarangswi Oreum. Saebyeol Oreum is a wonderful choice if you're on the west side.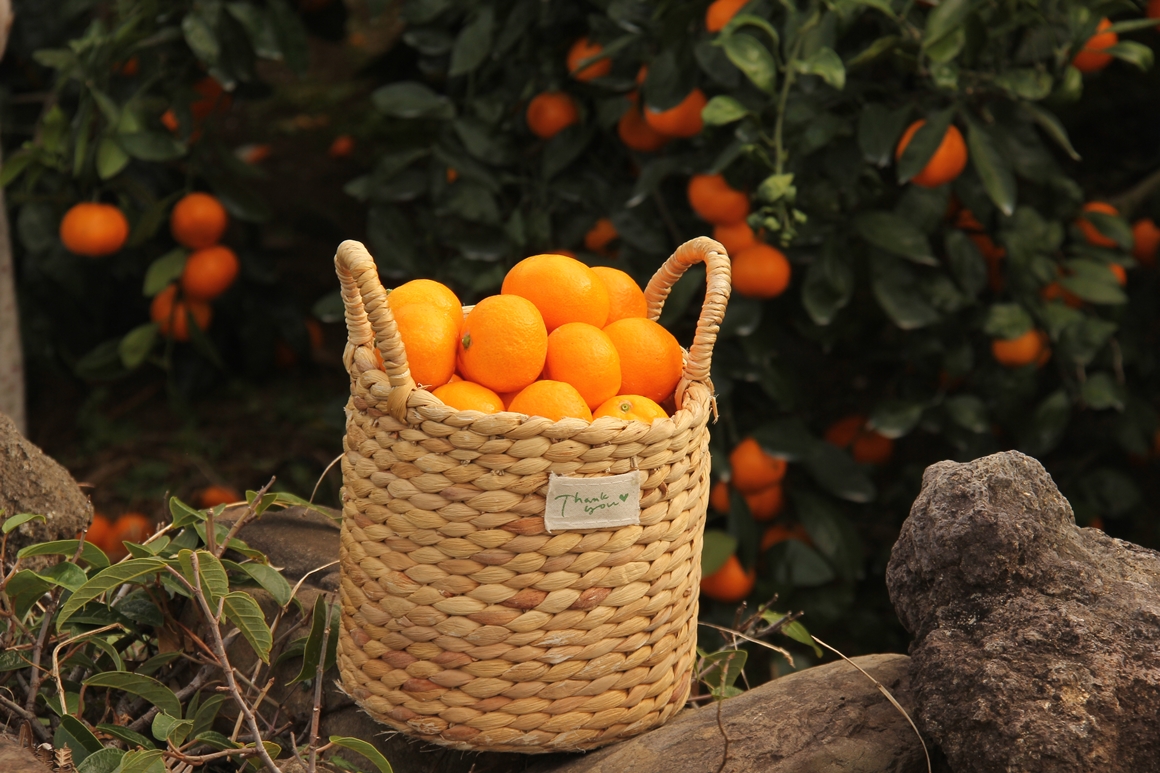 The harvest for Jeju mandarins begins in November, and there are several different citrus-related activities that you can partake in around the island. Mandarin picking is a popular activity, where you harvest your own mandarins while eating as many as you want while you're there. You can pick the best fruit for yourself and just pay by the box. The famous Jeju Citrus Expo* also takes place around this time, so be sure to be on the lookout for that.
JEJU'S WINTER SEASON: RINGING IN THE NEW YEAR
Jeju is a popular tourist destination even in the winter (December through mid-March), as the temperatures here are much milder than on the mainland. The island has a distinct winter season, but it is rare for temperatures to dip below 0 degrees. Snow is mainly seen at the top of Hallasan Mountain, but there are still plenty of winter activities to enjoy while you're here.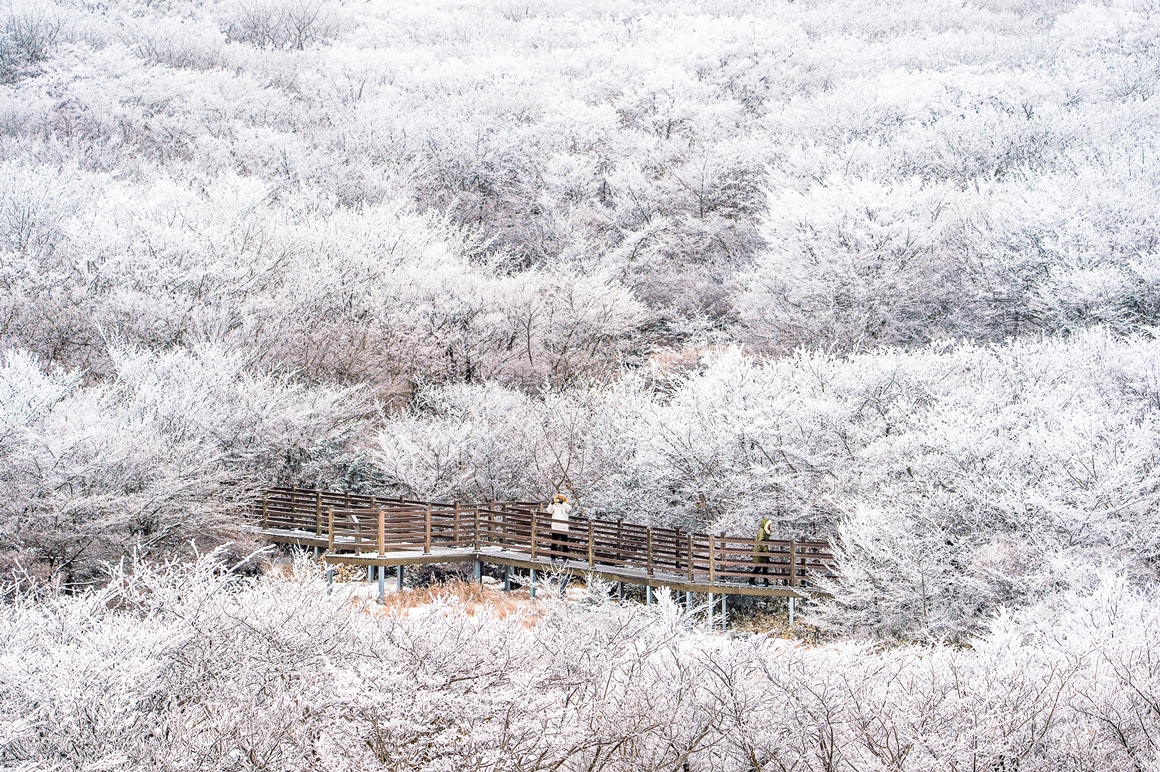 One of Korea's biggest holidays, the Lunar New Year, takes place every year in the winter. January 1st is also a big deal in Jeju, for one reason: Seongsan Ilchulbong Peak, otherwise known as Sunrise Peak. Located on the easternmost tip of Jeju Island, this UNESCO World Heritage site is famous for viewing sunrises. A festival* is held here every New Year's Eve to ring in the new year by watching the year's first sunrise.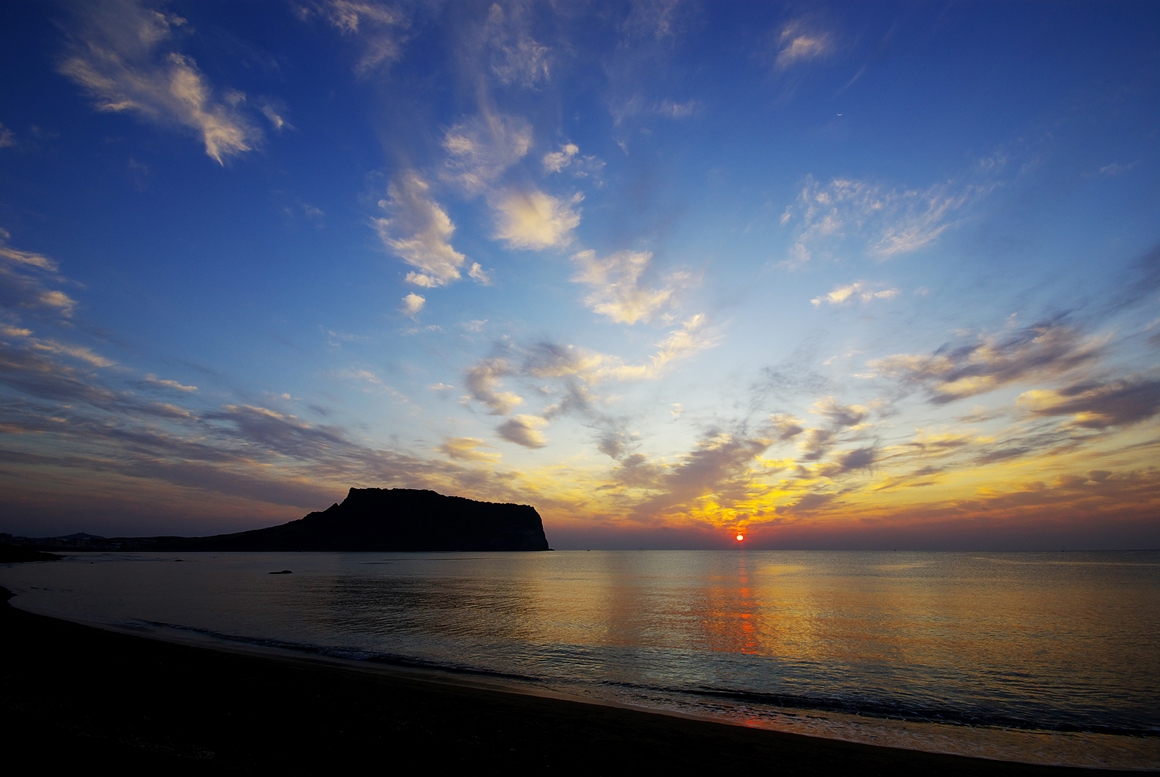 *Festivals on Jeju may be canceled, postponed, or moved online due to the Covid-19 pandemic. Please check official websites for updated information.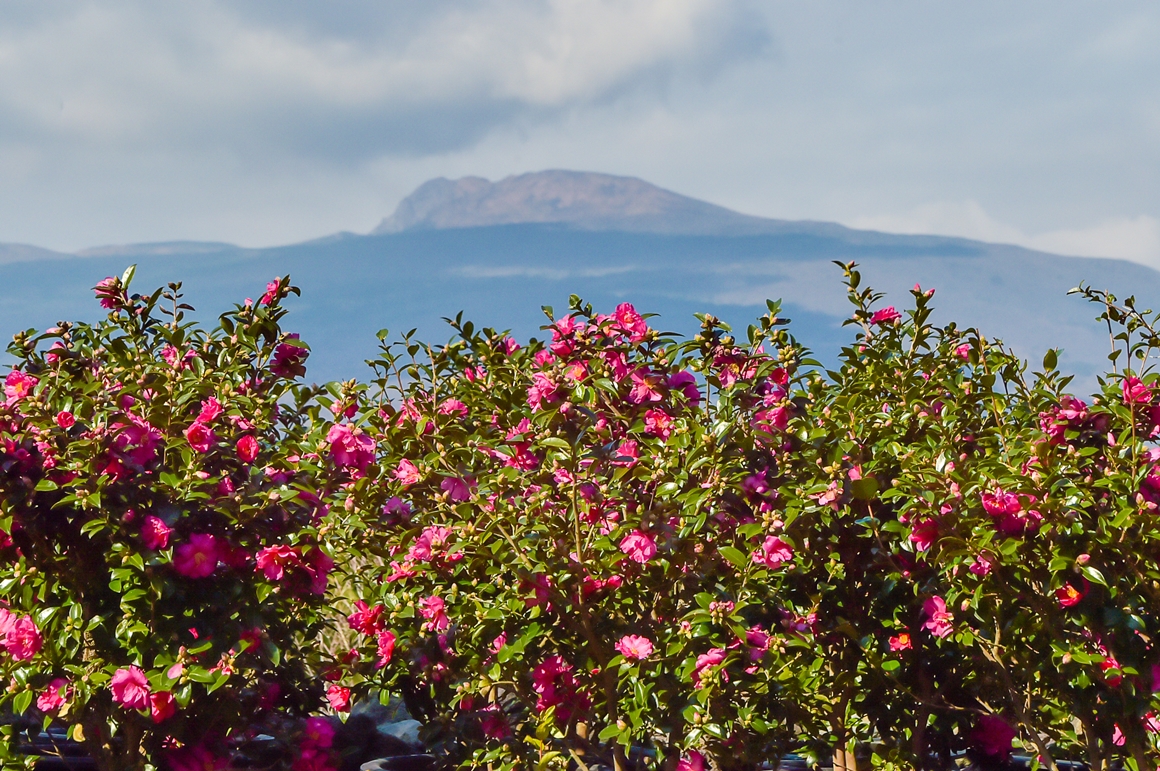 Red camellia flowers bloom all around the island during the winter, and you can find large orchards of camellia trees that make for a beautiful sight. It's jarring - in the most wonderful way - to see these vibrant red petals blooming and thriving in the coldest days of winter. You can go to Camellia Hill, Jeju Herb Dongsan, or Hueree Natural Park to see these floral wonders, just to name a few.
Sweet, fragrant apricot blossoms begin blooming toward the end of winter, and when you see these flowers, you'll know that you only have a few more weeks until the coming of spring, so enjoy the last tidbits of Jeju's winter while you can!
Notice

※ The above information was written on 2022-01-08. Please confirm the information prior to your trip.
※ Unauthorized use of the content above (text, photos and videos) is prohibited and subject to copyright by the Jeju Tourism Organization.