본문
Useful Jeju Travel Information
Anytime you are planning a visit to another country, there is information that is useful to know, and there's information you need to know. Here is some of the most important details to know when planning your trip to Jeju.
Review

0

Lookup

3,379

Share SNS

0
Useful Information for Travel in Jeju

Anytime you are planning a visit to another country, there is information that is useful to know, and there's information you need to know.




We've rounded up some of the most important details to know when making your trip to Jeju Island, including interpretation services, emergency phone numbers, and a basic lesson in Jeju geography and culture. Other details like Korean customs, etiquette, and basic greetings are sure to come in handy when interacting with locals. This list is sure to make your preparations for a Jeju vacation a breeze!
JEJU ISLAND: BASIC GEOGRAPHY
Jeju Island is South Korea's largest island located off the southern coast of the Korean peninsula. It is a volcanic island shaped like a horizontal oval that was formed by an underwater volcanic explosion some 2 million years ago. The nation's tallest mountain, Hallasan Mountain, which is also a shield volcano, is located in the center of the island.
Much of the island is made up of basalt rock and lava formations, making it very unique to the rest of Korea. The island is sectioned in two geographical halves, with the northern part called Jeju-si, or Jeju City, and the southern part called Seogwipo-si, or Seogwipo City. Although these are the technical geographical terms, locals refer to "Jeju-si" and "Seogwipo-si" as being the populated areas where City Hall buildings are located.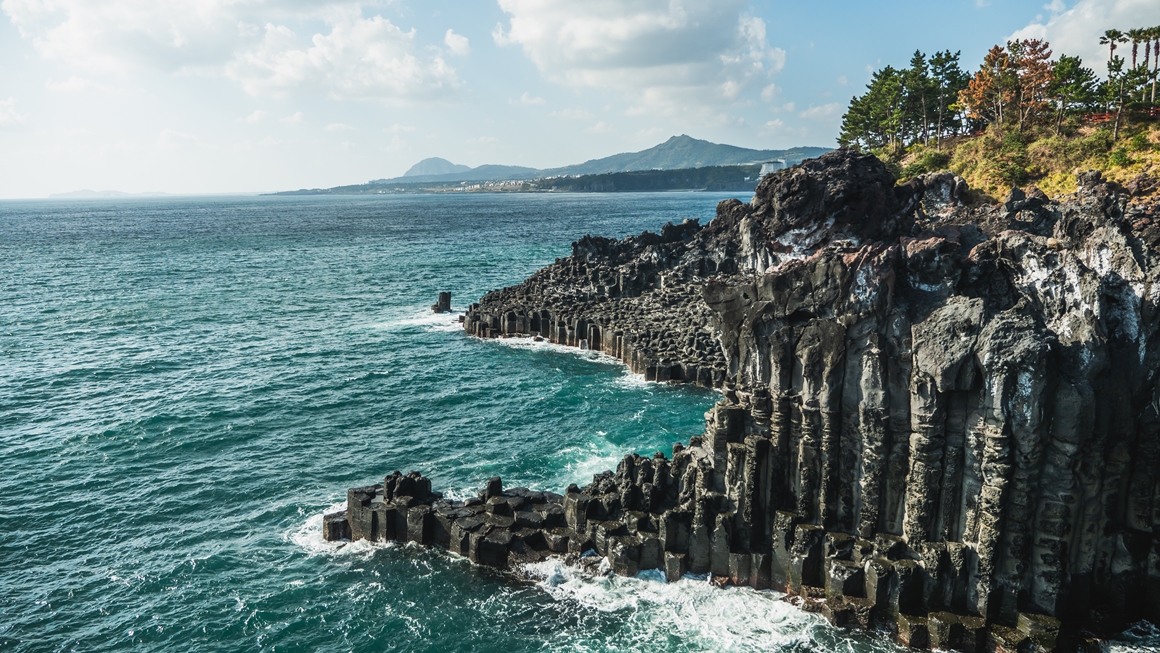 JEJU ISLAND CLIMATE & WEATHER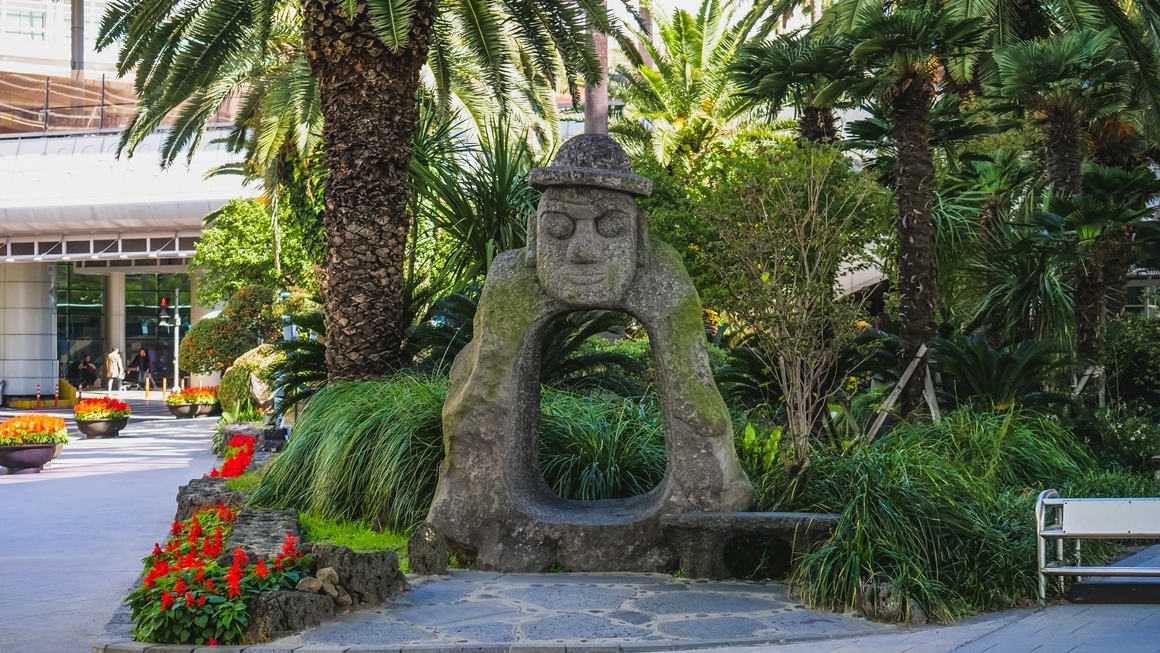 Jeju Island has a temperate humid climate, which means the winters are relatively mild and the summers are humid and hot. Summers come with a monsoon season that typically lasts about 2 weeks, and typhoons are common throughout the summer. The hottest months are July and August, which also coincides with beach season, when beaches are officially opened to the public.
In winter, snow falls mostly at the top of Hallasan Mountain, and very little snowfall happens in the cities. Temperatures are typically similar at lower elevations, but Seogwipo, the southern part of the island, is usually warmer and sunnier than the north.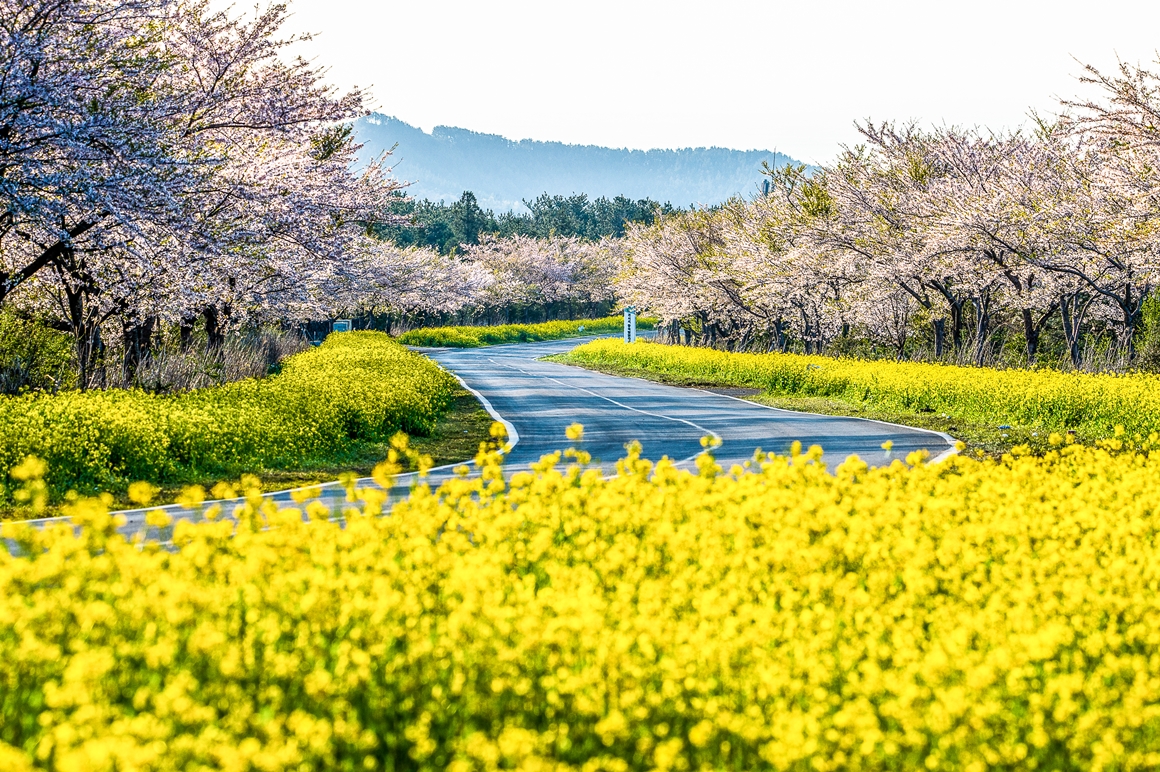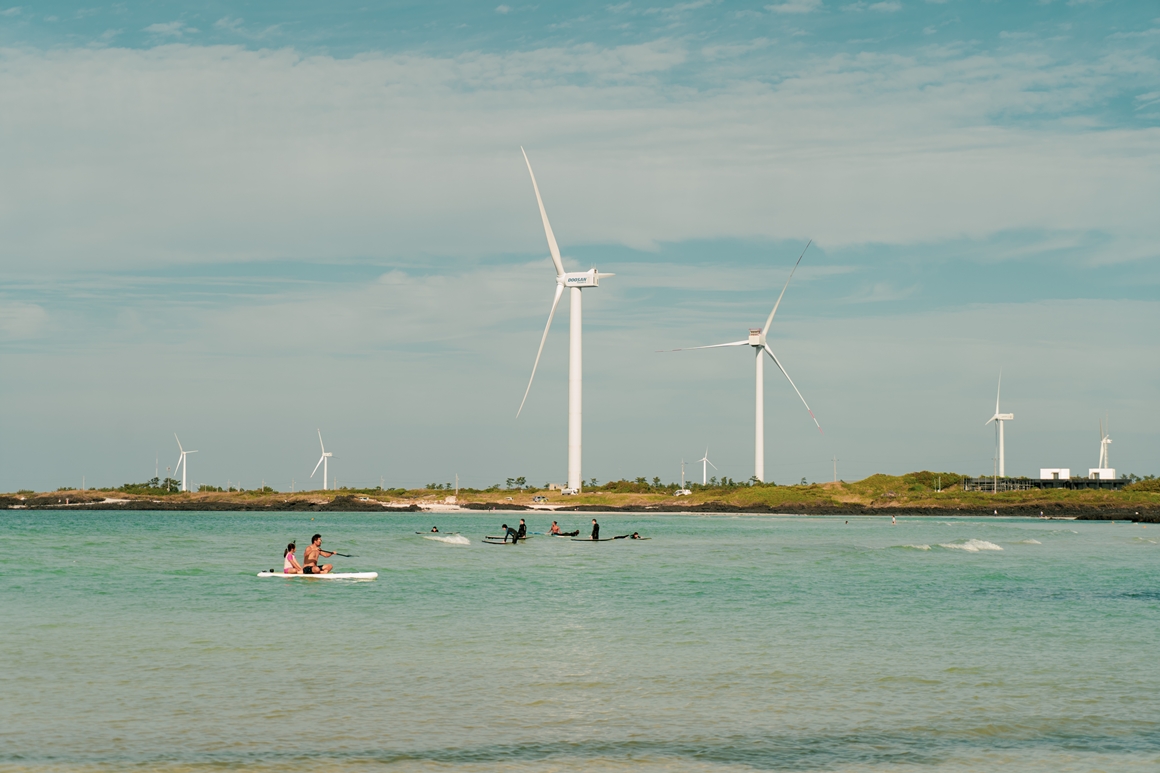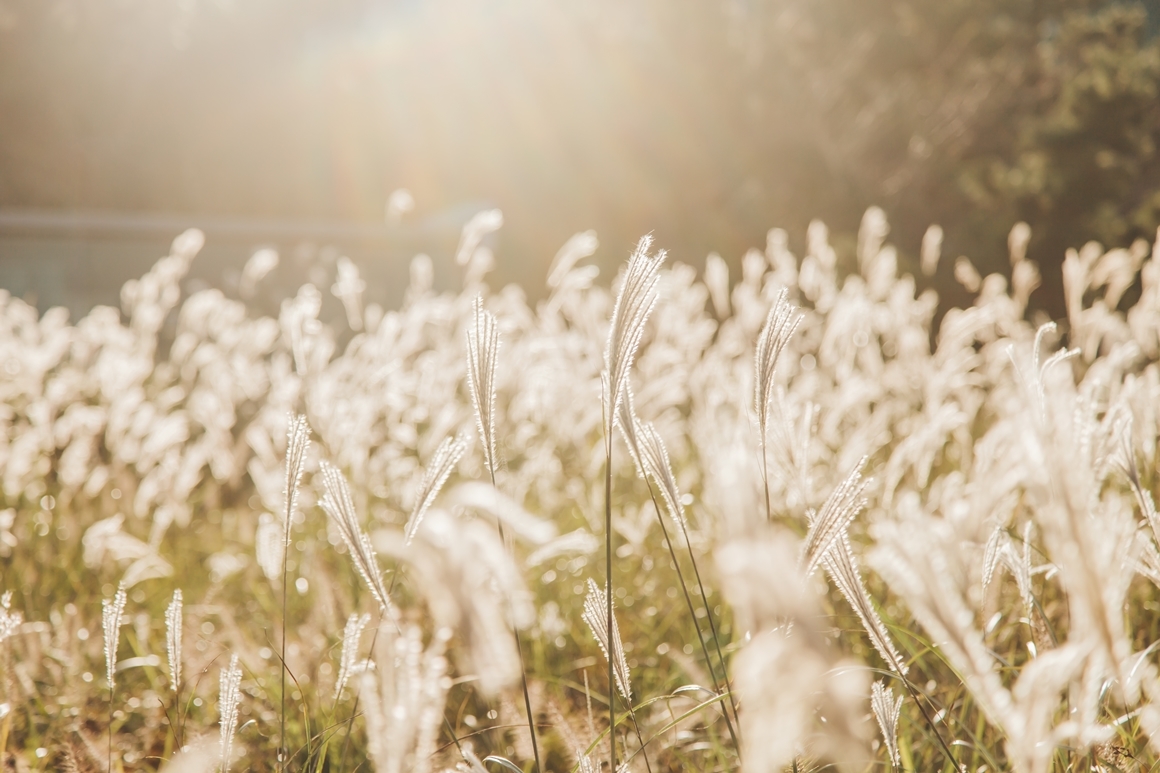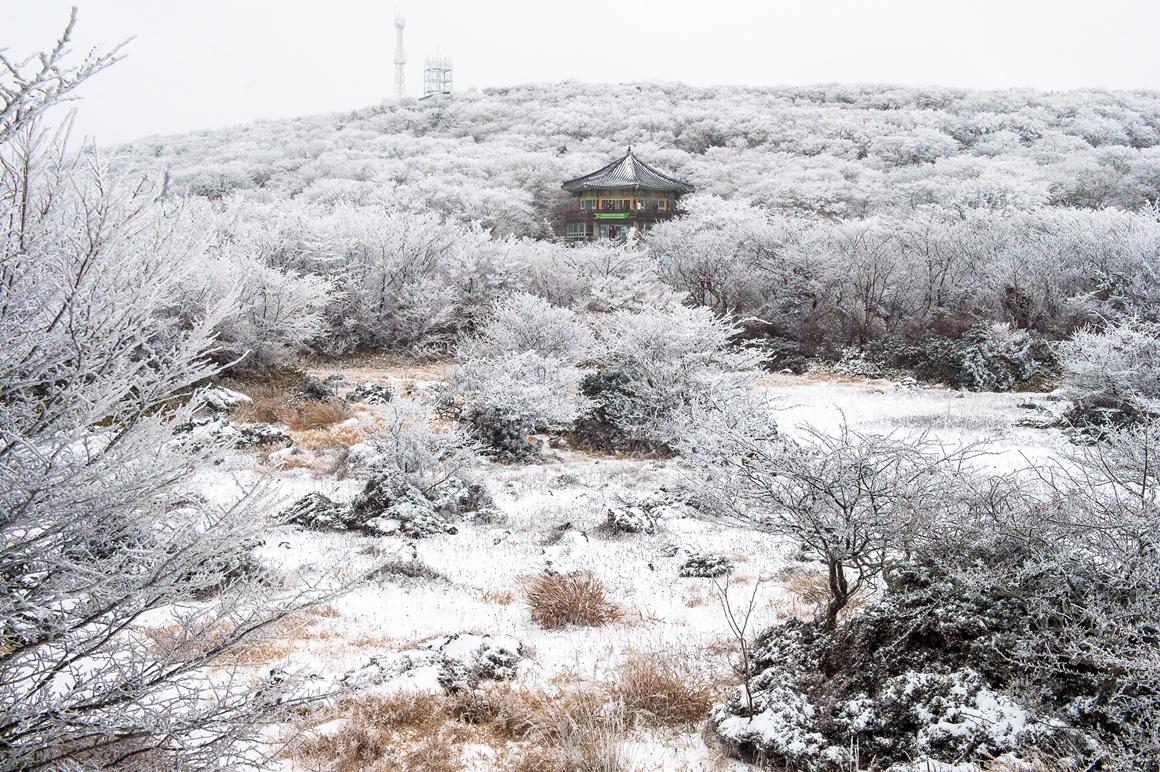 JEJU INTERNATIONAL AIRPORT
Jeju Island has only one airport, the Jeju International Airport, which is located in the heart of Jeju City, located on the northern coast. While you can also travel to Jeju by sea, traveling by air is by far the most popular method. The Seoul Gimpo (GMP) to Jeju International (CJU) is the busiest air route in the world, with over 1 million people traveling on the route every month.
The airport has a roaming center and mobile phone rental service, a post office, as well as two banks (Shinhan Bank and Jeju Bank) where you can exchange currency. You have access to free WiFi, and there are multiple charging stations for your mobile phones or tablets located around the airport.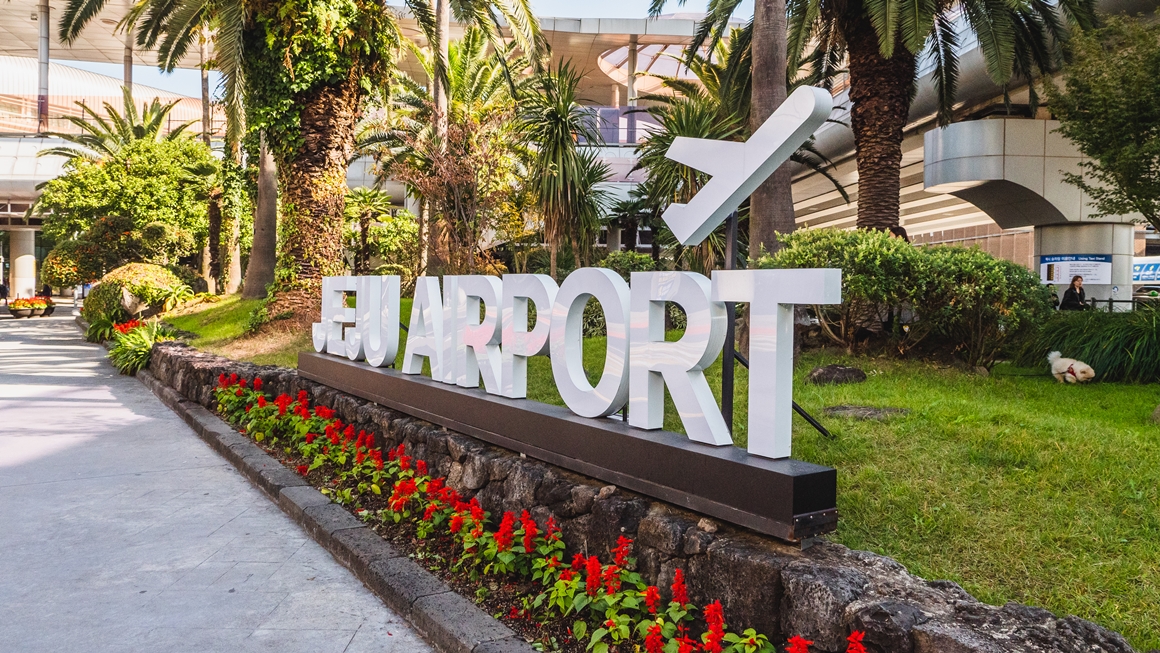 Showing respect is a huge part of Korean culture, and one of the first things you'll notice is bowing. Bowing is a sign of respect and is done for greetings, as well as for giving thanks or even apologizing. In addition to bowing, make sure you use honorifics when speaking Korean, as it is considered very impolite to speak plainly to a stranger, particularly if they're older. Honorific titles are also a must, as Koreans don't call each other by name, unless it is a friend who is the same age or younger.
When entering a home, or when being offered floor seating at a restaurant, shoes must be taken off, and if you want to be extra polite, always offer two hands when giving or receiving an object while giving a small bow. This is sure to make a good impression on the locals.
The Korean language is called "Hangeul", and you'll find that it is relatively easy to learn how to read in a short period of time. While Jeju Island does have a dialect that sounds very different to standard Korean, most locals speak in the standard form when out in public. Just make sure to always use honorifics so you don't come across as being rude!
When saying 'hello', you can use the standard form, "안녕하세요" (annyeonghaseyo). For 'goodbye', finding the correct form may be a bit tricky, so if you're leaving a business establishment, just say 'thank you' as you're leaving! You can either say "감사합니다" (gam sa ham nida) or "고맙습니다" (go map seum ni da). If you need to get someone's attention, like a restaurant server, you can call out "저기요" (jeogiyo), which is the equivalent of saying "excuse me".
There are 2 major holidays in Korea: Lunar New Year (Seollal) and Chuseok Harvest Festival. The dates for both holidays change every year according to the lunar calendar, with Lunar New Year typically taking place in January or February, while Chuseok occurs in September or October. These are the most important traditional holidays of the year, and millions of Koreans travel on these days.
You'll also find that many stores, cafes, and restaurants will be closed during these holidays. Another big holiday is Children's Day, May 5th, when many businesses offer great prices and products geared toward families. Please also be aware that anytime a public holiday lands on a Monday or Friday, making it a long weekend, Jeju will see an increase in the number of travelers.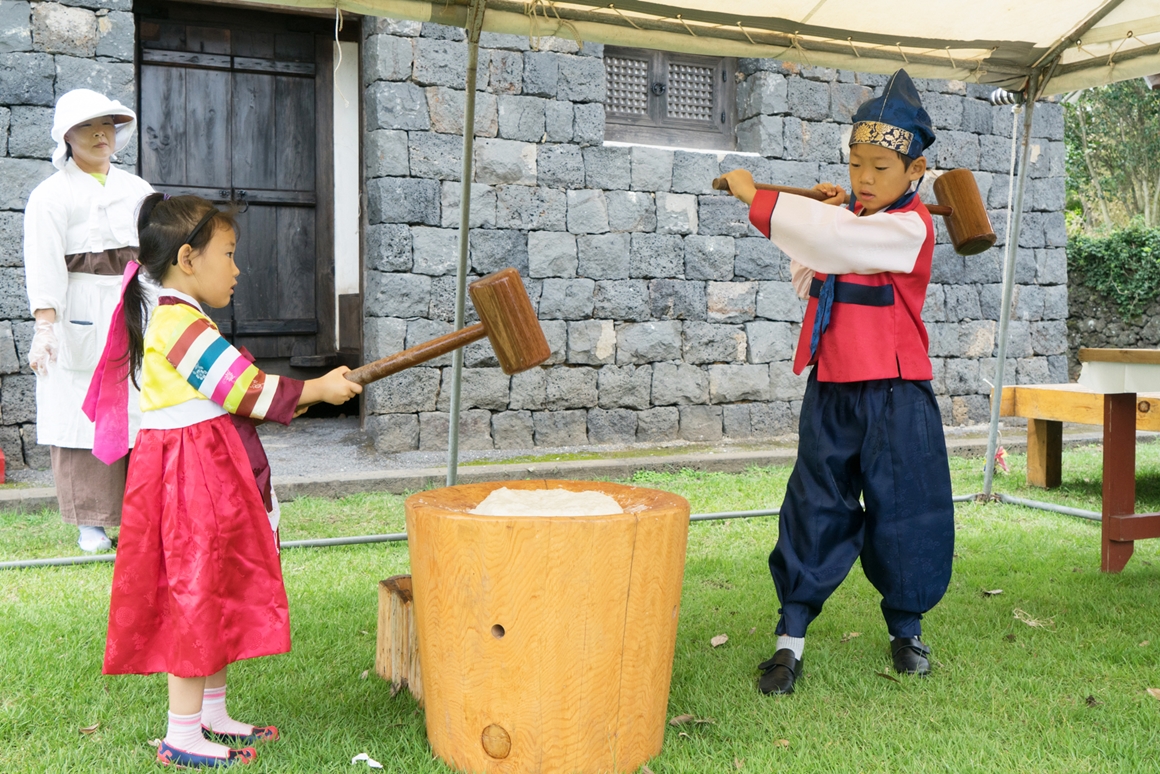 Business hours for local shops and cafes will vary, and it is always a good idea to call in advance to make sure they are open. It's not unusual for a business owner to decide to take a day off, so you can either give them a phone call, or check their social media account for updated business hours.
Public establishments like government offices, post offices, and banks are always open during normal business hours. Government offices and organizations are open weekdays from 9 a.m. to 6 p.m., and banks are open typically from 9:30 a.m. to 3:30 p.m. They are closed on weekends and all public holidays.
IMPORTANT PHONE NUMBERS FOR TOURISTS
If you find yourself in a situation where you need assistance with travel routes, interpretation, or anything related to your trip, the Jeju Tourism Organization is here to help. We have a travel hotline that is open daily from 9 a.m. to 6 p.m. that offers services in English, Chinese, and Japanese. You can reach us at 064) 740-6000.
If you need help outside these hours, the Korea Tourism Organization has a helpline that is open 24/7 and offers services in English, Chinese, Japanese, Russian, Vietnamese, Thai, and Malay. You can reach them by dialing 1330.
If you want to speak to a JTO representative with any questions you have while planning out your trip, we are available for online chats in English, Chinese, Japanese, Spanish, French, Thai, Vietnamese, and Indonesian.
In Korea, the phone number for emergency police assistance is 112. For fire or ambulance, you must dial 119. If you need medical assistance regarding Covid-19 or other infectious diseases, please contact the Korean Center for Disease Control (KCDC) at 1339. If you have a non-emergency regarding a missing person or stolen property, you can call 182 for assistance. If at any point you need help and aren't sure whom to contact, please feel free to call us at 064) 740-6000.
Korea has a standard voltage of 220V at 60Hz, with plug type F being the most common for outlets. Travel adaptors can be purchased at any major supermarket or electronic goods store. Voltage converters and transformers may be more difficult to find, so please make sure any electronics you plan on bringing are appropriately rated.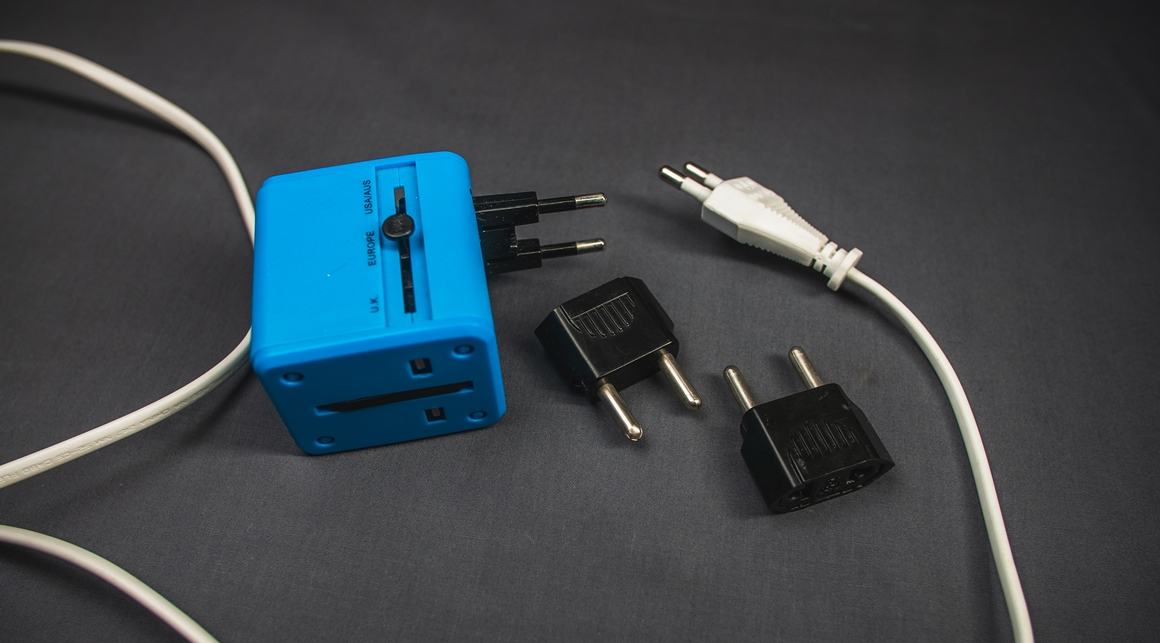 Jeju International Airport offers all the services you need to get connected in Jeju. The airport has a roaming center operated by a local service provider, so you can conveniently connect your mobile devices to local networks. A cheaper alternative is to purchase a SIM card for unlimited data while also being given a local phone number. A third option is to rent a smartphone and a WiFi egg.
One thing to note is that the province has taken big steps to provide free, stable WiFi all across the island. There are currently over 2,600 free WiFi hotspots on the island, and most business establishments will also provide WiFi for customers.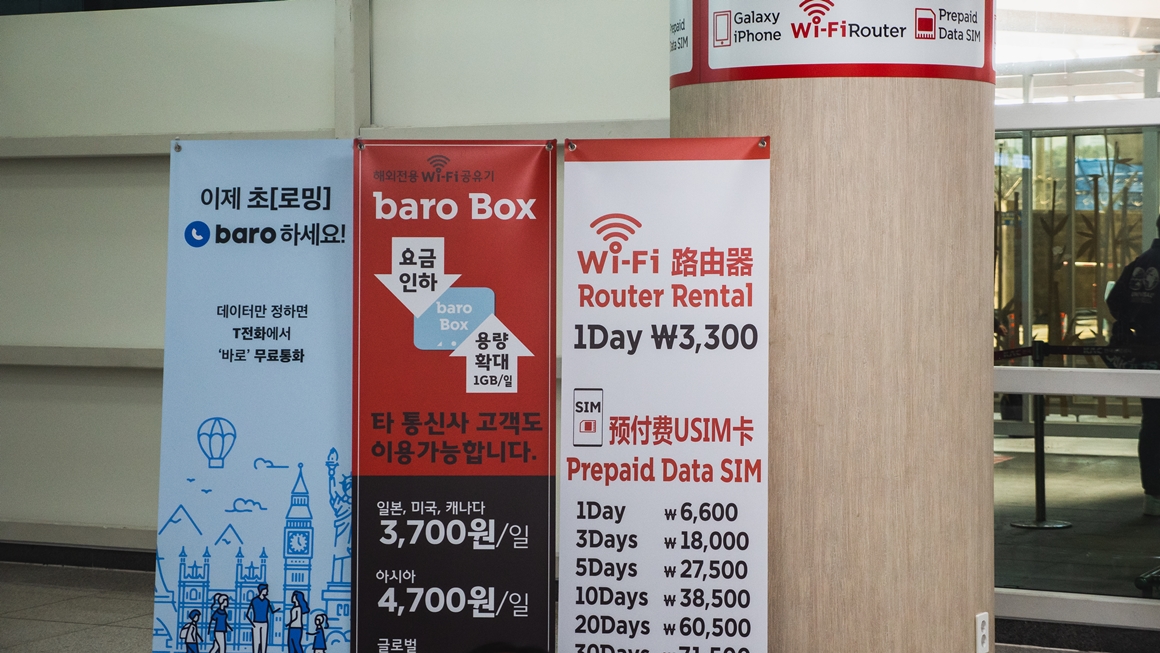 If you're used to using Google Maps, you'll find that it's not fully functional in South Korea. For the most accurate information, it's recommended to download Korean apps when traveling in Jeju. Many apps have English options, and they are quite easy to use. For a map application for navigation and directions, try KakaoMap and NAVER Map. If you are planning on using public transportation, there's a bus layer that you can toggle on in KakaoMap that will show you where buses are in real-time.
Ridesharing apps like Uber and Lyft also do not exist here, but you'll find that taxis are just as easy to grab while being quite affordable. The Kakao T app is a really easy and convenient way to call a cab right to where you are located. Naver Papago - AI Translator is a good, reliable Korean-English translation app that offers image translation as well as conversation translation.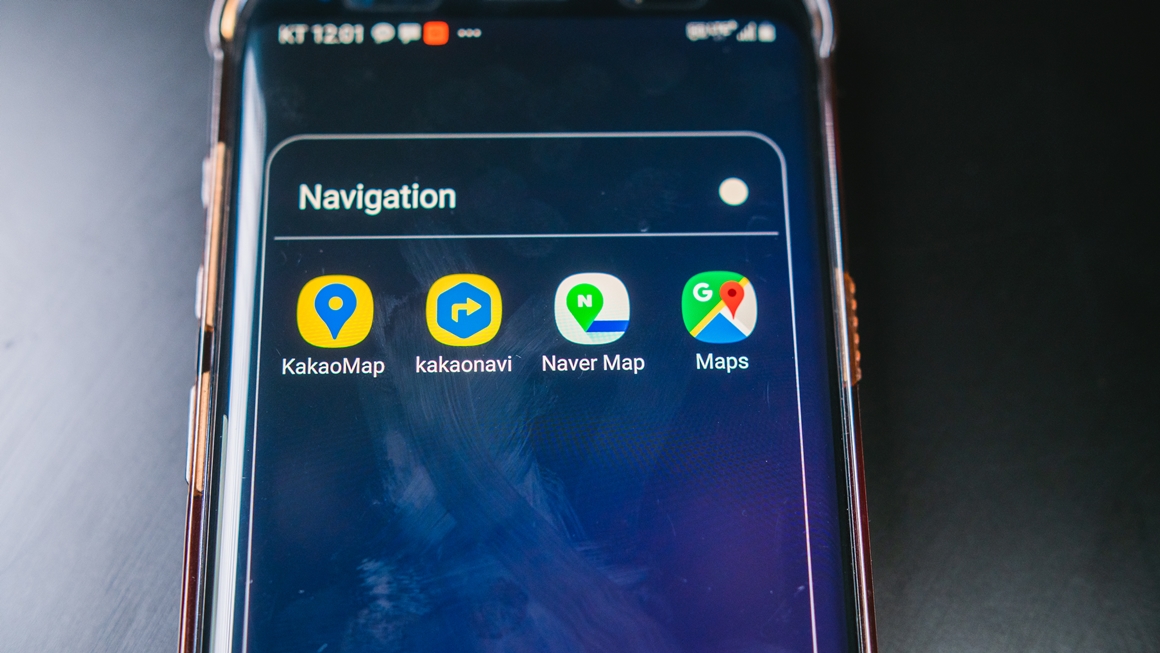 Notice

※ The above information was written on 2022-01-05. Please confirm the information prior to your trip.
※ Unauthorized use of the content above (text, photos and videos) is prohibited and subject to copyright by the Jeju Tourism Organization.