본문
Jeju Art and the Artist
The nature of Jeju and the life of its people are designed by the island's intersection of light, wind, stone, water, and humans, which evokes strong emotions.
Review

0

Lookup

813

Share SNS

0
Jeju Art and the Artist

The nature of Jeju and the life of its people are designed by the island's intersection of light, wind, stone, water, and humans, which evokes strong emotions. The emotions are so powerful that they cannot be expressed in words. Only art can fulfill that role.

Artists who visited Jeju or planted their roots on the island were naturally compelled to humble themselves before the overwhelming beauty and power of Jeju. From that lowly point of view, coupled with the artist's intentional desire to become one with the island, was birthed extraordinary artistic achievements.

Jeju artists reinterpret Jeju through their art to help us reclaim forgotten emotions and bring the island back into the spotlight.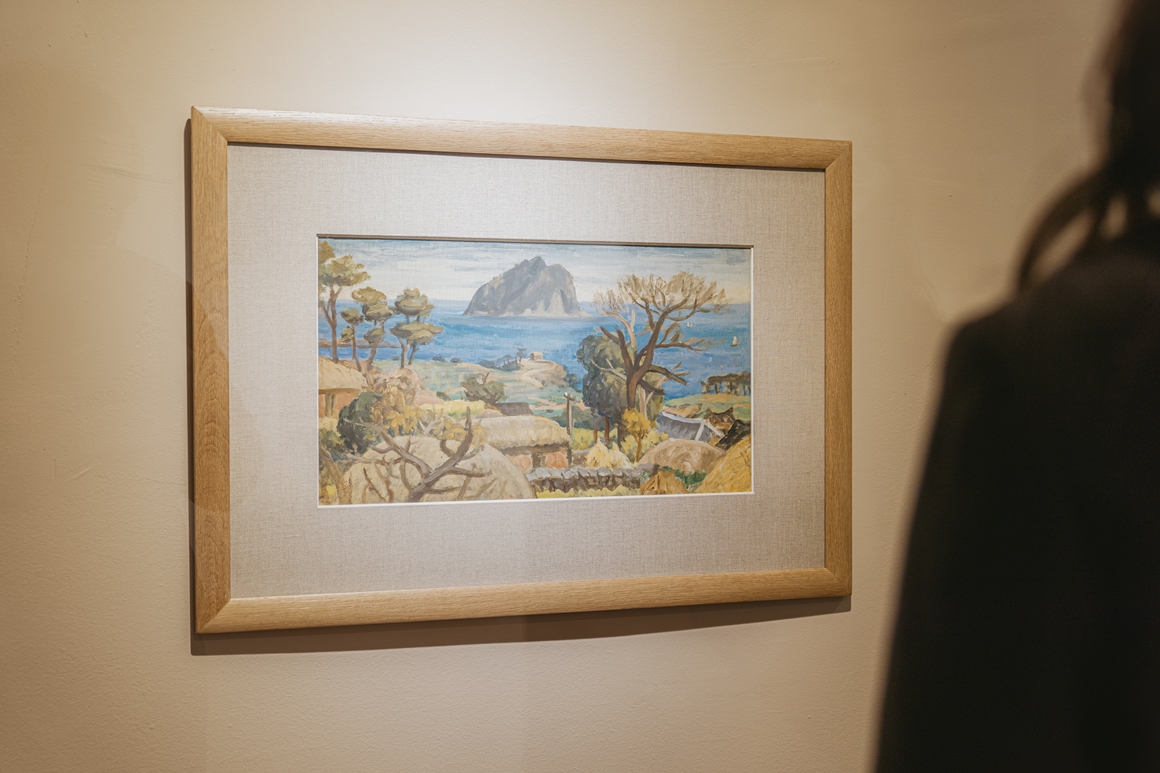 Jeju's Artwork in Harmony with Nature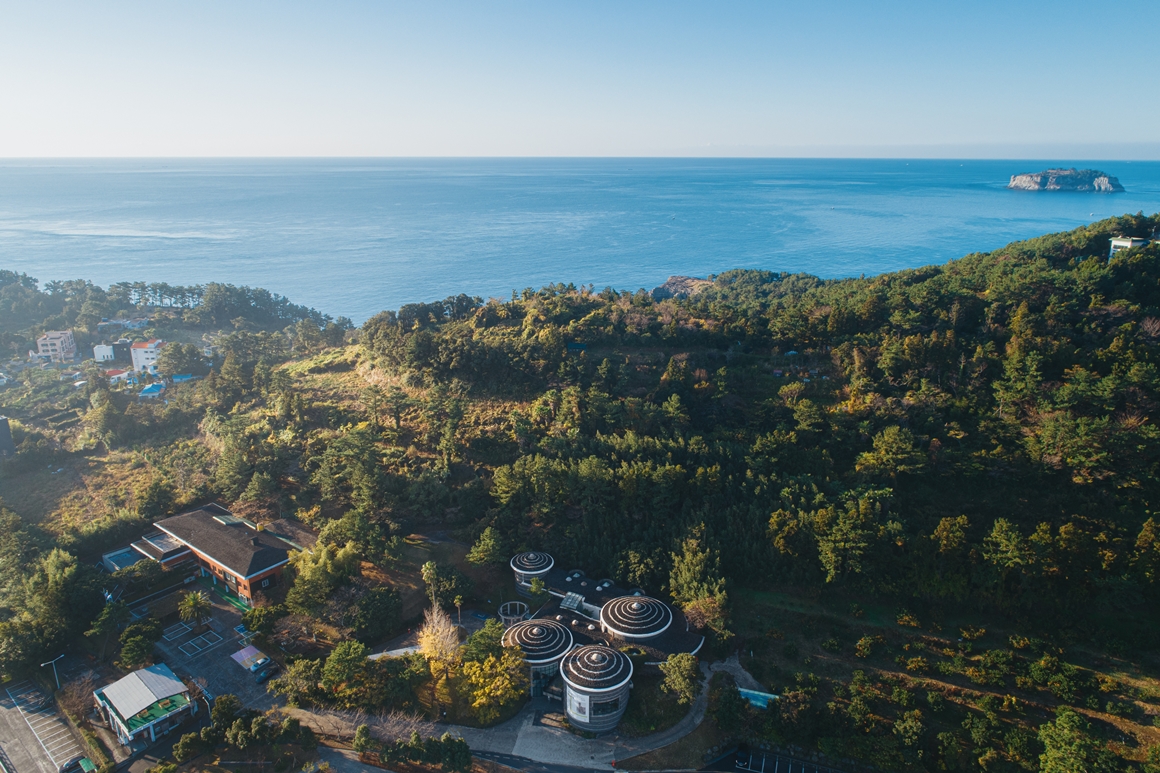 The architectural masterpiece that is Itami Jun's Bonte Museum expresses the fluidity of the sloping landscape that flows from the top of Hallasan Mountain to the shores of Jeju Island.

At the Podo Hotel, we rediscover the beauty of Jeju's traditional thatched-roof houses and the island's revered oreum. Art that was born in desperate situations, like Chusa Kim Jeong-hui's calligraphy and Lee Jung-seop's artwork, shows us the inspirational power that Jeju has to help people overcome adversity and create new things.

We can see and feel the tears of Jeju Island in the water droplets of Kim Tschang Yeul, who formed a relationship with the island in his year and a half stay during the Korean War. Byun Shiji shows us through his artwork that the light and wind of Jeju have color, and Lee Wal-jong imagines for us what Jeju would be like as a place of mutual prosperity where all conflicts are resolved.

A great masterpiece does not give easy pleasure; it demands the highest level of cooperation with the viewer. Therefore, the greatest masterpiece of all is in Jeju Island itself.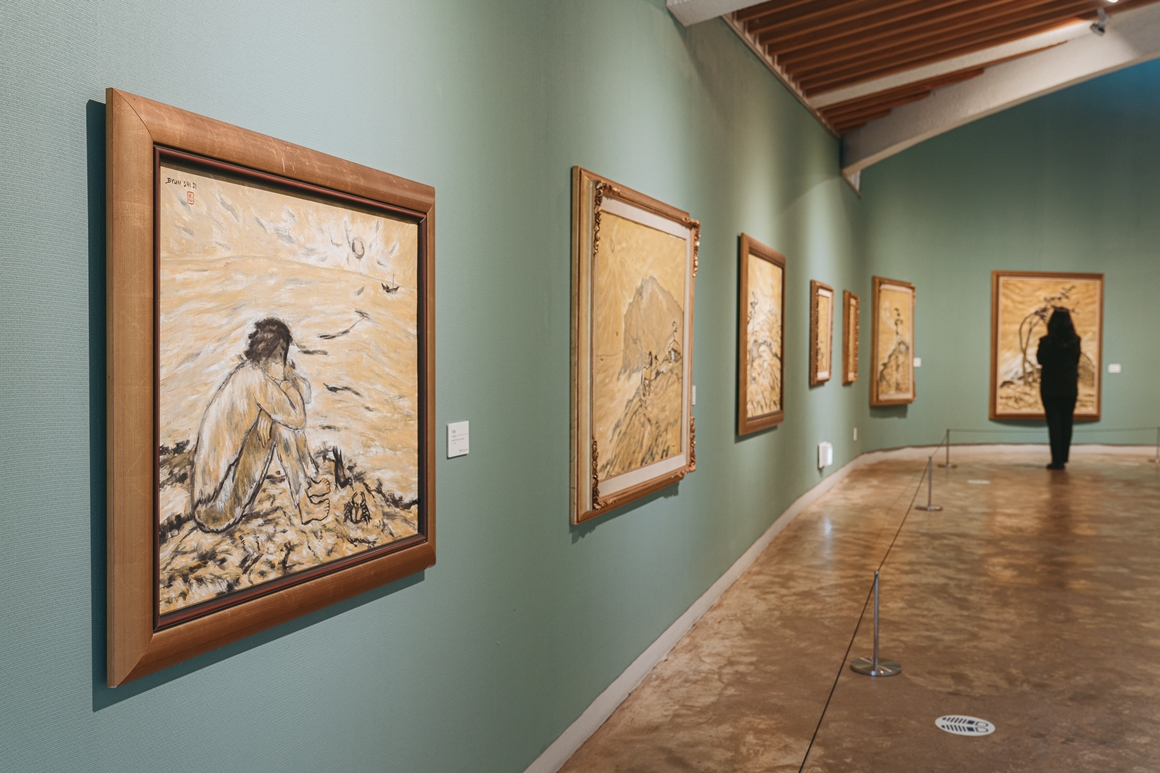 Byun Shiji was born in Seohong-dong, Seogwipo-si to a wealthy family. In 1931, he and his family emigrated to Japan, where he suffered a severe injury to his right leg while competing in a wrestling match in second grade. This led to a lifelong disability. When he was no longer able to do sports, he redirected his overwhelming energy into art.

Byun Shiji went on to major in Western painting at art college, but he was also interested in Asian painting, so he taught himself calligraphy. In 1948, the 23-year-old Byun Shiji became the youngest person ever to win the grand prize in Japan's most prestigious art competition organized by Kofukai. This record has yet to be broken to this day.

In 1949, he held his first solo exhibition at the Shiseido Gallery in Ginza, Tokyo, an honor granted only to elite artists. (Just as Spanish-born Pablo Picasso spent most of his life in France but his artwork expressed the Spaniard's passion, Byun Shiji unknowingly created artwork that expressed Korean elements which could not be duplicated by Japanese artists.)

Byun Shiji, who had a guaranteed future as an artist in Japan, returned to Korea permanently in 1957 at the age of 31 at request of the president of Seoul National University to return for the sake of the advancement of art in Korea.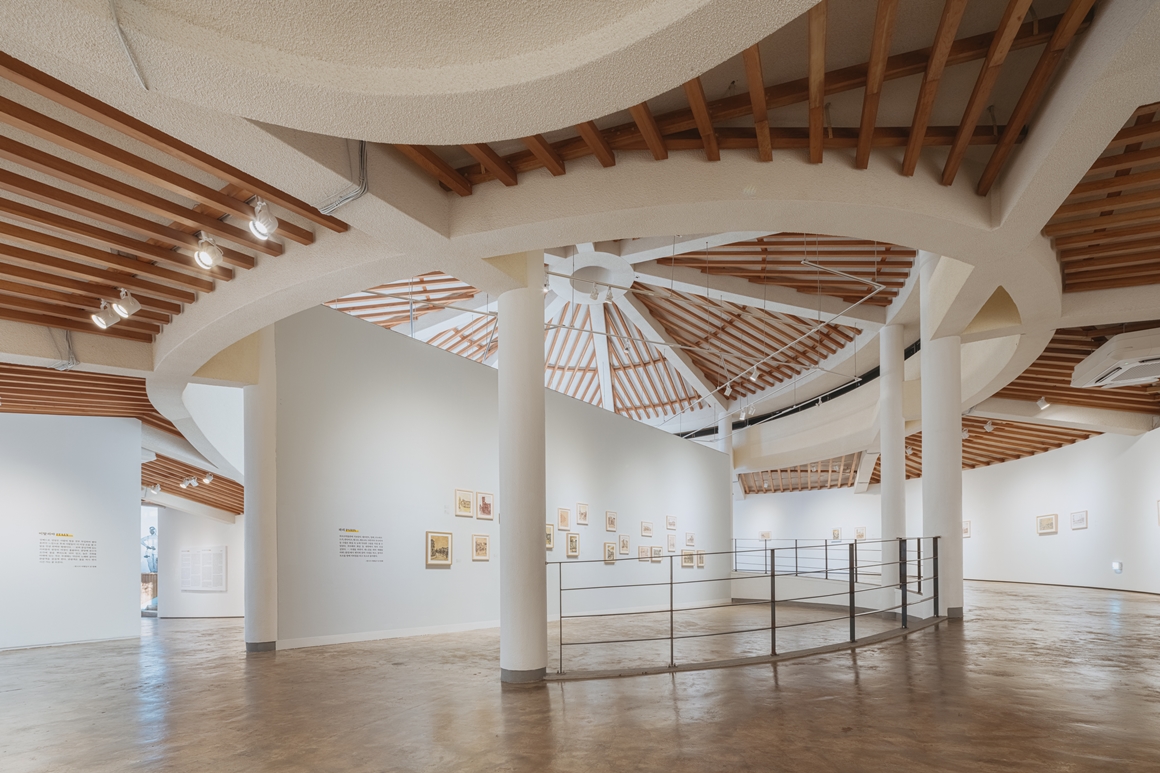 By the 1960s, Korean artists were actively entering the European market. However, Byun Shiji decided instead to return to his hometown, Jeju Island. While in Jeju, he worked tirelessly to create new artistic methods to express the island's nature and the life of the people. After much agony, he was able to invent a style that had never been done before.

Byun Shiji defined the light of Jeju as yellow-brown (ocher-colored). The sunlight of Jeju, which is close to subtropical, is fresh. When that light accumulates and its concentration reaches the limit, the colorless and transparent light shifts with the desire for change. The viewer can emotionally interpret the ocher-colored light as if it encompasses the purity of Jeju's nature and the tragic lives of the Jeju people.

Byun Shiji creates the texture and color of the background in tan and describes the subject on top only with concise, black lines. In this way, the inherent color of the subject disappears, leaving only black lines to depict the subject. By expressing Jeju with such extreme simplification, paradoxically, it floods the viewer's mind with thoughts and emotions. The crooked man who appears frequently in his paintings symbolizes the artist himself.

Although Byun Shiji's paintings are landscape paintings, they are also portraits depicting the modern-day human who has not been able to settle anywhere and lives with underlying anxiety.

So, while Jeju is the subject of his work, he acquires universality by depicting the loneliness of human existence and the longing for utopia. This is the very reason why viewing Byun Shiji's paintings brings comfort in their own way.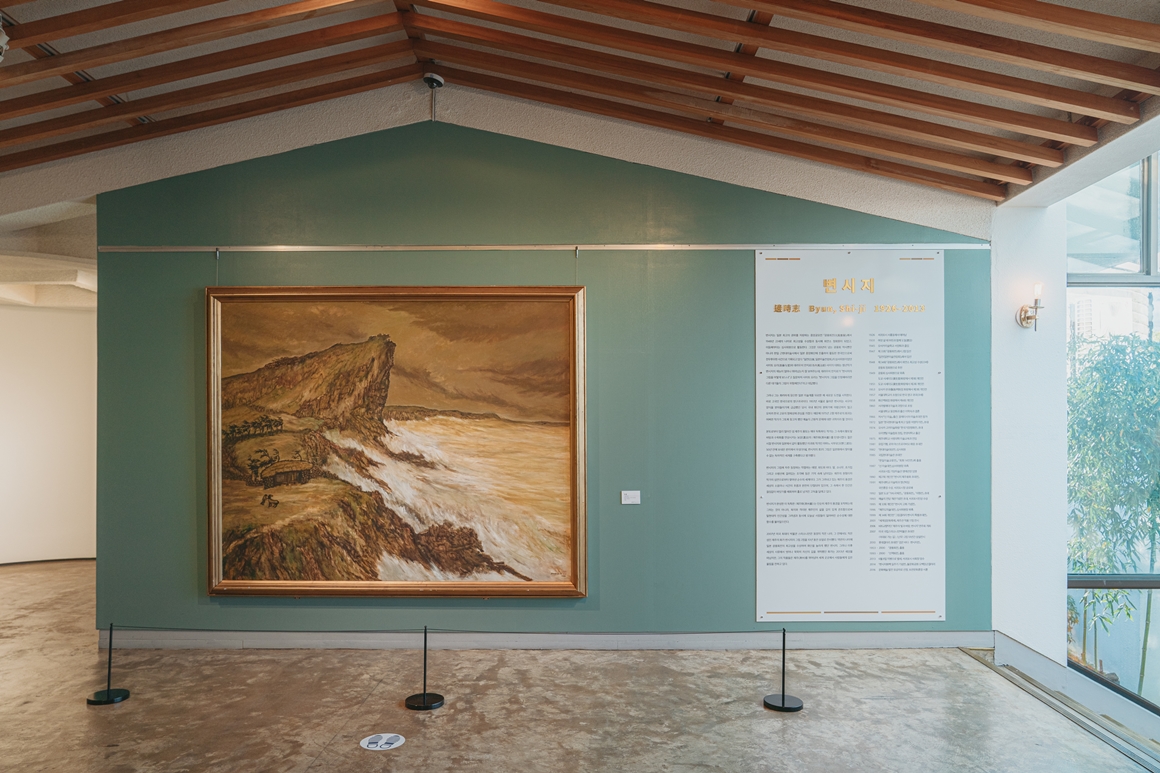 In 1987, Gidang Art Museum was built at the foot of Sammaebong Peak in Seogwipo, where you can see both Hallasan Mountain and the sea.

Kang Gu-beom, the cousin of Byun Shiji, who runs a large business in Japan, built the museum, and Byun Shiji filled it with his works and the works of fellow artists. He then donated the art museum to Seogwipo City, which became Korea's first art museum owned by a city.

Gidang Art Museum has a permanent exhibition of Byun Shiji's works, and you can also view works by major artists such as Kim Ki-chang, Lee Wal-jong, Park Seobo, and Kang Yo-bae.
Lee Wal-jong (1945 to present)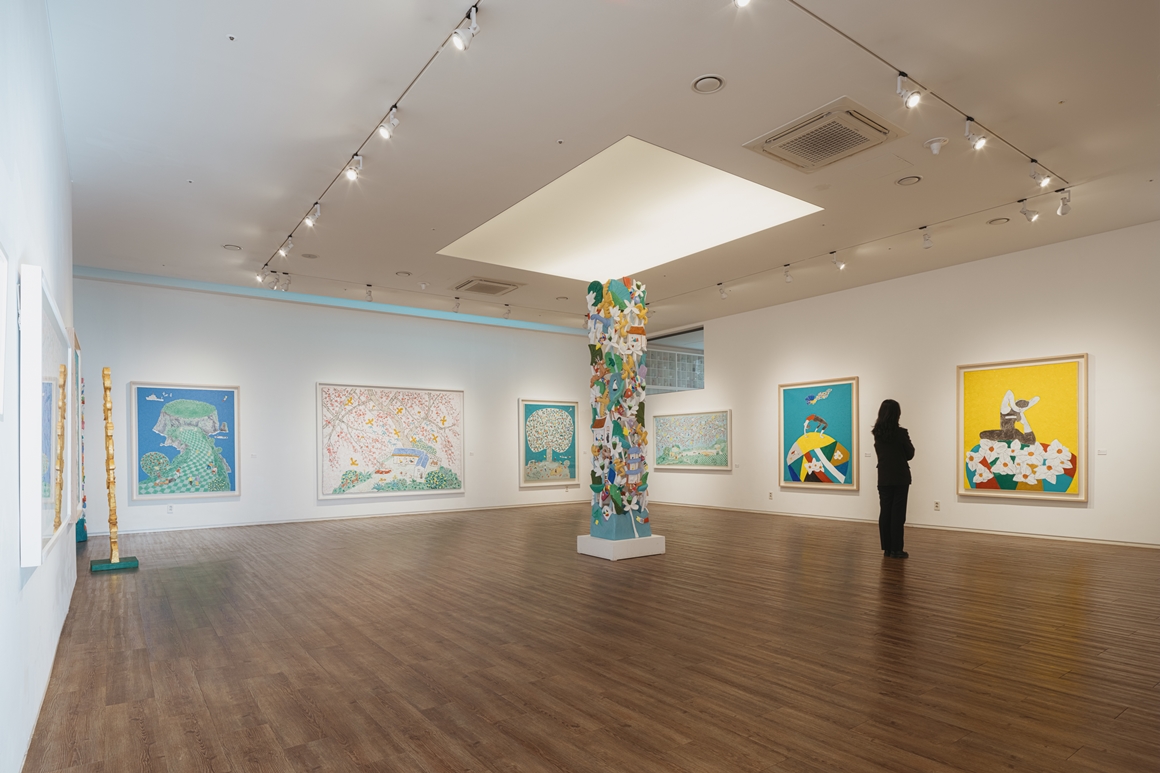 Lee Wal-jong was born in Gyeonggi Province in 1945. His work revolutionized Asian paintings by breaking away from traditional sumughwa (ink wash painting) and creating modern ink paintings that combined various styles and materials.

Wanting to be able to paint freely, he gave up his job as an art professor and moved to Seogwipo in 1990. He is creating a series of works under the theme of "The Middle Way of Life in Jeju", which depicts the life and nature of Jeju.

The "middle way" is a key concept in the Buddhist scripture, the Heart Sutra, and refers to neutrality that leans neither left nor right. The teaching that all things are relative and it is up to interpretation is also found in the Heart Sutra. Lee Wal-jong was fascinated by the teachings and way of thought that is found in the Heart Sutra.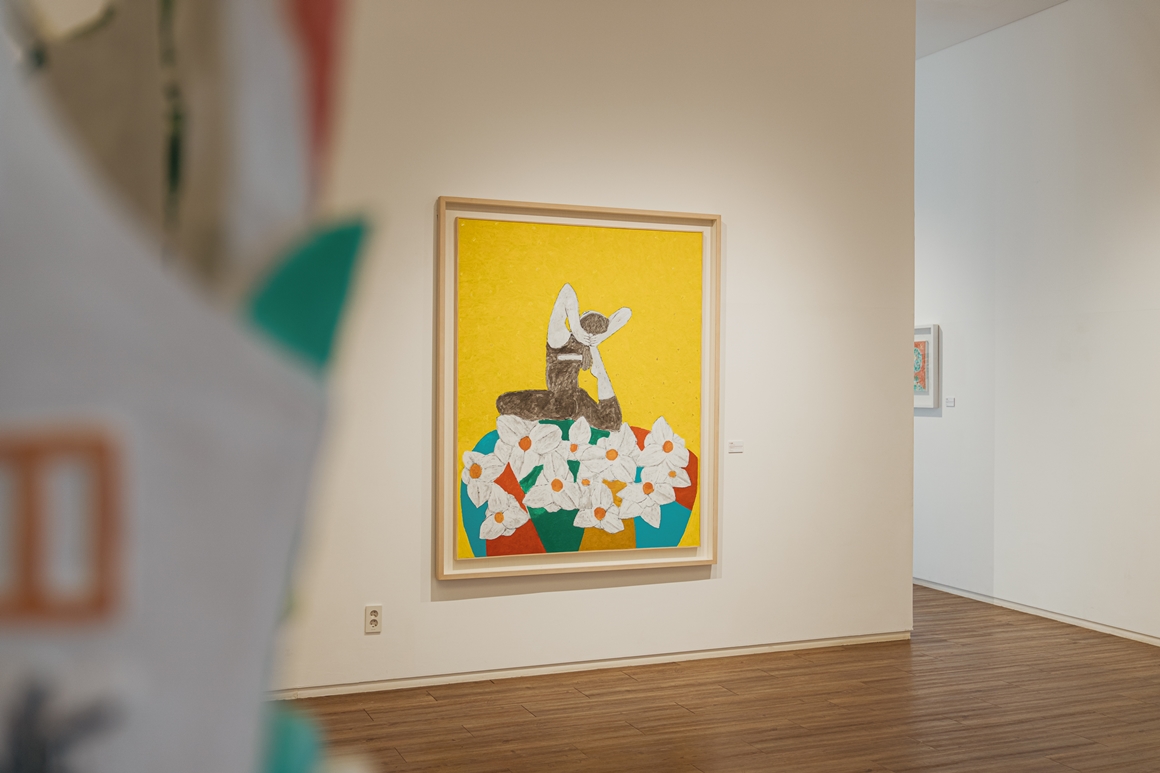 Lee Wal-jong realized that the middle way is necessary to be happy and free from the pain and greed that humans inevitably experience in life. He wants everyone to realize the wisdom of the middle way and find happiness through his paintings.

Good and evil, love and hate, sadness and joy, happiness and unhappiness, freedom and imprisonment are opposing concepts. Lee Wal-jong dismantles the conflicts of the real world by arranging cars, roe deer, TVs, golf, fish, houses, and flowers in an unrealistic way on his canvas. Painting fragrant daffodils larger than the house is also in the world of the middle way as interpreted by Lee Wal-jong.

By cheerfully dismantling the selfishness and conflicts of modern society into a world where dreams and reality are blended, it presents another aspect of happiness to the viewer.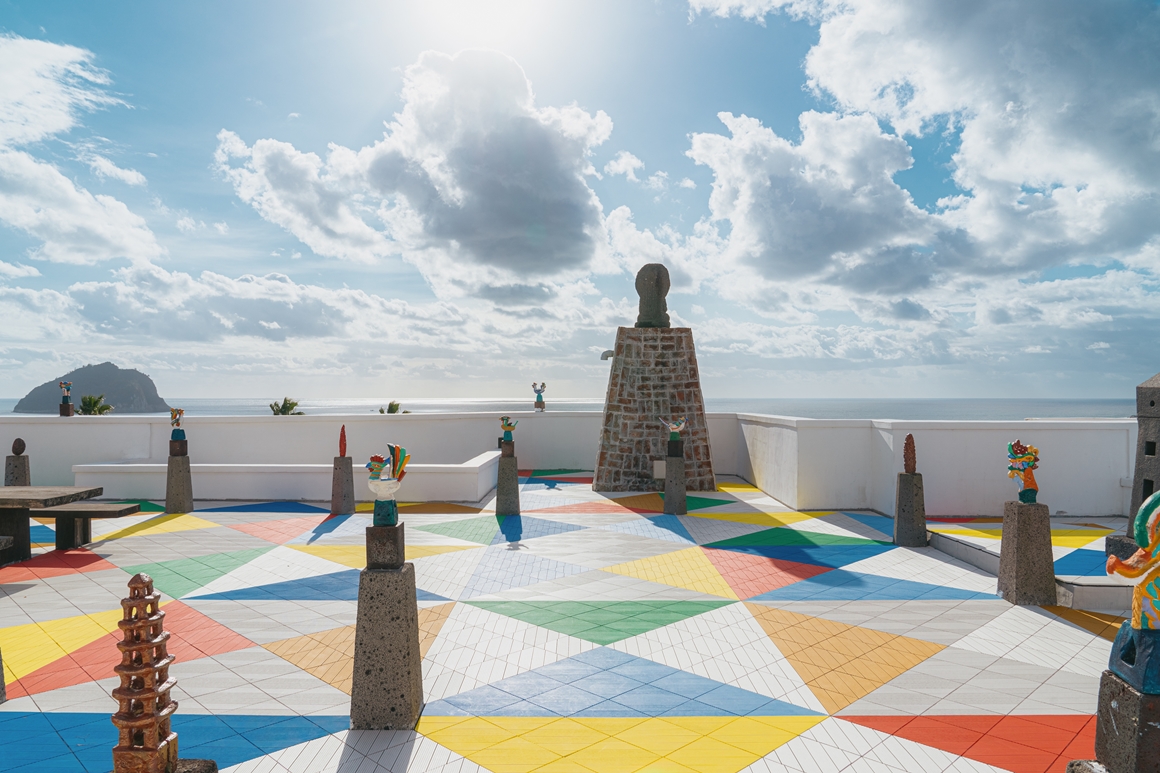 In 2011, Lee Wal-jong established a cultural foundation, and in 2013, the Walart Museum was opened opposite the parking lot of Jeongbang Falls in Donghong-dong, Seogwipo-si. It is a three-story art museum about 1,000 square meters in size, using Joseon baegja, white porcelain that is representative of the dynasty, as a central theme.

The garden was cultivated by Lee Wal-jong himself, and his works are hidden everywhere. From the rooftop garden, you can see the coast of Seogwipo and a wide, panoramic view of Hallasan Mountain. For over 10 years, Lee Wal-jong has been running an art class for children and taking part in community service.
Lee Jung-seop (1916-1956)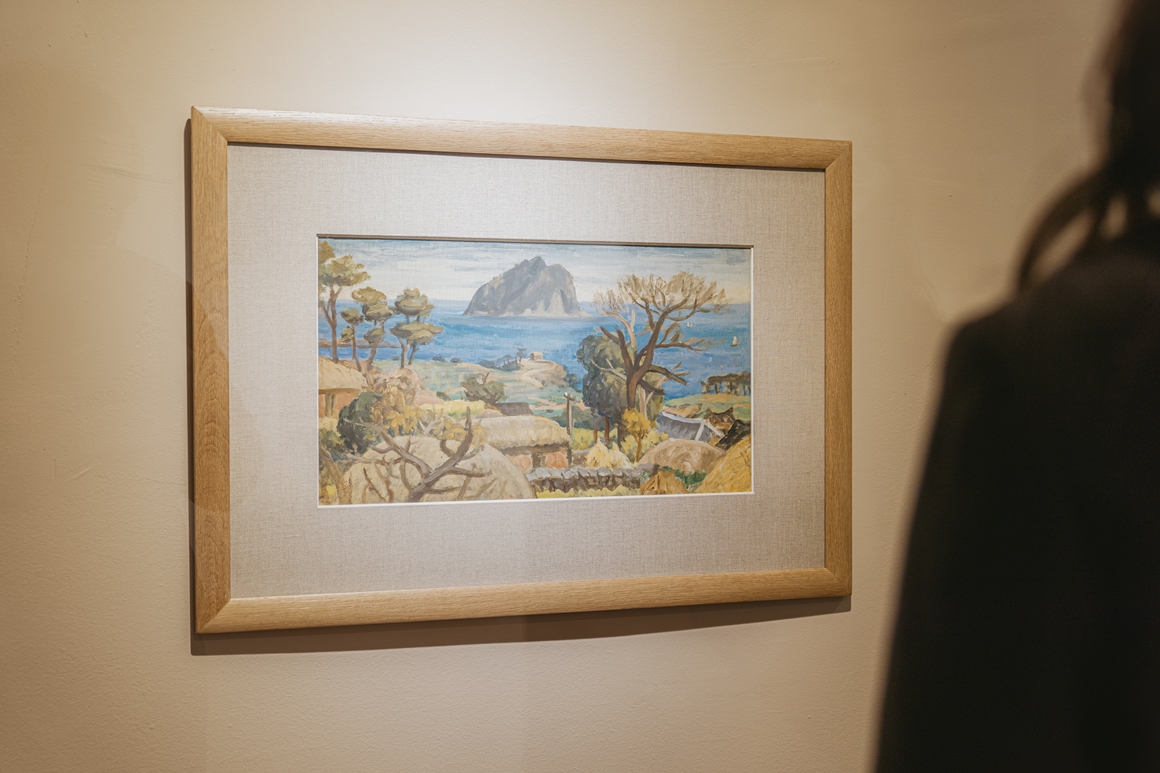 Lee Jung-seop was born in North Korea, and in 1935, he moved to Tokyo, Japan to study Western painting. He returned to Korea in 1945 with his Japanese wife.

Lee Jung-seop came from an affluent family, but their wealth collapsed with the outbreak of the Korean War in 1950. He fled the war with his wife and two sons and moved to Jeju Island. He tried to earn a living from doing manual labor on the docks, but when he became ill, he was no longer able to continue doing the work. Lee Jung-seop and his family became destitute, and unable to afford materials to paint, he drew pictures on the foil that was used to wrap cigarettes.

Early in his marriage, he lost his eldest son to a contagious disease, and his work "A Child Flies With a White Star" (1947) is a painting with the motif of his deceased son. The tragedy affected him his entire life, so many of his works include young children playing naked.

In 1952, due to economic difficulties, Lee sent his wife and two sons to Japan. He went to visit them in 1953, and he was able to spend five days with them, but this trip became the last time he was able to see them.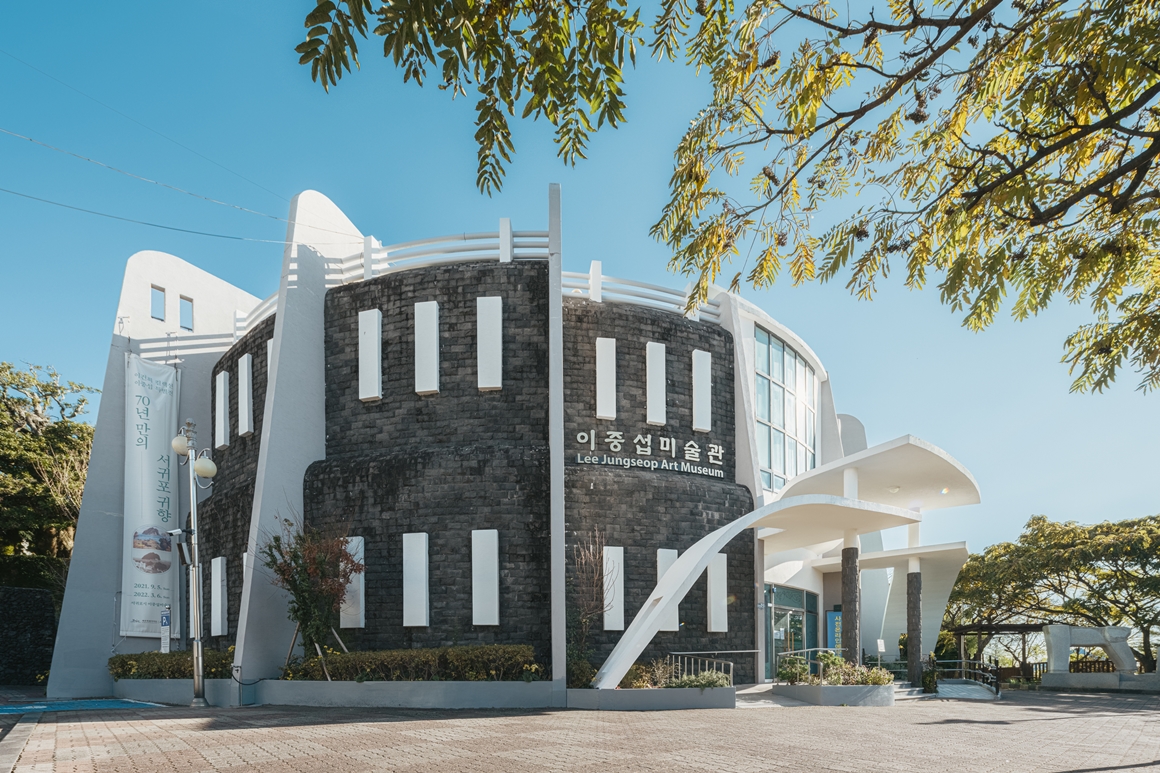 In 1955, with the help of his friends, he held his first and last exhibition in Seoul. At this time, three of his works drawn on silver foil were exhibited at the Museum of Modern Art in New York.

Lee Jung-seop painted more than 300 works using the same traditional Korean subjects such as children, family, crabs, cows, fish, birds, and the moon. Although his subject matter was not diverse, he used a variety of techniques and media.

His canvases were foil, letters, plywood, and the inside of books, and his drawing mediums were crayons, nails, awls, and his fingernails. He did it primarily because he could not afford art materials, but we can also interpret that his work was experimental and challenged the norms.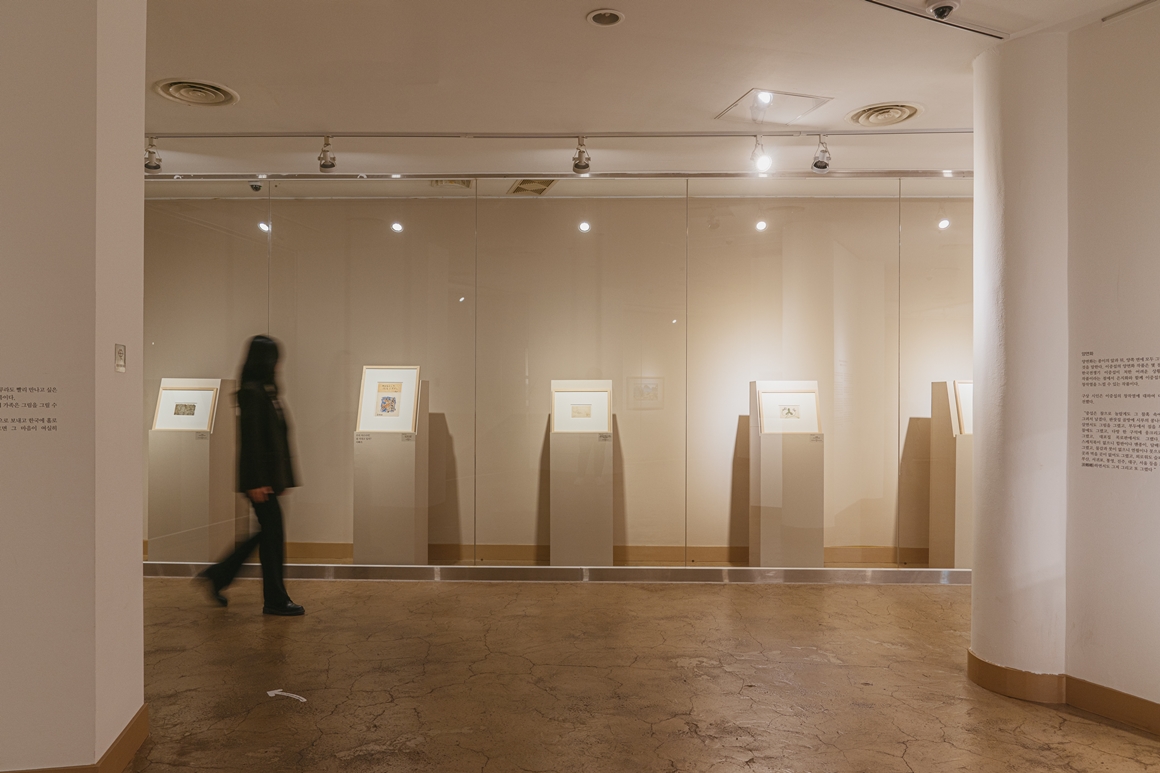 Lee Jung-seop's "Ox" series and "Husband and Wife" series depicted by cranes are representative works of Korean art. In the "Ox" series, the viewer can interpret various sentiments such as vigor, stupidity, savagery, agony, wanderlust, and madness.

Lee Jung-sep died in1956 of hepatitis. Similar to Vincent van Gogh, Lee did not receive much recognition as a painter during his lifetime, but he is recognized today as one of the most prolific painters in history.

The house in Seogwipo-si where Lee Jung-seop's family lived in 1951 was remodeled and the Lee Jung-seop Art Museum was established there in 1995. A road nearby was also named Lee Jung-seop Street in homage to him. There are not many works on display at the art museum, so the viewer can spend more time focusing their attention on a single work.
Kim Young Gap (1957-2005)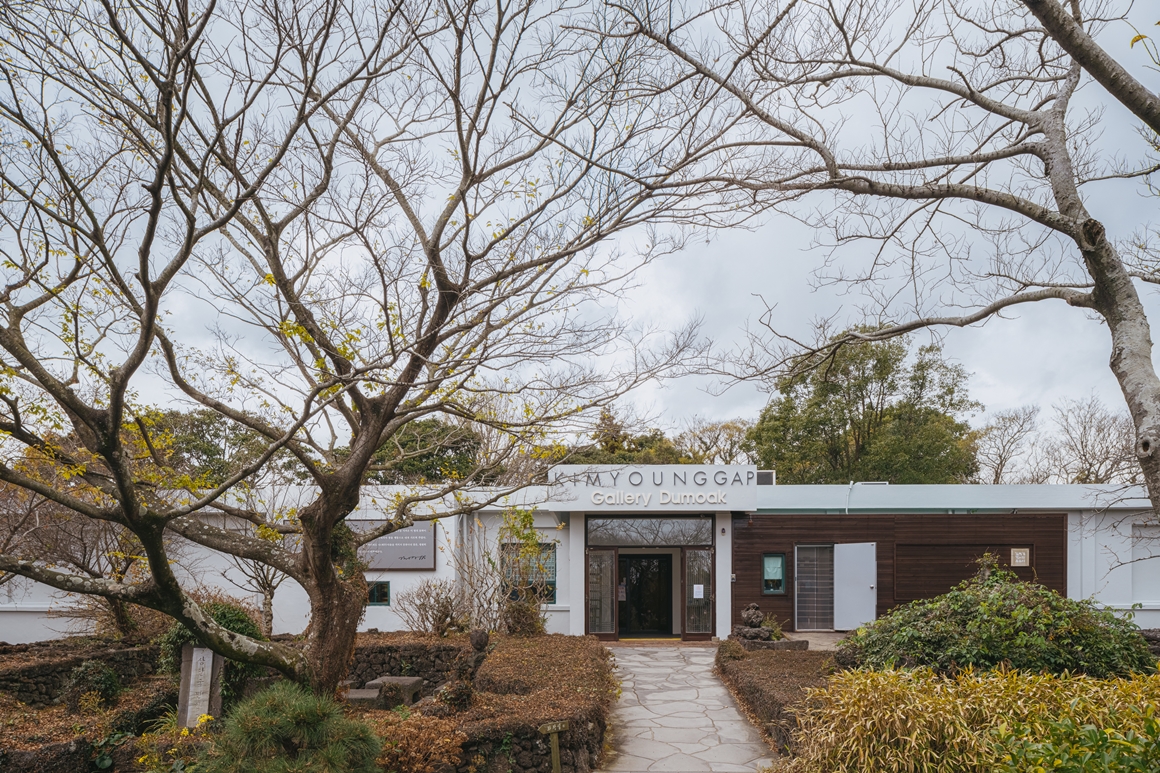 Kim Young Gap was born in Buyeo, Chungcheongnam-do in 1957. Fascinated by Jeju Island, he moved to Jeju in 1985. Kim, who was poor, ate the carrots and sweet potatoes thrown away in fields, and instead used his money to purchase film, with which he shot scenes of the flesh of Jeju. The subjects of his work were oreum, Marado Island, rain, snow, fog, wind, clouds, and trees, - all of Jeju's nature was the subject of interest and love for him.

To enjoy true freedom, he chose to live alone. He knew that it would be a lonely path, but he bravely chose the solitary life, because he believed that only then could he immerse himself in photography. People called him a workaholic, but it didn't matter to him. He was convinced that to see aspects of nature that no one else could see, one had to be an addict. To him, photography was similar to the voluntary asceticism of a monk or seeker of truth.

While receiving treatment for ALS, he remodeled an abandoned elementary school and opened the Kim Young Gap Gallery Dumoak in 2002. He died in 2005. After cremation, his bones were scattered in the Dumoak Garden.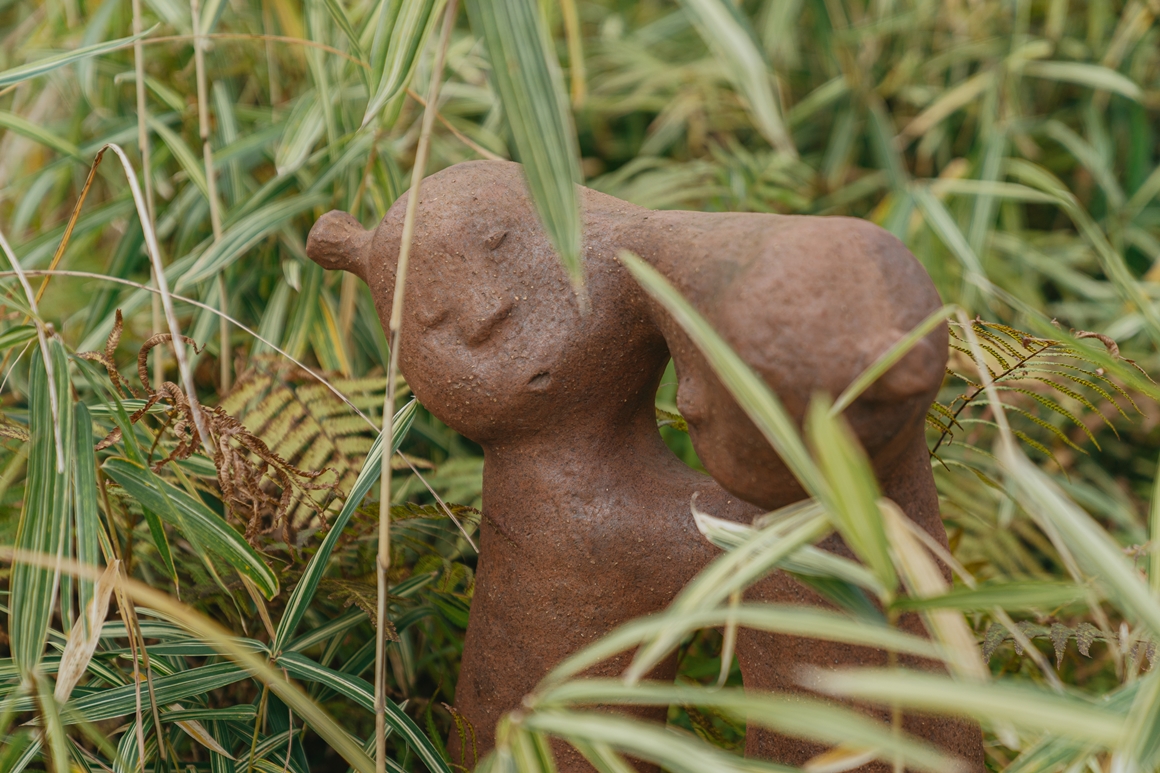 Notice

※ The above information was written on 2021-12-29. Please confirm the information prior to your trip.
※ Unauthorized use of the content above (text, photos and videos) is prohibited and subject to copyright by the Jeju Tourism Organization.