본문
Feel the Breeze From the Sea <Cycling Jeju: A Two-Wheeled Journey Along Dazzling Coastline>
Jeju has around 234 kilometers of coastline peppered with pristine beaches, dramatic cliffs, and idyllic villages. If you want to see it all, cycling is one of the best ways to do so.
Review

0

Lookup

6,791

Share SNS

0
Feel the Breeze From the Sea

Cycling Jeju: A Two-Wheeled Journey Along Dazzling Coastline

Many of Jeju's most famous attractions are located on the island's coast. You'll find pristine beaches, dramatic cliffs, and volcanic hills. As people traditionally settled near the sea, the coast is also home to many idyllic villages. If you want to explore these areas, you have many options. Jeju Olle Trails are walking paths that circumnavigate the island, letting you slowly take in the views. Or you can take a bus or rent a car to be shuttled from site to site. An excellent middle ground is cycling. When riding a bike, you are close to nature, yet have a sense of direction and speed. While walking around the island would take weeks and you can drive around in a day, if you cycle, you can see all the sites in anything from two days to a week. Here is everything you need to know about cycling around Jeju.
Bike lanes, Well-Maintained Roads, and Relative Flatness
Jeju's Coastline Is Perfect for Cycling
Jeju's coastline seems like it was made for cycling. With a circumference of around 234km, it is the perfect length for a variety of trips. Experienced cyclists looking for a challenge can complete the circuit in two days, while beginners can take things slower—breaking the trip down into manageable chunks. The abundance of villages along the coast means you are never far from a hotel or a campsite.
It is not just the length that makes the island suitable for cycling. There is a bike lane that lines the coastal road all the way around the island. The road is in good condition, which means you won't be struggling over difficult terrain. Additionally, while there are slopes and hills, the majority of the coastal route is relatively flat. Fall is the perfect time of year to make the trip. The temperature is cooler than summer, yet is still far from the cold depths of winter.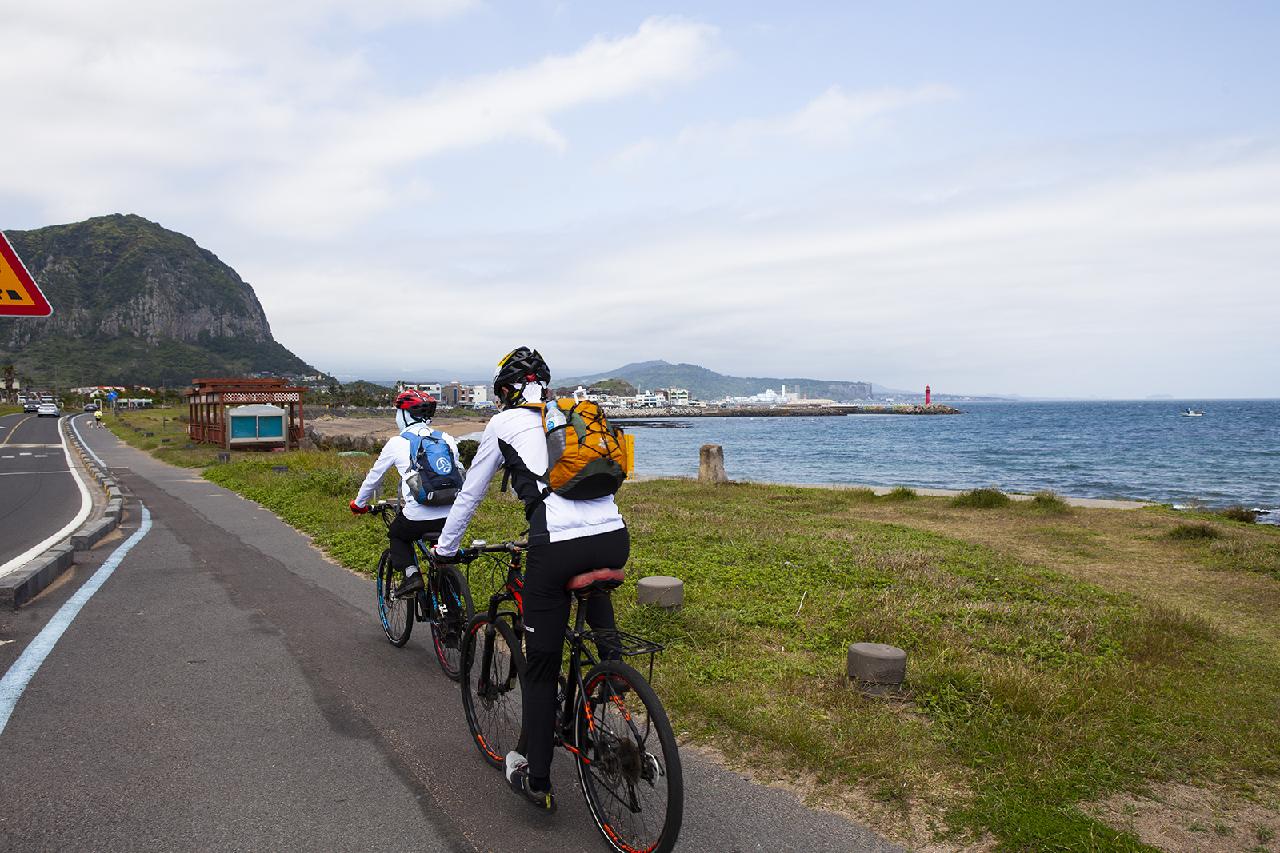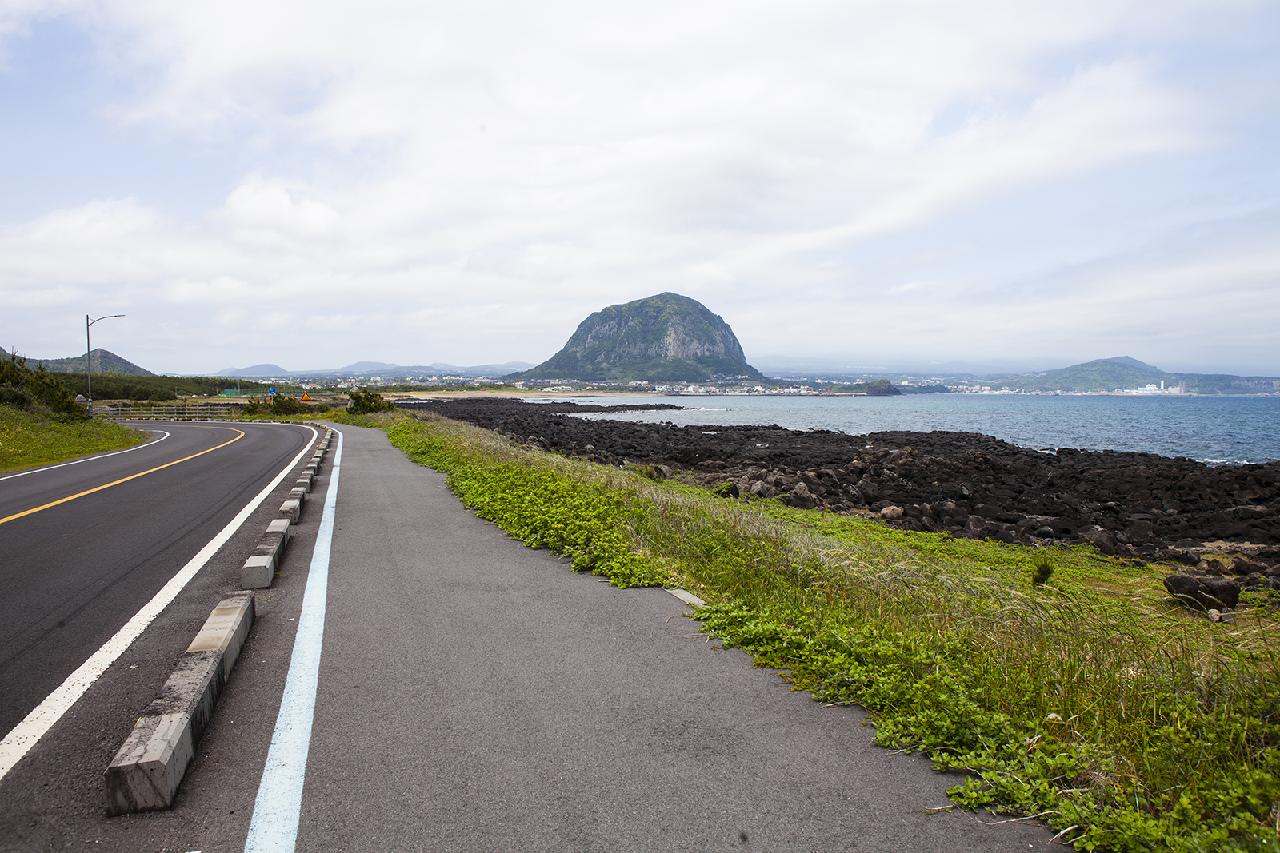 Need Some Inspiration?
Jeju Coastal Cycling Highlights
Jeju has created a circular cycle path that goes all the way around the island and is split into ten recommended courses. Each of these trails is marked out by blue signs that contain route information. This path makes it easy to either cycle around the whole island, usually starting in Jeju City or Seogwipo City, or just a certain part. Here are two of our favorite cycle routes.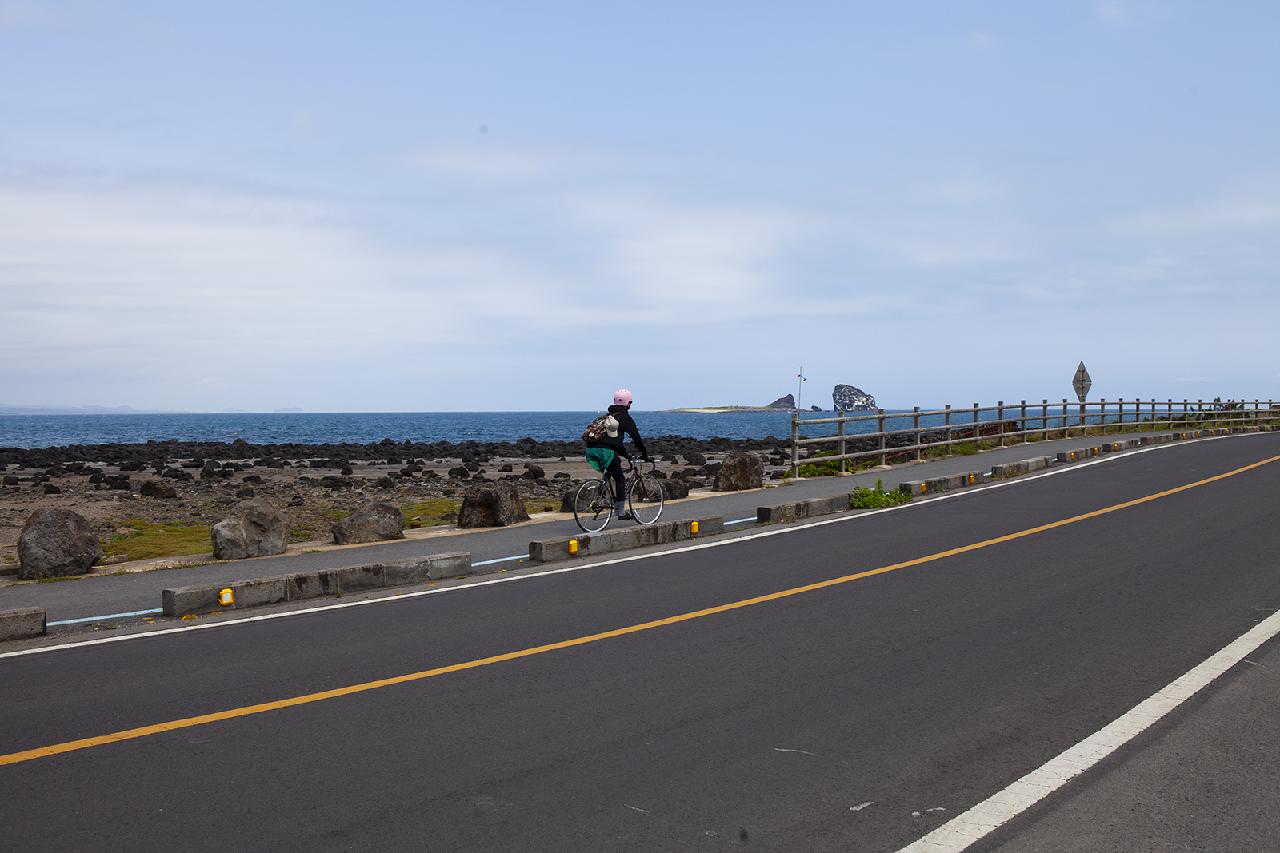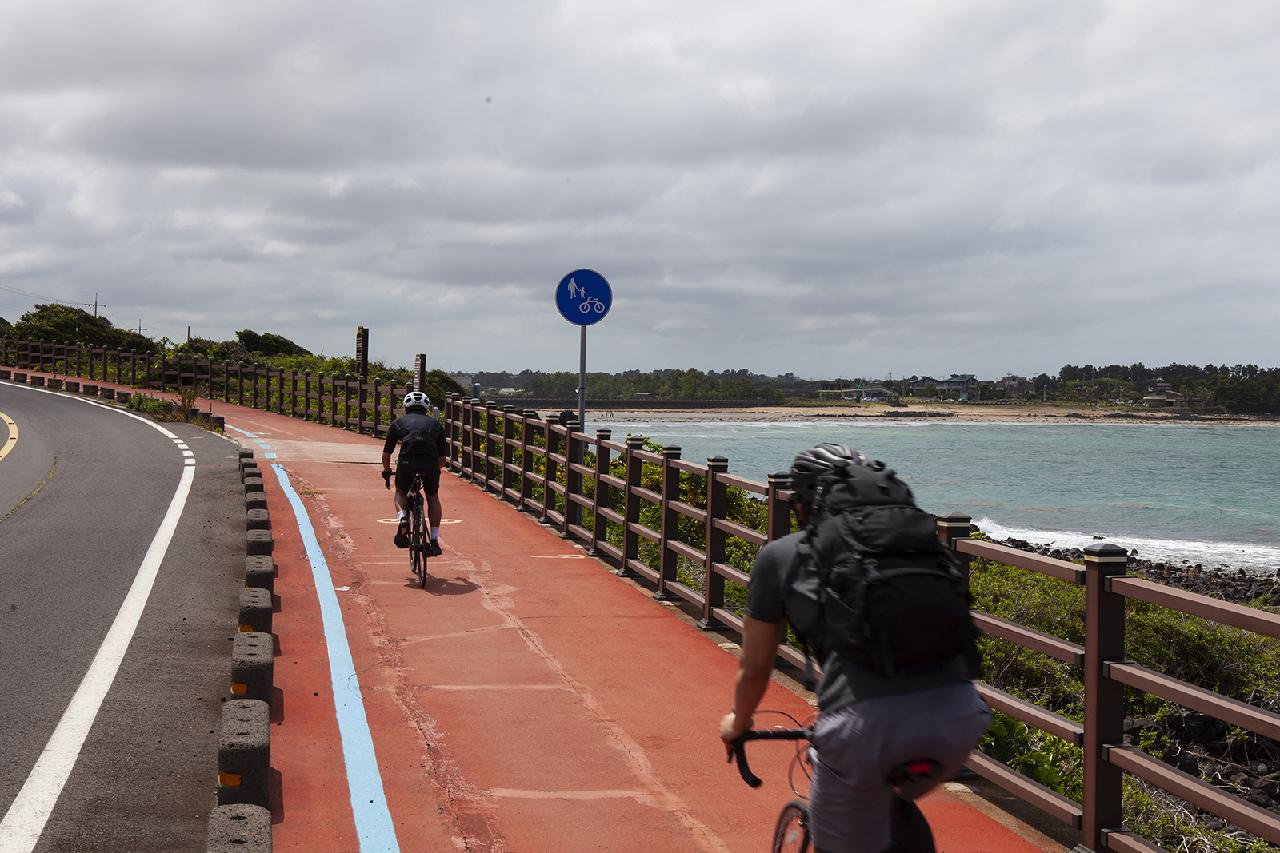 For Beach Lovers
Course Two: Darakswimteo to Haegeorum Village Park
Many of the cycling routes go past beautiful beaches. Course two takes this to the next level by passing three of the island's most famous stretches of sand. First is Gwakji Beach, which comes 5.2km into the trip. This is a vast expanse of white sand and blue ocean. Keep an eye out for the beach's open-air seawater bath and the haenyeo statues. If you are feeling hungry, there are several restaurants and cafes in the area, including Cafe Taehee, which is famous for its fish and chips.
If you cycle another 12km you'll hit Hyeopjae beach and then, a little further on, Geumneung beach. Hyeopjae is famous for its shallow turquoise water, but even if you don't fancy a dip, you can still enjoy the views out over Biyang-do island. Geumneung is a short cycle down the coast—here you'll find a large strip of white sand contrasting with Jeju's famous black volcanic rock. This area is also home to Hallim Park, which is a large park with a variety of gardens, cliffs, caves, and a folk village. It is well worth a visit if you have the time on your cycle trip.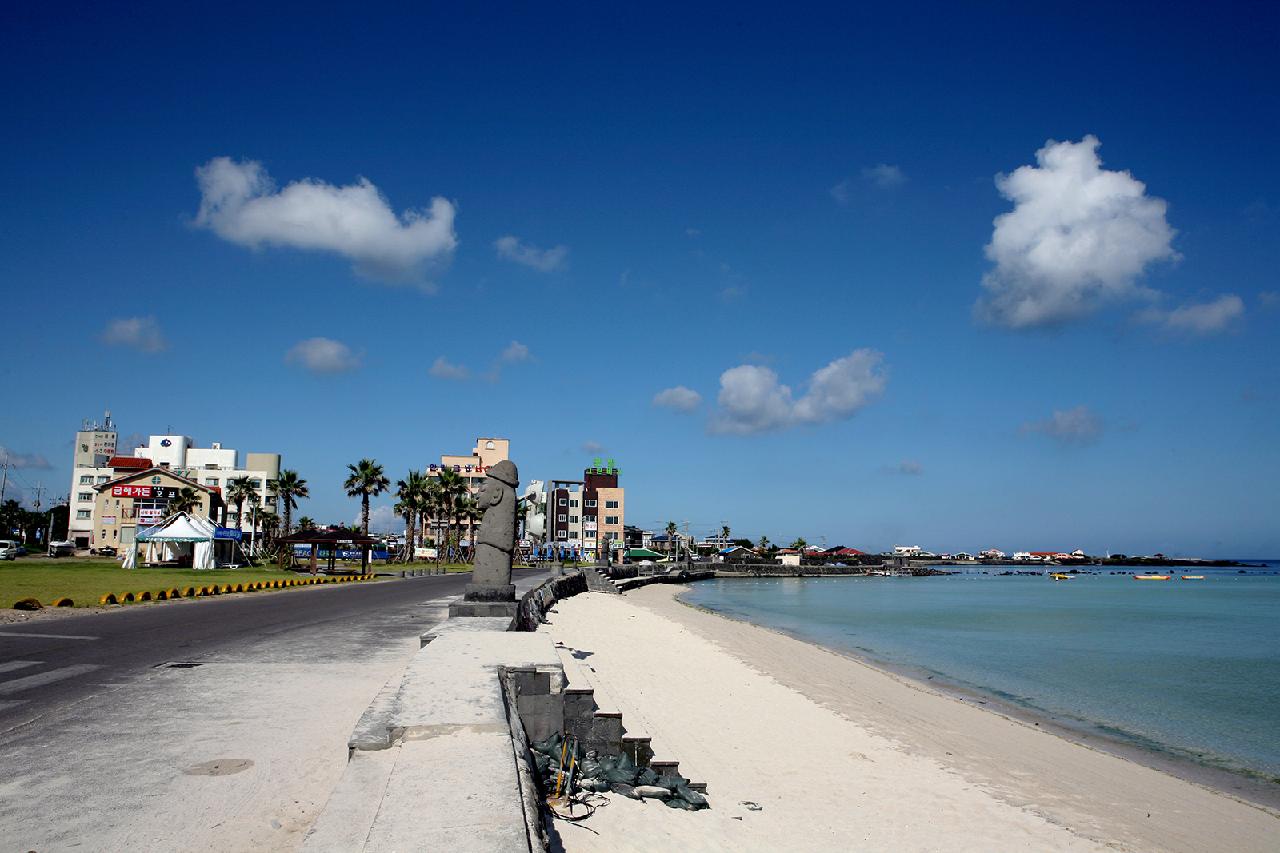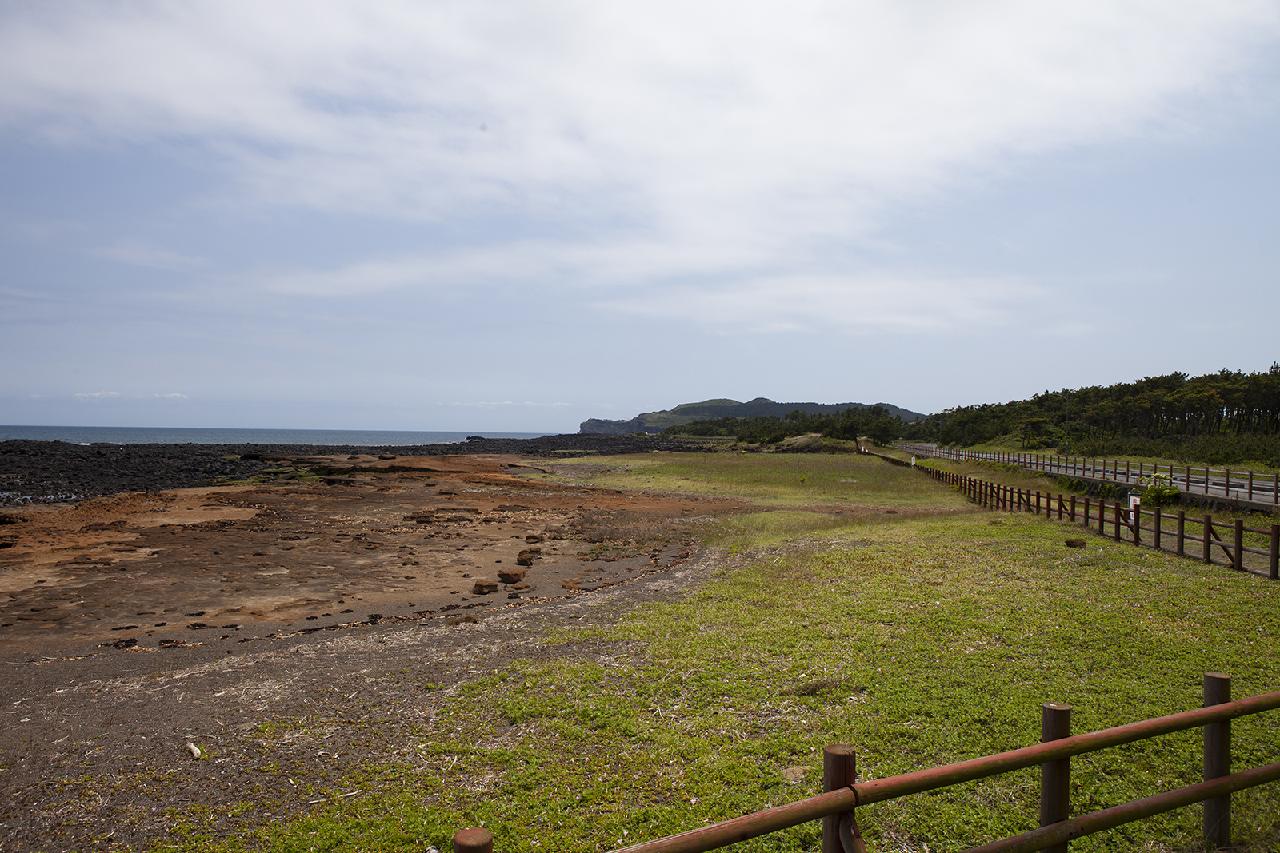 Famous Landmarks, Cozy Cafes, and Small Beaches
Course Eight: Seongsan to Gimnyeong
Course eight is popular because it starts at Seongsan Ilchulbong Peak. This makes it possible to get up early, watch Jeju's most famous sunrise, and then begin your journey. At 29km, this trail is one of the longer ones on the island. Of course, this means you get to see more of Jeju. The first part of the cycle is dominated by views of Seongsan Ilchulbong and Udo Island. Around 9km in, you'll be faced with Jimibong, a volcanic hill distinct due to its steepness. You can stop and climb to the top of this peak if you have the energy. On course eight, you will also pass several beaches, including Hado, Pyeongdae, Saehwa, Weoljeong, and Gimnyeong. There are also plenty of little cafes and restaurants you can visit along your route.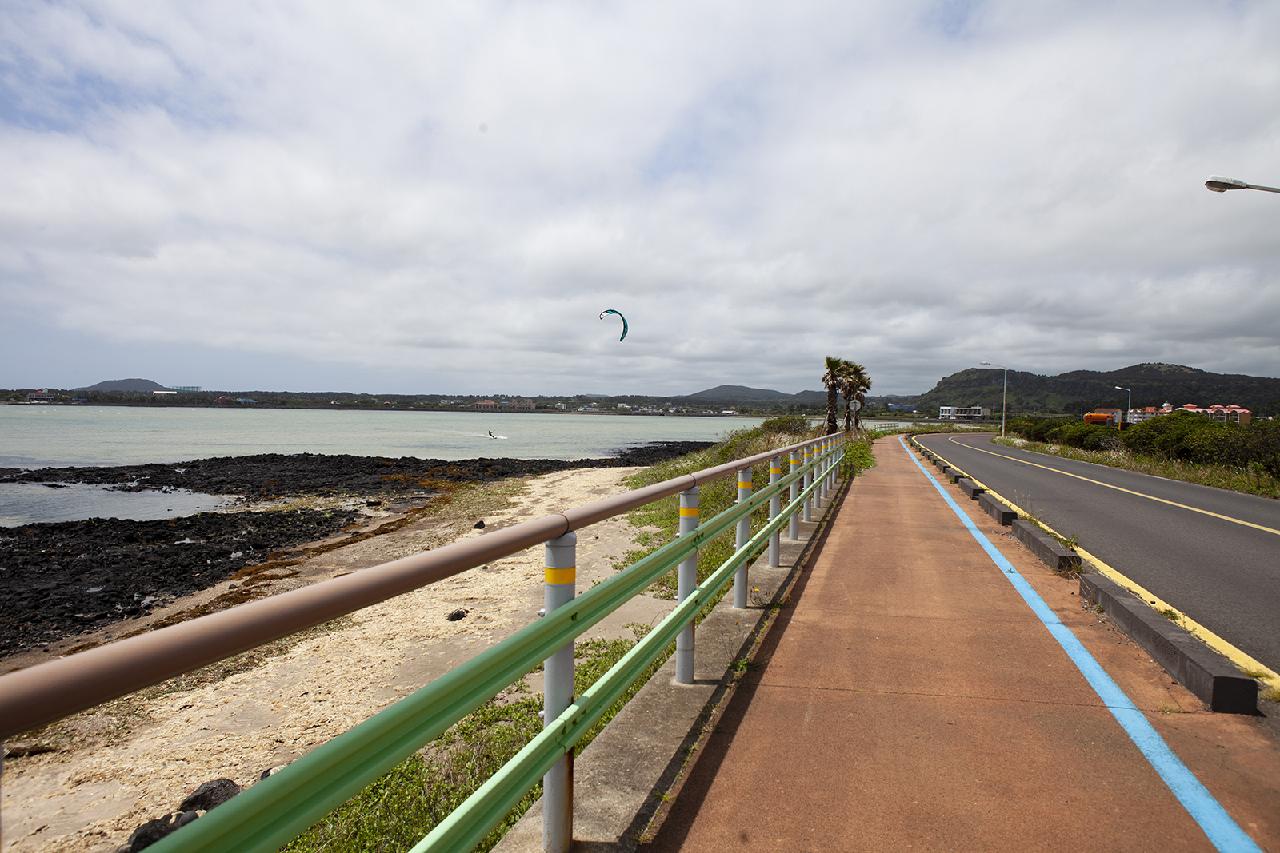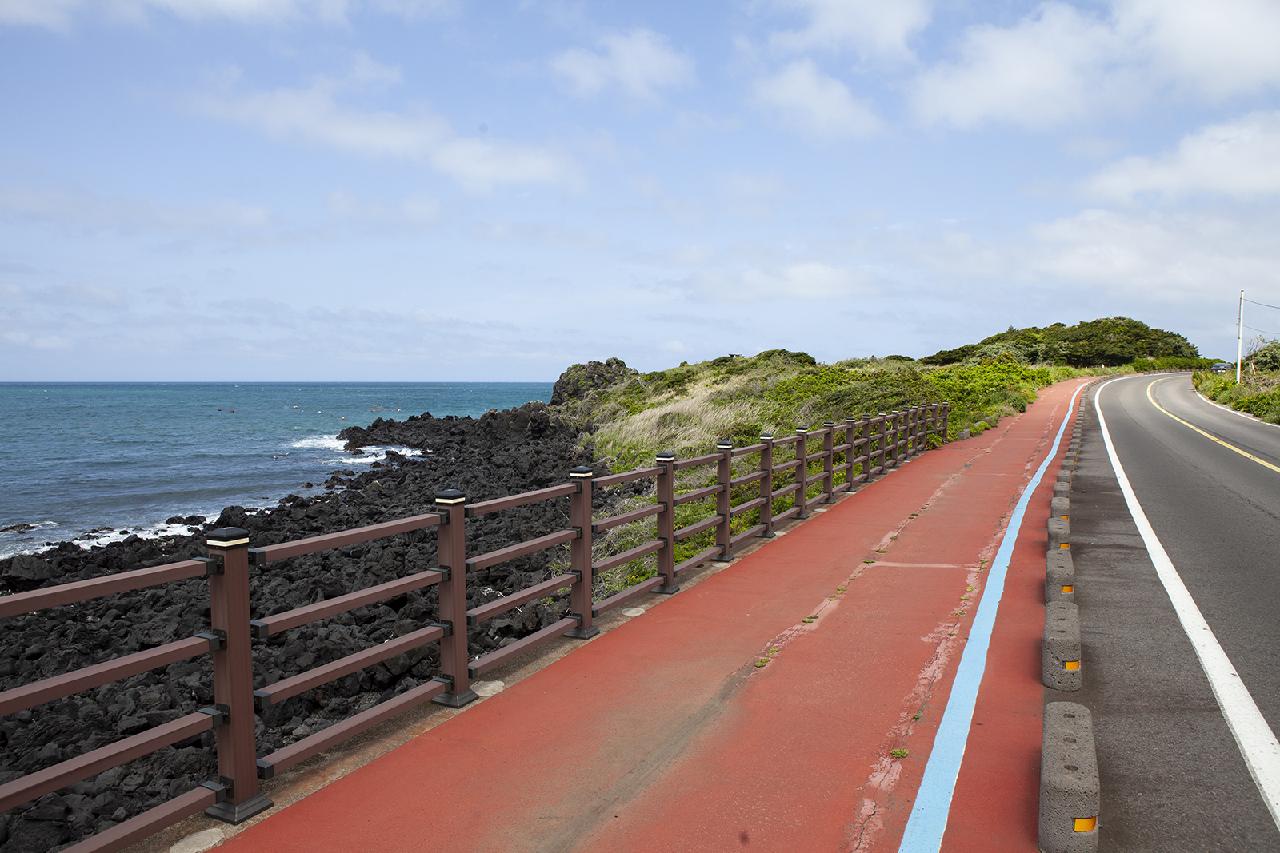 Overview of Other Bike Routes
- Route One: Starts at Yongduam in Jeju City and ends at Darakswimteo. The route is 21km and highlights include Iho Tewoo Beach and Aewol Coastal Road.
- Route Two: Starts at Darakswimteo and ends at Haegeoreum Village Park. The route is 21km and highlights include Gwakji Beach and Hyeopjae Beach.
- Route Three: Starts Haegeoreum Village Park and ends at Songaksan. The route is 35km and highlights include views of Chagwido Island and cycling through flat quiet roads.
- Route Four: Starts at Songaksan and ends at Beophwanbadang. The route is 30km and highlights include views of Sangbangsan Mountain and the opportunity to see Daepo Jusangjeolli Cliff.
- Route Five: Starts at Beophwanbadang and ends at Soesokkak Estuary. The route is 14km and highlights include Jeonbang Waterfall and Soesokkak Estuary.
- Route Six: Starts at Soesokkak and ends at Pyoseon Beach. The route is 28km and highlights include long stretches of quiet coast and Pyoseon Beach.
- Route Seven: Starts at Pyoseon Beach and ends at Seongsan Sunrise Peak. The route is 22km and highlights include Seongsan Illchulbong Peak and quiet roads with views of black volcanic stone coast.
- Route Eight: Starts at Seongsan Illchulbong Peak and ends at Gimnyeong Beach. The route is 29km and highlights include Woljeong Beach and Hado Beach.
- Route Nine: Starts at Gimnyeong Beach and ends at Hamdeok Beach. The route is 9km and highlights include Seoubong Peak and Hamdeok Beach.
- Route Ten: Starts at Hamdeok Beach and ends at Yongduam. The route is 25km and highlights include the coast after Hamdeok Beach and Sarabong Peak.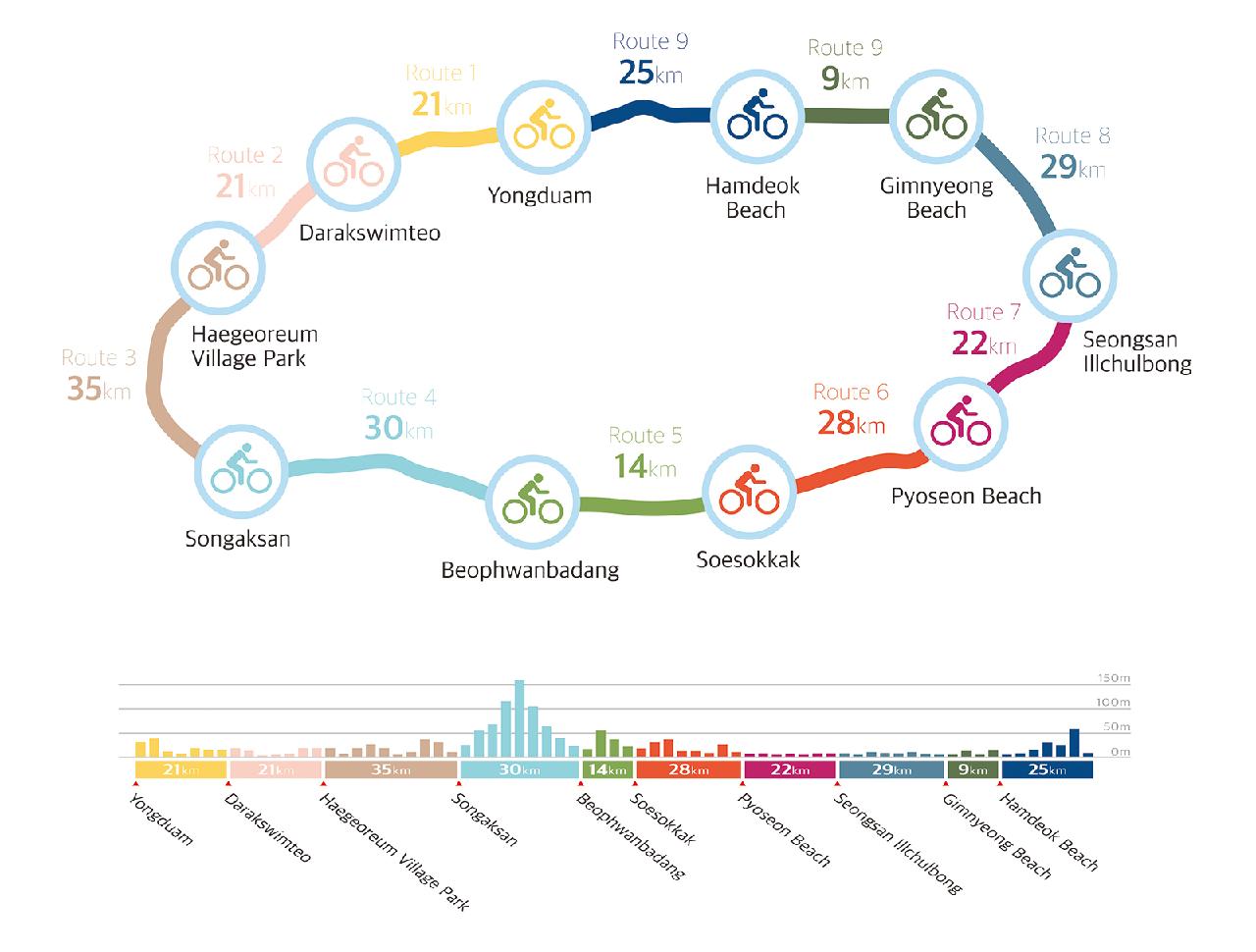 No bike? No worry
Renting a Bike Is Easy on Jeju
If you don't bring your bike to Jeju, you'll need to hire one. There are plenty of places where you can rent bikes in the city. Here are two of them:
Biketrip is a bike rental store located just a five-minute walk from the airport. You can choose from trail bikes, road bikes, or electric bikes. The store also allows you to choose add-ons, including panniers, locks, and lights. Biketrip will deliver or pick up your bike from anywhere on the island, which is perfect if you don't want to start your trip at the shop. You can reserve your bike as well as drop-off or pick-up location in advance. What's more, Biketrip has an English language version of its website, making booking your trip a breeze.
- Address: 26-3 Yongmun-ro, Jeju-si, Jeju-do
- Opening hours: 8:30 a.m. until 6:30 p.m. Closed on Wednesday
- Price: From KRW 24,000
- Contact: 064-744-5990
- Website: http://www.biketrip.co.kr/shop/main/index.php (For English language version, click button in top right corner and use a browser other than Internet Explorer)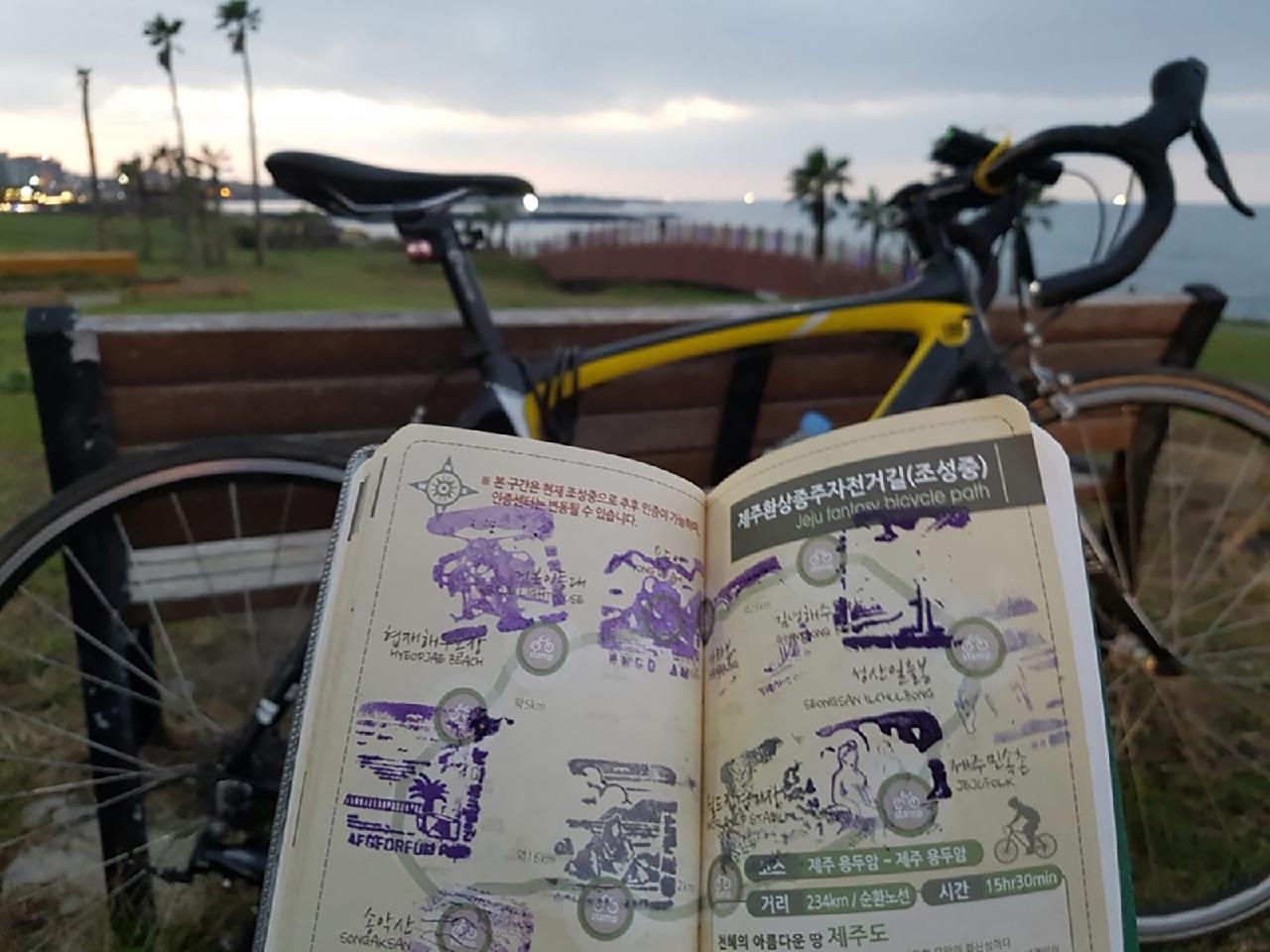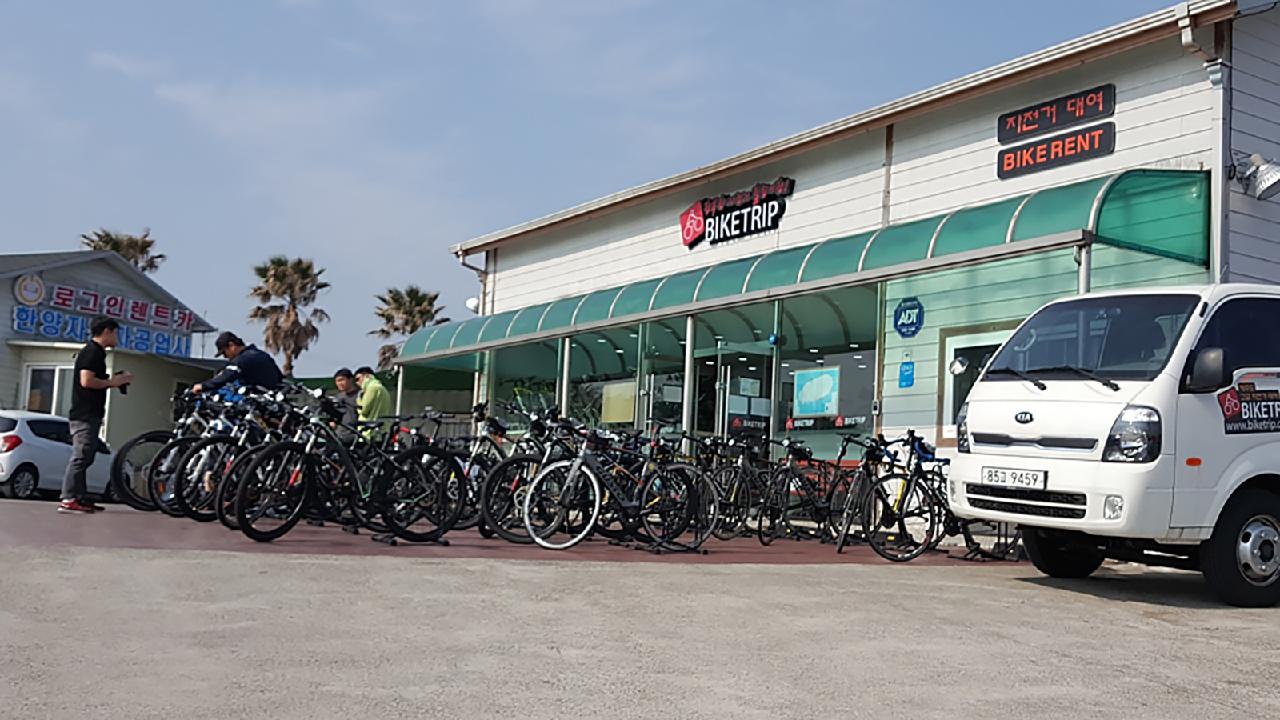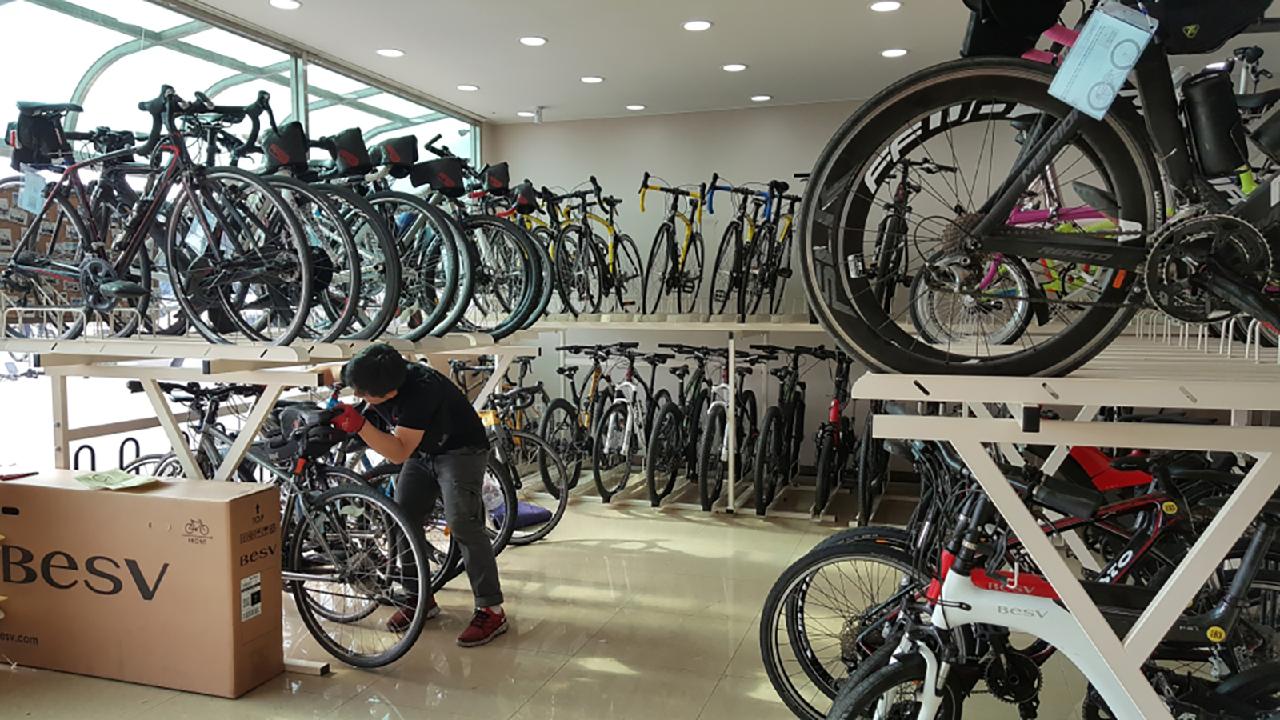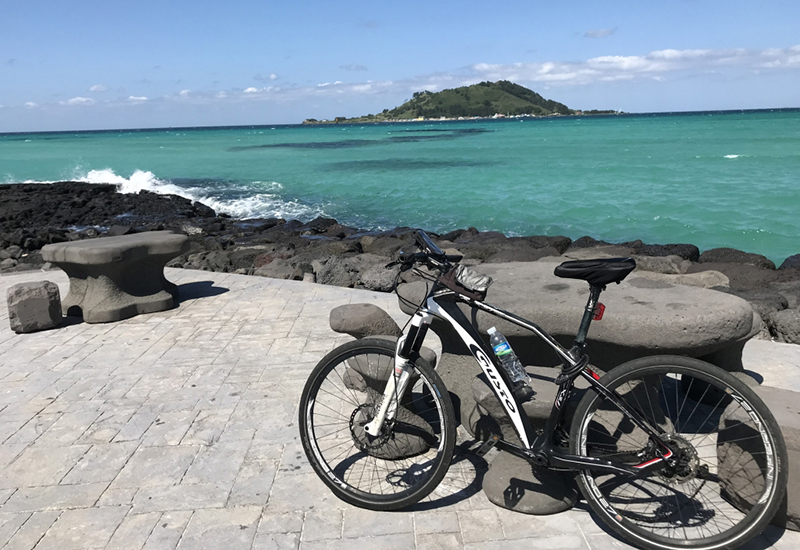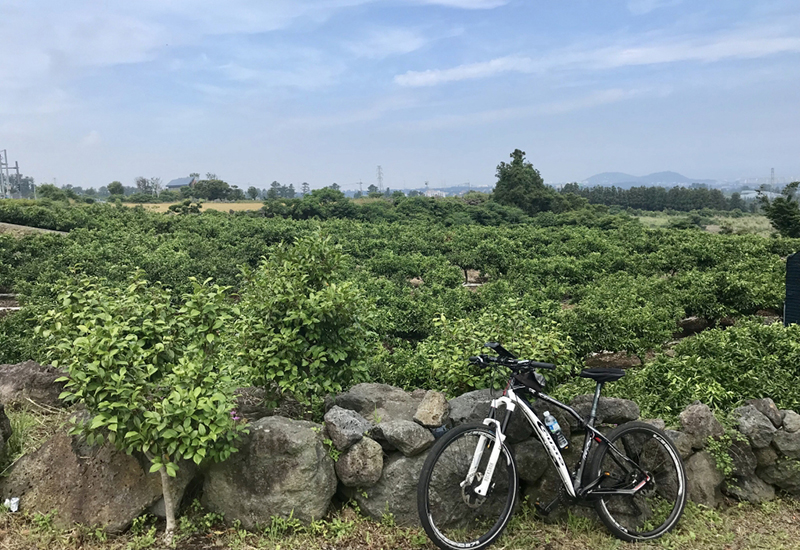 At Yongduam Hiking you can choose from road bikes, hybrid bikes, and electric bikes. You can get a discount on your trip if you book for multiple days in a row. You can reserve bikes in advance and, if you do, you'll be given the option of picking them up at the airport, ferry terminal, or the bus terminal. The shop lets customers drop bikes off at various places along the coast, so you don't have to cycle back. Drop-off locations include Hyeopjae Beach, Sanbangsan Mountain, Seogwipo City, Namwon, Seongsan, Weoljeong-ri, or Hamdeok.
- Address: 31 Bokseong-ro, Jeju-si, Jeju-do
- Opening Hours: 8 a.m. until 6 p.m.
- Price: From KRW 17,000
- Contact: 064-757-7777
- Website: http://www.jeju8253.com (Korean Language Only)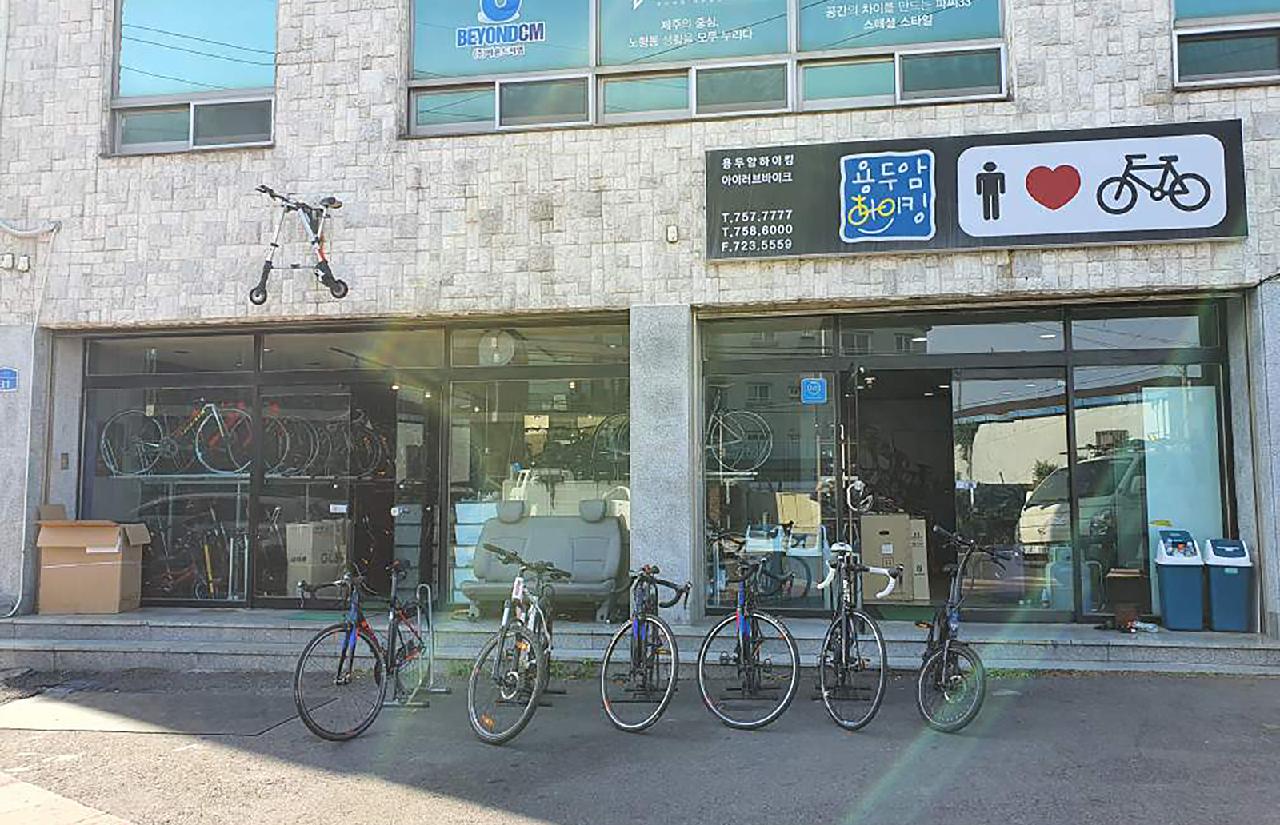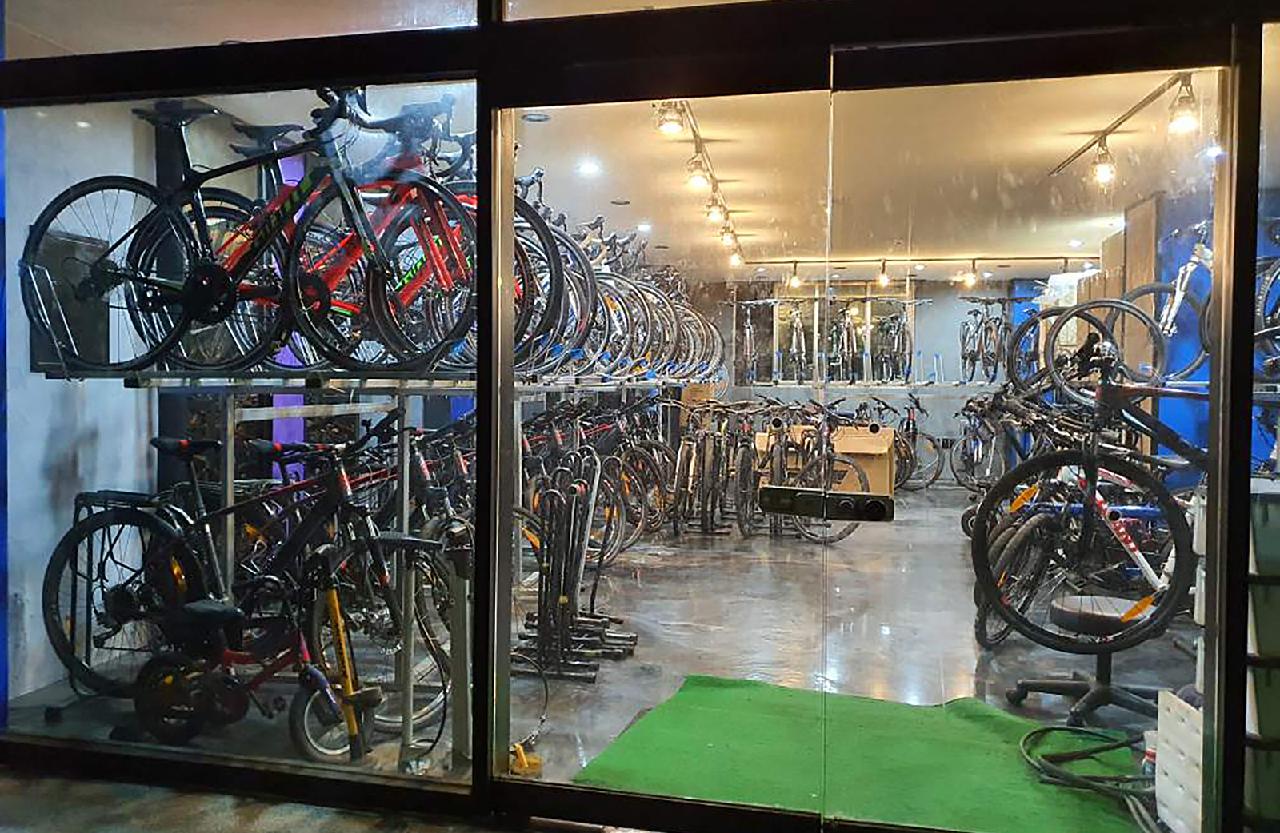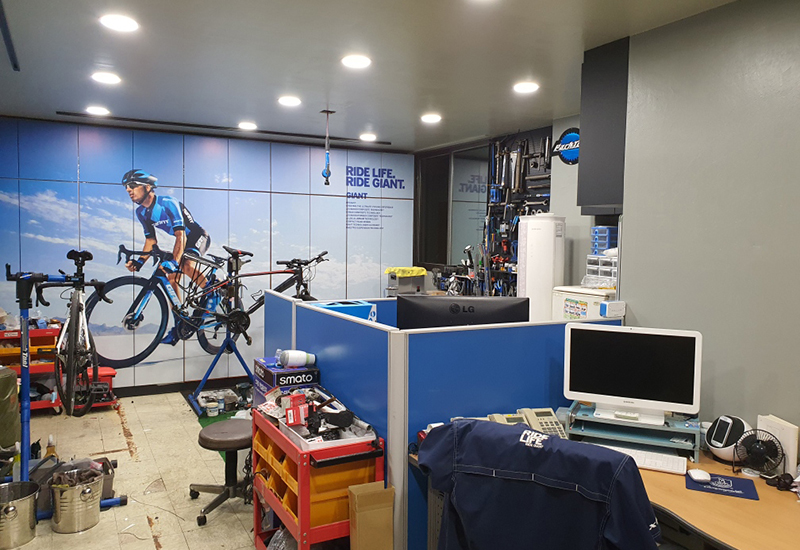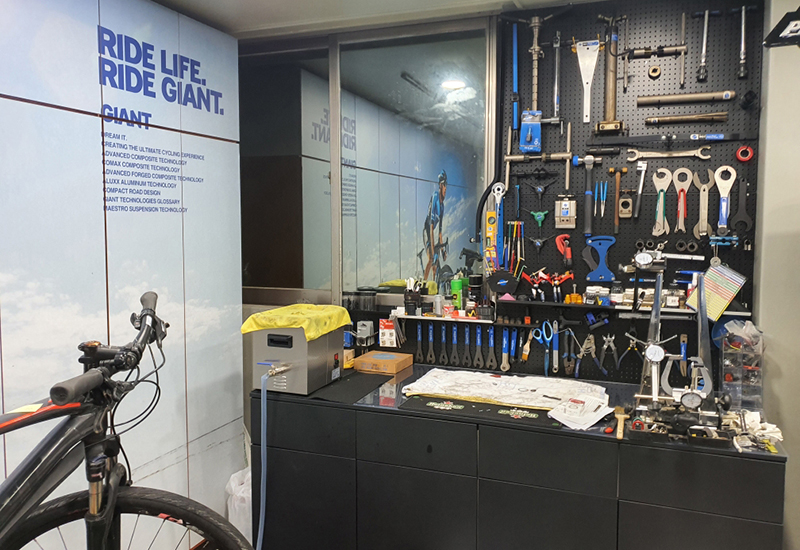 Be Safe While Cycling
What Else Should You Know About Cycling on Jeju?
- Many bike paths on Jeju are mixed-use, which means you will be sharing with pedestrians. Be alert in busy areas.
- Most people choose to cycle the island anti-clockwise. This means you will be closest to the sea.
- Some of the roads around the city and popular tourist spots can be busy with cars.
- The roads around the coast are typically flat, although there are some hills—notably around Jungmun and Aewol.
- Do you have Kakao Maps on your smartphone? If so, you can see all ten coastal bike routes by searching for "bike road" within the app.
- Jeju is known for its wind. Particularly strong gusts can make cycling significantly more difficult. Check the weather forecast before you leave if this is a problem.
- Stay safe and always wear a helmet.
Notice

※ The above information was written on 2020-06-03. Please confirm the information prior to your trip.
※ Unauthorized use of the content above (text, photos and videos) is prohibited and subject to copyright by the Jeju Tourism Organization.