본문
Hiking Hallasan Mountain
Hallasan is South Korea's biggest peak, reaching almost 2 kilometers (1,950 meters, to be precise) and climbing it might seem like a much physical preparation needed sport activity, but don't worry it is not as hard as it seems at first and possible for everyone.
Review

0

Lookup

9,843

Share SNS

0
Conquering Hallasan - Challenge accepted!

Hiking in Hallasan National Park

Hallasan is South Korea's biggest peak, reaching almost 2 kilometers (1,950 meters, to be precise) and climbing it might seem like a much physical preparation needed sport activity, but don't worry it is not as hard as it seems at first and possible for everyone.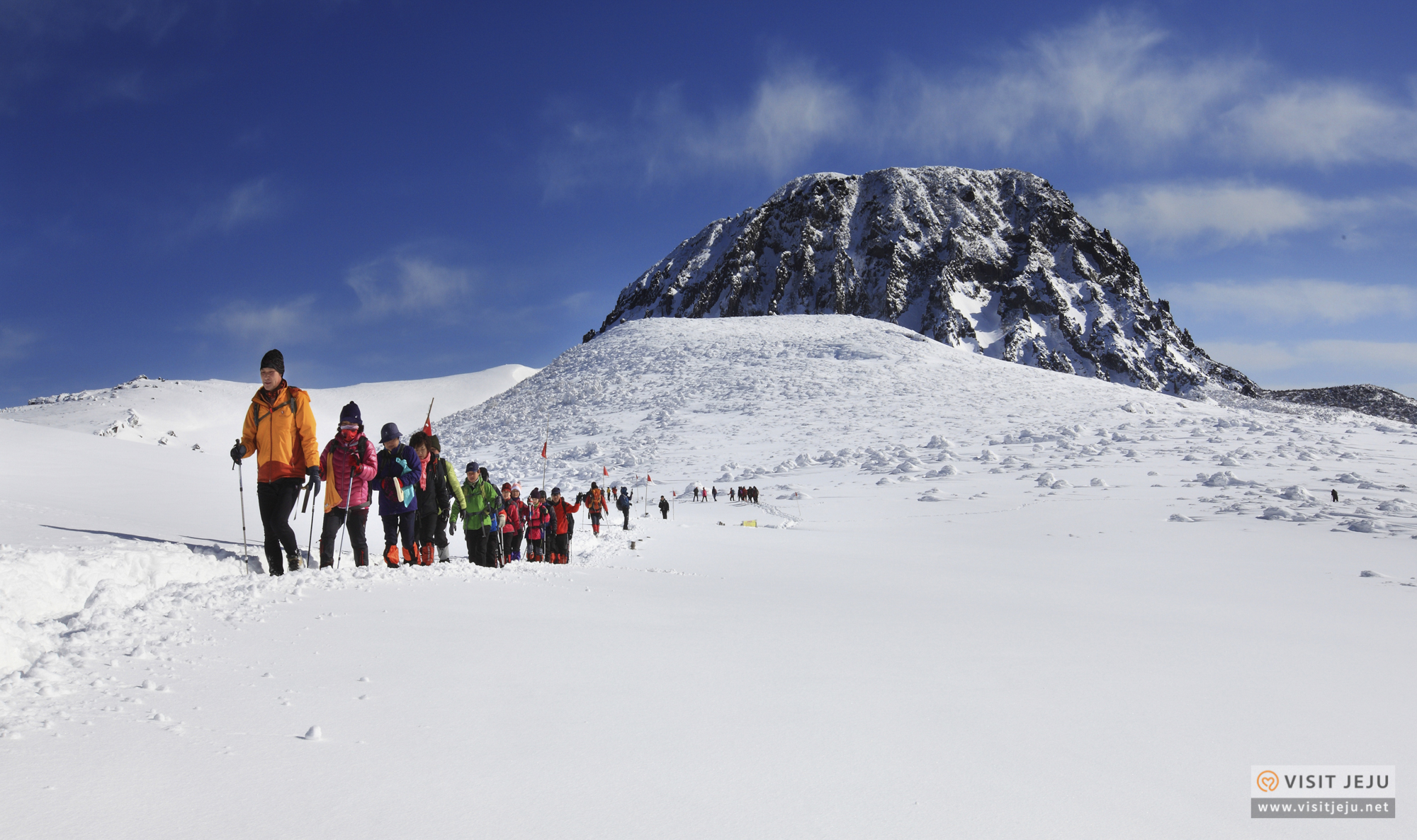 While becoming a nature reserve in 1960 and getting official national park status in 1970, Hallasan was included as a UNESCO World Natural Heritage Site in 2002 along with the Geomun Oreum Lava Tube System and Seongsan Sunrise Peak. It welcomes up to 1 million tourists every year and has 5 hike trails to choose from.
You can visit Hallasan all year round but keep in mind that mountain is open only during daily hours (all trails must be finished before the sunset) and special preparation is needed depending on the season. Water and sun cream is a must all year round, and if you have decided to climb during the winter season spikes on the shoes is one of the essentials. On some spots vendors sell the spikes at the entrance of trail and it doesn't cost a fortune. You can also take walking sticks to make your climb easier and some snacks to enjoy at the resting spots.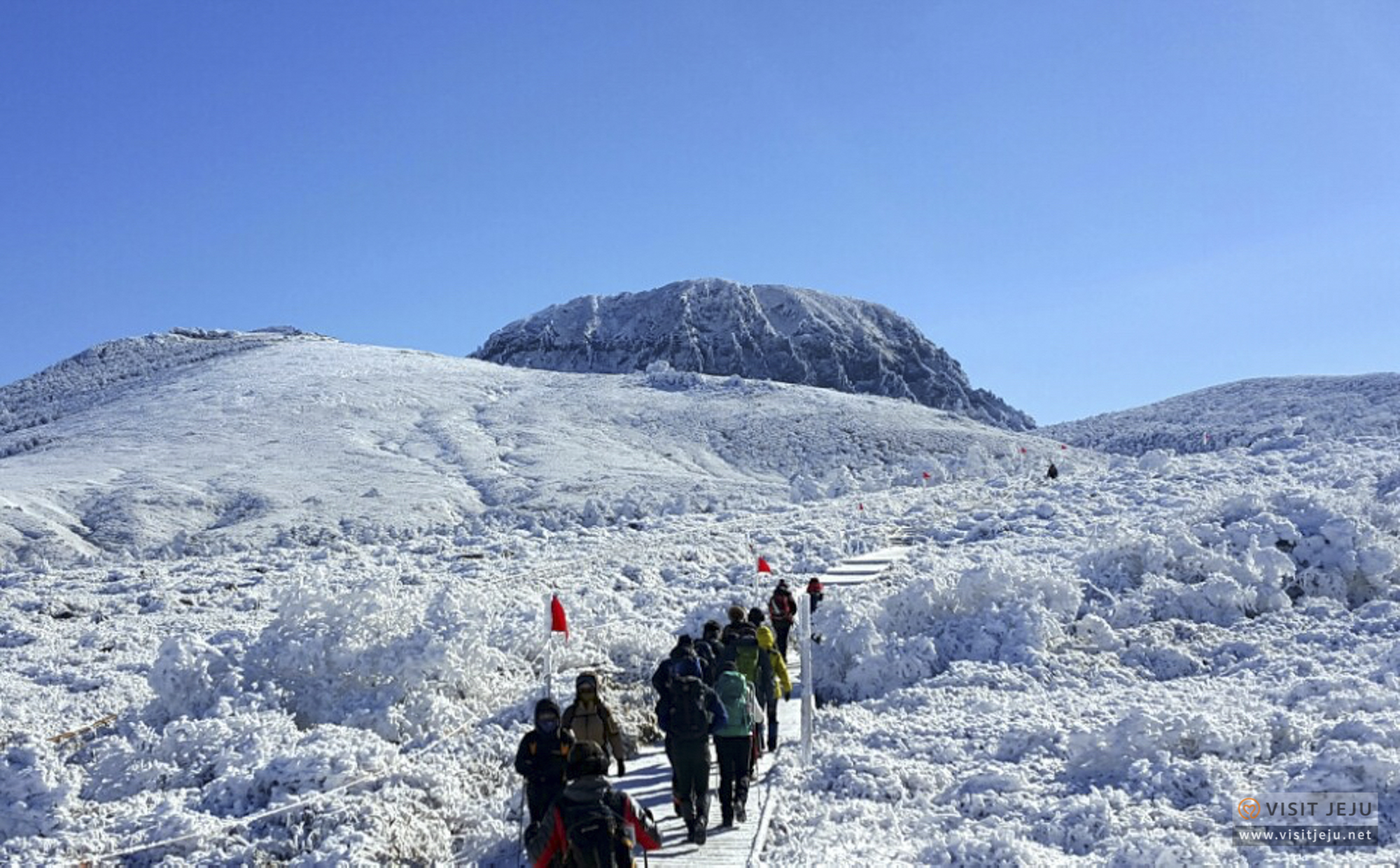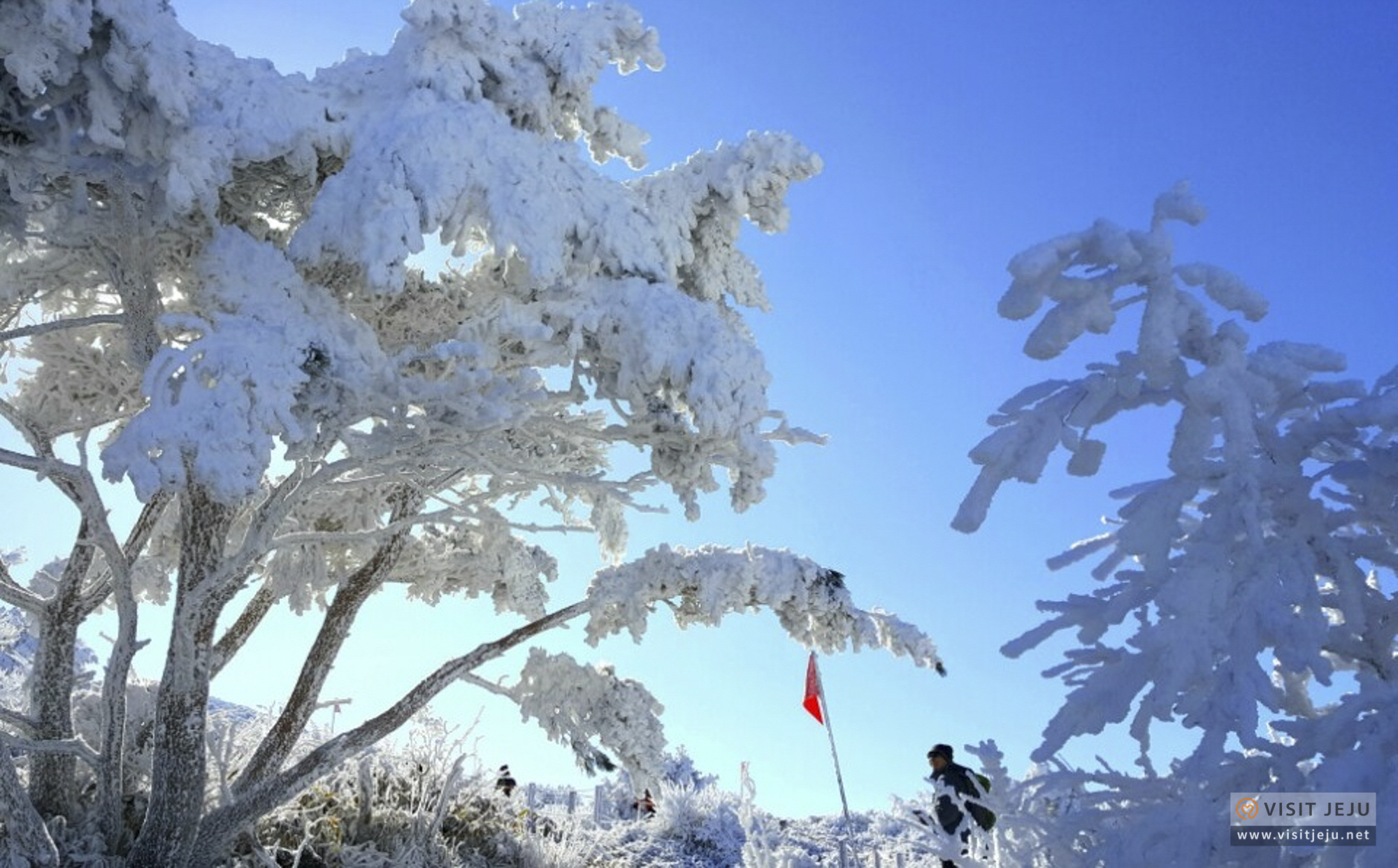 1,000 stairs to heaven
Yeongsil Trail
Considered to be the shortest and the easiest trail, Yeongsil course is just 5.8 kilometers long and takes approximately 2.5 hours to climb. If you are not a skilled hiker you should add an additional hour to your hike plan, as you might stop often to take some pictures or catch your breath.
There is a bus (#240) that takes you straight to the entrance of the trail but keep in mind that first 1,.5 km looks more like a walk through a forest and only when the real trail starts. Taking a taxi to the start of the course is also an option.
Each trail of Hallasan has its traits and Yeongsil is famous for spectacular open cliff panoramic views and unusual rock formations. The trails have thousands of conveniently build wooden stairs but in winter they might be covered in snow that's why spikes on the shoes are a must. If you have a fear of heights you should also consider taking another course because Yeongsil trail often set path where on one side you have rocks and mountains while on other you face a steep cliff down.
The higher part of the trail is a path through a forest of mountain pines that leads to open fields. In spring, azaleas bloom in these fields but in winter it can be kind of windy here, so having a scarf to protect your face is a nice addition to your overall mountain gear. Up in the heights the temperatures are way lower than in the city. In winter it can be up to -20°C.
Yeongsil trail does not lead to the peak. Its highest point is Witse Oreum and traditionally hikers stop here to have a cup of hot ramyeon noodles, and eat the snacks they have prepared in advance. After taking a picture next to the highest point marker you can decide whether to go down by the same course or take Eorimok trail down. Depending on the season, another path leading to the peak from Witse Oreum might be open but you should contact information office and inquire about it in advance. Mixing several trails to go up and down the Hallasan is the best option to see as many Hallasan as you can in one climb.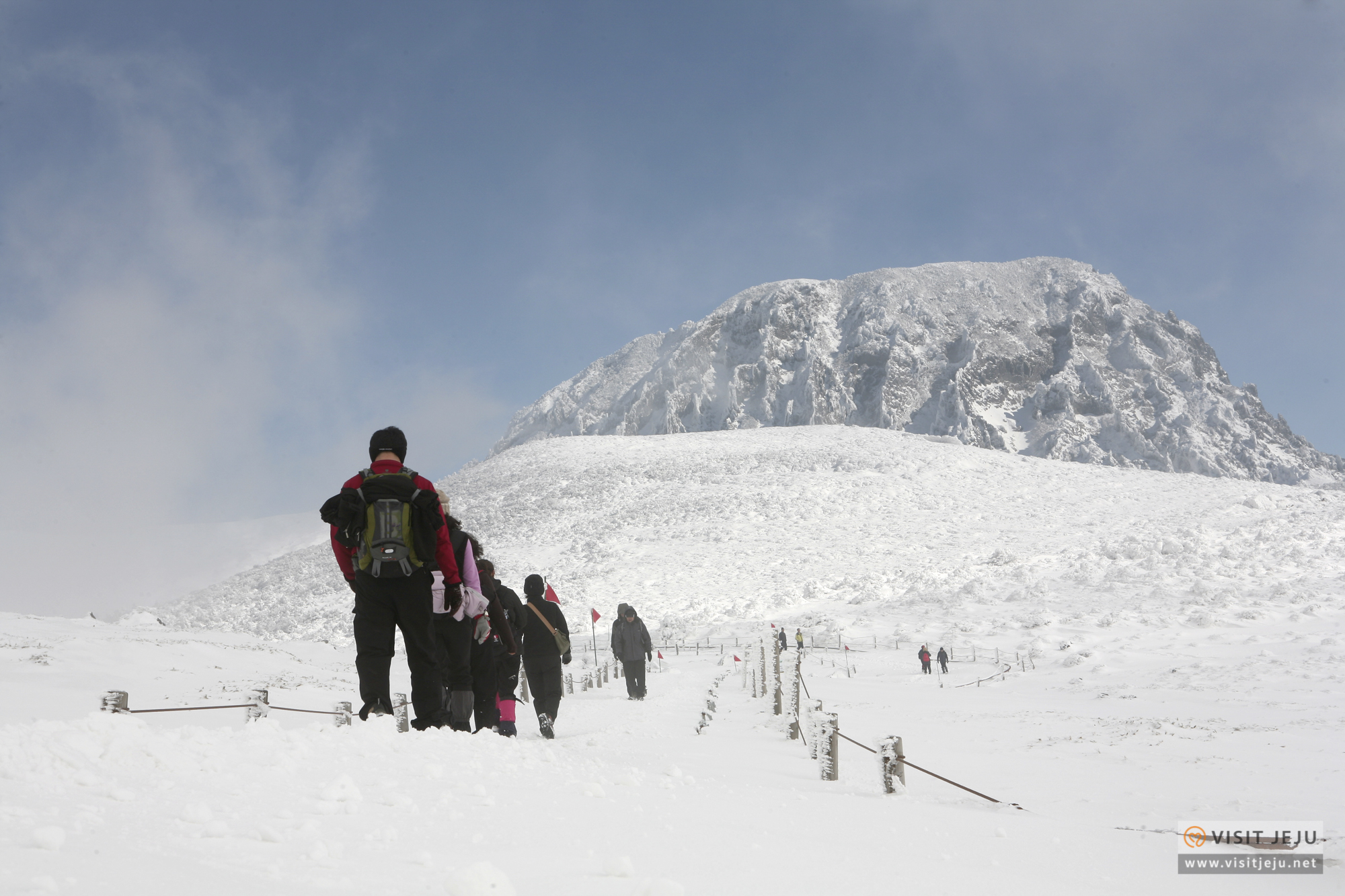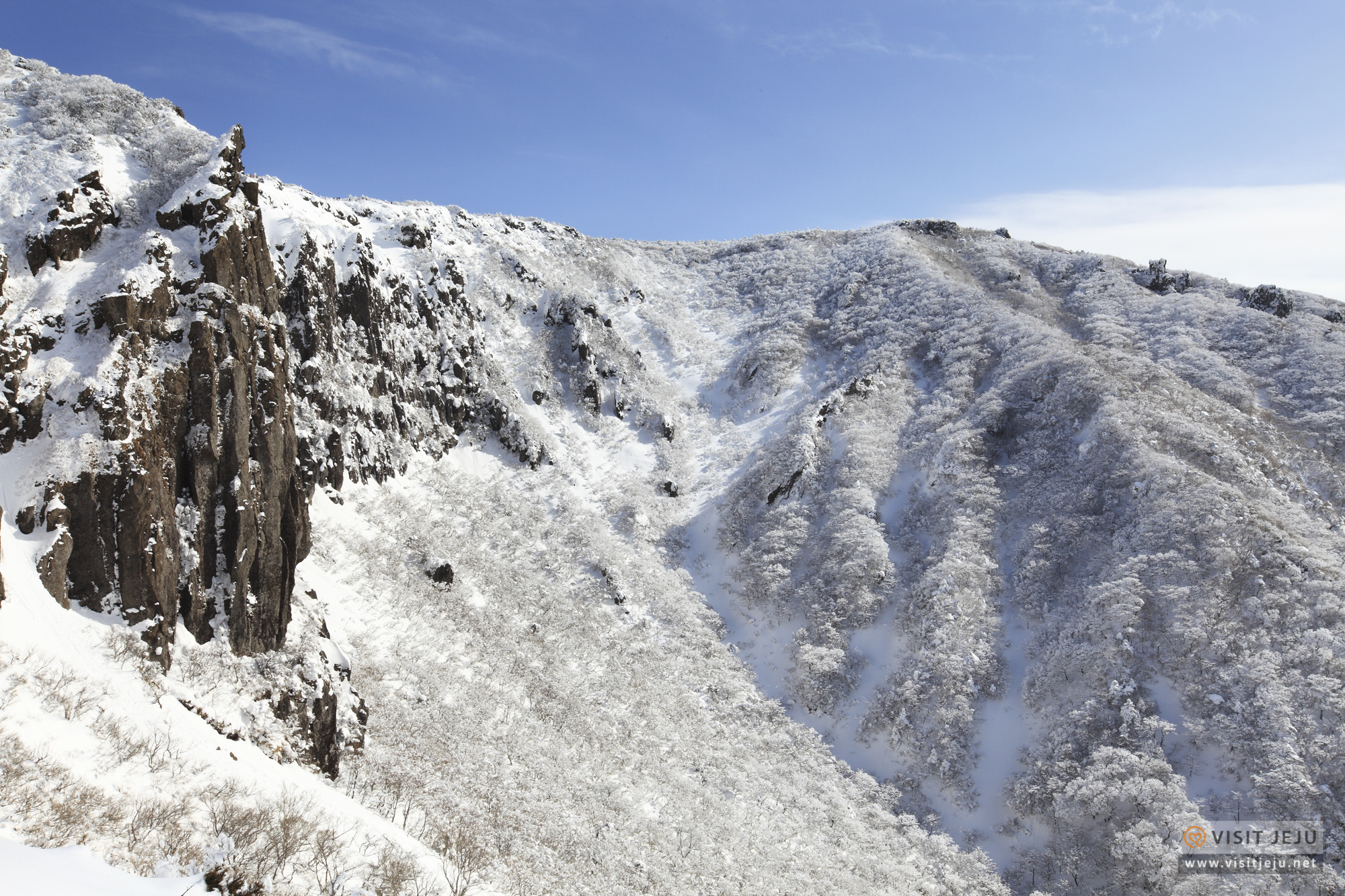 Straight to the peak!
Gwaneumsa trail
Gwaneumsa trail was renovated and reopened quite recent so you might expect more hikers on this trail than others. On the other hand, the start of this trail is only reached by taking several buses and since it is not considered an easy course, not many adventures dare to challenge it. There is a camping place at the start of the trail so if the weather conditions are not extreme, sleeping a night there and taking the trail in early morning might add more than to the overall experience.
Gwaneumsa trail is 8.7 kilometers long, takes 5 hours both ways for a well-fit hiker and 7 hours for a beginner. It starts at Gwaneumsa Temple and takes you straight to the peak so you get to shot two birds at the time, a visit to the temple and a complete Hallasan hike.
The trail takes you through a rocky forest valleys pass Sara Oreum and then into jindallae (azalea) flower fields. Thought in winter the fields are covered in snow, jindallae flowers appear in a lot of Korean folk tales as a symbol of strong love and endurance. Midway along the trail there is also a lava formed cave Guringul.
While taking Gwaneumsa trail you can reach Hallasan's peak and see the crater. Though Hallasan is considered a dormant volcano, there is no trace of the lava that once poured from the very same spot. Now, here lies a huge wide lake called Baengnokdam, or White Deer Lake, named by the legends that a mystical white deer who was once ridden by the gods lives in the mountain and sometimes comes to drink from this lake. There is also another legend telling that Seolmundae Halmang, the grandmother creator goddess of the island, fell into the lake and never came back. The peak of Hallasan is wrapped in stories and while you stand at the top above the clouds you can start to feel like being in one of those legends yourself.
•Address: 588, Sallokbuk-ro, Jeju-si
•Phone: +82-64-756-9950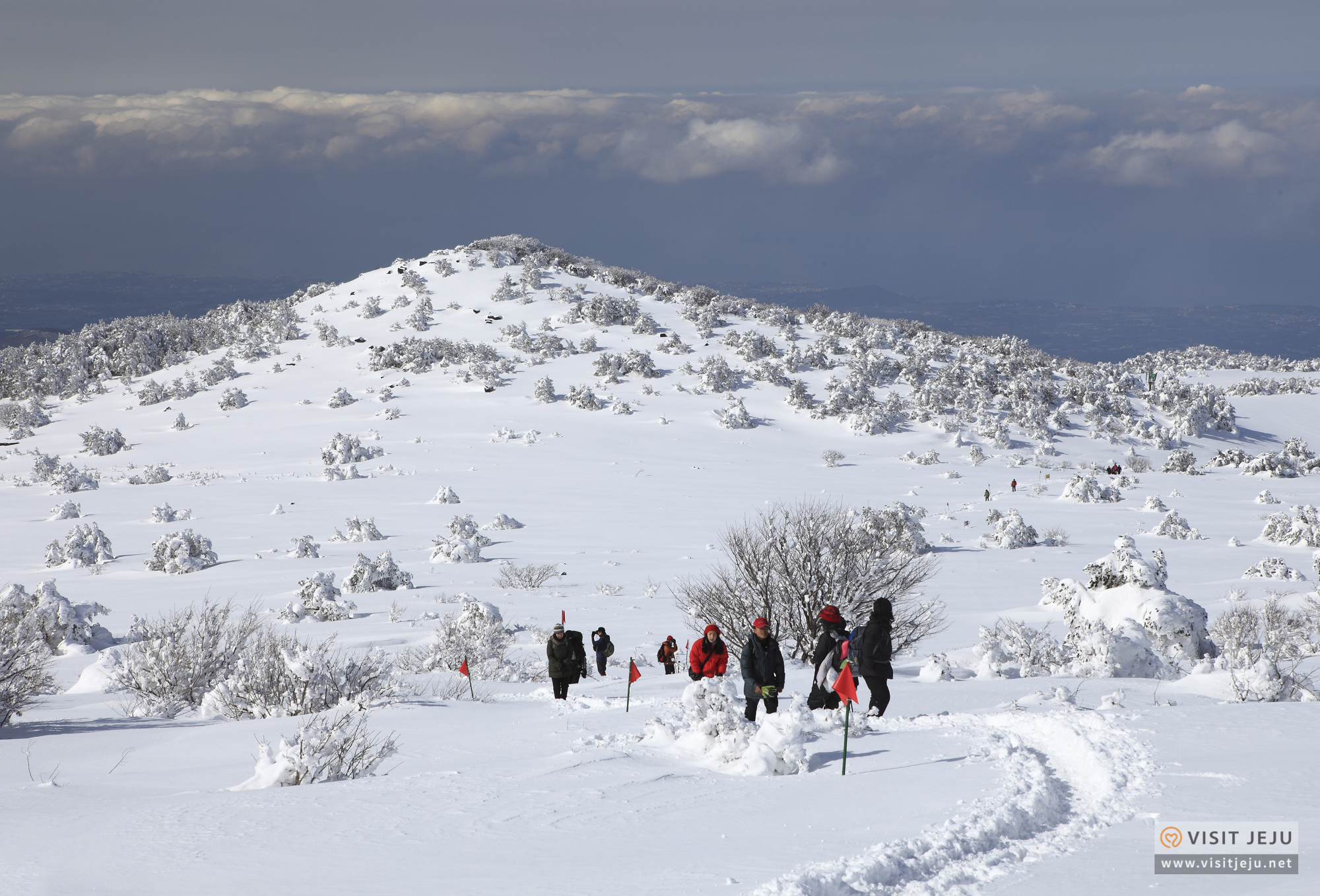 Keep in mind that hiking on Hallasan Mountain is limited to daytime, and mountain entrance hours vary by season. It is closed after sunset and all the hikes must be completed by then. If you start too late you might be asked to turn around before reaching the peak!
In winter prepare spikes for your shoes and always wear comfortable footwear. If you go to the mountain in high heels, flip-flops or sandals you might be denied entry.
The top of Hallasan is probably going to be above the clouds, preparing sun cream, a hat and sunglasses is a good choice. Keep in mind that on a rainy day your hike might be all covered in clouds and you might just miss the spectacular views. Sometimes entry to the mountain is denied depending the weather conditions, so checking in advance is always a good decision.
Inquirie:
•1330 Travel Hotline: +82-2-1330 (Korean, English, Japanese, Chinese)
•Eorimok Office: +82-64-713-9950~3
•Seongpanak Office: +82-64-725-9950
•Yeongsil Office: +82-64-747-9950
•Gwaneumsa Office +82-64-756-9950
•Donnaeko: +82-64-710-6920~3

Homepage:
www.hallasan.go.kr (Korean, English, Japanese, Chinese)
Notice

※ The above information was written on 2019-09-27. Please confirm the information prior to your trip.
※ Unauthorized use of the content above (text, photos and videos) is prohibited and subject to copyright by the Jeju Tourism Organization.