본문
Top 10 Jeju Sites for September <Enjoyable Jeju in September>
Just like those who endure the week just for the weekend, there are people who endure several months for this opportunity. September, an exciting month with traditional holidays at which family members and friends get together! Let's have a "jikkeojin" time in Jeju in September, with pleasant people, interesting stories, and lots of leisure and delight! (Jikkeojin means "enjoyable" or "delighted" in the Jeju language.)
Review

0

Lookup

48,794

Share SNS

0
Top 10 Jeju Sites for September

Enjoyable Because of the Long Wait! Enjoyable Jeju in September

Just like those who endure the week just for the weekend, there are people who endure several months for this opportunity. September, an exciting month with traditional holidays at which family members and friends get together! Let's have a "jikkeojin" time in Jeju in September, with pleasant people, interesting stories, and lots of leisure and delight!

(Jikkeojin means "enjoyable" or "delighted" in the Jeju language.)
A Feast is Held! Eomeong Abang Feast Village
Sinpung-ri
The farm stay village Sinpung-ri is a place where you can experience the unique Jeju culture. The road to the village is beautiful and traditions such as gomang (hole) fishing, piling stone walls, and laying jipjul (rope) on the roof are still practiced. You can eat homemade tofu and nangpun bibimbap made with the village's agricultural products. The village is full of traditions from batdam (stone walls), a Globally Important Agricultural Heritage System (GIAHS), to village Seongdam and Pojedan, which were piled up during the Jeju 4.3 and ponds that have legends. Like parents' affection toward their children, the warmth and generosity of Eomeong Abang Feast Village, which has guesthouses, makes the road to autumn rich. What if you can't visit in September? Just look forward to October's eco-party, where you can walk on the batdam roads and experience natural dyeing and traditional food.
‣ Eomeong Abang Feast Village (Sinpung-ri): 39, Sinpunghadong-ro, Seongsan-eup, Seogwipo-si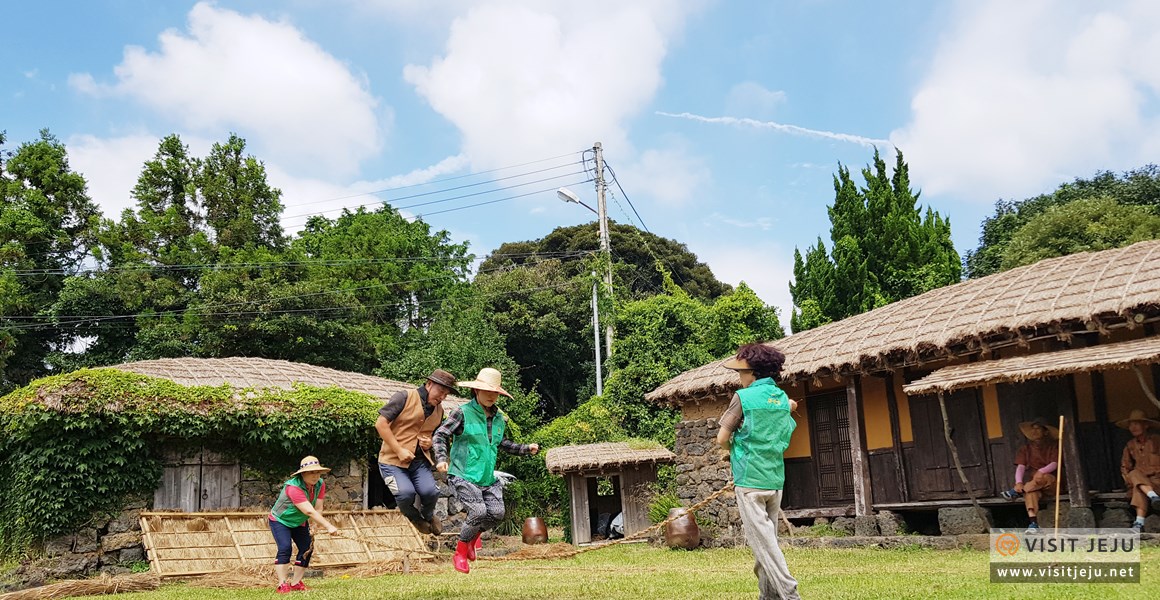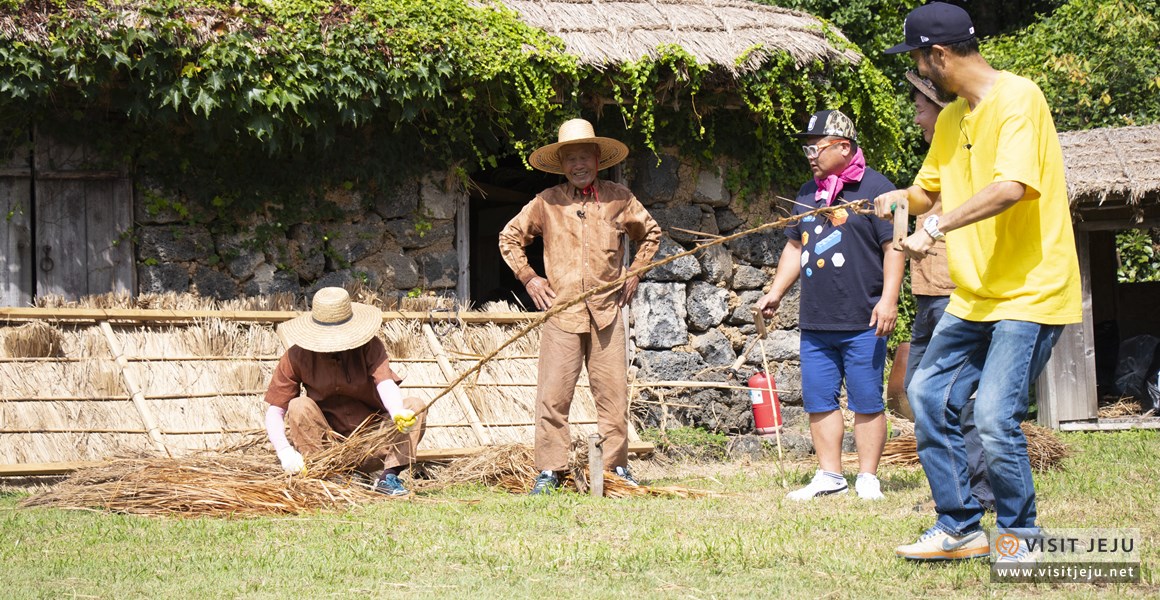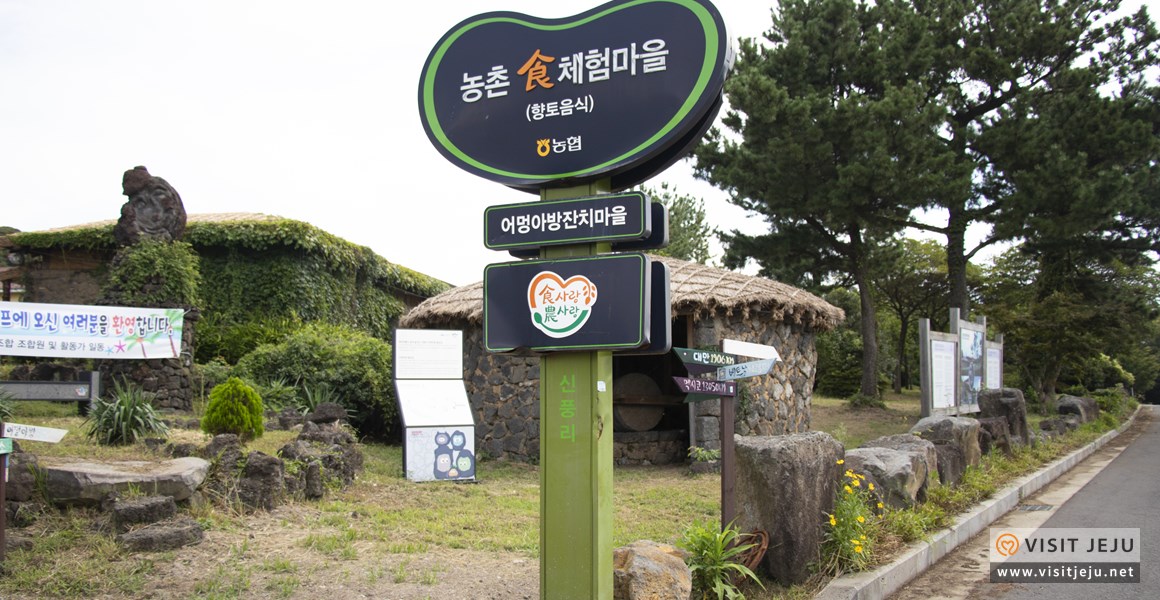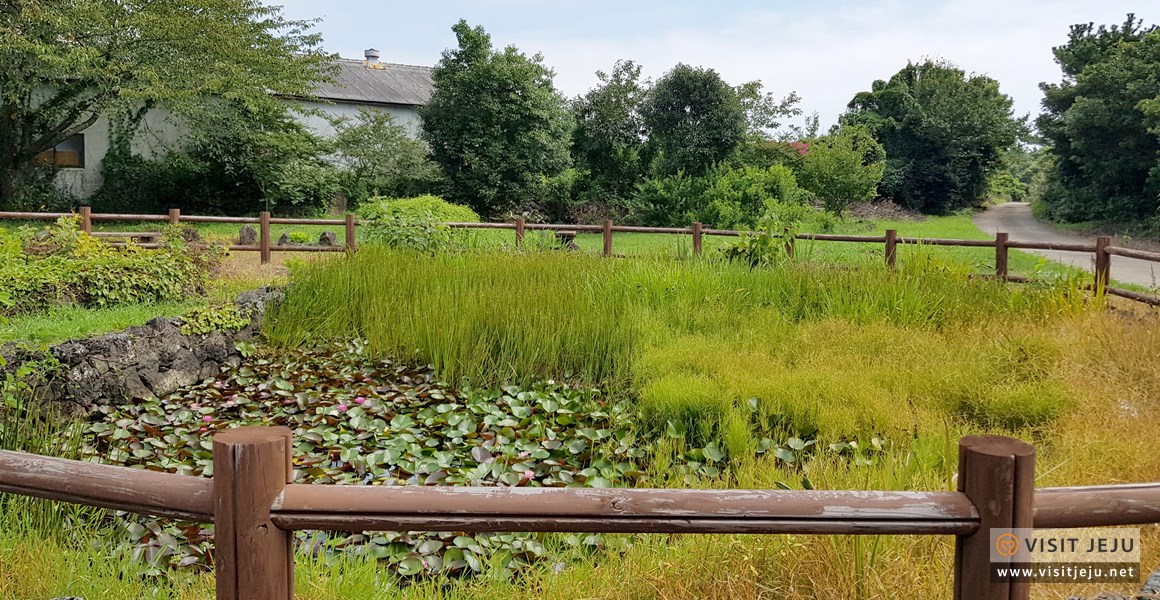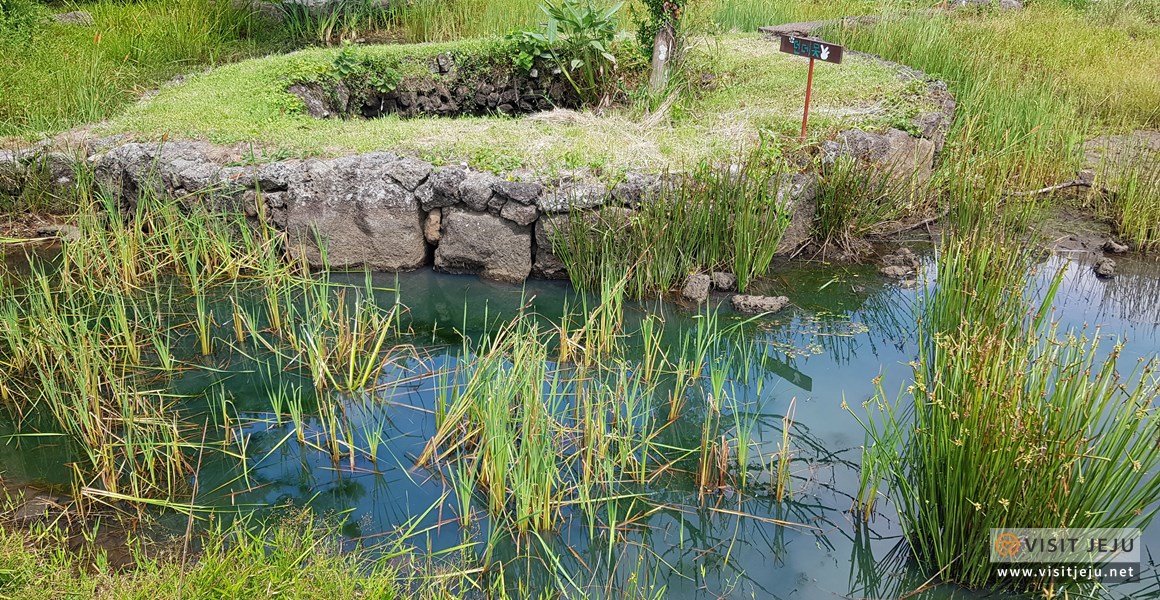 Traditional Experience and Big Party to Celebrate
Chuseok Harvest Festival
Do you want to make the traditional holidays more fruitful? Here are holiday events held in various places. Jeju Mok Office, Jeju Folklore and Natural History Museum, Jeju National Museum and Jeju Folk Village, etc. are preparing big parties with traditional experiences. There are many places where folk games such as tuho (Arrow-throwing), playing yunnori (traditional Korean board game), kicking a jegi, and a top-spinning game will be held, as well as making traditional play equipment and folk game contests. Rice puffs, barley buns, and making rice cake dough are offered and tourists wearing Hanbok can get a 50% discount on the admission fee. Jeju's big traditional experience party to celebrate Chuseok welcomes families who get together to have a memorial service as well as visiting tourists. If you visit the homepage of each place, you can plan a more enjoyable time.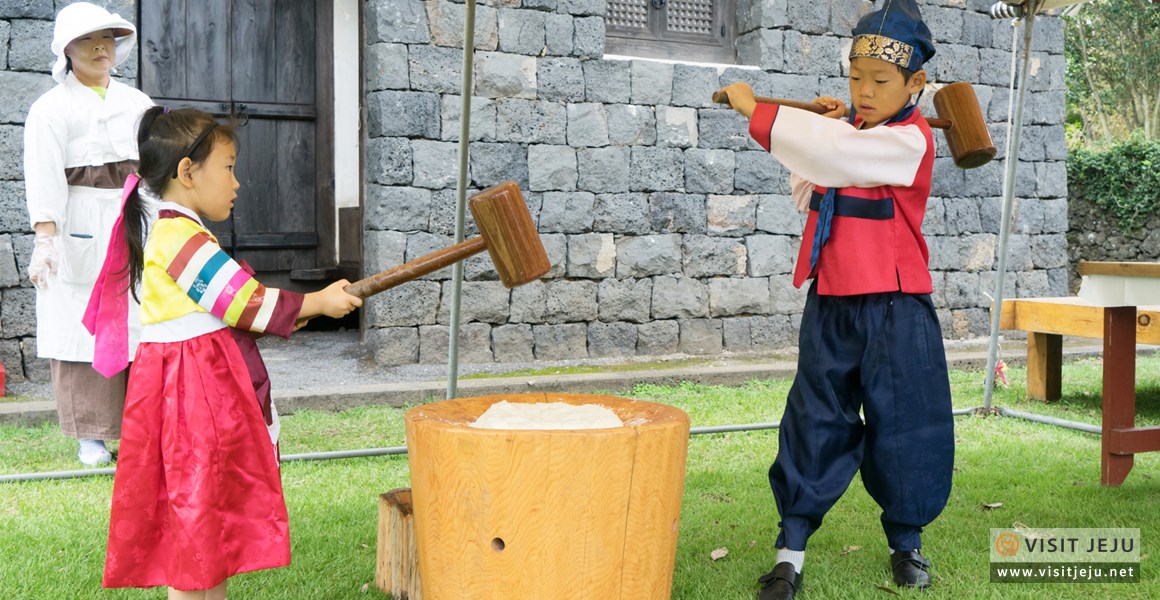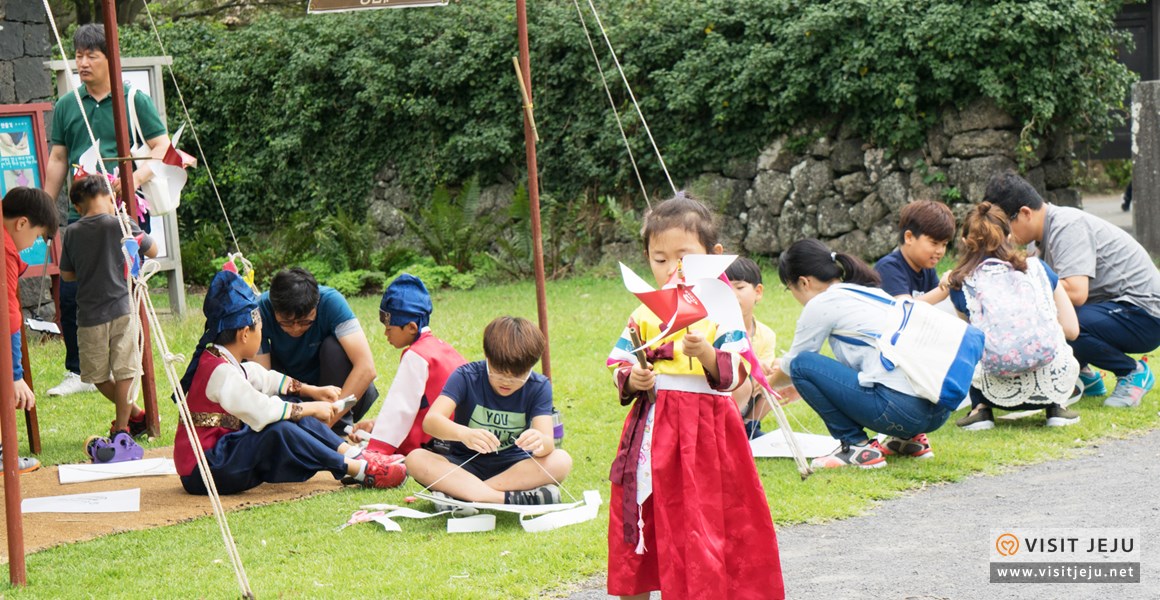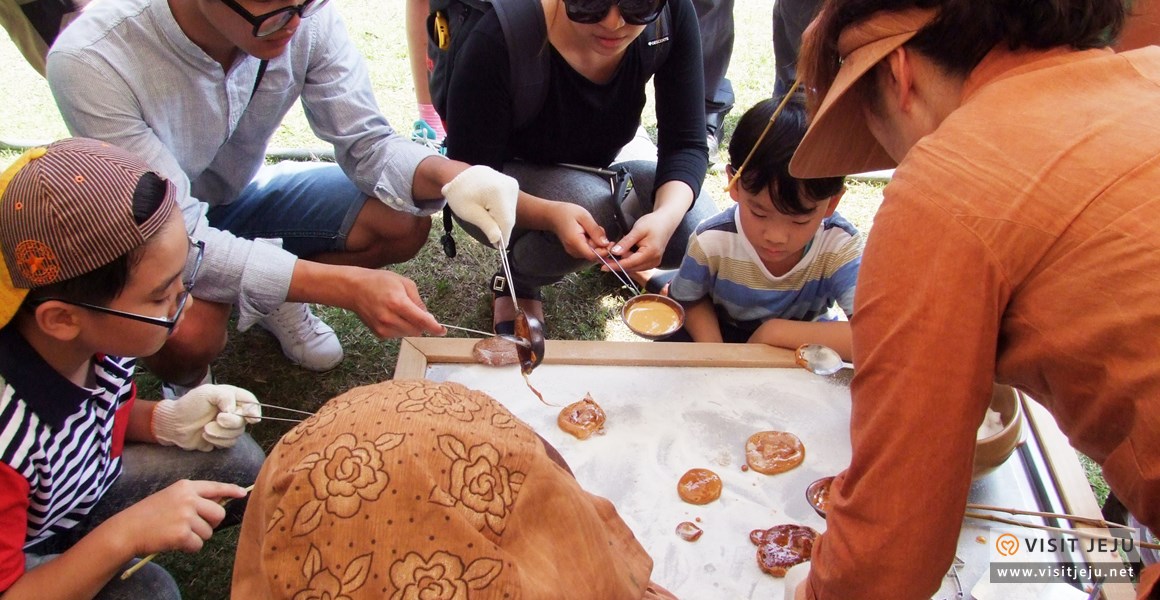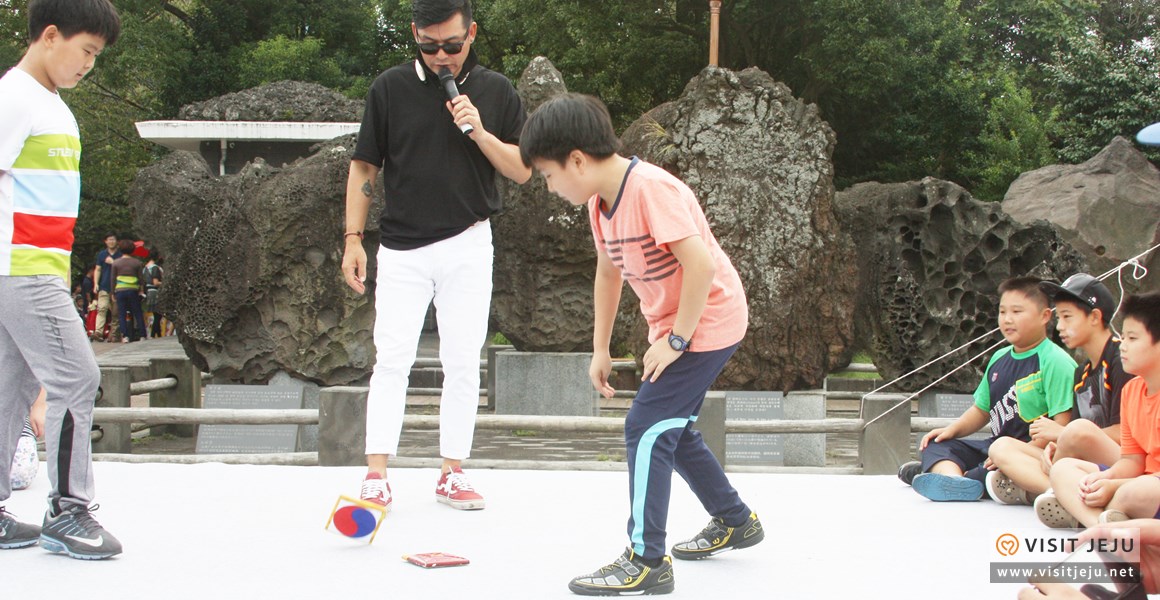 It Is More Beautiful With Snugly Embraces
Noknambong Peak
To go to Noknambong Peak, you first have to parking your car at the Sindo 1-ri office and then walk. But you don't have to worry because you can arrive at Oreum (parasitic cones) crater in just 10 minutes, and there is no steep hill. This small oreum, which anybody can easily walk to and is appropriate for physical training presents a beautiful view at the summit and is also known for that flowers that fill the gumburi ("crater" in the Jeju language). If you visit earlier, you can see colorful fluorescent crape-myrtles. Also, there is a cave fortification of Japanese army from the colonial period where you can learn about Korea's painful history. There is private land on the Olle Trails course, so be careful not to leave any trash.
‣Noknambong Peak: 1304, Sindo-ri, Daejeong-eup, Seogwipo-si
‣Sindo 1-ri Office (Parking): 219, Dowon-ro, Daejeong-eup, Seogwipo-si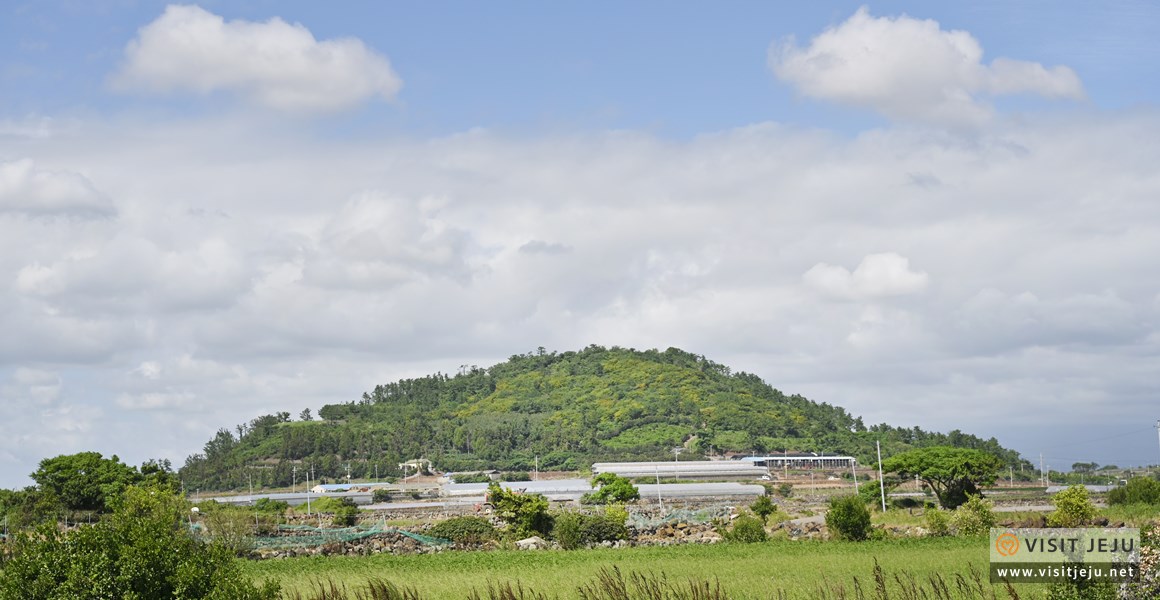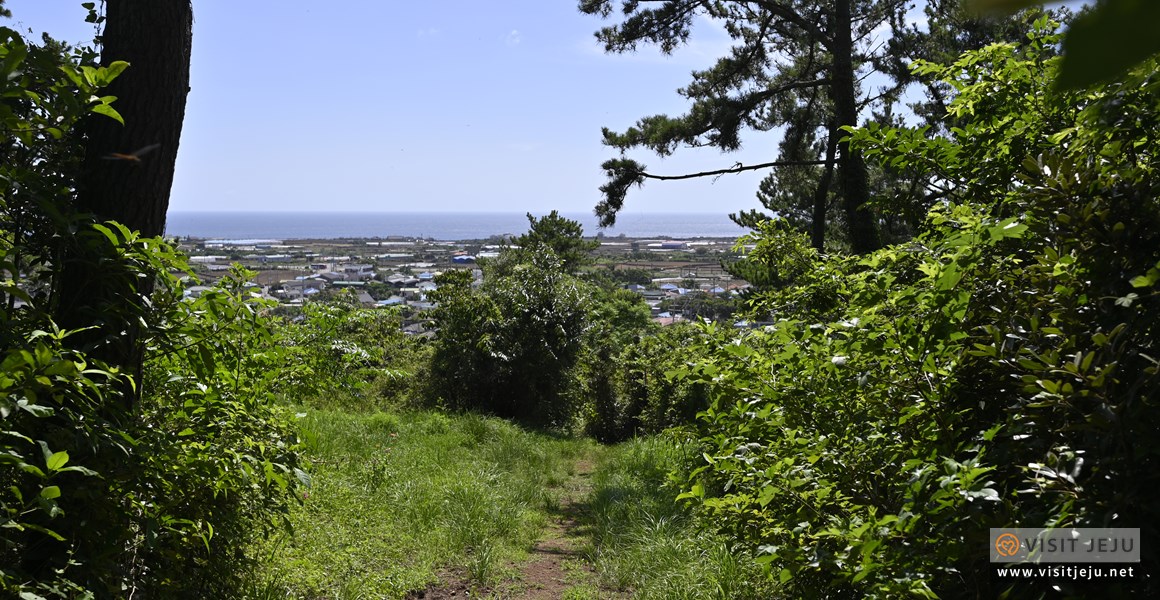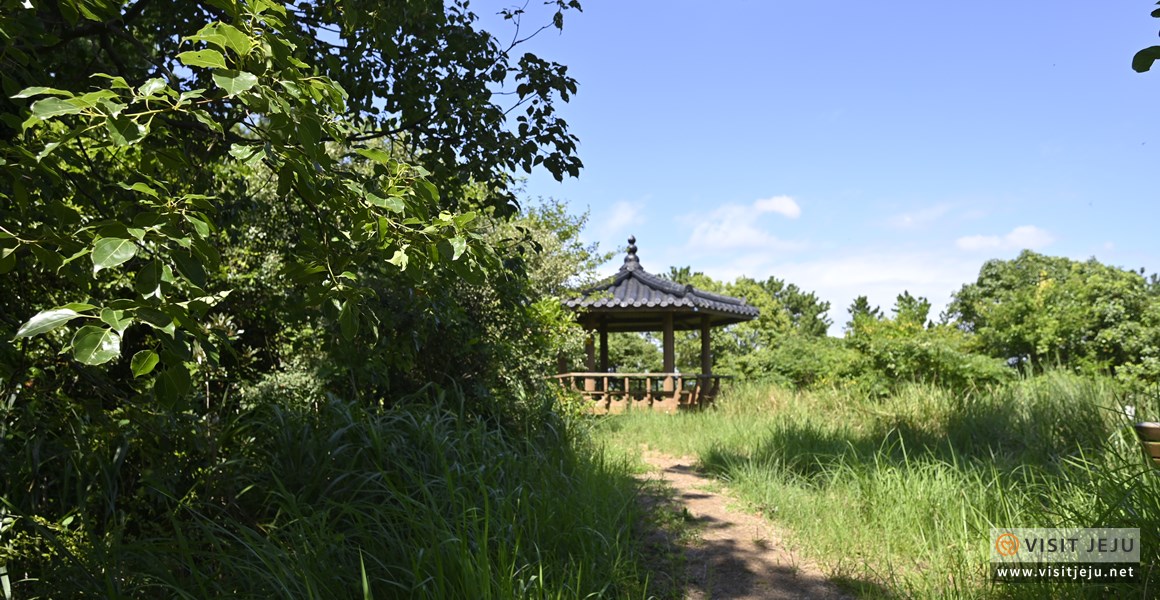 Gems While Walking on the Olle Trails
Namju Haegeumgang Islets, Wolpyeong Port
Jeju Olle #7 is the most loved place among the more than 20 Jeju Olle trail courses. There are some magnificent hidden views on the course. The first one is the Namju Haegeumgang Islets. From this wide rock, which was originally named "Dongneobeundeok," you can see Saeyeongyo Bridge along with Munseom Island, Beomseom Island, and Sepseom Island. The next one is Wolpyeong Pogu (Port). It is a port where there are several small fishing boats and brings peace of mind with its calmness and humbleness. The sea behind the port is good place to go snorkeling as well as fishing, and is not well known. When you see Seogeondo Island, which is where Jeju's version of the Miracle of Moses takes place, and "Baeyeomjuli," the starting place of the battle of Beomseom led by General Choe Yeong, on the way to Wolpyeong Pogu, you will love Jeju Olle, where there are lots of hidden gems.
‣ Jeju Olle #7: Jeju Olle Tourist Center → Oedolgae Sea Stack → Baeyeomjuri → Entrance of Seogeondo Islet → Wolpyeong Port → Wolpyeong Awaenangmok Rest Area
‣ Namju Haegeumgang Islets (Oedolgae Sea Stack): 791, Seoheung-dong, Seogwipo-si
‣ Wolpyeong Port: 665-9, Daecheon-dong, Seogwipo-si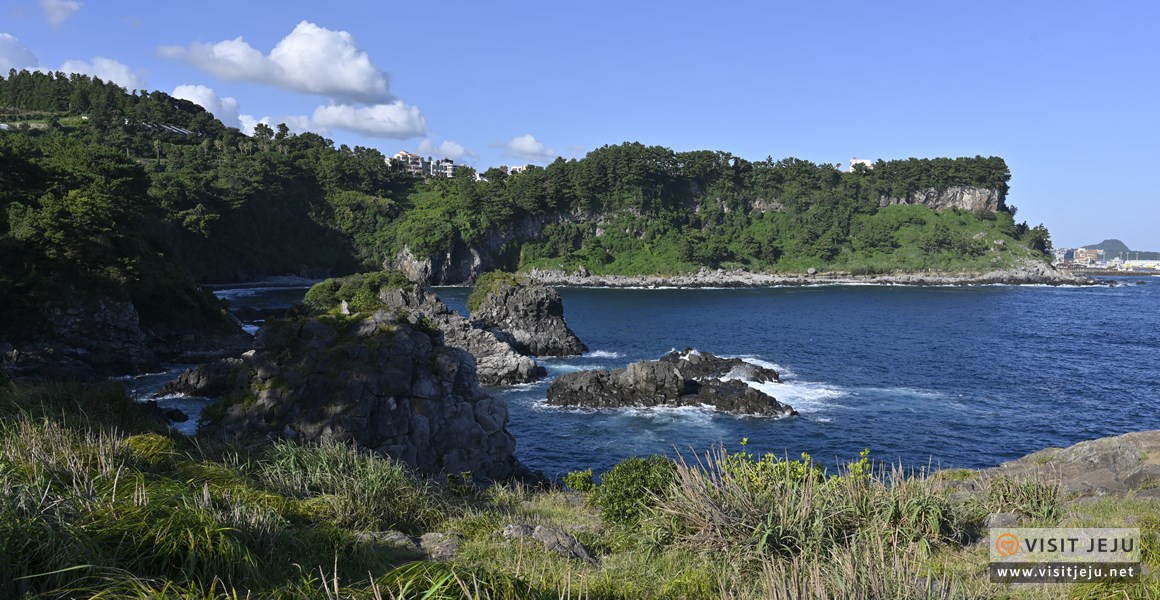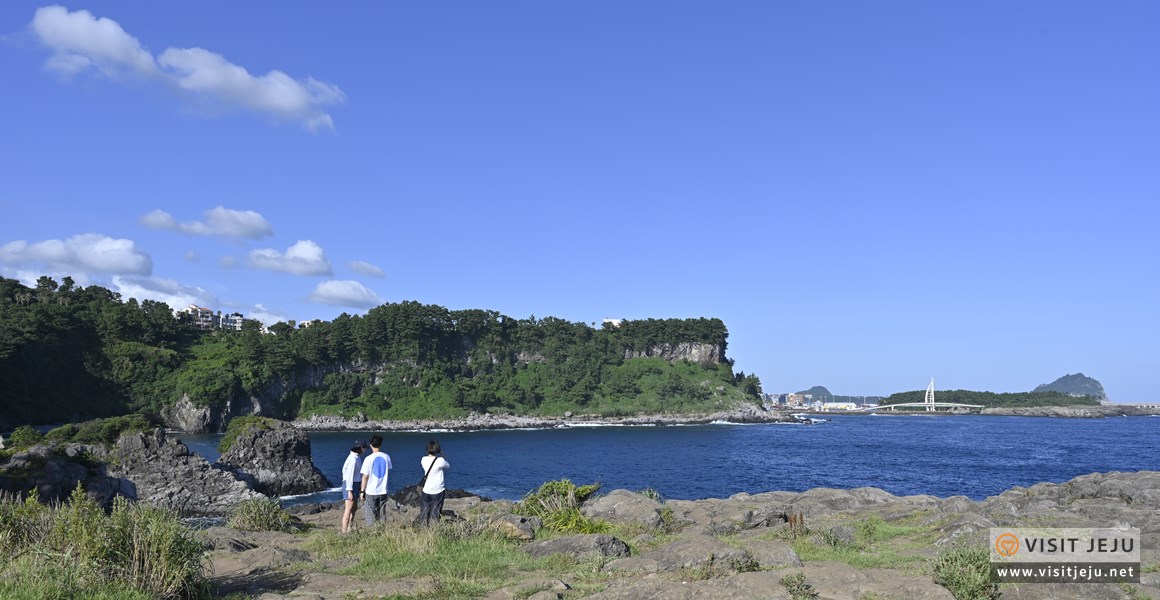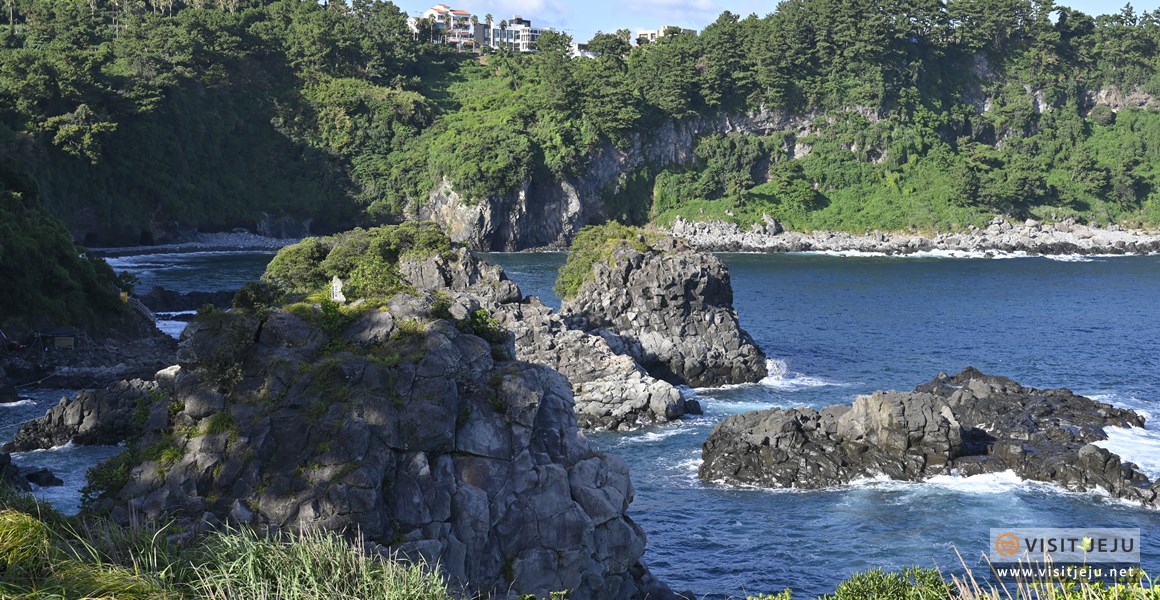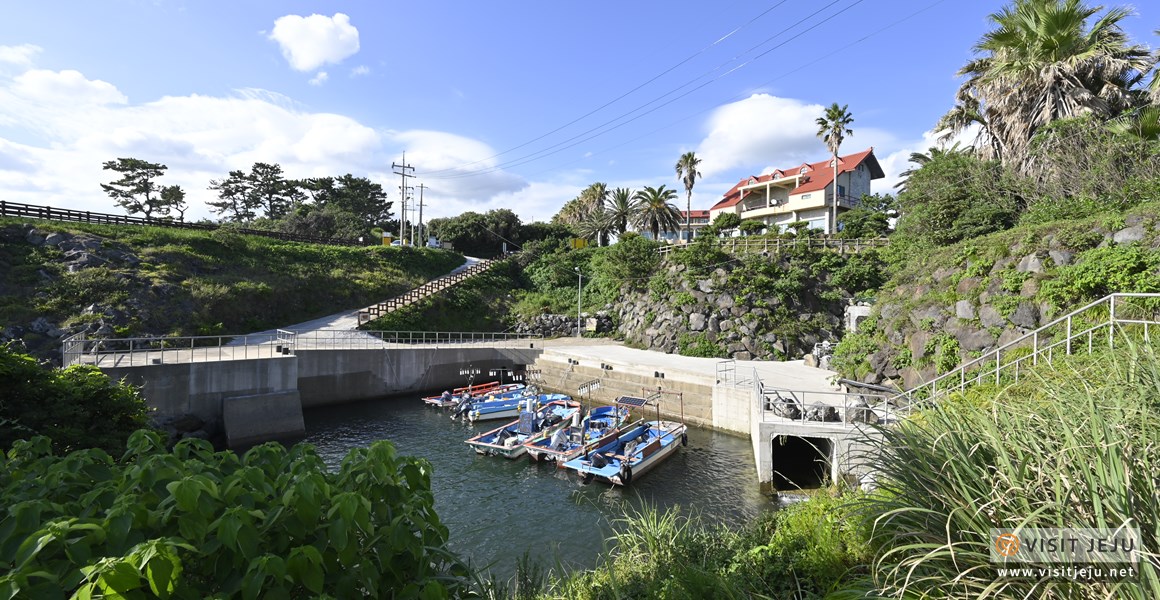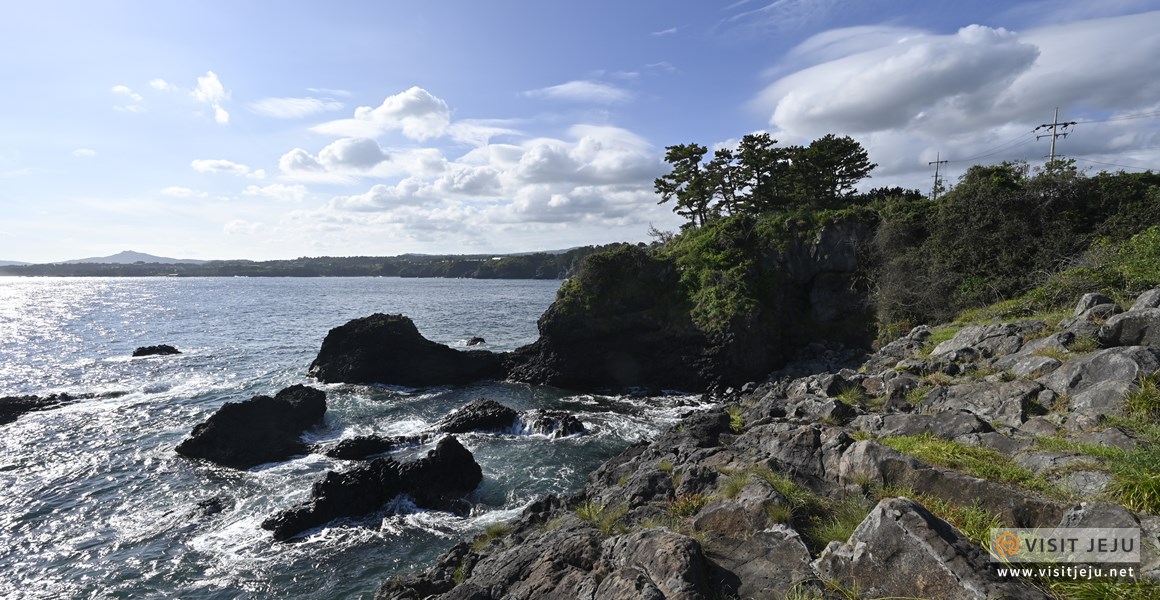 The Nutty and Grateful Flavors
Jeju's Beans, Jeju's Soybean Paste
You might be surprised to hear that soybean paste is put in cold soup and people eat watermelon with soybean paste on Jeju Island. But soybean paste is a method to preserve the beans, which grow well in the barren soil of Jeju. Soybean paste is dissolved in cold water to make a cold soup, and vegetables from the uyeogpat ("vegetable garden" in the Jeju language) are mixed with soybean paste to create a vegetable wraps and rice set table. Like this, Jeju people are very grateful for beans and soybean paste as their food. Try the nutty, thick tofu that is made with Jeju beans and healthy ssamjang where Jeju soybean paste is combined with various eco-friendly ingredients. Take the time to taste and experience commendable Jeju beans.
‣ Moolmaru Soybean Paste School: 258-28, Hansupul-ro, Hallim-eup, Jeju-si
‣ Seonheul Bangju Grandma Restaurant: 212, Seongyo-ro, Jocheon-eup, Jeju-si
‣ Myeongdoam Sudatteul: 164, Myeongrim-ro, Jeju-si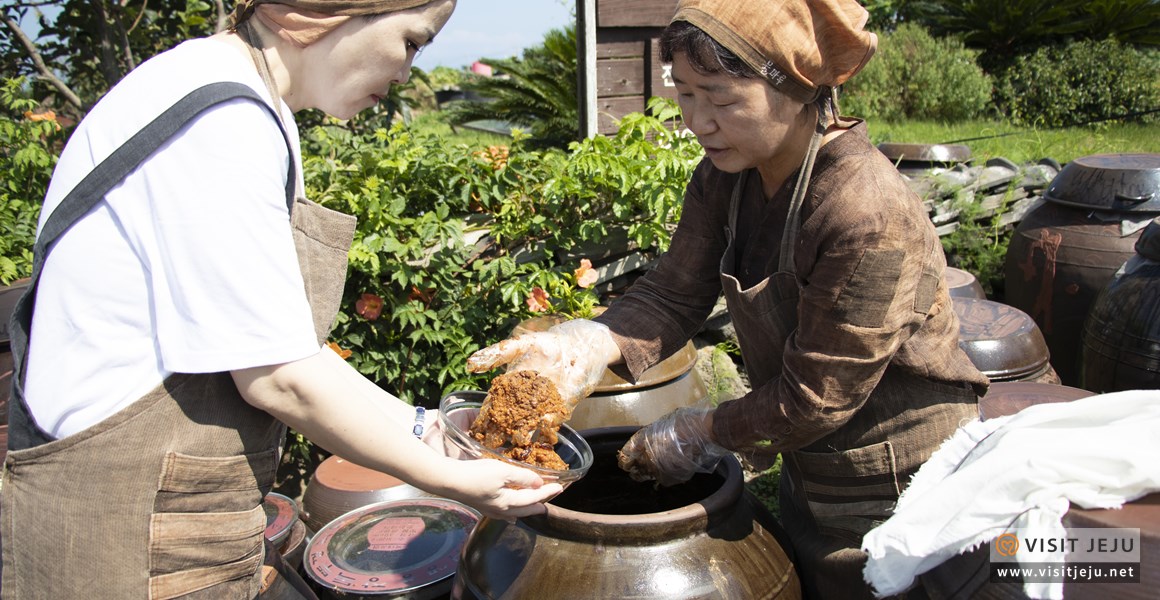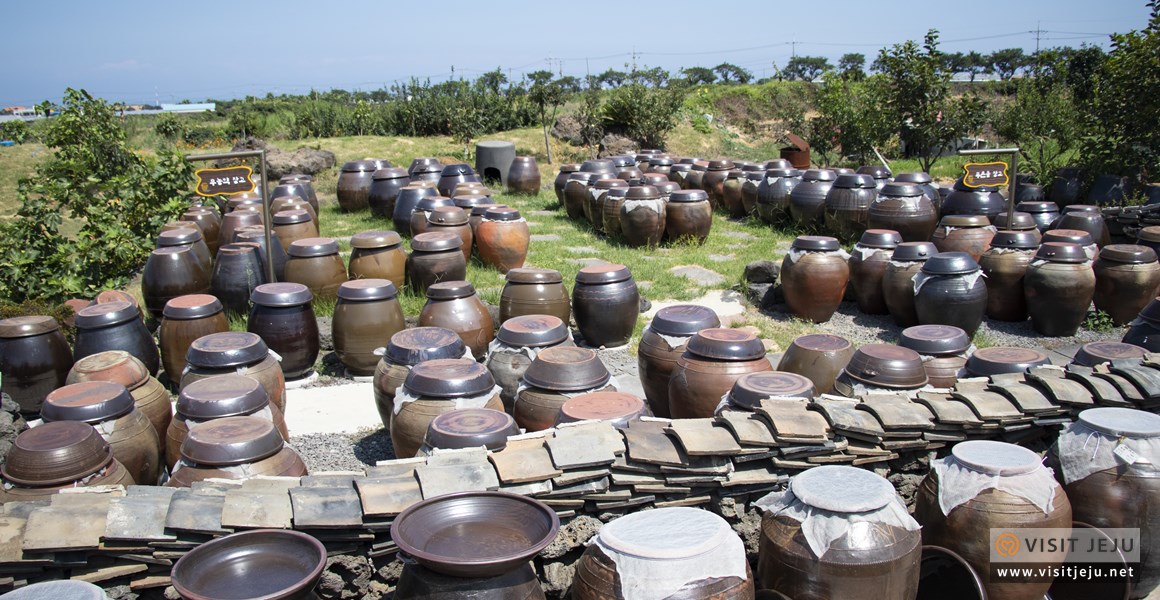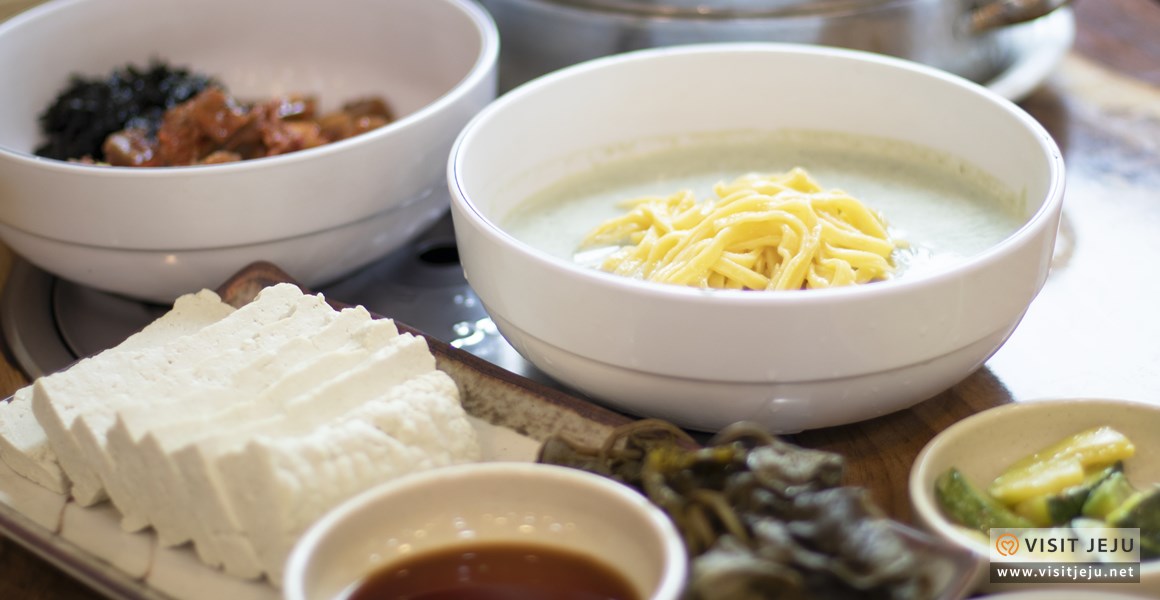 Jeju Becomes an Inspiration for Art
APMAP 2019
The green tea plantation is holding the contemporary art project APMAP 2019 to support new artists. Jeju people who used to talk over twisting jipjul (rope), Bulteok (fireside) where haenyeos (women divers) used to take a rest after muljil (diving and gathering seafood by hand), sandams (stone walls around tombs) placed across Jeju, and "jaridomteu," Jeju's own fishing method are all reinterpreted in works of art. The exhibition, where you can see the works of 15 teams of young artists and architects who have meticulously looked at every facet of Jeju, runs until September 22, and admission is free. Now, the life of Jeju people blooms above the fresh scent of green tea.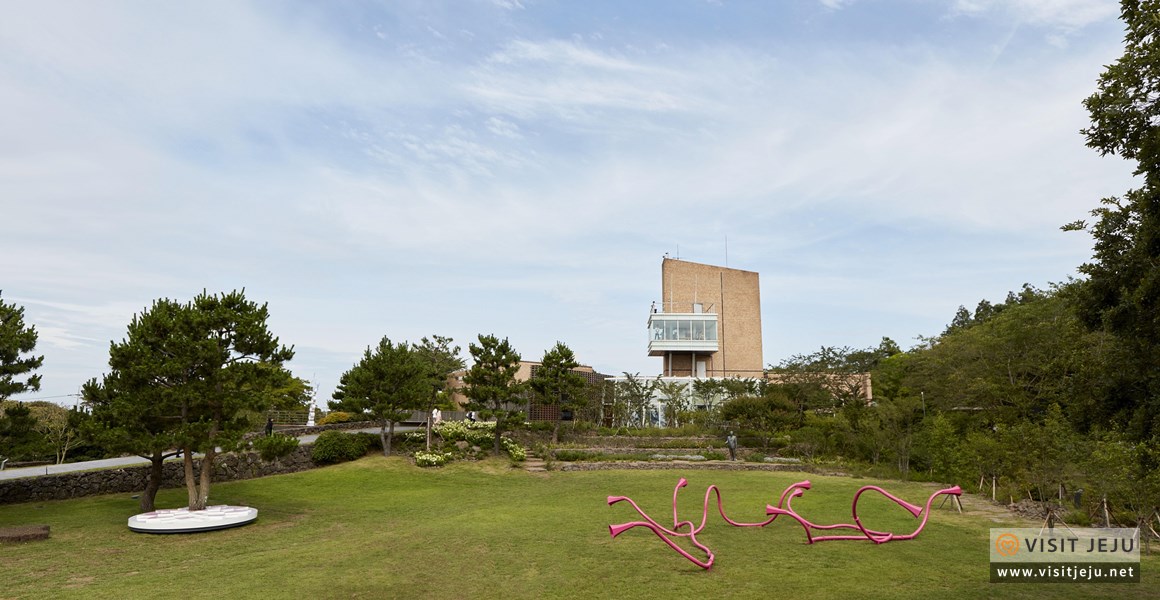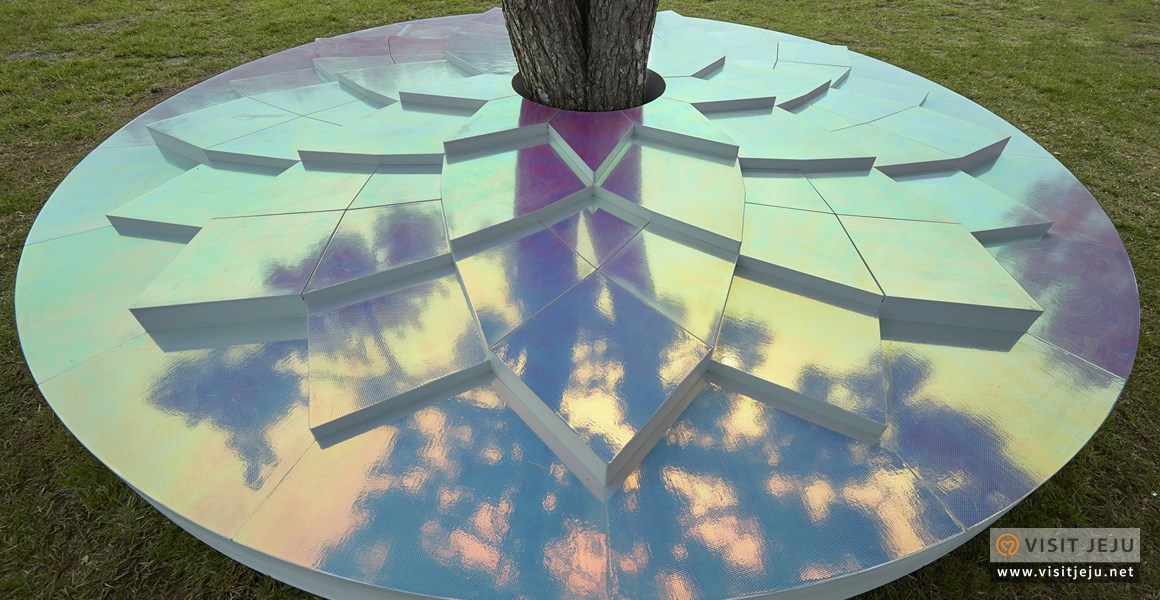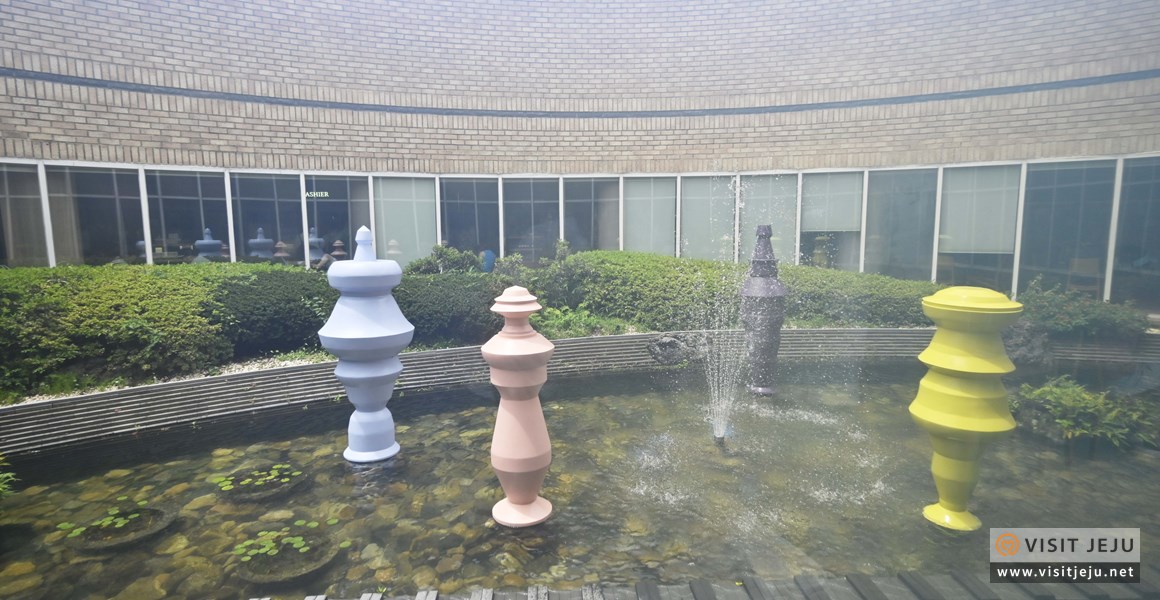 The Whole Island is Moving Up and Down with Fun
Jeju Festivals in September
There are exciting festivals in Jeju in September. Sanjicheon Festival includes Chilmeoridang Yeongdeunggut, Somanggiwongut (Shamanistic Ritual), a Jeju language speaking contest, catching fish with bare hands, etc. And the Seogwipo Chilsimni Festival offers madangnori that shows traditional village culture, and a regional club competition and various culture experiences, are also held. There is also the Nuwemaru Busking Festival, which has busking performances in a variety of genres such as jazz, pop, folk and R&B, and a magic show, and the Jeju Batdam Festival with batdam (stone walls), part of Jeju's traditional culture, as the theme. Jeju has many festivals in September! The fun and excitement here are ceaseless. Refer to the homepage of each festival for detailed information.
‣ Nuwemaru Busking Festival: Sep 14 ~ Oct 5 / 19:00~20:30, Every Saturday
‣ Seogwipo Chilsimni Festival 2019: Sep 27 ~ Sep 29 / Jaguri Park and around downtown in Seogwipo
‣ Jeju Batdam Festival: Sep 28 ~ Sep 29 / Jeju Batdam Theme Park (Woljeong-ri, Gujwa-eup, Jeju-si)
‣ Sanjicheon Festival: Sep 20 ~ Sep 22 / Tamna Culture Square (whole area of Sanjicheon)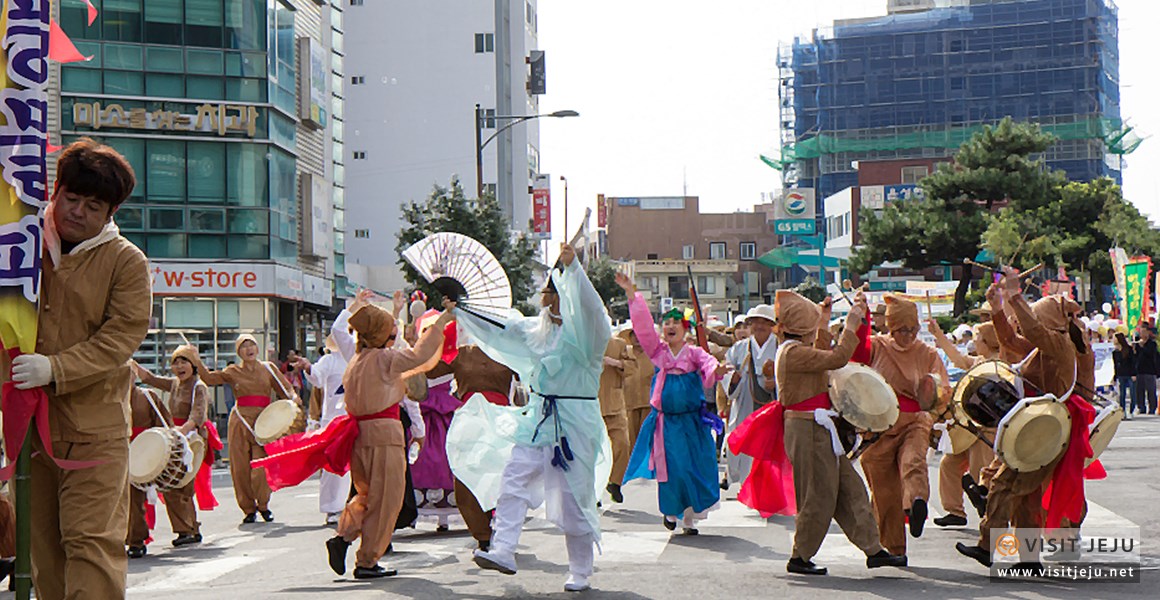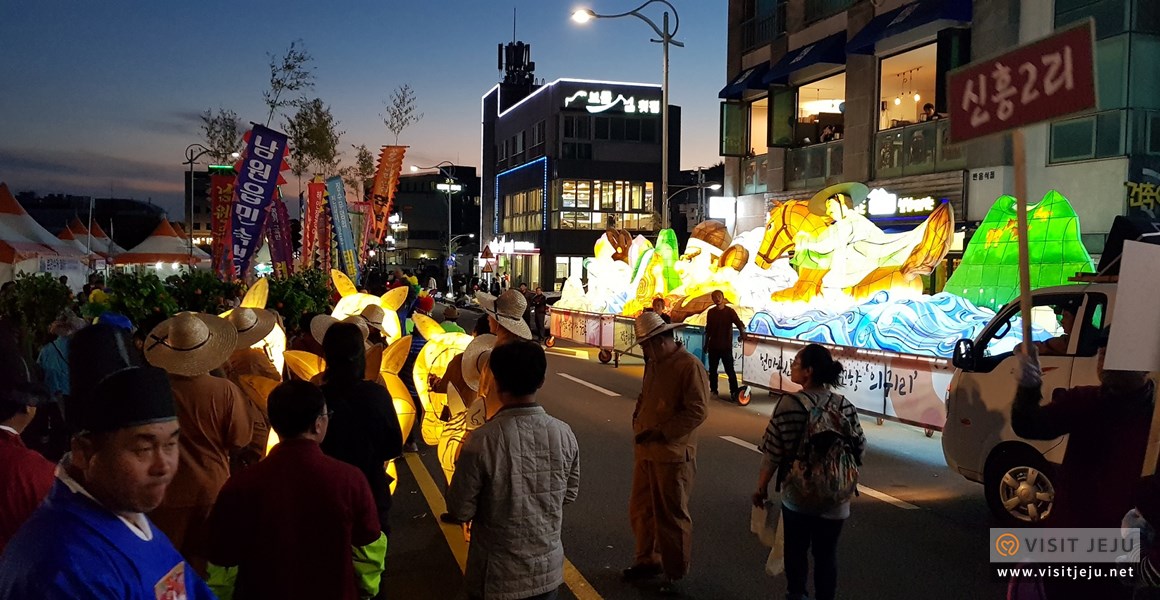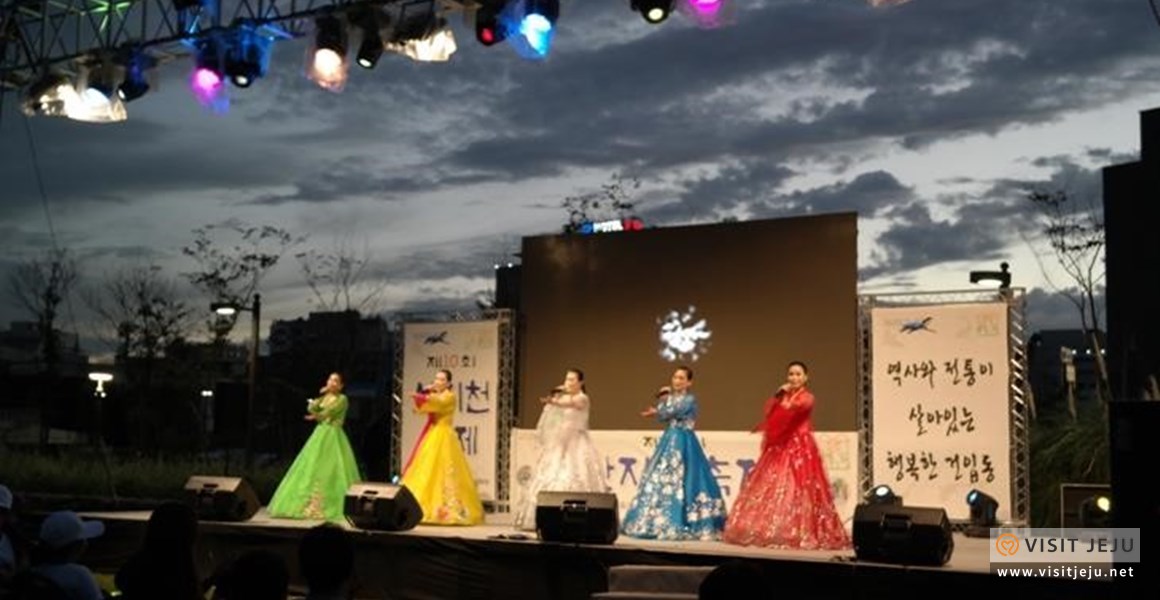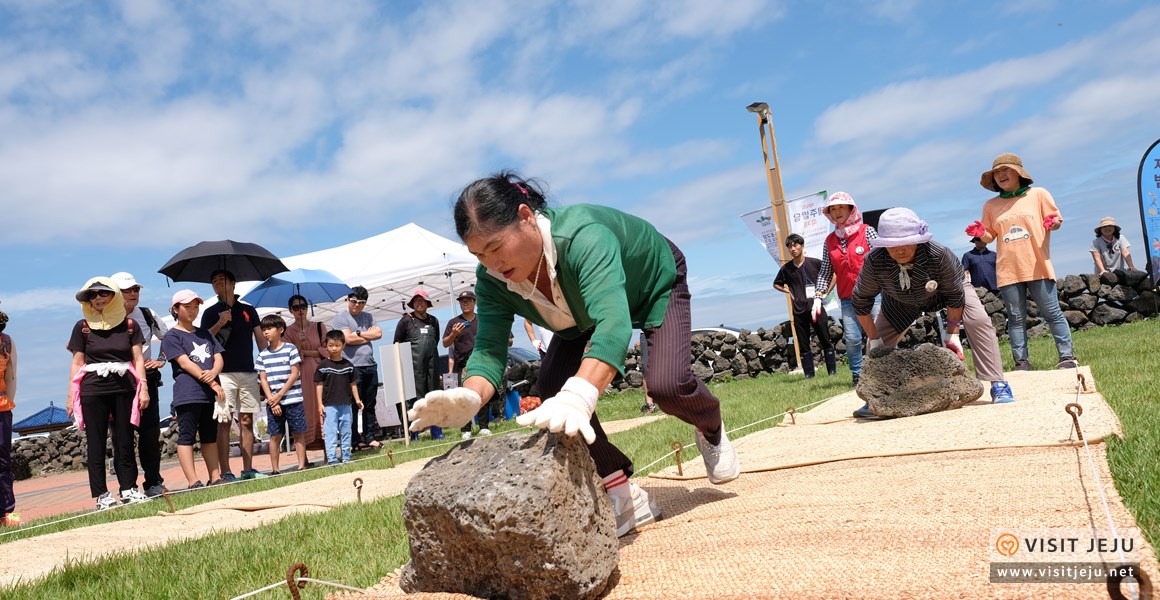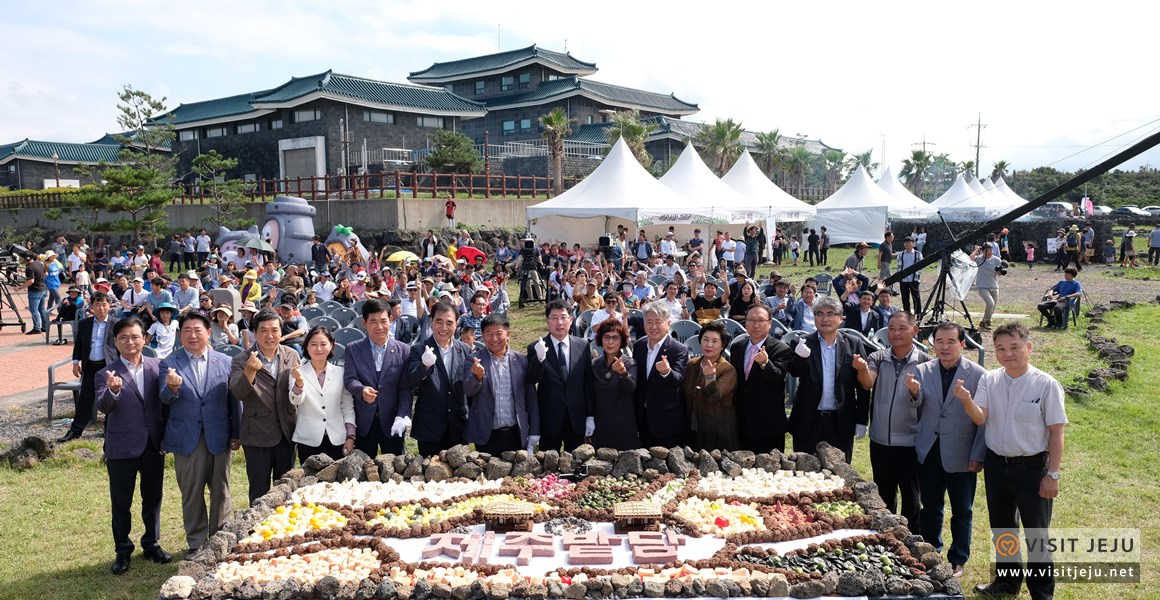 Fun for the Whole Family
World Automobile & Piano Jeju Museum, and Jeju Sculpture Park
The Piano Museum was additionally opened in the World Automobile Jeju Museum. You can see the pianos in stream of times, and even a piano that the sculptor Rodin made. After viewing the museums, how about making the first driver's license for your child in the transportation experience center? If you want to have even more fun, go to nearby Jeju Sculpture Park. Walk along the path and in Muhly Garden and look at sculptures in harmony with the stone walls. Picnic sets and blanket rentals for people who are sensitive to cold are available.
‣ The World Automobile & Piano Jeju Museum: 1610, Jungsanganseo-ro, Andeok-myeon, Seogwipo-si
‣ Jeju Sculpture Park: San 27, Deoksu-ri, Andeok-myeon, Seogwipo-si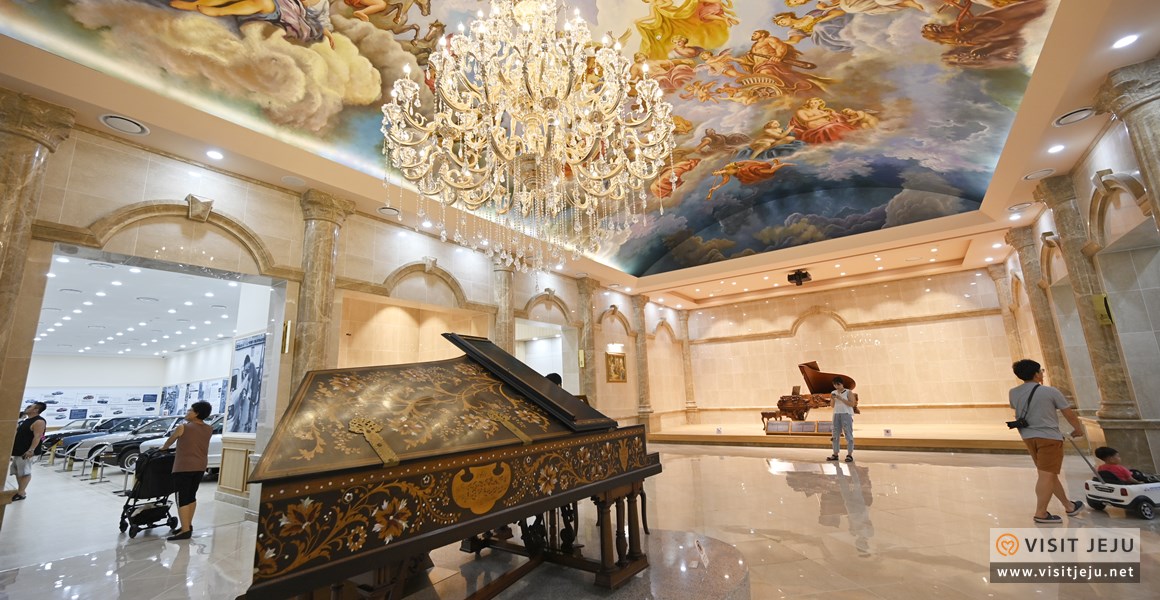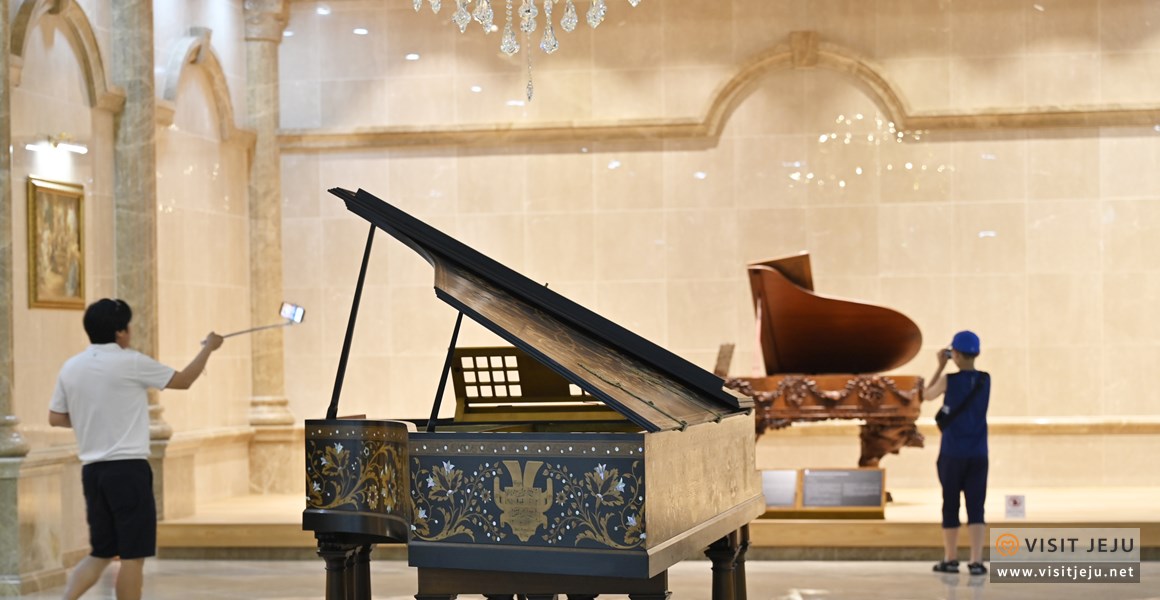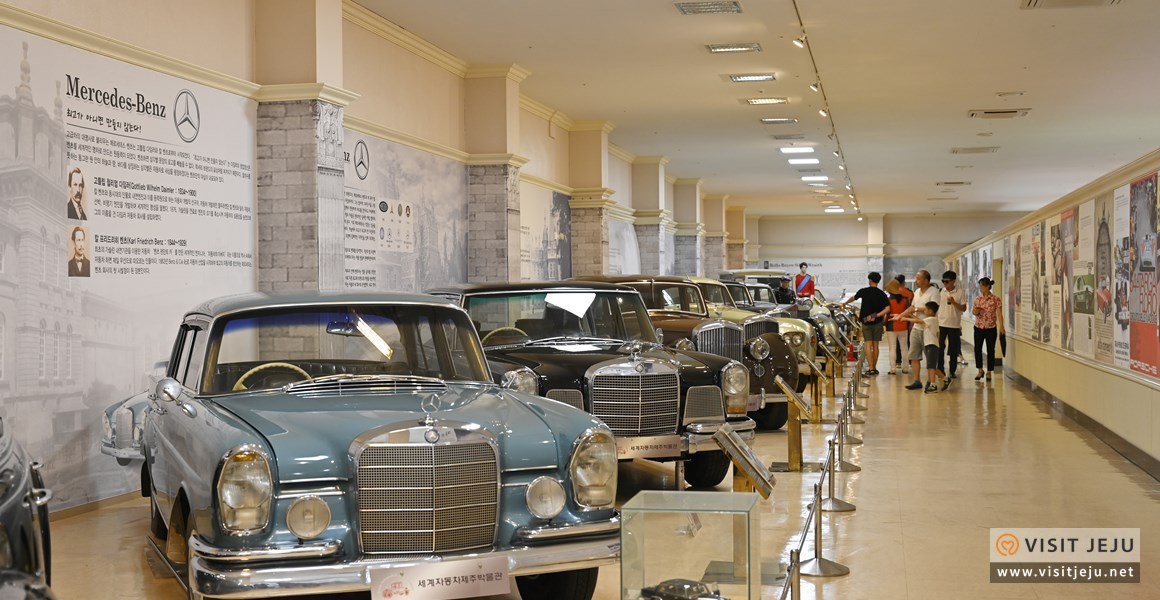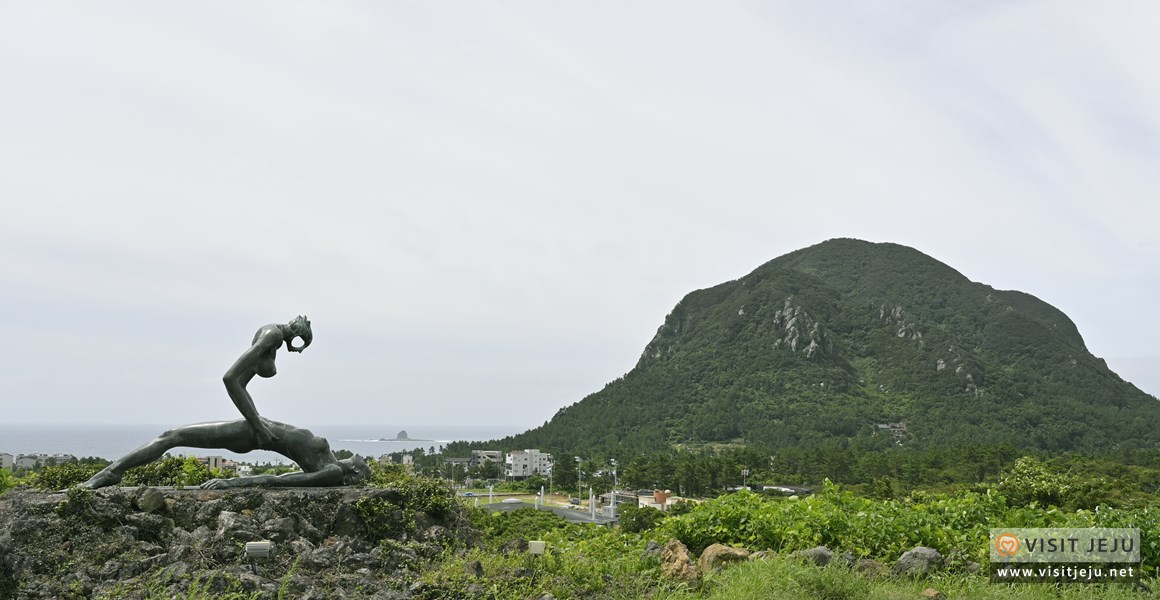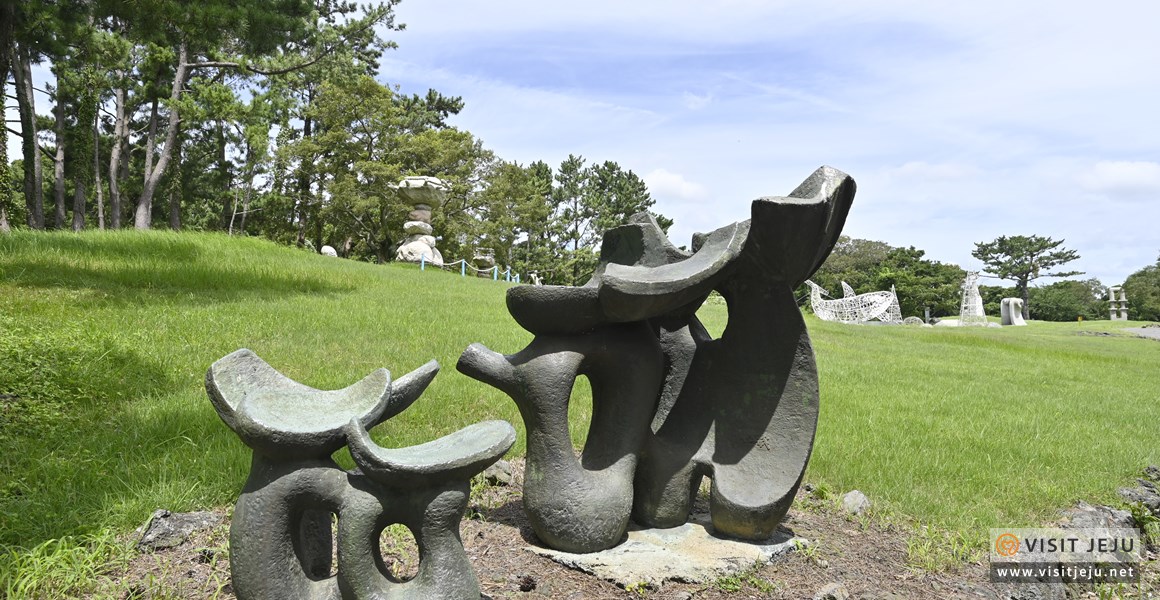 From Day to Night, From Downtown to Village
Yabam Bus and Farm and Family Bus Season 4, Here We Go~!
The Jeju City Tour Bus becomes Yabam Bus that offers the strong charms of the night. The bus goes around Iho Tewoo lighthouse, Dongmun Market Place, etc. and a DJ provides music. Street performances and a night sea picnic are held on the lawn of coastal road. From moving story events to taking pictures of experts, to organizing a real thing, it's already making a hit! It'll be a hit! For a more relaxing and quiet village trip, the Farm & Family Bus is recommended. Unique experiences in agricultural and fishing villages were put together as a package with the guidance of village residents. Six villages participate in the bus tour this season, where you can play, eat and learn, and In September you can see Gyorae-ri, Uigwi-ri, and Hado-ri. Get information as well as a discount at the Tamnao site.
‣ Reservations and inquiries for Yabam Bus and Farm & Family Bus: www.tamnao.com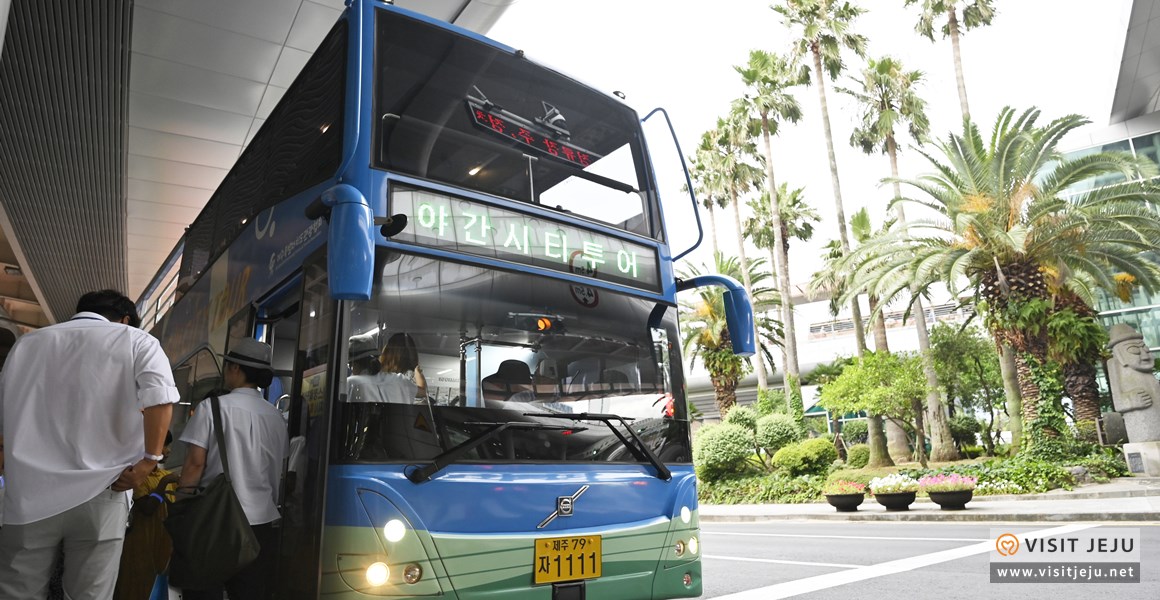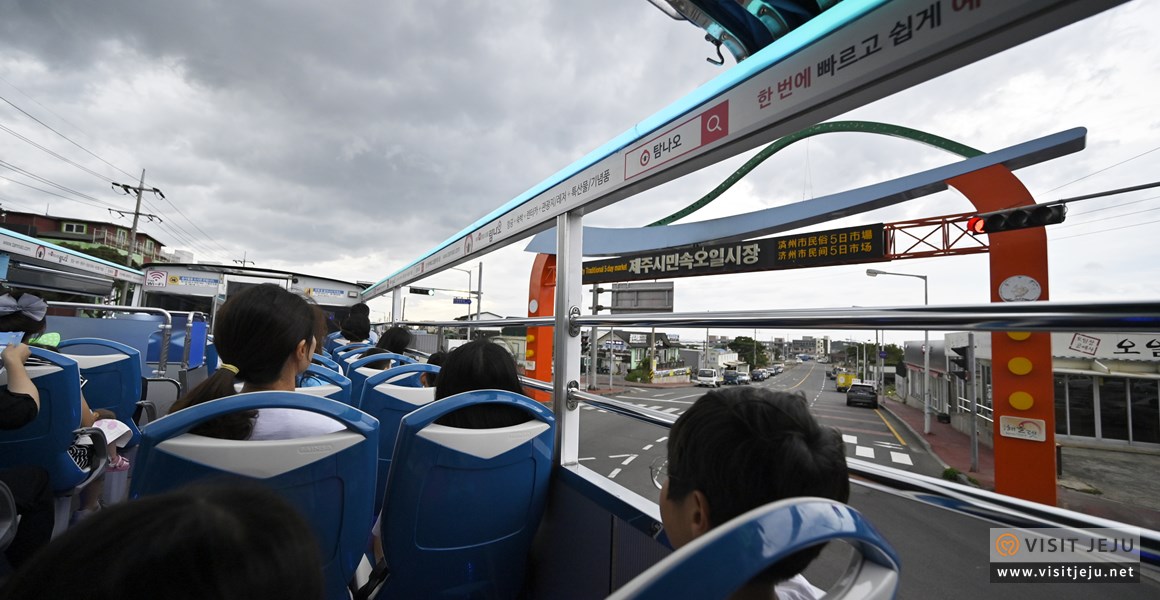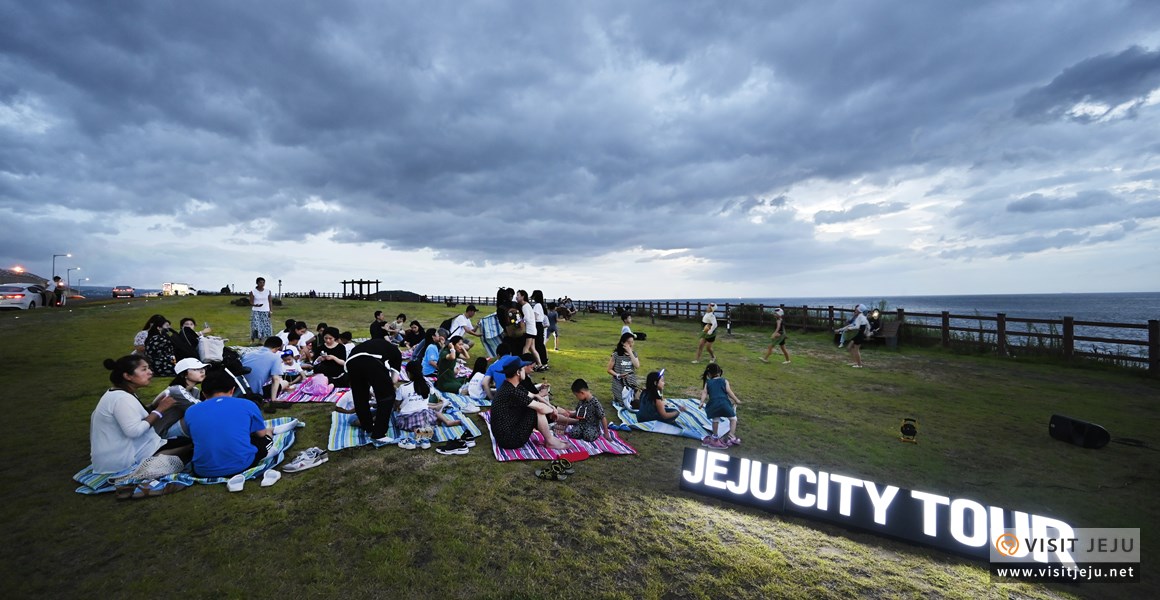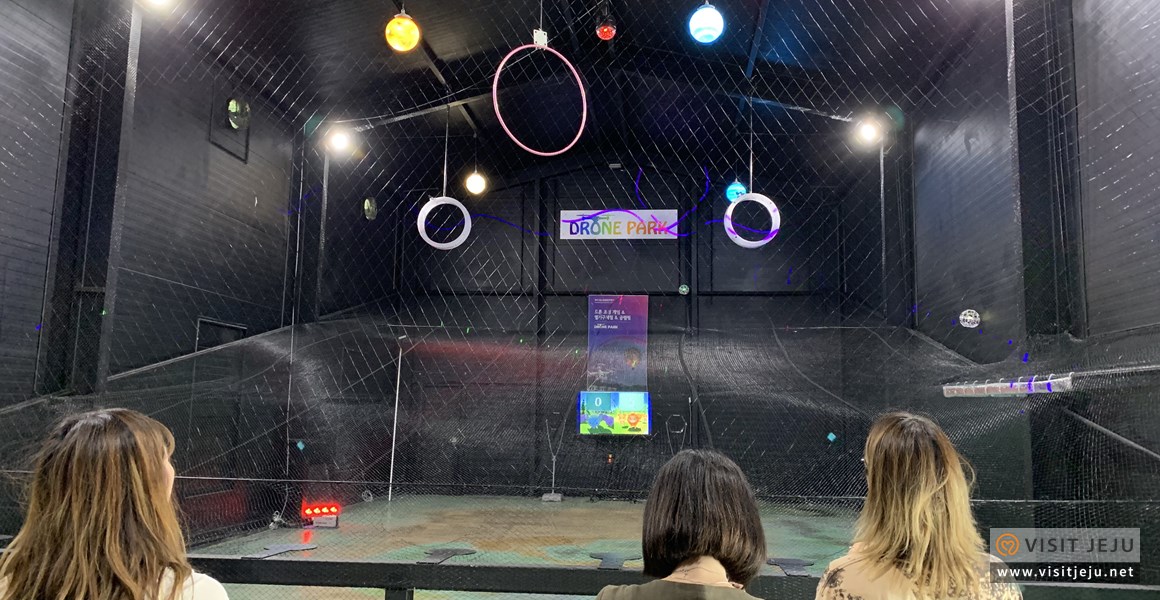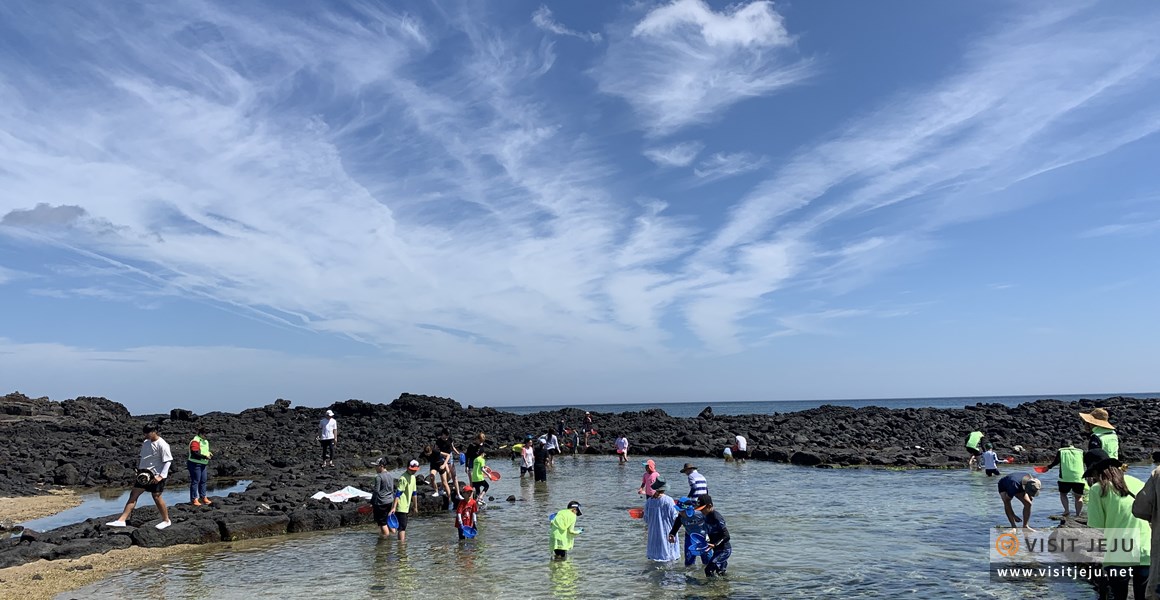 Essential Elements of a Banqueting House
Three Kinds of Jeju Traditional Rice Cakes
Despite living in a harsh environment during hard times, the creative people of Jeju have made three kinds of traditional rice cakes that make feasts and memorial service tables on holidays rich and abundant. Glutinous rice flour kneaded with hot water is made into a star shape, roasted and dredged in sugar. This is called gireumtteok. Jeju buckwheat and radishes are added to make bingtteok (Buckwheat Crepes Stuffed with Radish), and omegi dough, which remains after brewing liquor, is used to make omegitteok. The experience of making these traditional rice cakes are offered in the cafes the village community operates along with cafes run by seniors. There is a minimum number of people for making rice cakes and reservations must be made at least one day in advance.
‣Hahyo Salon: 217-8, Hyodonsunhwan-ro, Seogwipo-si
‣Salle Cafe: 656-9, Ora 2-dong, Jeju-si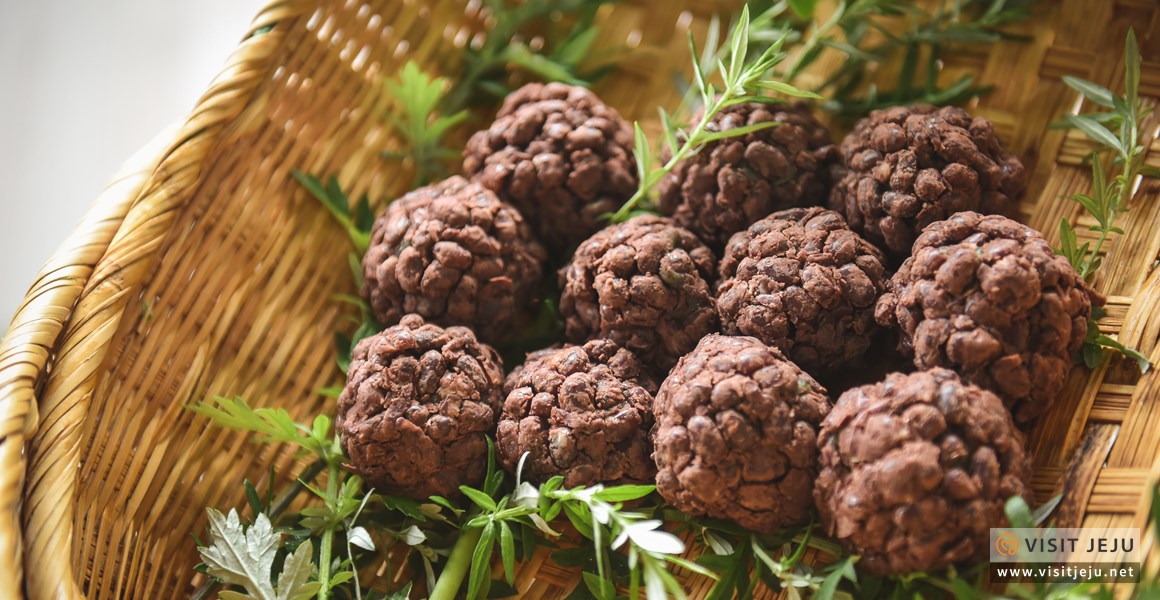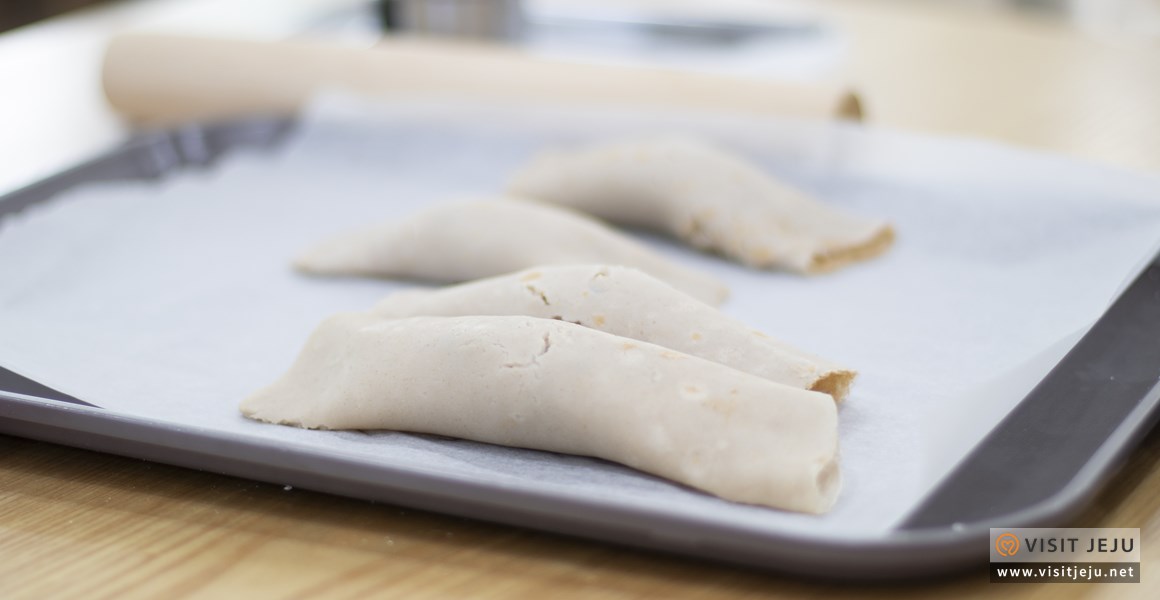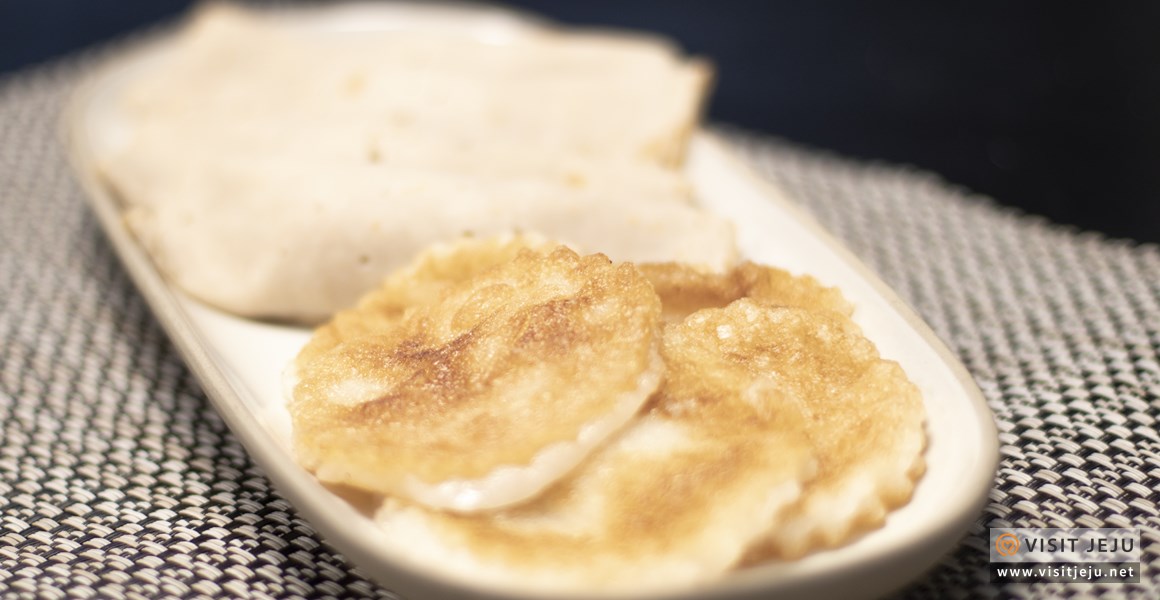 Notice

※ The above information was written on 2019-08-21. Please confirm the information prior to your trip.
※ Unauthorized use of the content above (text, photos and videos) is prohibited and subject to copyright by the Jeju Tourism Organization.