본문
Top 10 Jeju Sites for July <Things to fully enjoy, photograph, ride, and taste in Jeju in July>
Scorching heat or wind can't stop your feelings for Jeju. An island that is cool in hot weather and atmospheric when it rains. Jeju is an island full(*) of happiness for those who love it. Like the saying "you can see only as much as you know," the more you know, the more you will be charmed by Jeju. (*) Morok Morok: Full in the Jeju language
Review

0

Lookup

42,938

Share SNS

11
Top 10 Jeju Sites for July

Things to fully enjoy, photograph, ride, and taste in Jeju in July

Scorching heat or wind can't stop your feelings for Jeju. An island that is cool in hot weather and atmospheric when it rains. Jeju is an island full(*) of happiness for those who love it. Like the saying "you can see only as much as you know," the more you know, the more you will be charmed by Jeju.

(*) Morok Morok: Full in the Jeju language
The profound beauty of old things blooming new and bright
Haga-ri Village
Haga-ri, which we recall when we see the pictures of a rainbow tone school and Yeonhwaji Pond full of lotuses, is already famous for its beauty. However, you can't say you know Haga-ri just with these. A traditional Olle trail runs through a quiet road in the village and pongnang (hackberry) that are hundreds of years old, thatched-roof houses that still have the touch of ancient people, and millstones worked by horses, which show life in the village community, are preserved there. Vines and bluish moss grow on the stone walls. Where can you find these accumulated traces of time in a city? Is it alright that you have been there once before? It never is. Let's look at Haga-ri, a stone walled village that adds new things to old things and balances development and preservation more deeply and completely.
‣ Yeonhwaji Pond: 1569-2, Haga-ri, Aewol-eup, Jeju-si
‣ Deoreok Elementary School: 195, Haga-ro, Aewol-eup, Jeju-si
‣ Houses of Mun Hyeong-hang (Mun Si-haeng), Byeon Hyo-jeong, Mun Gwi-in: Haga-ri, Aewol-eup, Jeju-si
‣ Horse Mill of Aewol, Jeju: 921, Haga-ri, Aewol-eup, Jeju-si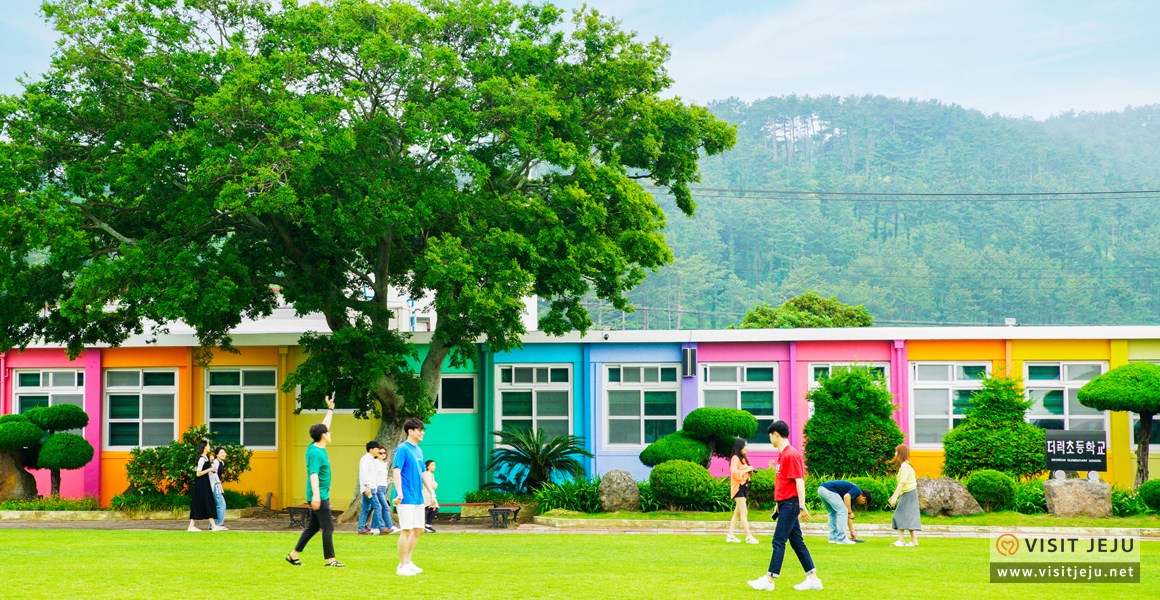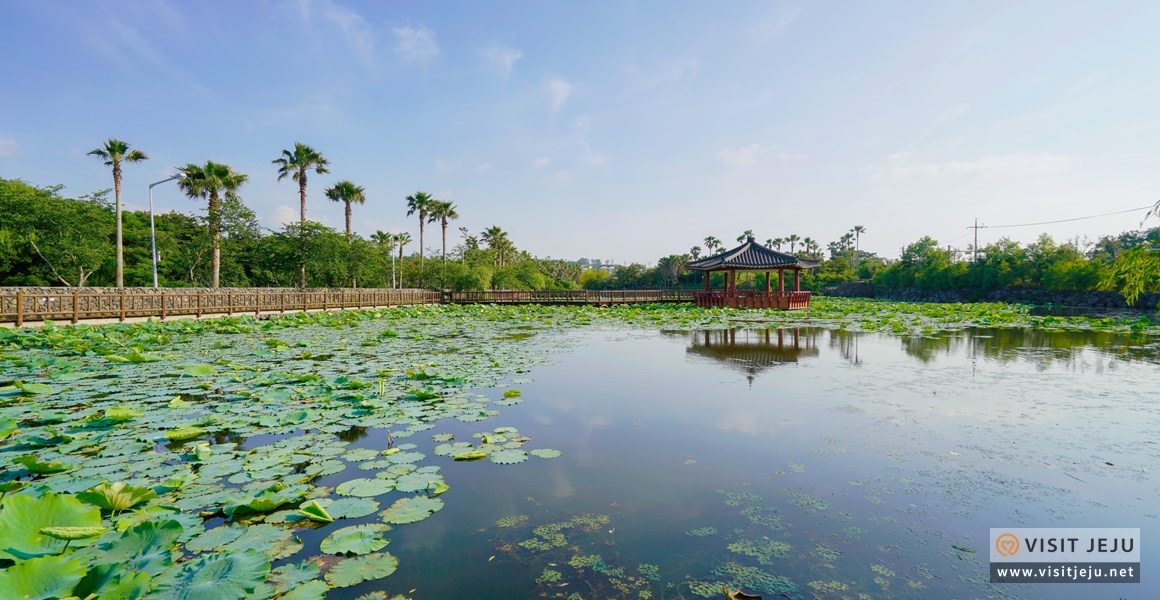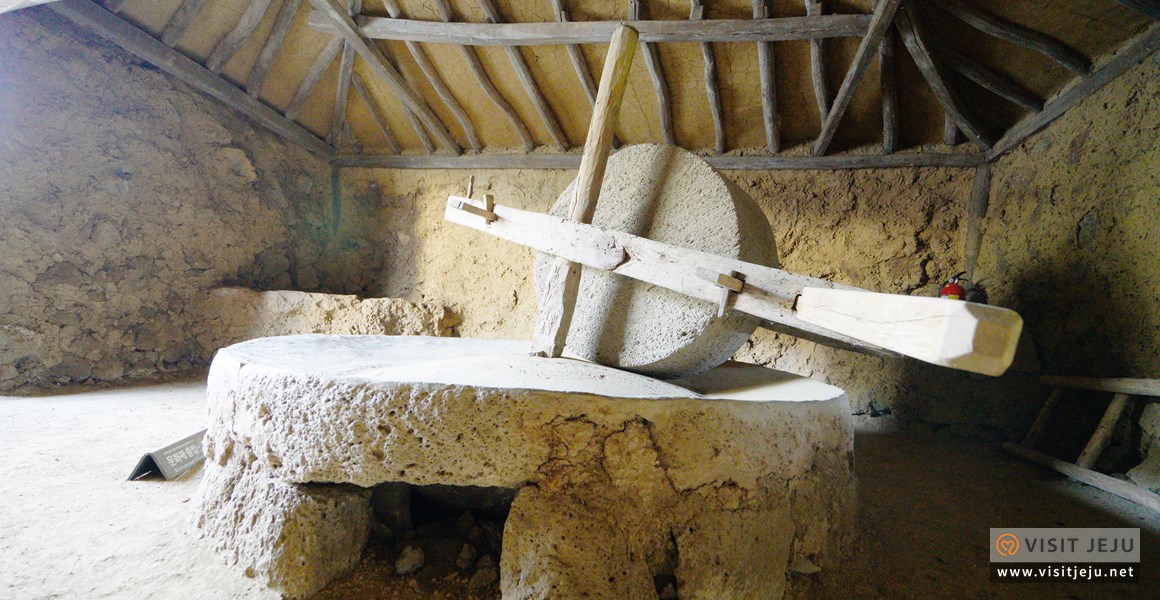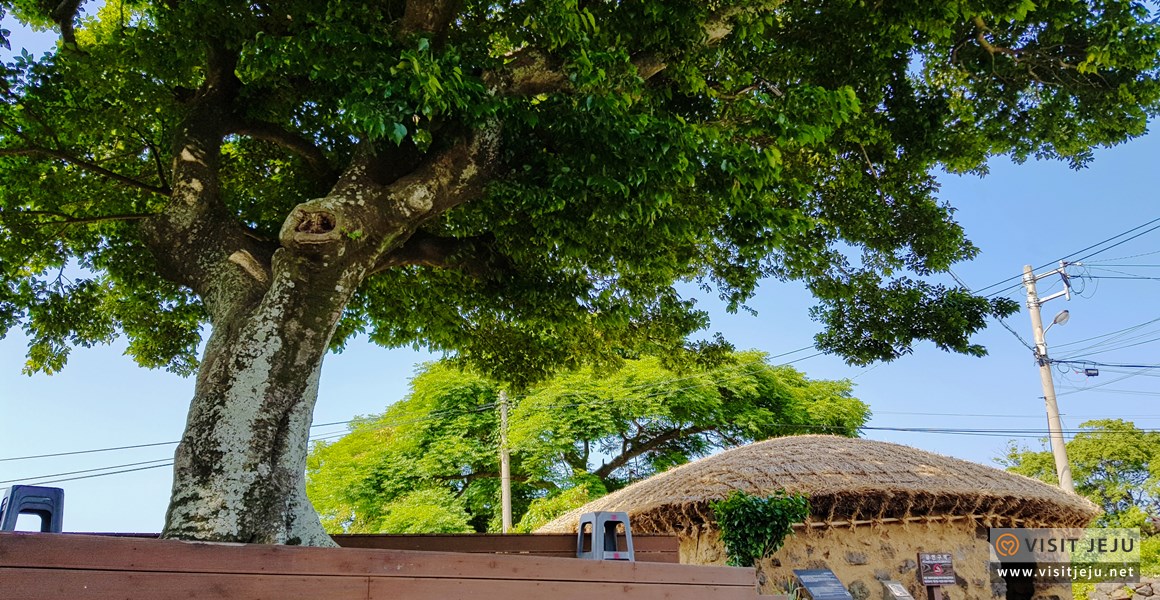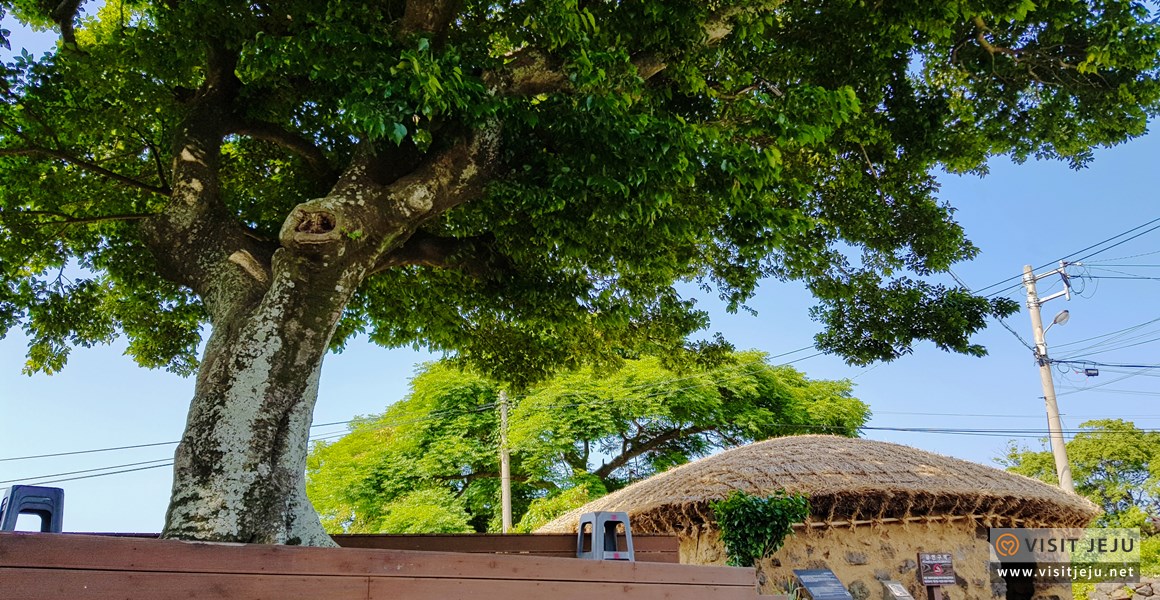 A hearty welcome from tall trees
Longevity Forest Trail, Sangjatseong Forest Trail
Jeolmul Recreational Forest is loved by both residents of Jeju and tourists alike. Although a well-maintained wood deck is good, if you want a natural earth road, go in the Longevity Forest Trail. If you and your companions walk for about three hours in among the densely forested tall cedar trees, you will obtain more than health. If a long walk is a burden for you, the Sangjatseong Forest Trail is recommended. It is in Bulgeunoreum Recreational Forest, which since it is at the boundary point between Jeju-si and Seogwipo-si, you can walk through this forest in 60 minutes.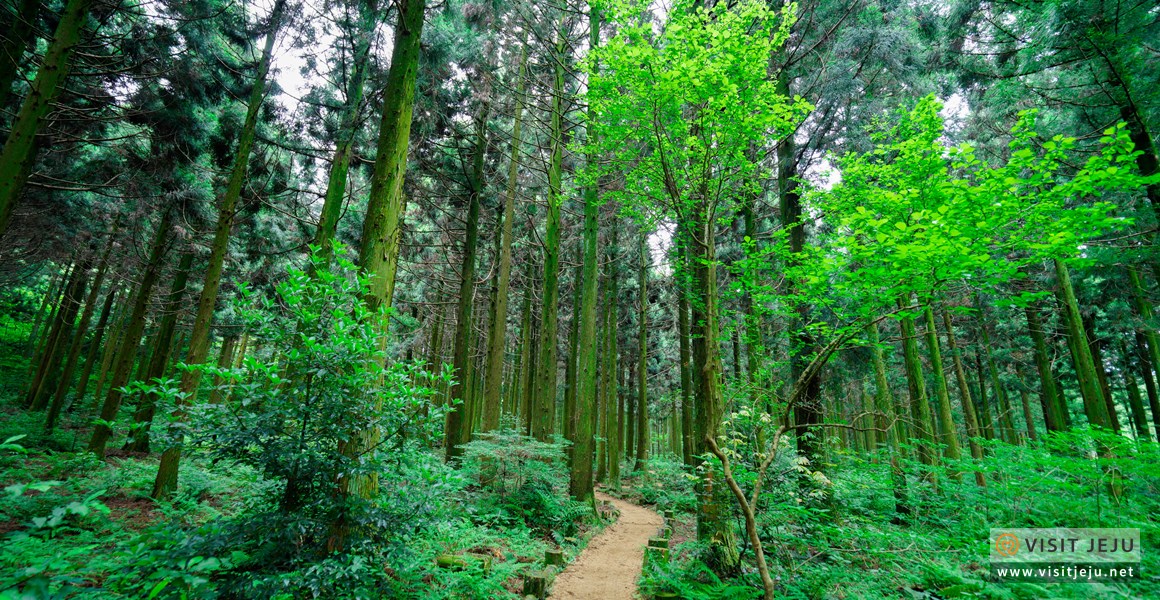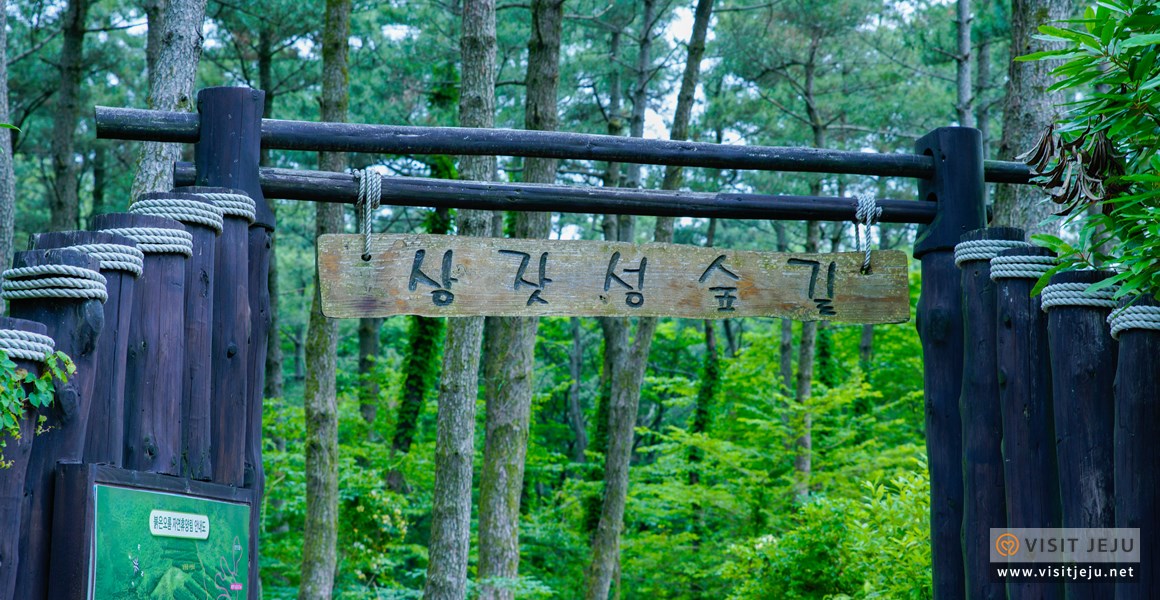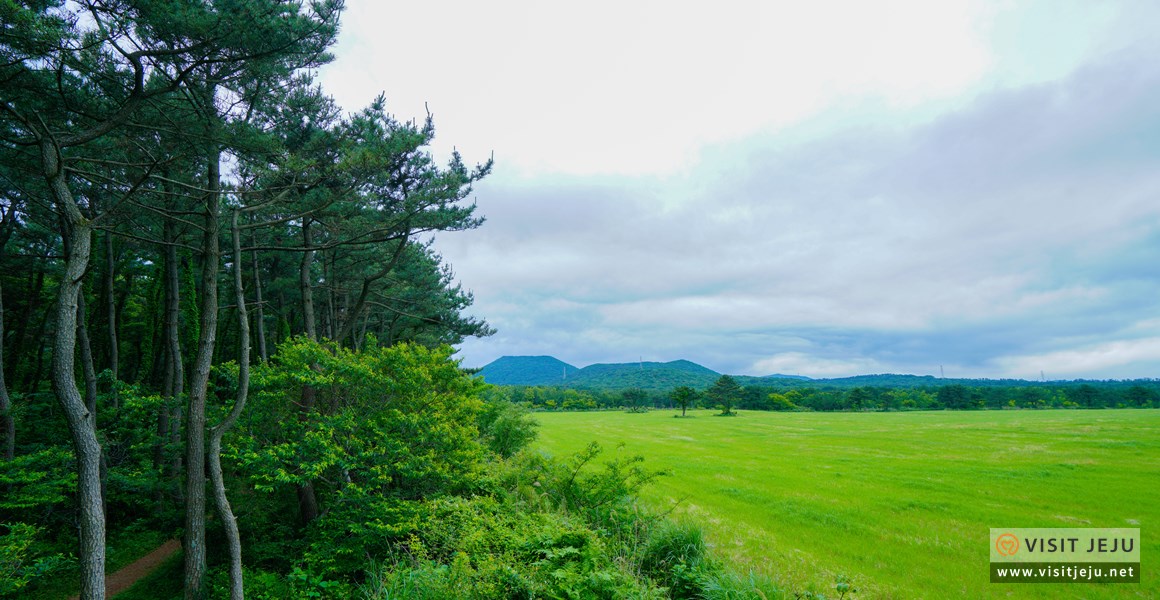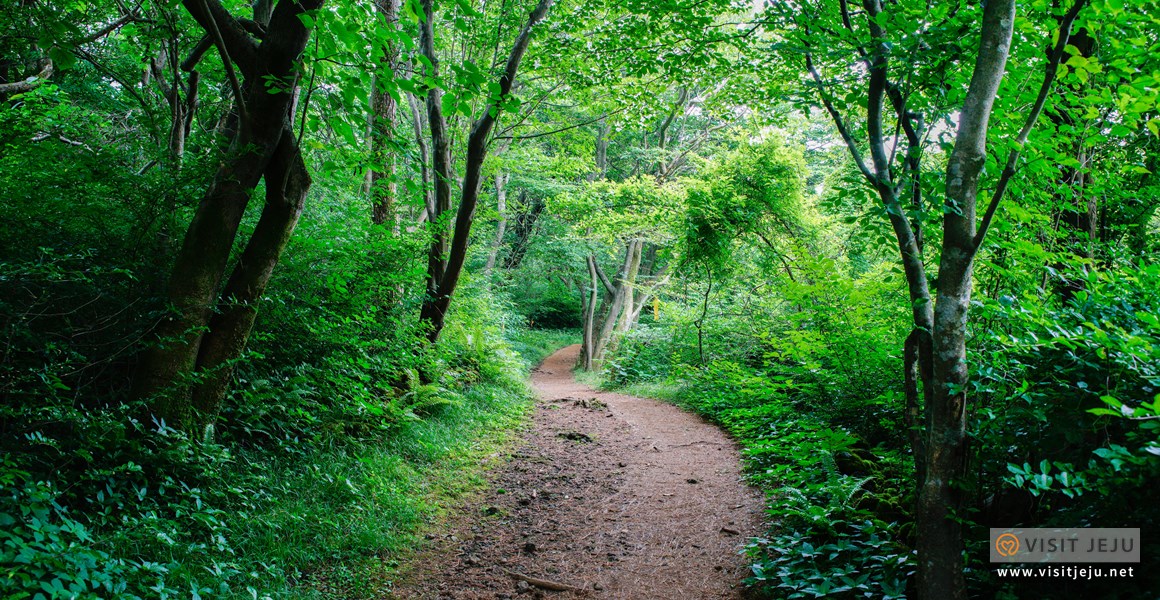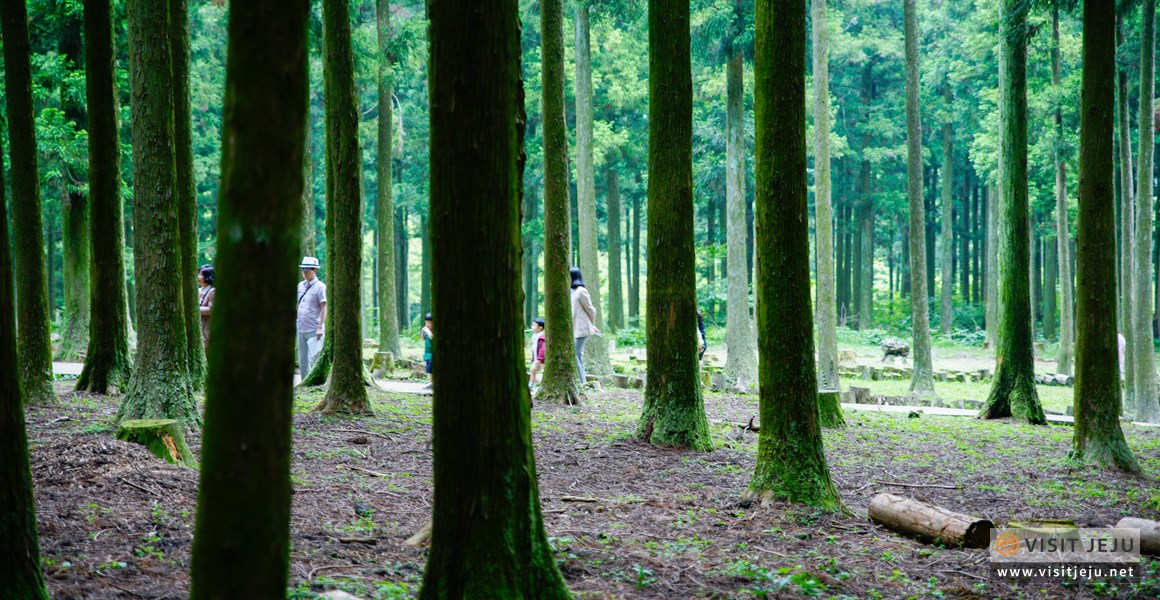 Not lonely, as we are always together
Idal Volcanic Cone
Unlike Saebyeol Volcanic Cone, the most popular of the oreum, there are its cousin volcanic cones in the west of Jeju, which are secluded and have their own charms. Among them, Idal Volcanic Cone, which consists of Idarichotdaebong Peak and Idalbong Peak, features shallow grass vegetation. Down below the cliffs there are short wildflowers in full bloom as well as groups of wild rosebushes, eurya japonica, and ilex crenata, revealing the splendor of nature. From the top of Idal Volcanic Cone you can see Hallasan Mountain and Saebyeol Volcanic Cone, Goeoreum Volcanic Cone, and Bukdorajin Volcanic Cone nearby. It is a good place to take a break for a while in the gentle breeze, too. It takes about an hour to one and a half hours to hike Idalbong Peak and Idarichotdaebong Peak.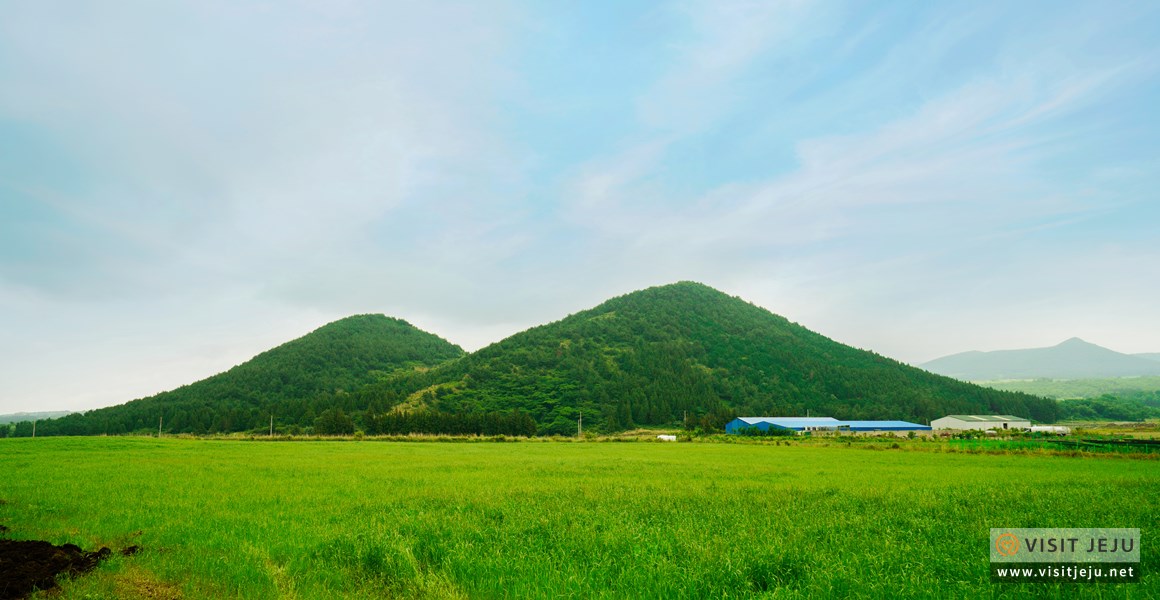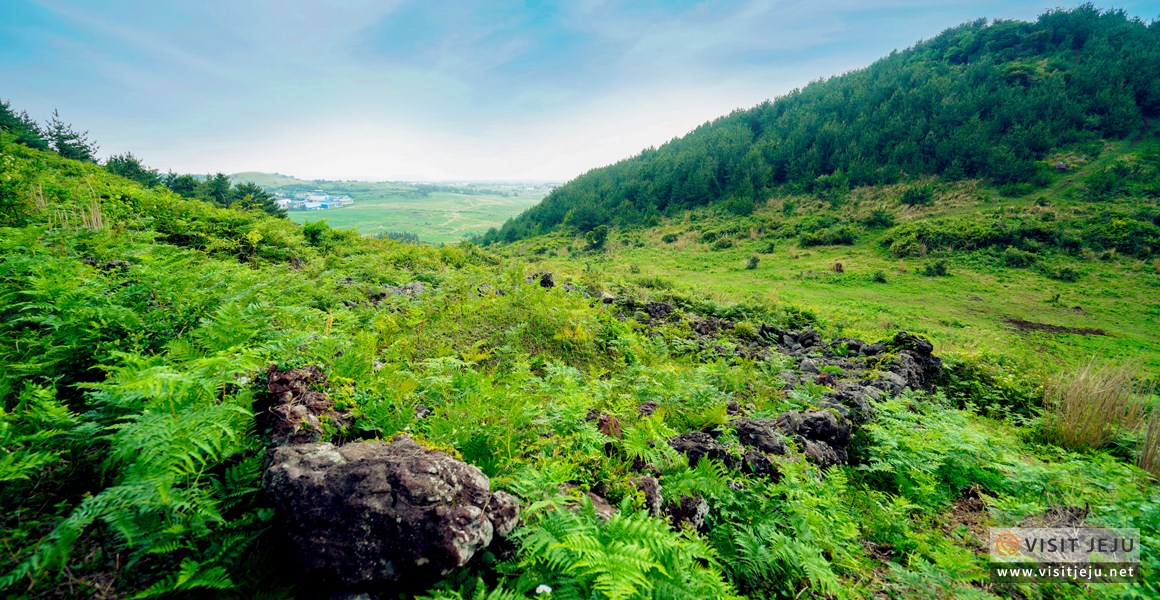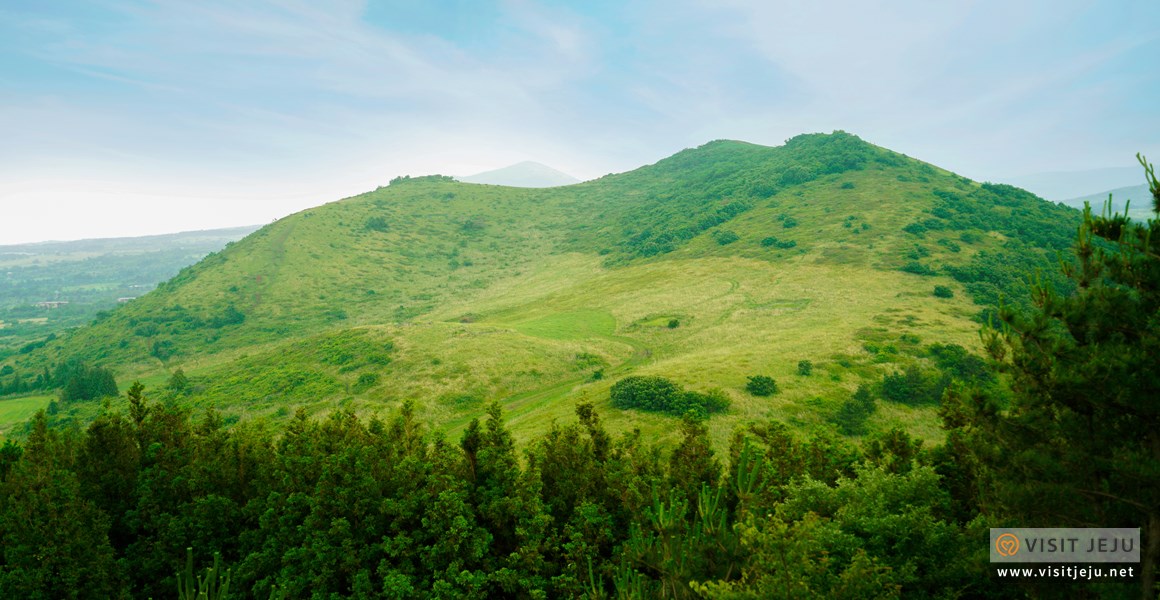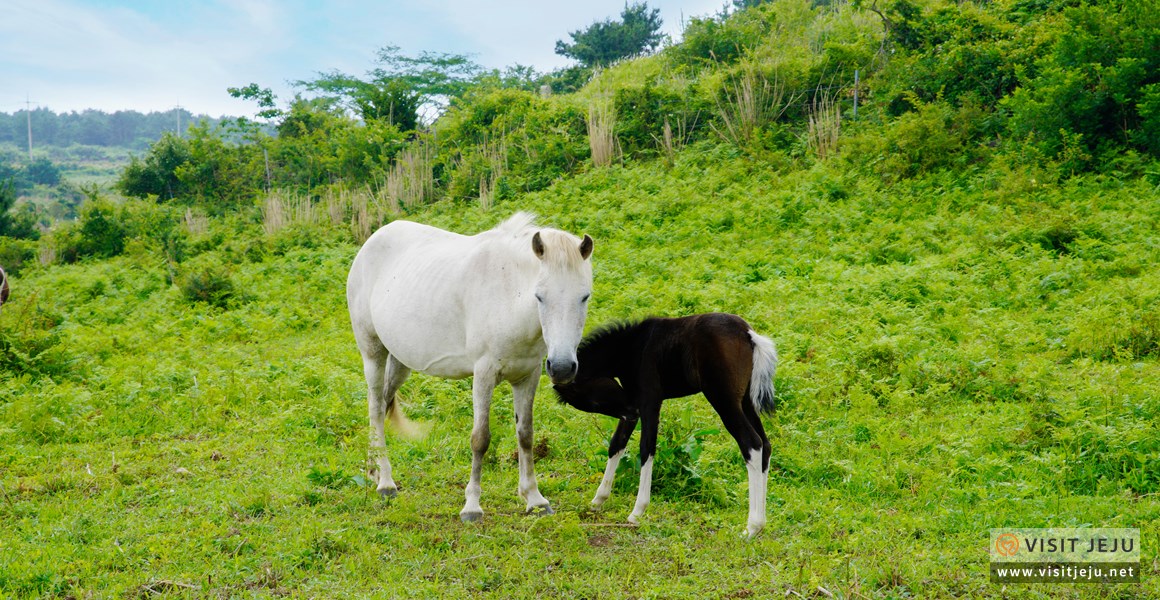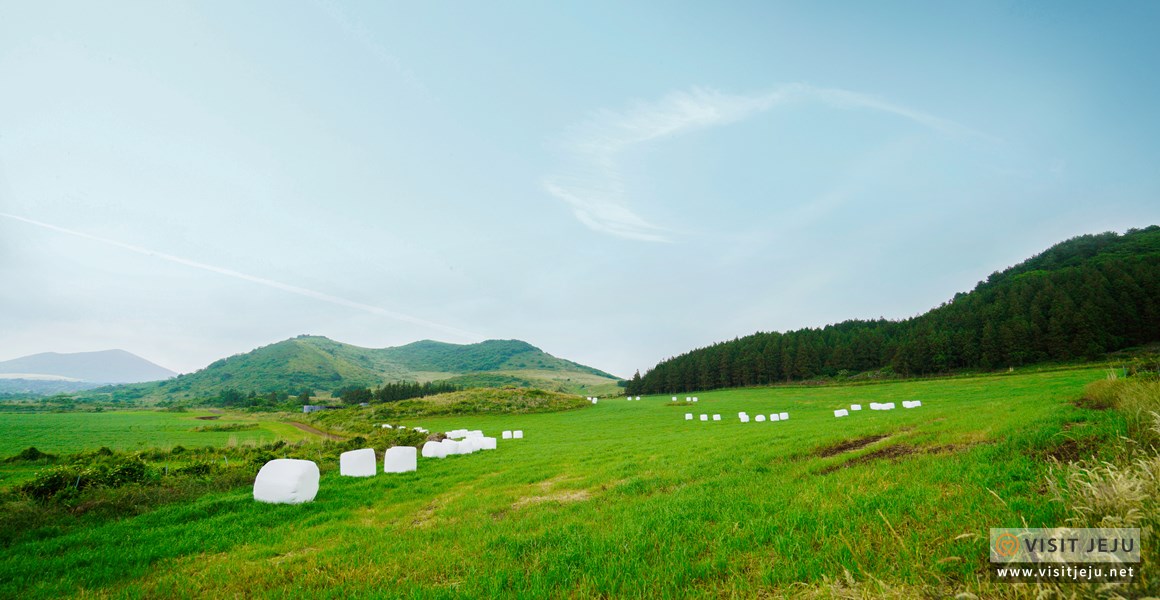 'A famous place?' 'No!' Quiet or special beaches are right here!
Jeju's beaches
The beaches in Jeju are open in July, and you have an opportunity to commune with nature in the sea. While popular beaches with various convenience facilities and nearby well-developed commercial districts are good, you might want to avoid the complications and noise. Then, go to quiet, mysterious, or special beaches. There are designated beaches that are quieter than undesignated beaches and beaches that are better for children to play on as they are shallow or have some amusement facilities. But when you use less active undesignated beaches, you should be more careful because they can have fewer convenience facilities and neglect safety. Some beaches are open at night for one month starting from July 15. You can also refer to the beaches' characteristics indicated here.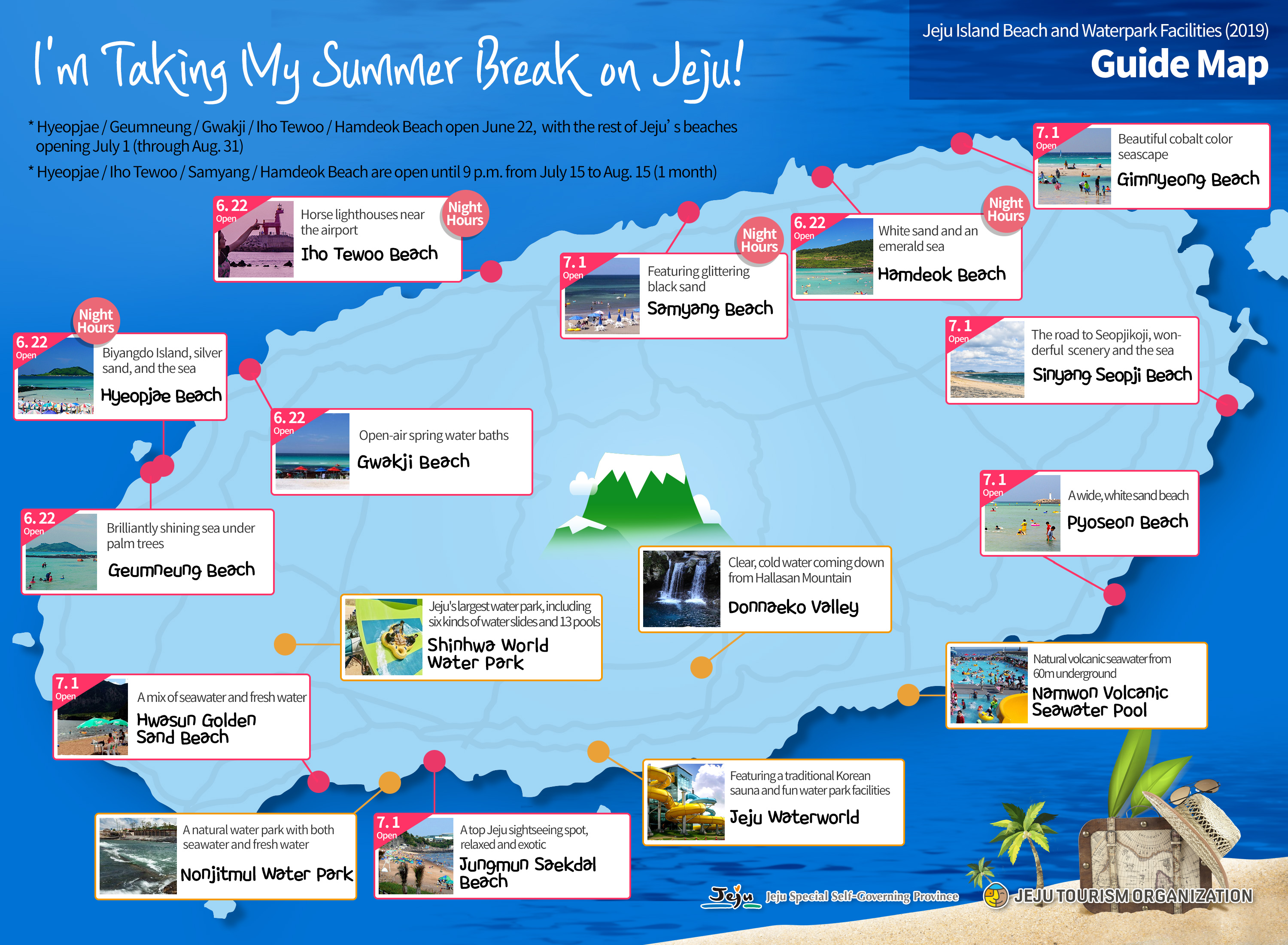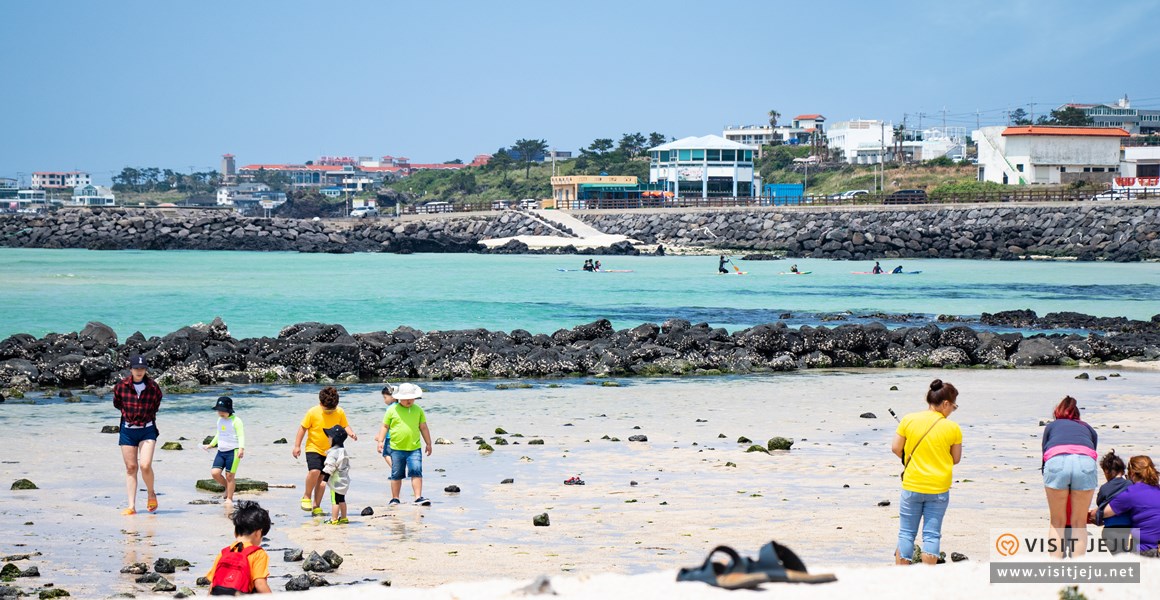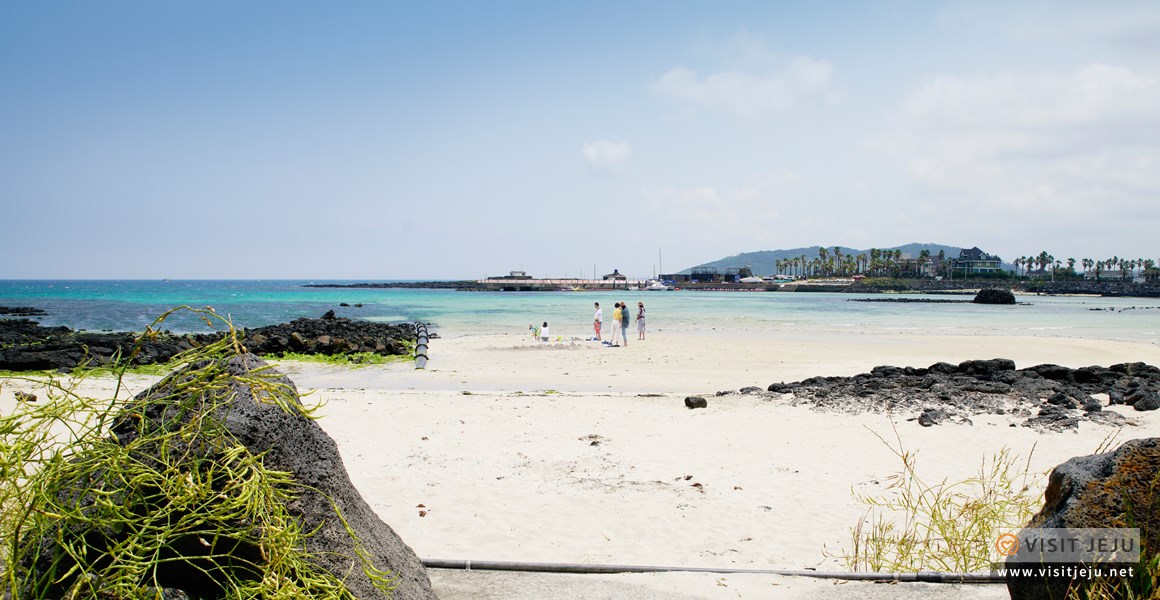 Alleviate the heat with giddy and thrilling experiences
9.81 Park & Jeju Big Ball Land
If you just whine about the heat, saying "it's hot, it's hot," your body becomes more exhausted and feels heavy. Try a thrilling thing with a passion that is hotter than heat. Not all karts are the same. Give yourself to the lead of gravity in the gravity racing center, a place of nature's power! Do not dare to calculate the acceleration of gravity; let your body simply feel it! After racing, you can check your trip log and video. And gravity works on a big ball, too. Here, you will become a ball yourself and roll; while rolling, you might be confused like, "Who am I? Where am I?" But, one thing for sure is that it's so fun! Earth is round, ball is round, and your mind at this moment becomes round, too. You only live once, so don't be so square!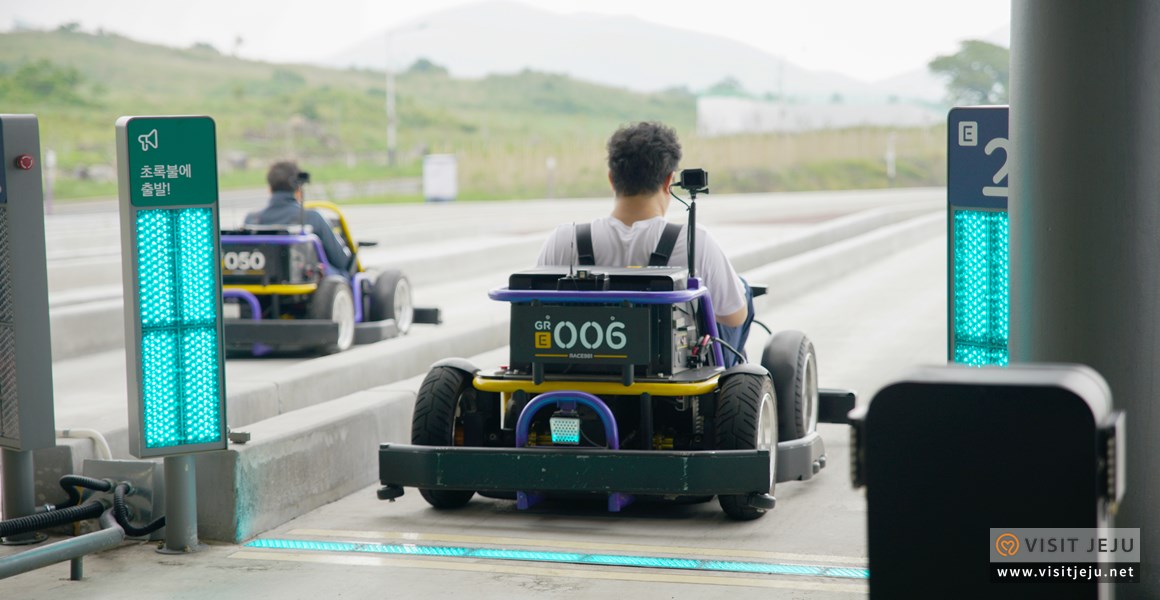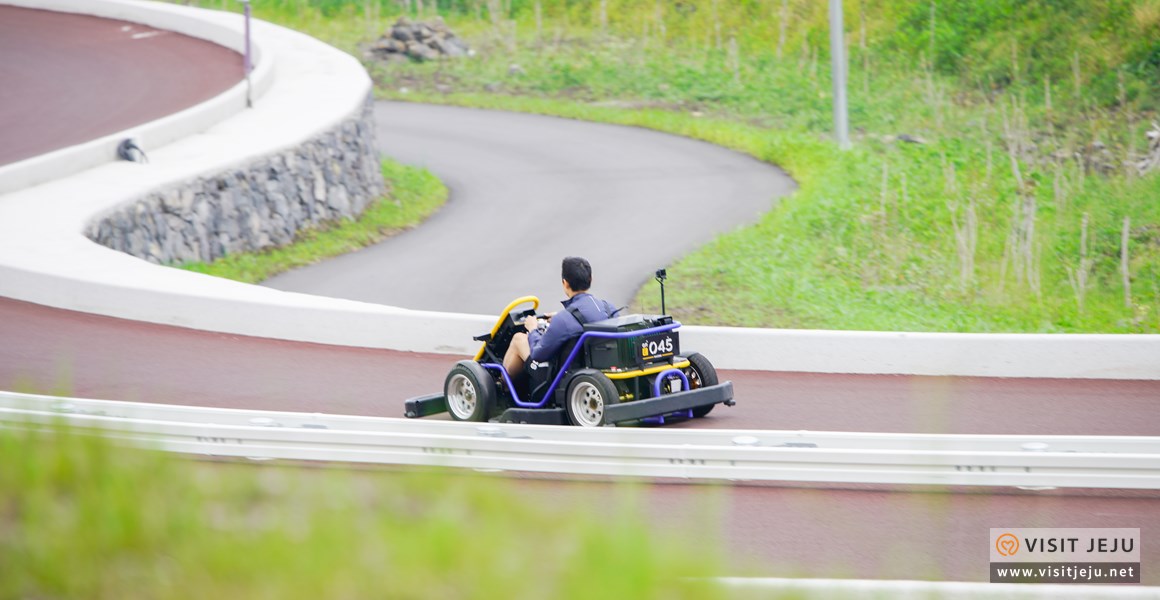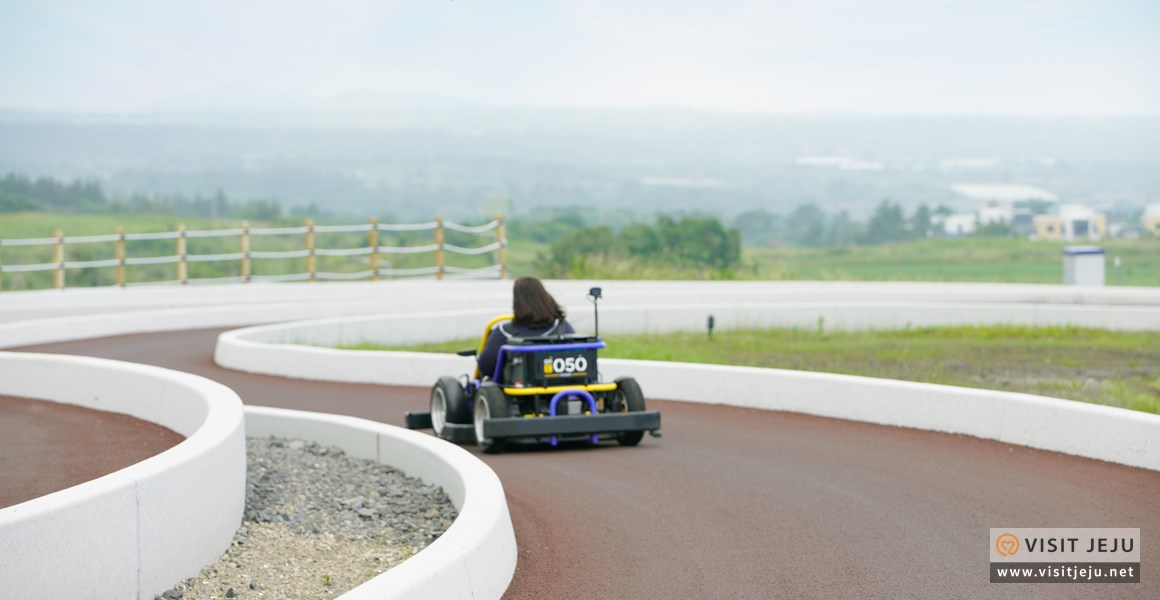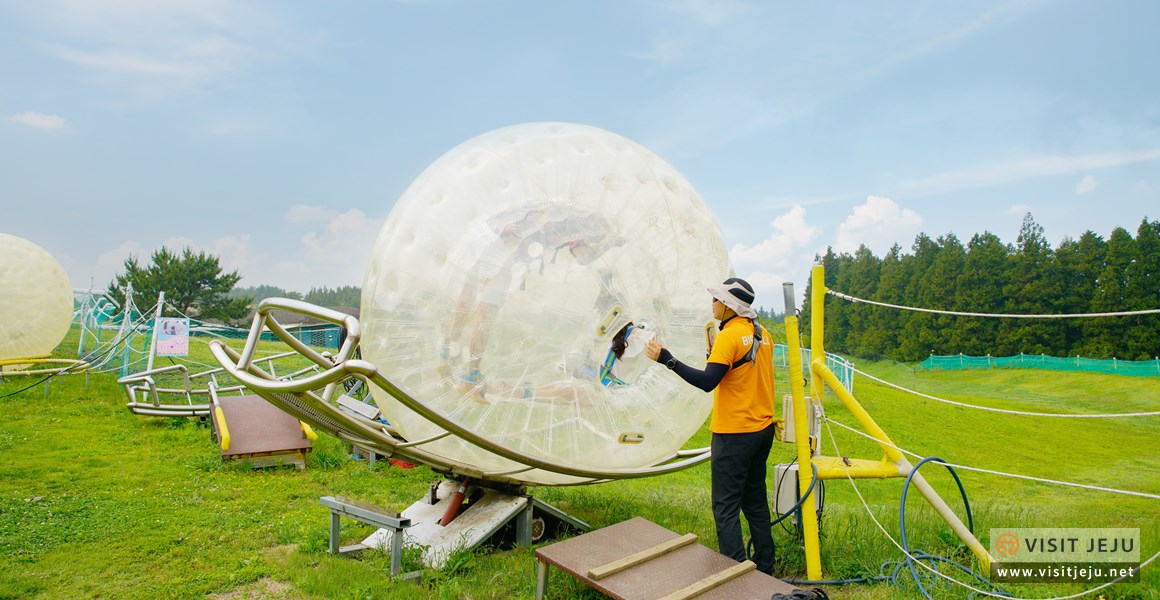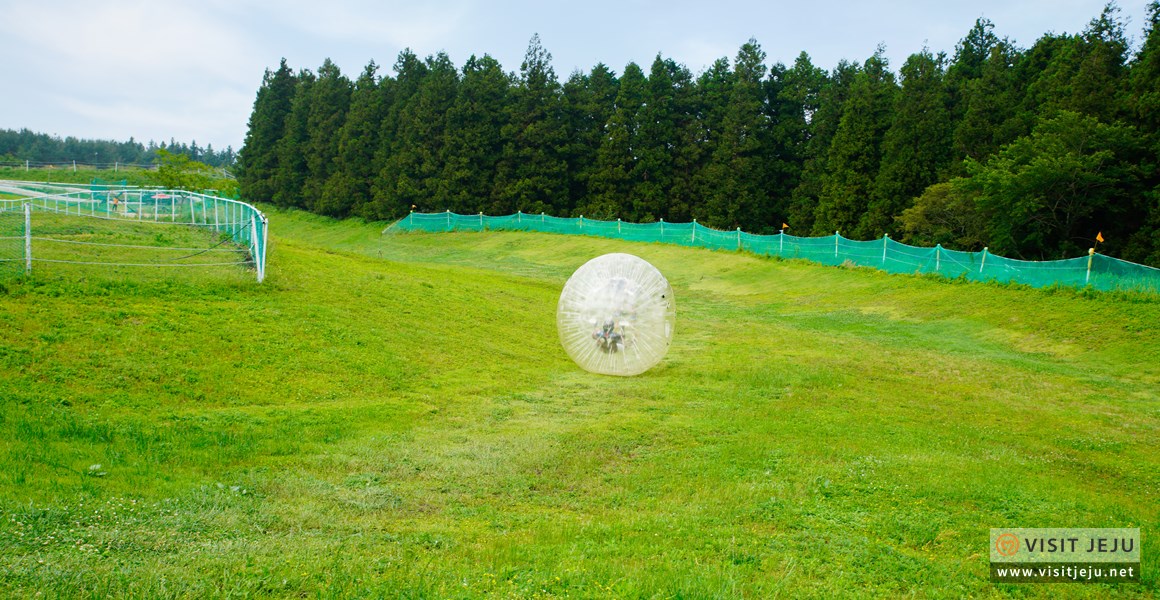 What makes your trip complete?
Shopping at a Duty Free Shop!
If something is missing even after you took pictures, rode various things, and ate delicious food, it is because you didn't go shopping. You are not an exception to the tax exemption for travelers! In the International Convention Center Jeju in Jungmun Resort, where various events are held, Jungmun Duty Free Shop (Korea's first designated duty free shop for local residents) is open throughout the year. This is a place for inbound travelers who plan to go on to another place. If you had a great time in Jeju Shinhwa World, visit the Shinhwa World Duty Free Shop of the Jeju Tourism Organization. It is available to anyone ahead of their overseas departure. You can obtain good presents that will soothe an empty feeling after travel or melt the heart of your loved one. The products you buy in these two places can be picked up at the airport or port before you leave Jeju.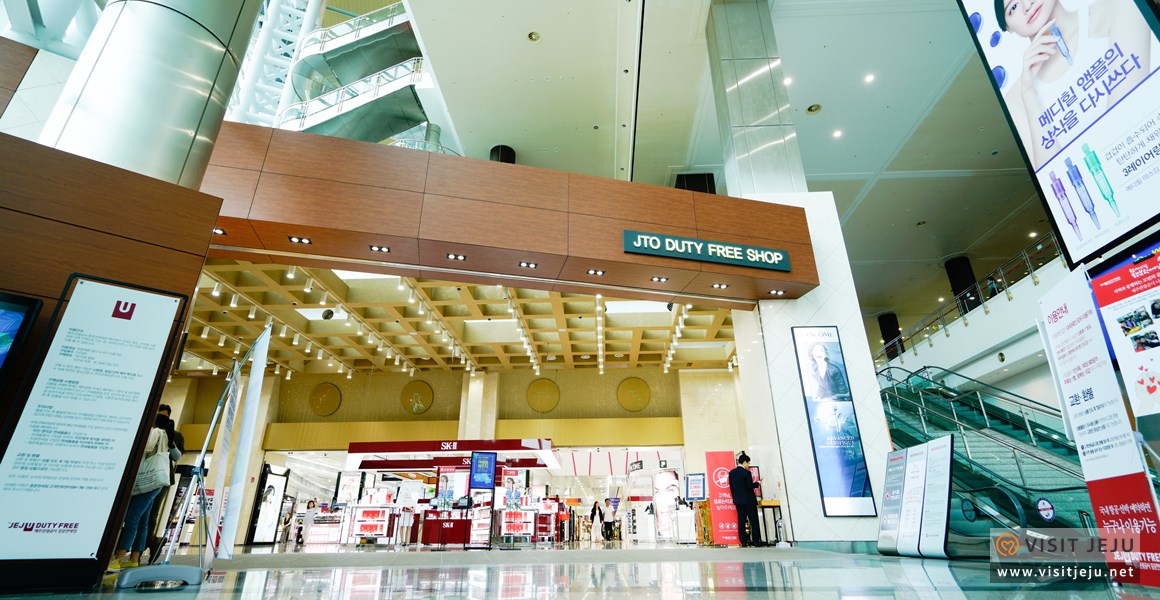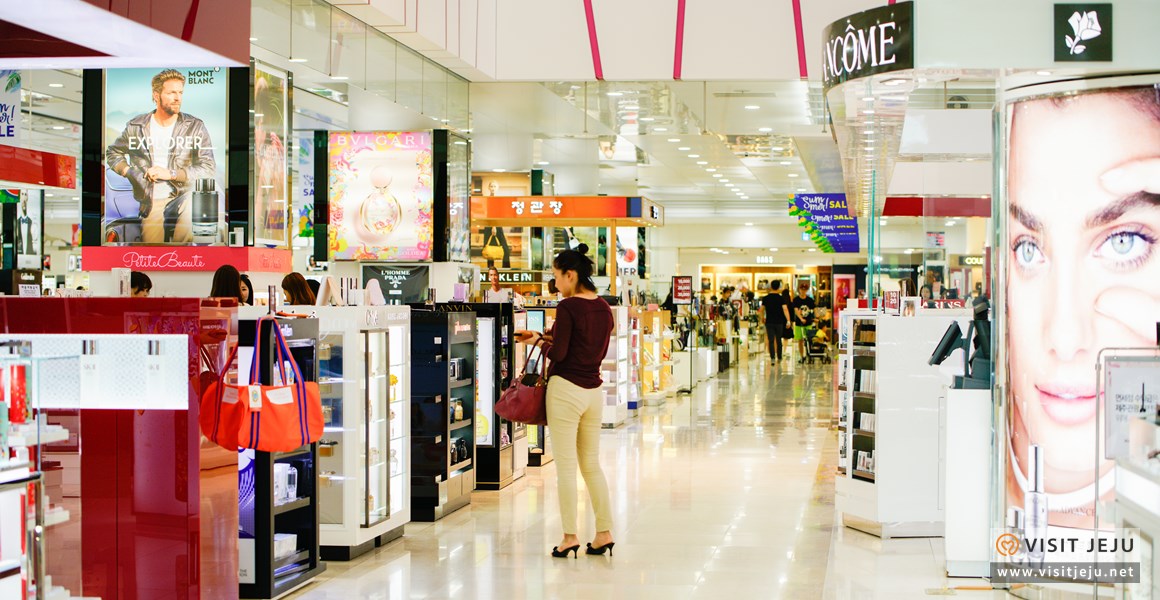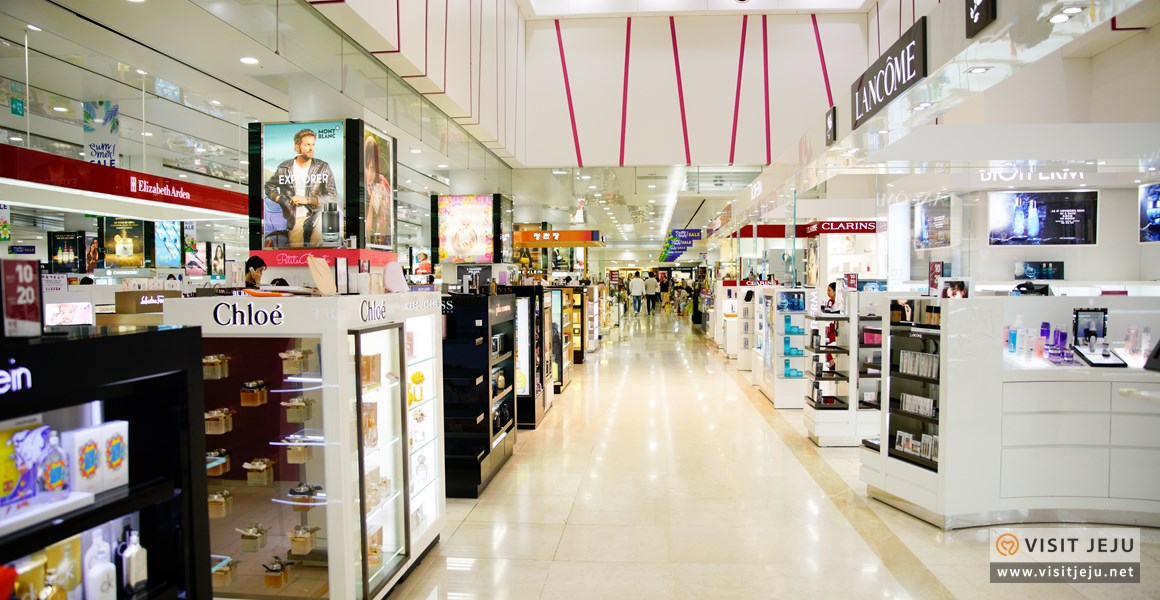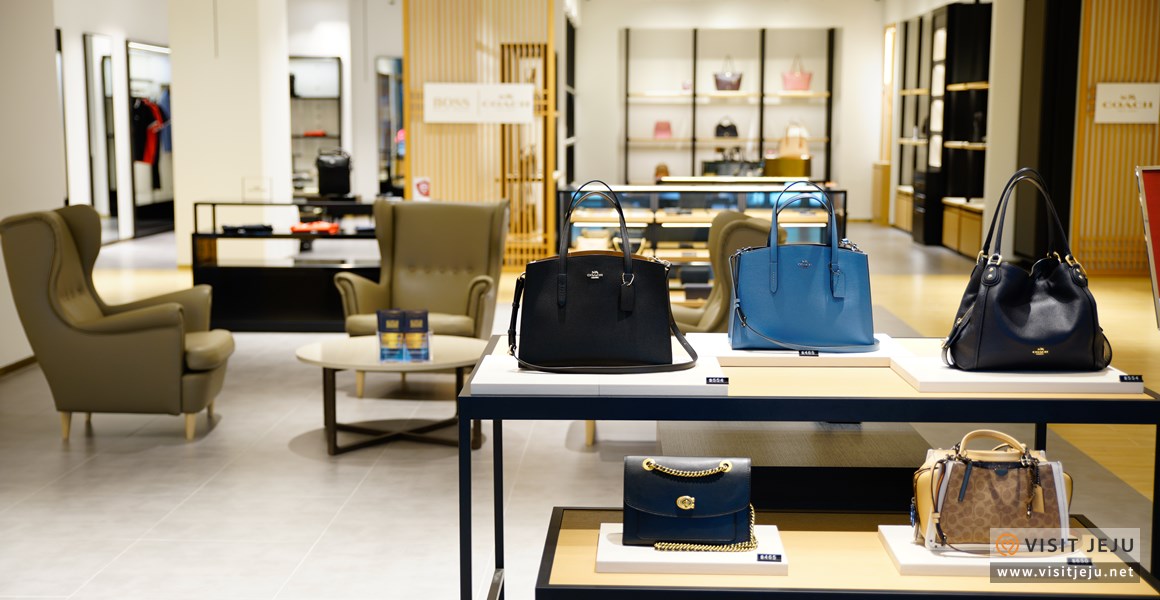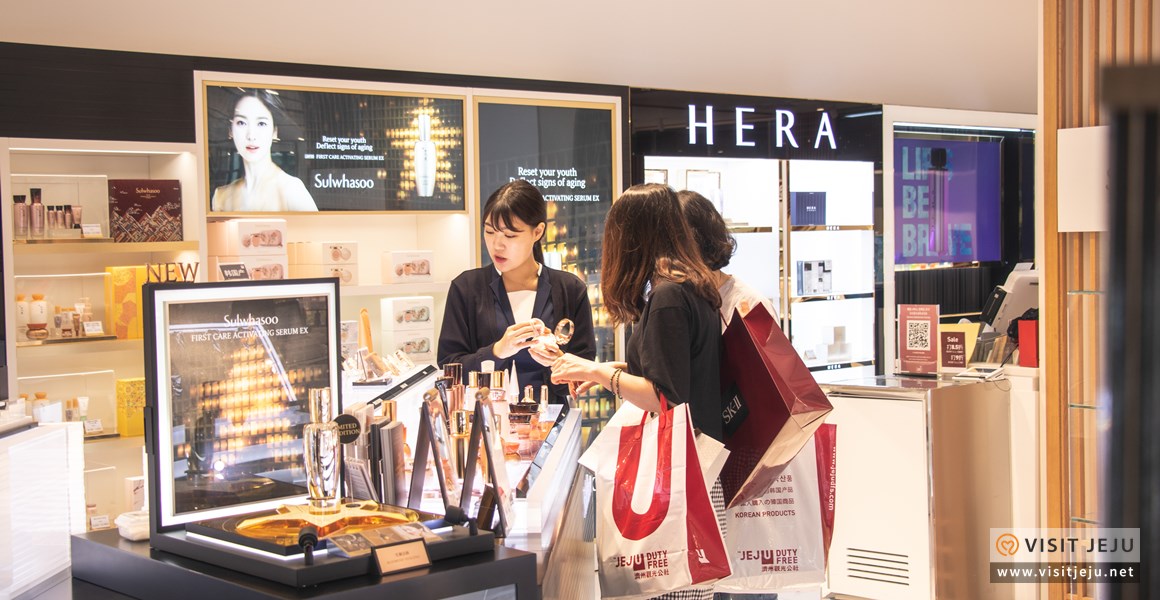 Taste the products of Jeju's superb water
Tour local companies that use water
Korea, which is sensitive enough to the taste of water to have a national water sommelier contest, definitely recognizes Samdasoo brand mineral water. The stereotype that mineral waters taste all alike disappeared in the emergence of Samdasoo. It would be a different experience to see the process of bottling this delicious and healthy water firsthand. If the water tastes good, the liquor taste is duly good. The Hallasan Soju factory, which makes soju using volcanic bedrock water, opens with confidence and waits for curious tourists. The Jeju beer brewery tour, which is a combination of 30 years of know-how accumulated in Brooklyn Brewery, brewmasters with more than 15 years of experience, and the clean water of Jeju, is already a hot travel route among "insiders." All tours are operated with a reservation system.
‣Jeju Samdasoo factory tour information and reservations: www.jpdc.co.kr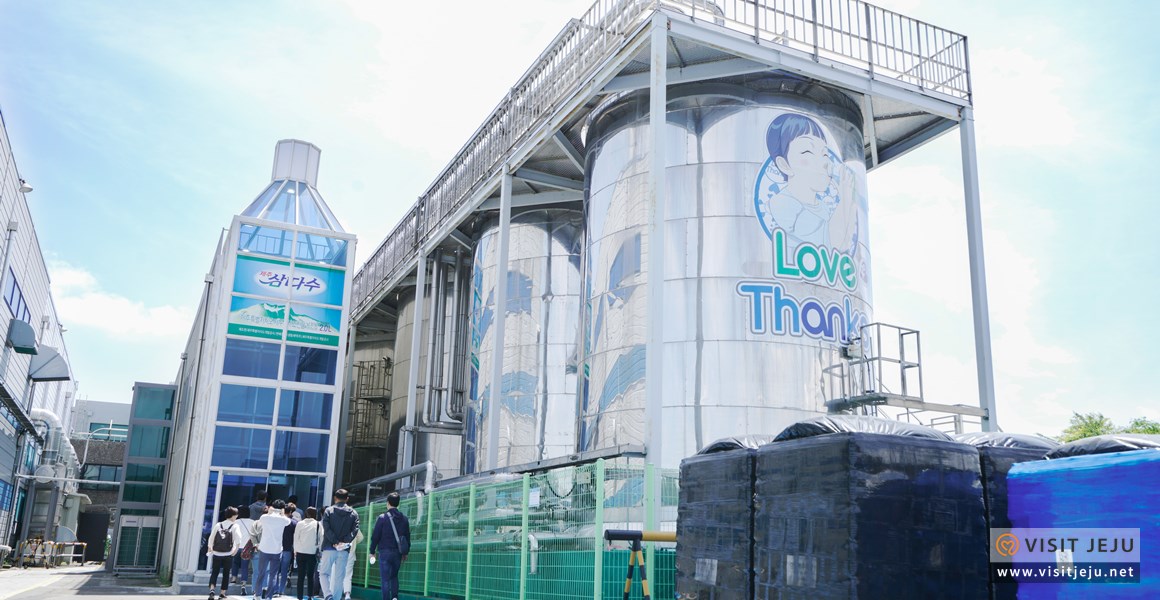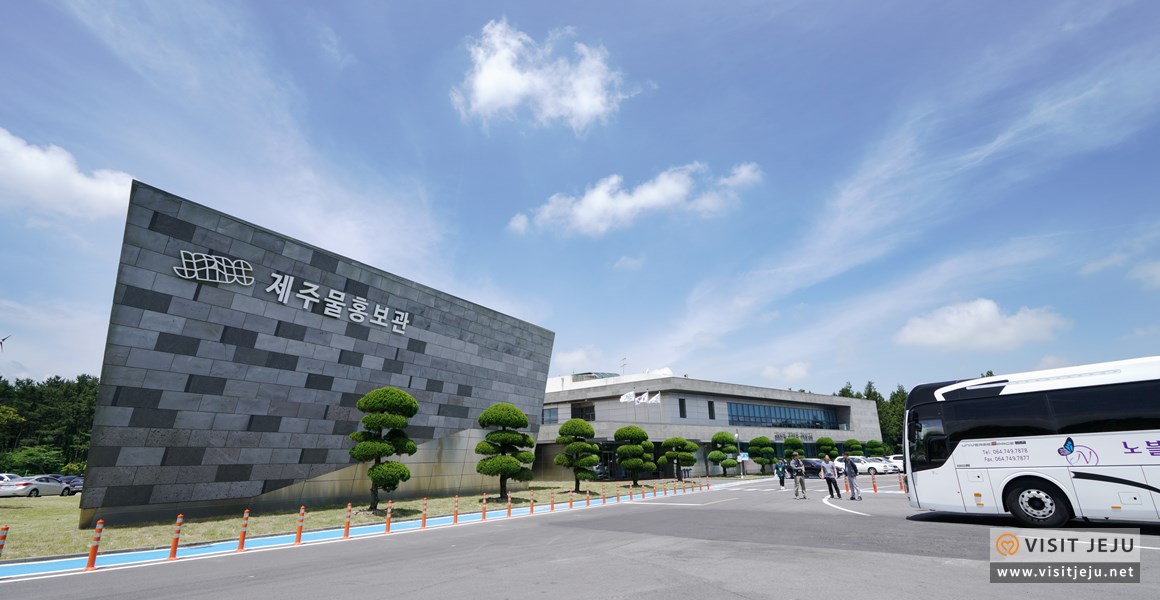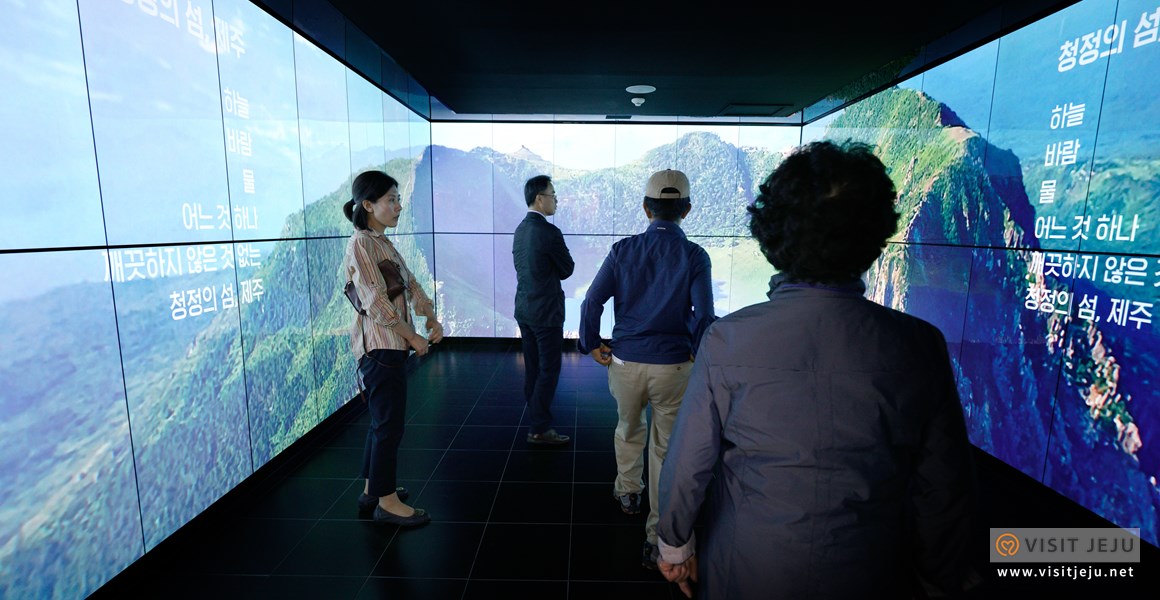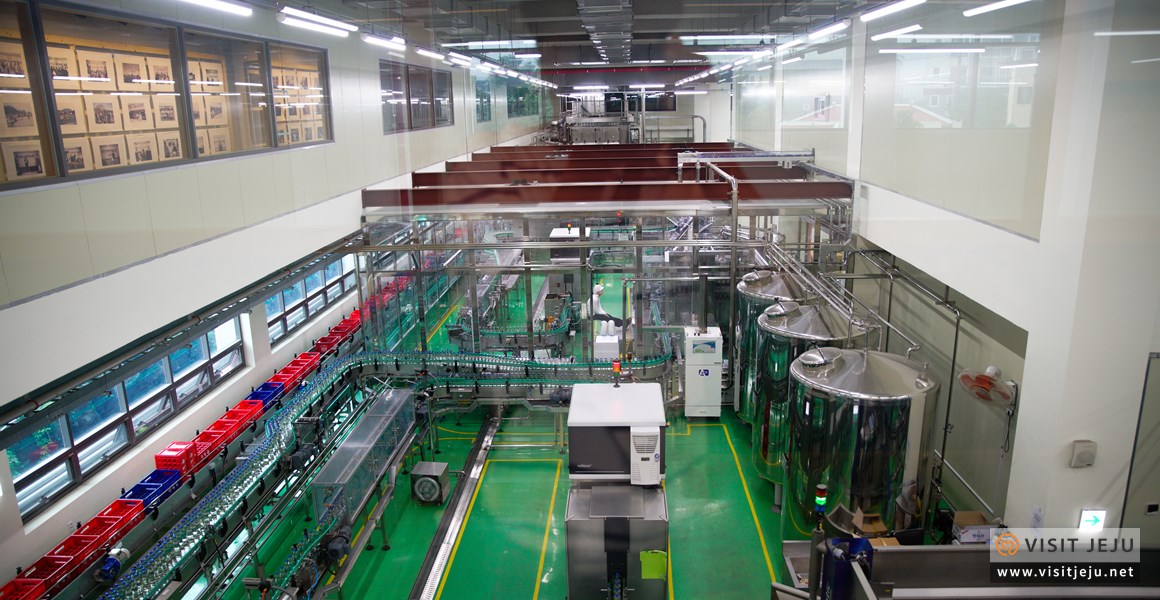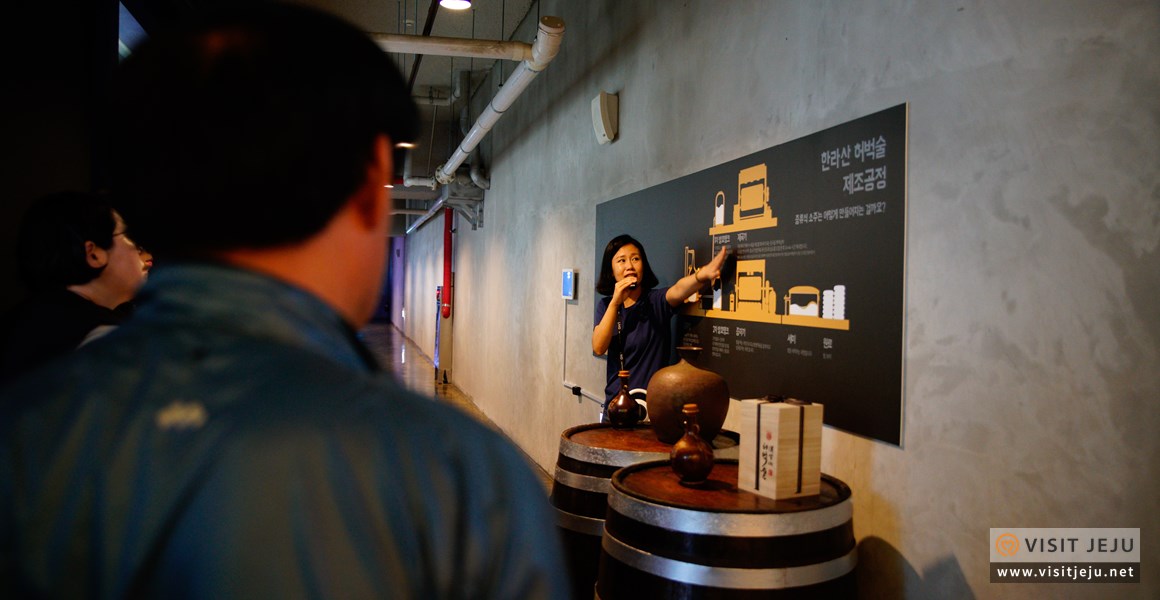 Let's head to the sea, home of the dolphins!
Wild Dolphin Tour
We humans are just a few of the countless living things on earth, and just a guest to dolphins, which are the owner of the sea. Visit the vast home of dolphins on a yacht. There is no promise you'll see them, so the joy of seeing dolphins is greater. On the coast of Daejeong, which is said to be the last habitat of tursiops aduncus, the dolphins named "Jedol" and "Chunsam" - our national friends - also live. The point of this tour is to be as quiet as possible and not get in the way of the dolphins. If you want to see dolphins while you are out walking, go to the coastal road around Sindo-ri. The possibility you will see dolphins with the naked eye is almost 100%, but you must wait. To see dolphins spraying water along with a marvelous view of the coastal road, it's more than worthwhile to wait.
‣Gosanilgwa Coastal Road and Sunset Coastal Road: Sindo-ri, Daejeong-eup, Seogwipo-si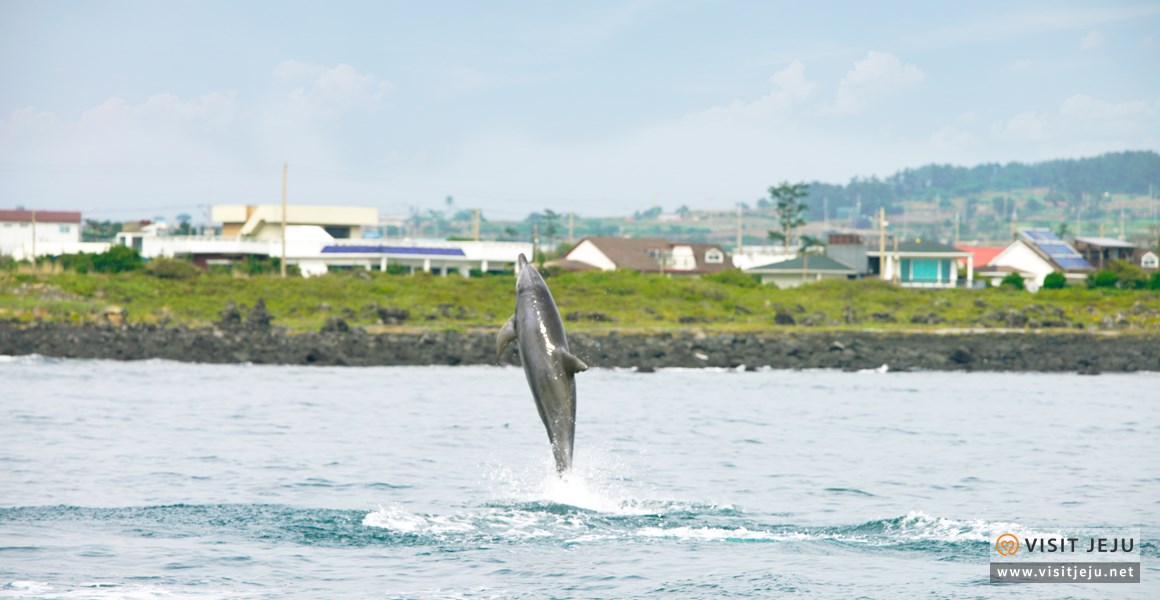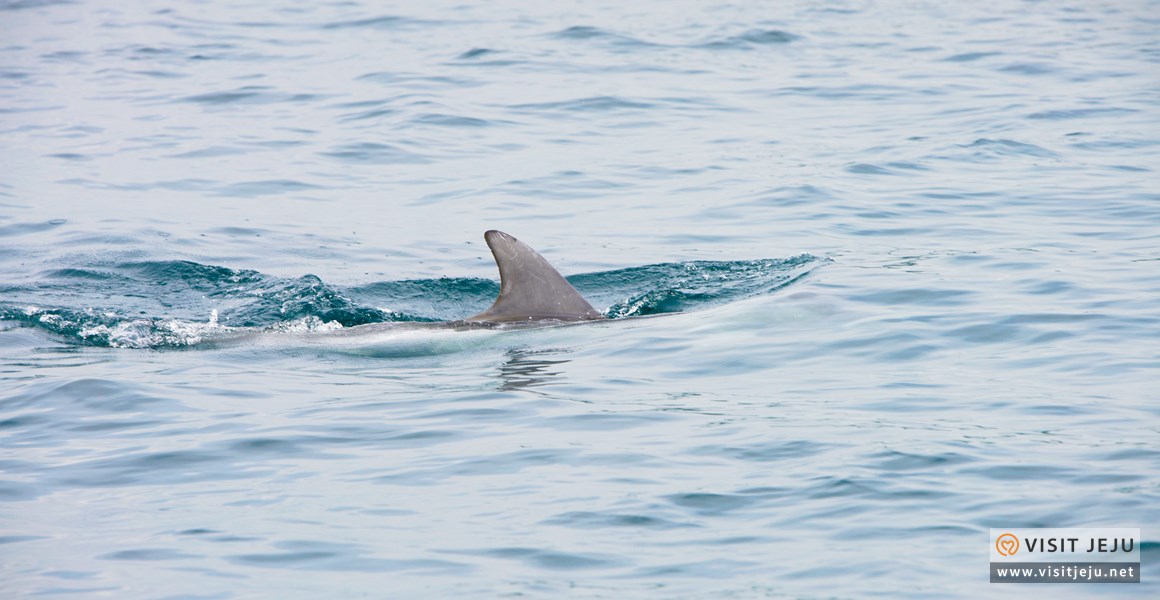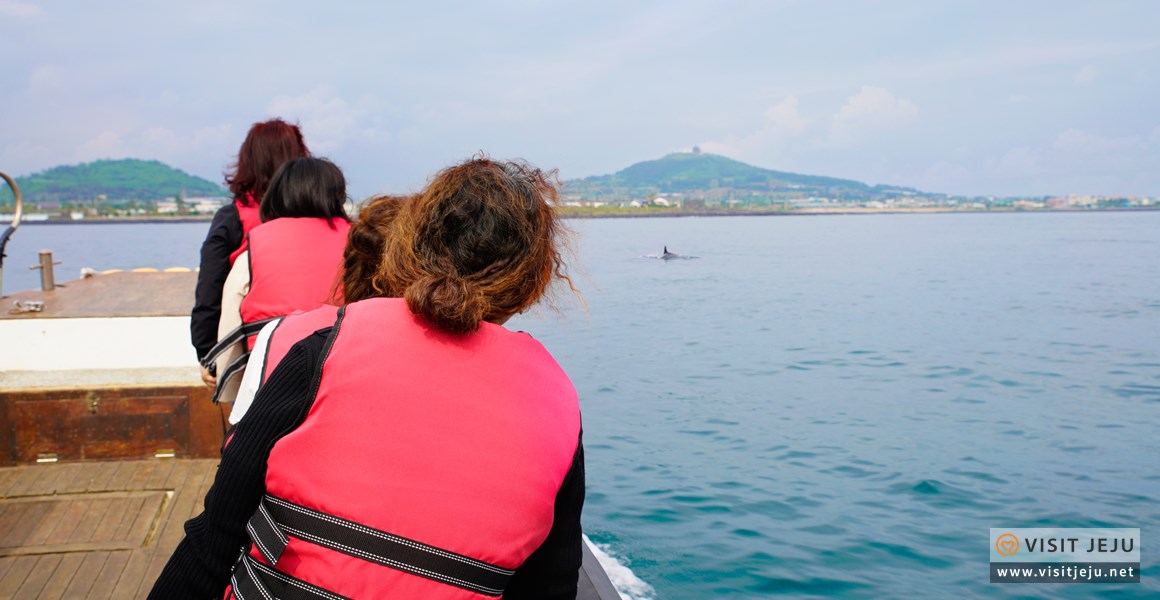 Hot summer Jeju nights illuminated
Night Light Tour
If you are tired of seeing Jeju only in the day time, check out the island at night. The shining transformation of a secluded temple will widen your eyes. In Seonunjeongsa Temple, where 18,000 LED lotuses bloom, men and women of all ages are happy. If you want, you can be provided with a pick-up service from Gwakji Village to go to the temple. When darkness falls on the sculpture park, a romantic forest springs up. In the herb farm, which welcomes guests back after leaving in the day time, you will be pleased with the scents and lights. The fireworks in Jeju Garden of Light theme park are great to watch after a stroll at the light garden. It gets chilly in the mountainous area after the sun has set, so it is recommended to bring some thin outer clothing.
‣ Seonunjeongsa Temple: 65, Gumoldong-gil, Aewol-eup, Jeju-si
‣ Forest Fantasia: 1836, Iljuseo-ro, Andeok-myeon, Seogwipo-si
‣ Jeju Garden of Light: 2346, Pyeonghwa-ro, Aewol-eup, Jeju-si
‣ Jeju Herb Dongsan: 170, Donoreum-ro, Pyoseon-myeon, Seogwipo-si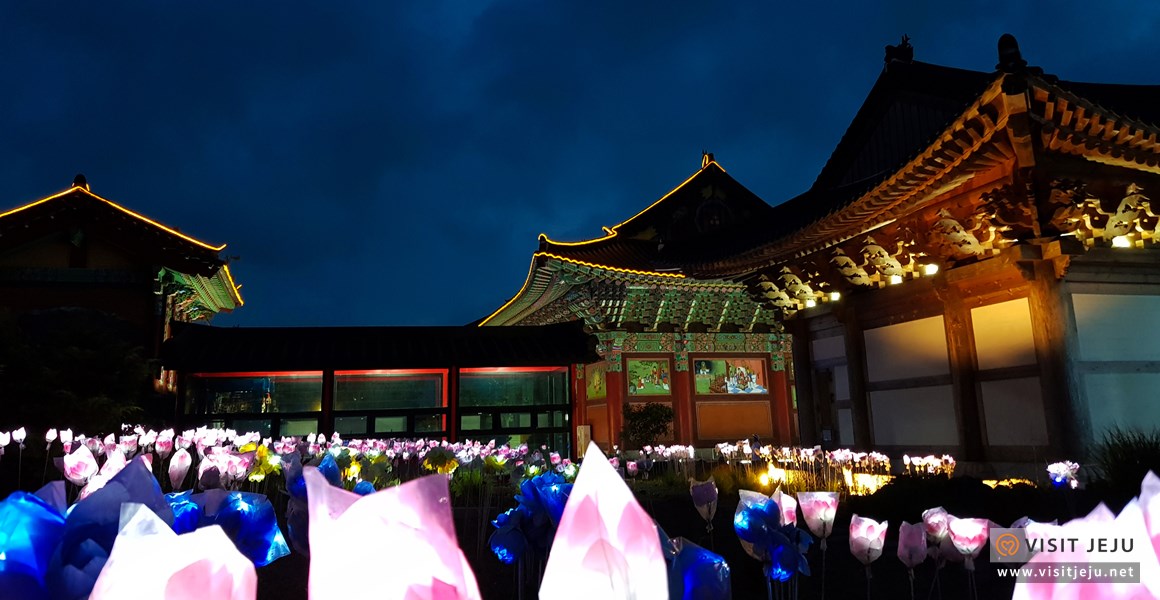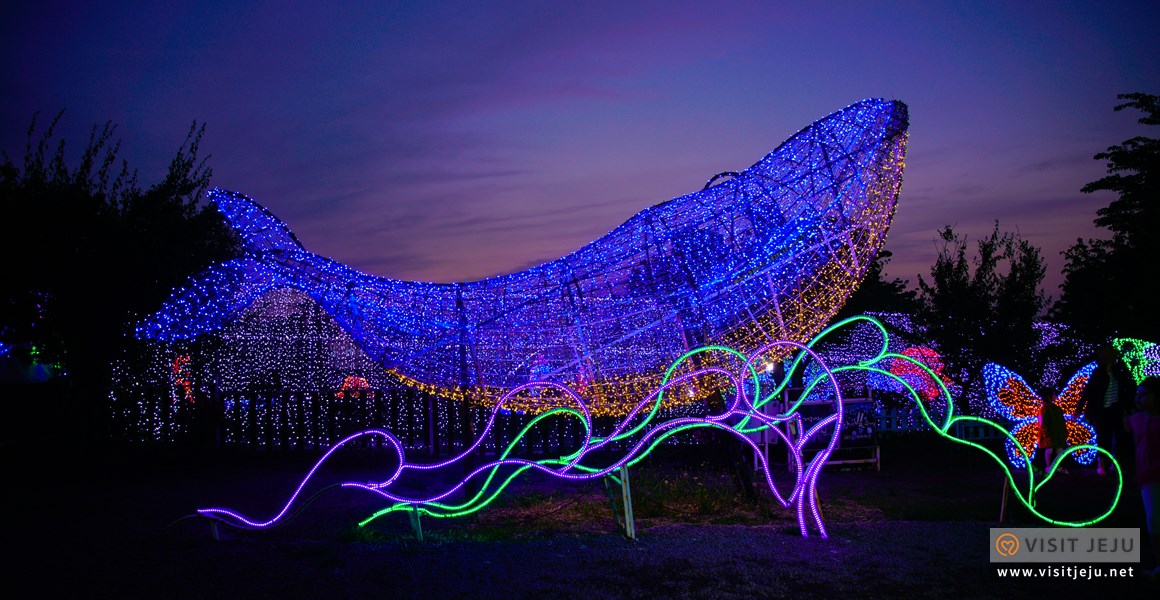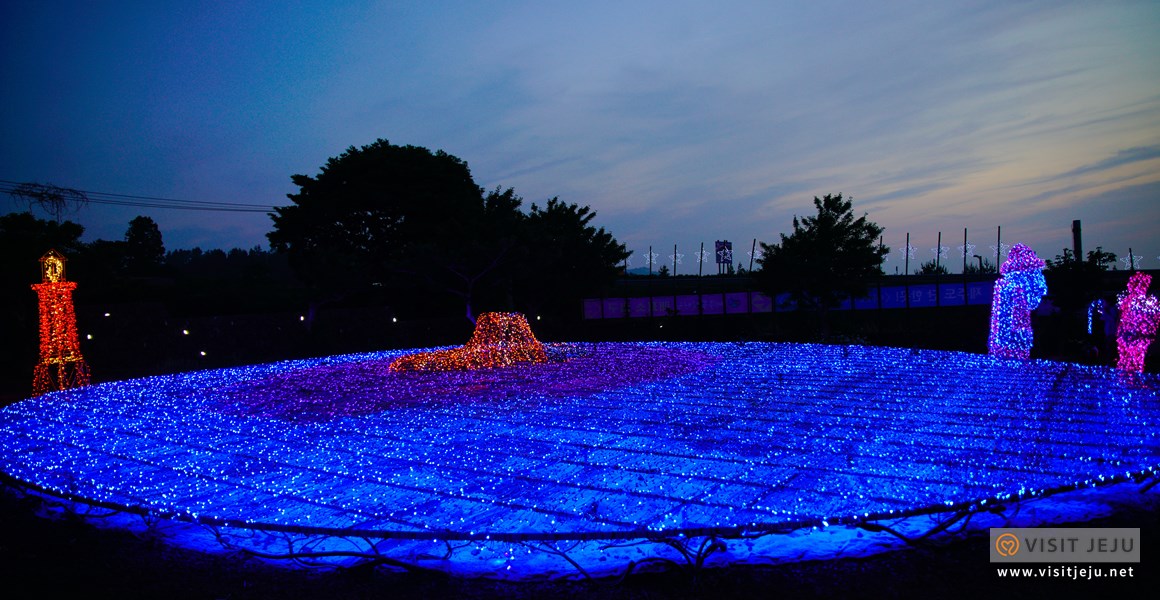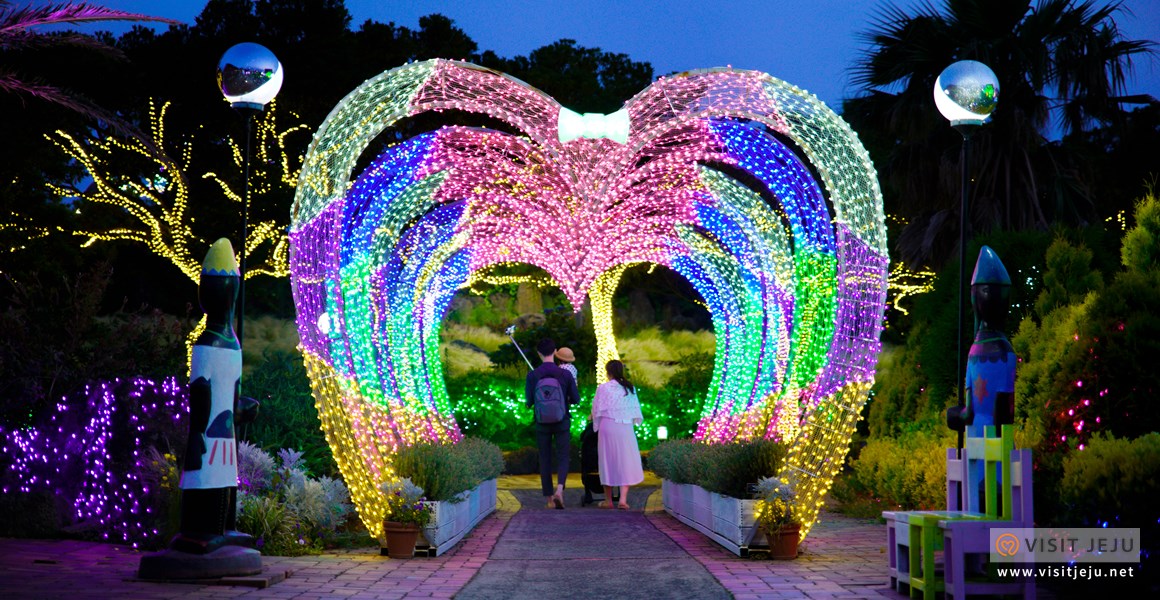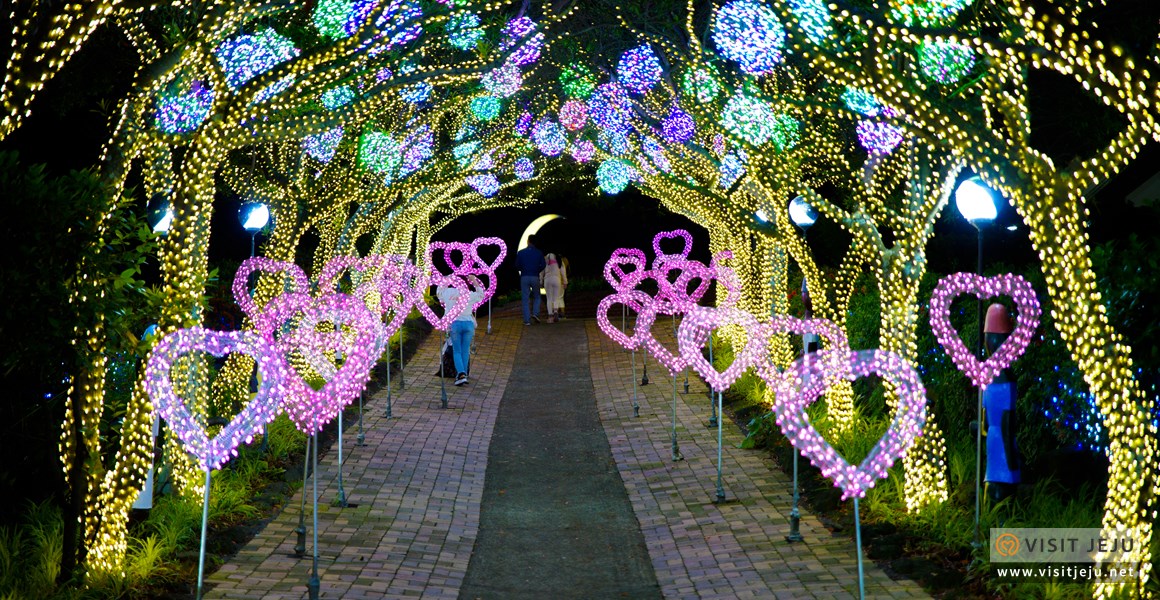 You never know what life is going to throw at you
Taste of Jeju in summer, spear squid
The beautiful lights of boats fishing for spear squid brighten the horizon of the sea off Jeju on summer nights. Spear squid are in season in summer. Raw spear squid, which is eaten fresh by dipping it in red chili pepper paste, is a must-eat food. One bite of sizzling grilled marinated spear squid or deep-fried spear squid makes great ASMR sound, and lets you forget about the heat. And if you eat ramen and spicy rice cakes, which are the most common side dishes, along with it, they make a substantial meal. If you want to set the mood with spear squid, try the pasta in raw spear squid in spicy cold broth! You never know what life is going to throw at you, but you have to know the taste of spear squid. We expect you will become a master who knows quite a bit about spear squid.
‣Taegwang Restaurant: 144, Tapdong-ro, Jeju-si
‣ Gwandeokjeong Bunsik: 7-9, Gwandeok-ro 8-gil, Jeju-si
‣ Mari: 40, Sehwa 1-gil, Gujwa-eup, Jeju-si
‣ Hanchi Apdo Moreul Bada: 9, Hyeopjae 6-gil, Hallim-eup, Jeju-si
‣ Gamdong Ramen: 52, Seohaean-ro, Jeju-si
‣ Jockey 827: 202, Sinbuk-ro, Jocheon-eup, Jeju-si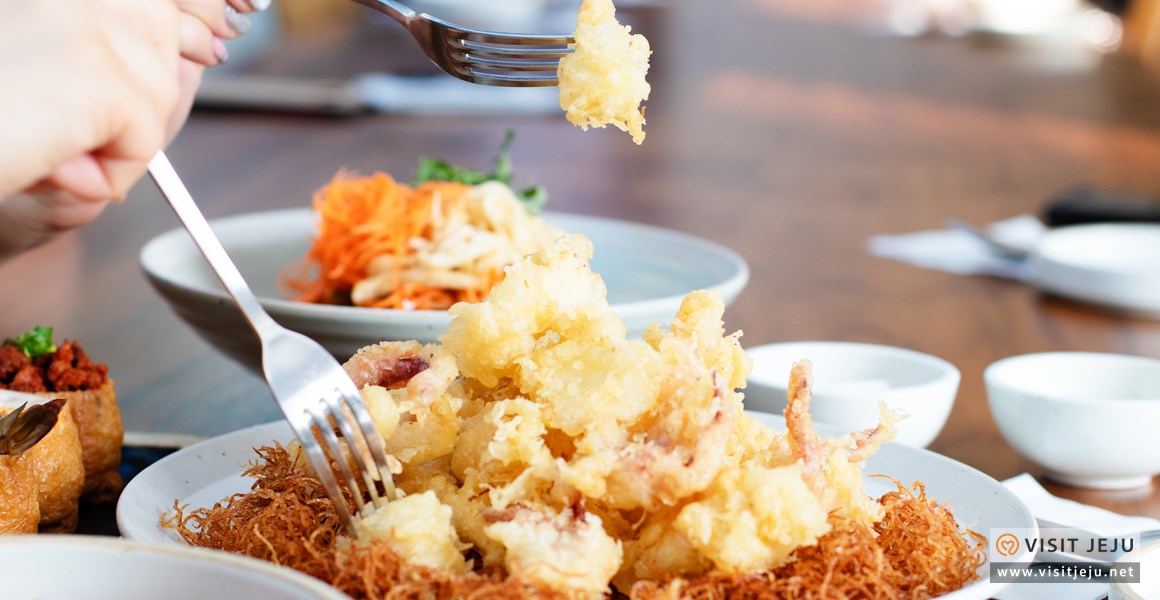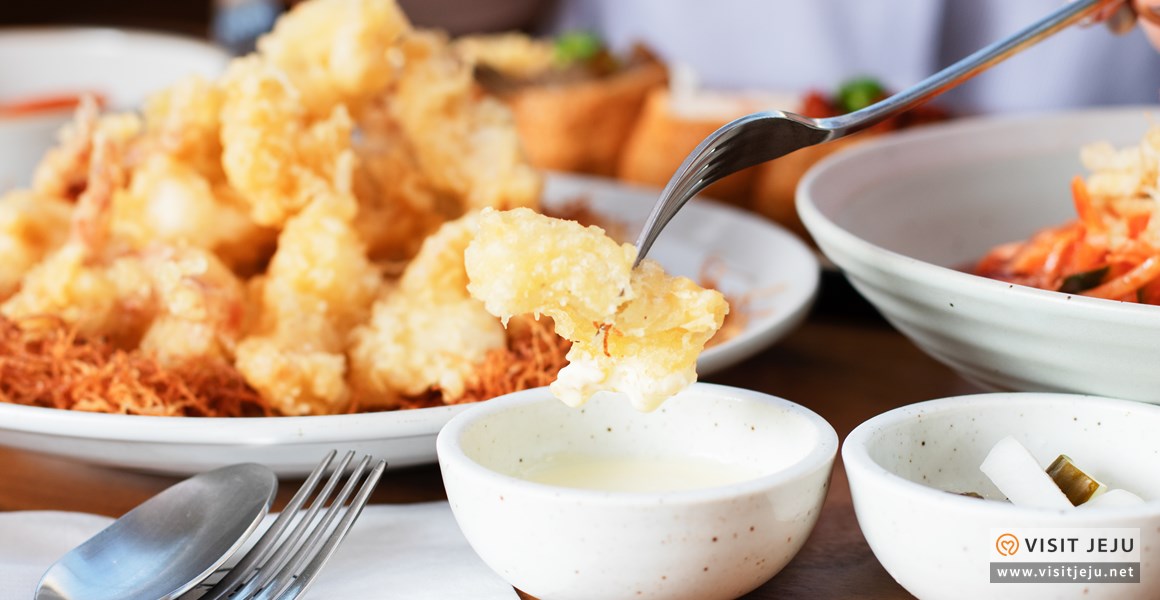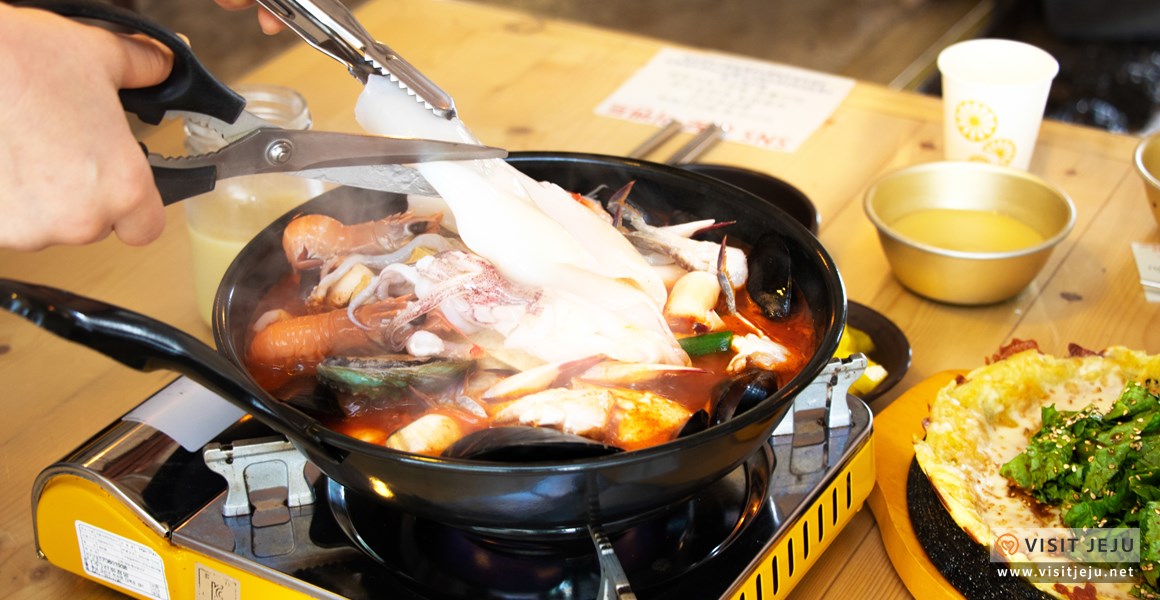 Notice

※ The above information was written on 2019-06-21. Please confirm the information prior to your trip.
※ Unauthorized use of the content above (text, photos and videos) is prohibited and subject to copyright by the Jeju Tourism Organization.