본문
Top 10 Jeju Sites for January <Great Hopes, Great New Days: Amazing Jeju in January>
Everybody wants to fill the new year and new days with good things. To do this, it is important to brace oneself in a place with a good energy. Don't think too much, simply head to Jeju where the blue sky and calm waves await. The simple and honest power of the earthy black rocks contrast with the landscape's greenery to inspire visitors to see a brighter future with hopes fulfilled.
Review

0

Lookup

25,269

Share SNS

4
Top 10 Jeju Sites for January

Great Hopes, Great New Days: Amazing Jeju in January

Everybody wants to fill the new year and new days with good things. To do this, it is important to brace oneself in a place with a good energy. Don't think too much, simply head to Jeju where the blue sky and calm waves await. The simple and honest power of the earthy black rocks contrast with the landscape's greenery to inspire visitors to see a brighter future with hopes fulfilled.
The power to overcome the dark and cold
Seongsan Sunrise Festival, Penguin Swimming Festival + Famous sunrise spots
The New Year is when you wash away past troubles and resolve to achieve new goals. Celebrate the New Year in Jeju to start a memorable chapter in the book of your life. As a party where residents and tourists mingle, Seongsan Sunrise Festival has magnificent fireworks that illuminate the night sky. The sun energizes the new day, not only at the Seongsan Ilchulbong Tuff Cone, but also while trekking the surrounding coastal road. On New Year's morning, those who profess to be a human penguins dive into the sea in Jungmun Saekdal Beach. It is to wish for good health and long life in the northern limit line of carrying a new life of giant sea turtles, an international rare protected species. Famous sunrise spots located here and there of Jeju-do are also full of energy. The sun rising between Sagye Coastal Road and Hyeongjeseom Islands, sunrise in Sara Oreum Volcanic Cone at Hallasan Mountain and a big welcome in bare volcanic cones close to downtown! Those are the unforgettable scenes that awaken the power of nature and the energy of life.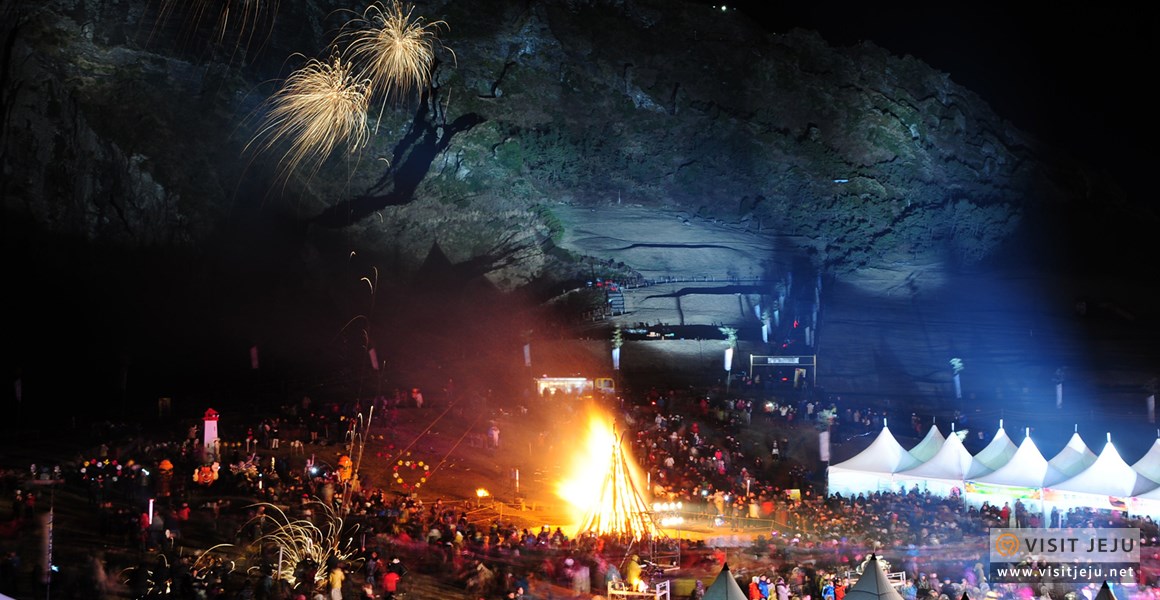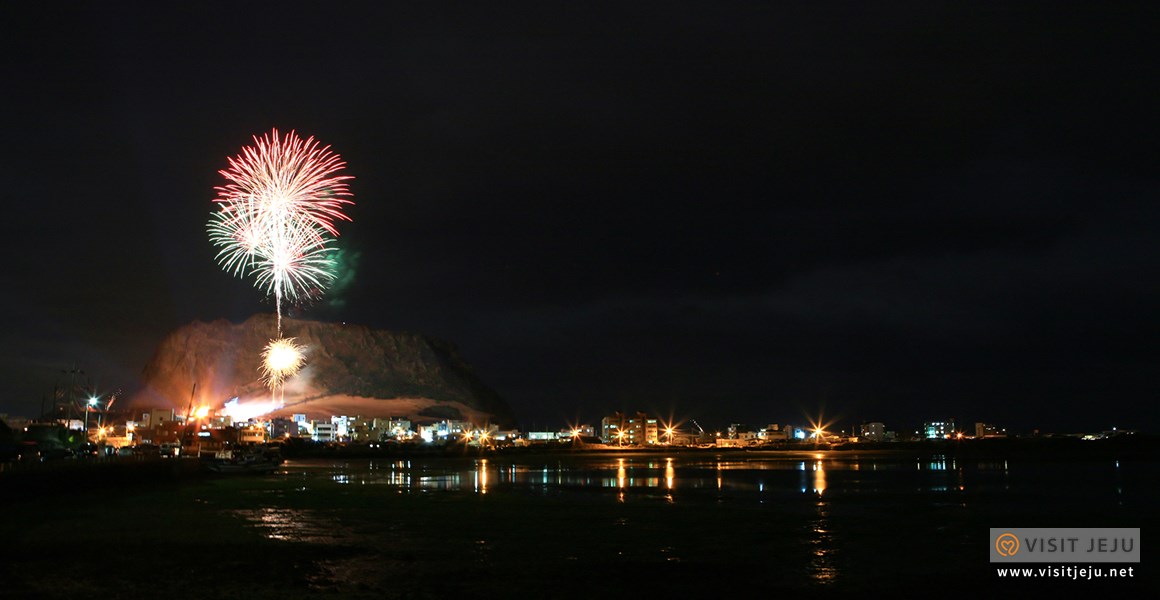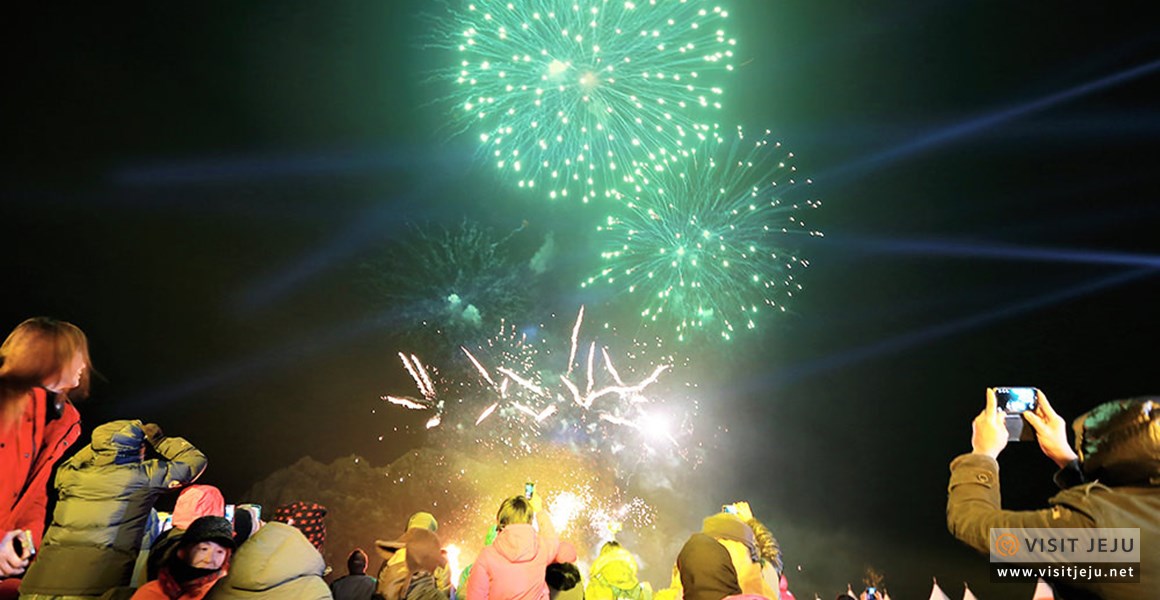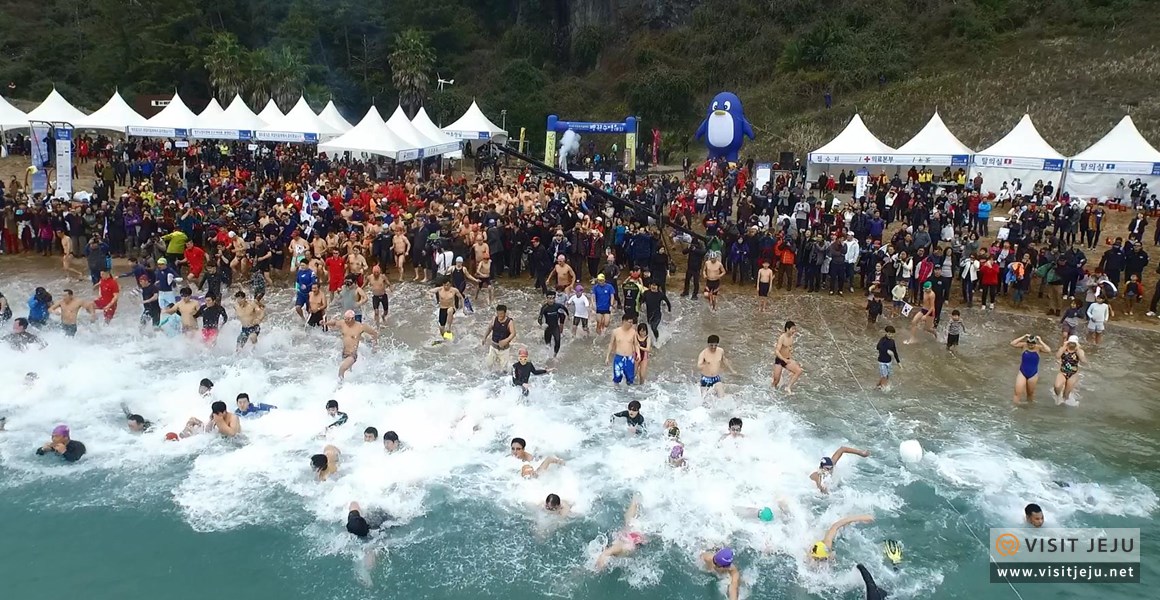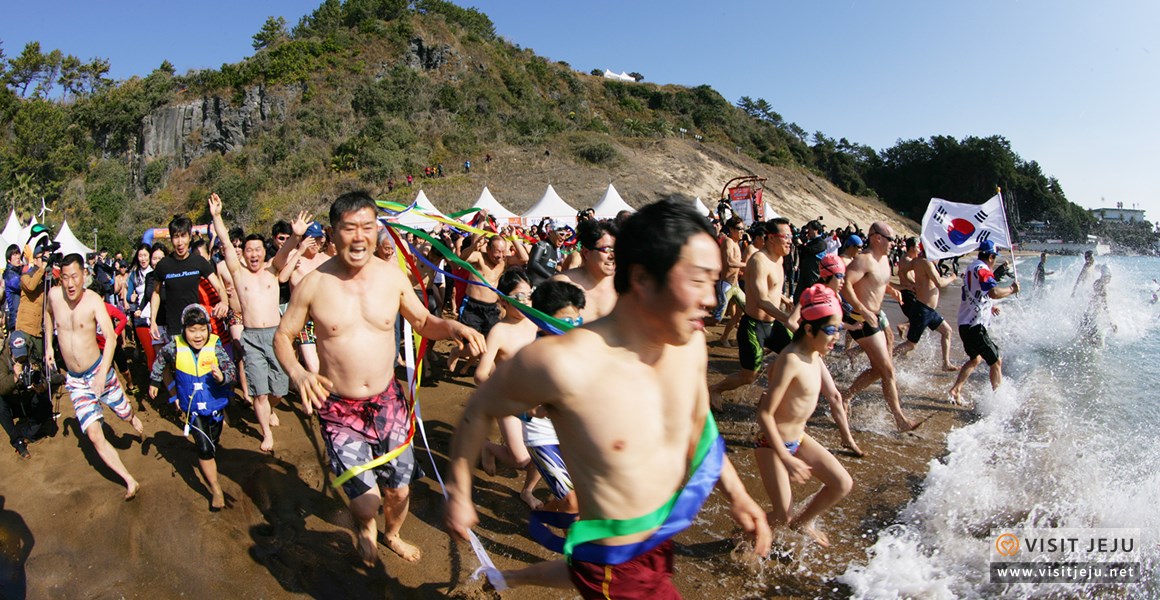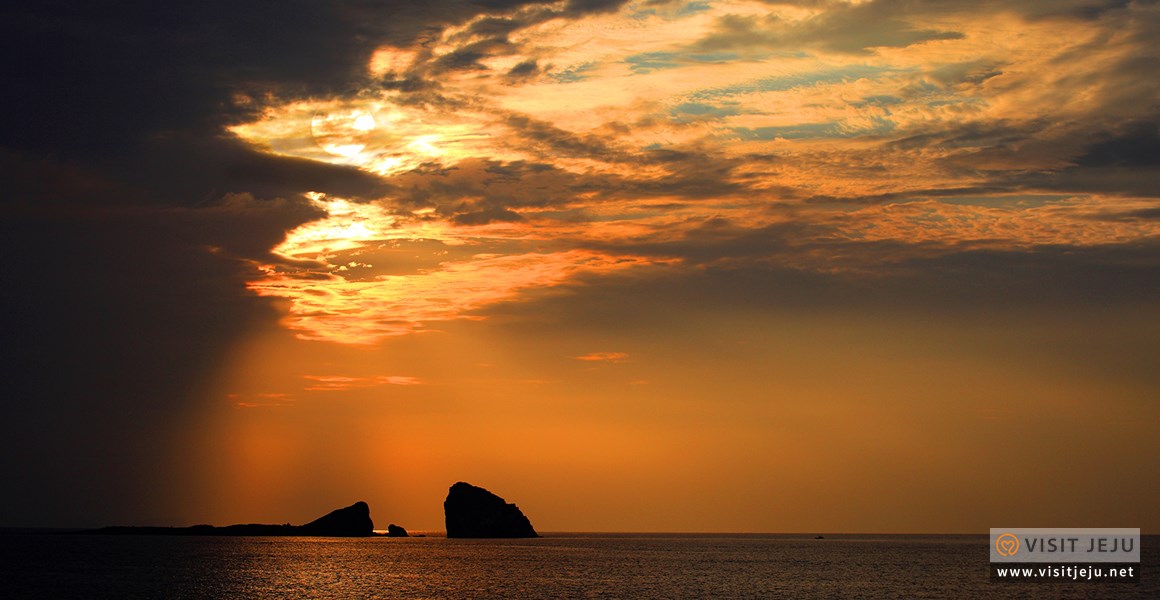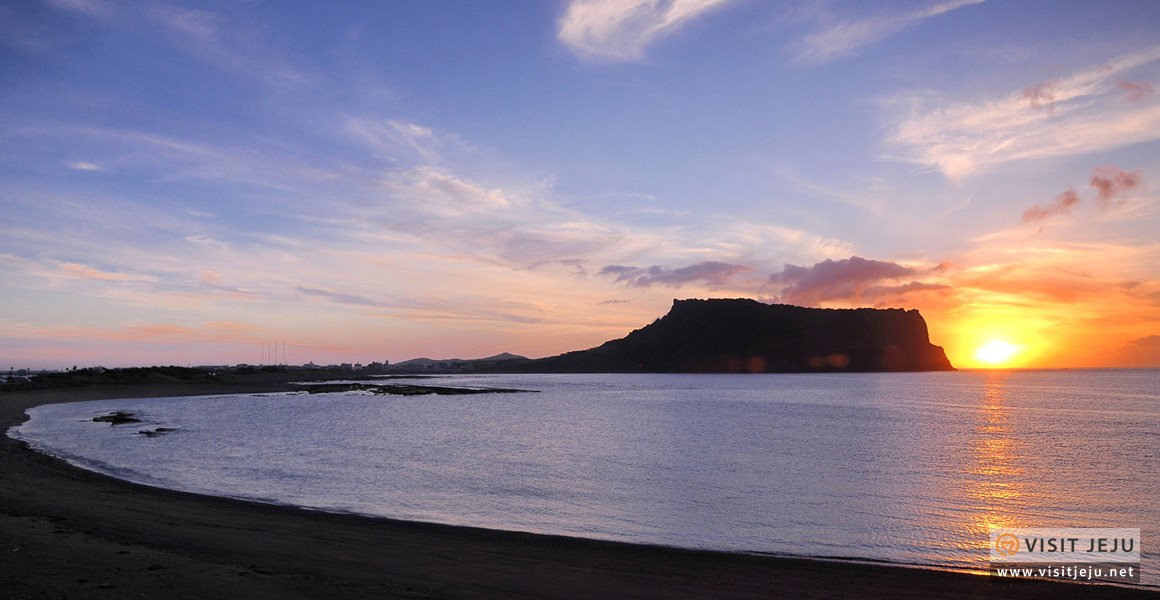 Such great happiness in the name of "us"
Events on Lunar New Year's Day
Perhaps you haven't realized your New Year's resolutions yet. Well, the next best opportunity to put them into practice is around Lunar New Year's Day. On this annual event, families gather to indulge in the rich traditions passed down from generation to generation. Traditional plays, such as jegichagi (kicking a jegi) or neolttwigi (Korean traditional seesaw), are not as easy as they look. So, our body and mind are separate, but we burst into laughter. Realize the meaning of this traditional holiday through the events in Jeju, such as wearing traditional costumes, sharing food, making lucky bags, and participating in folk dances and friendly contests. Check the event schedule for favorite tourist destinations including Mok-Gwana Government Office, Folklore and Natural History Museum, Jeju Folk Village, and Jeju National Museum. Whatever we do, when we do it together under the name of "us," the level of happiness is higher!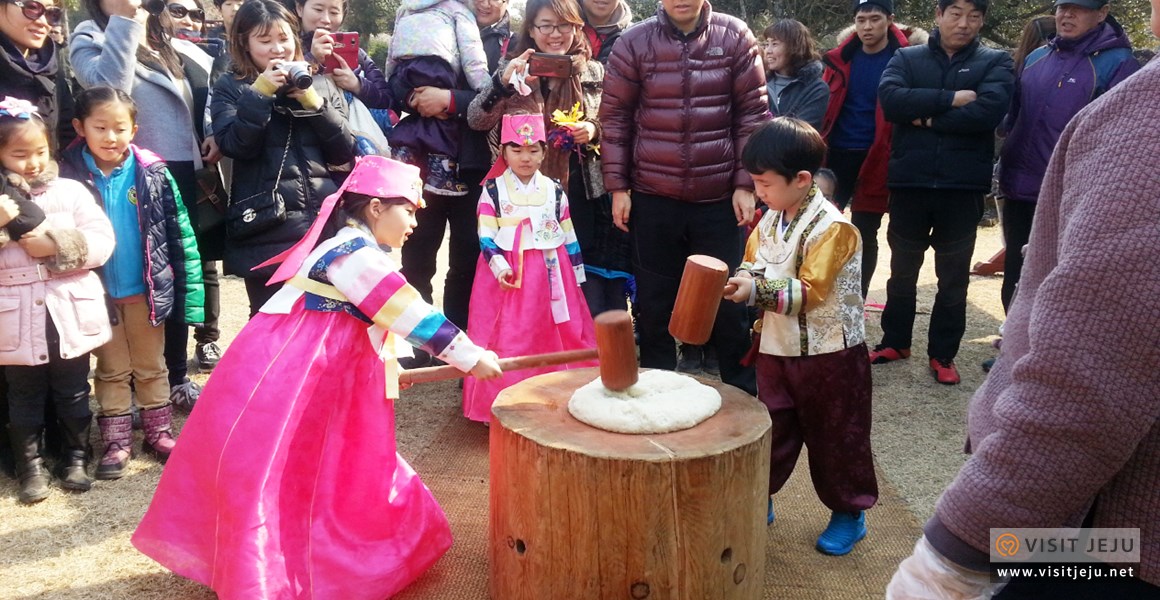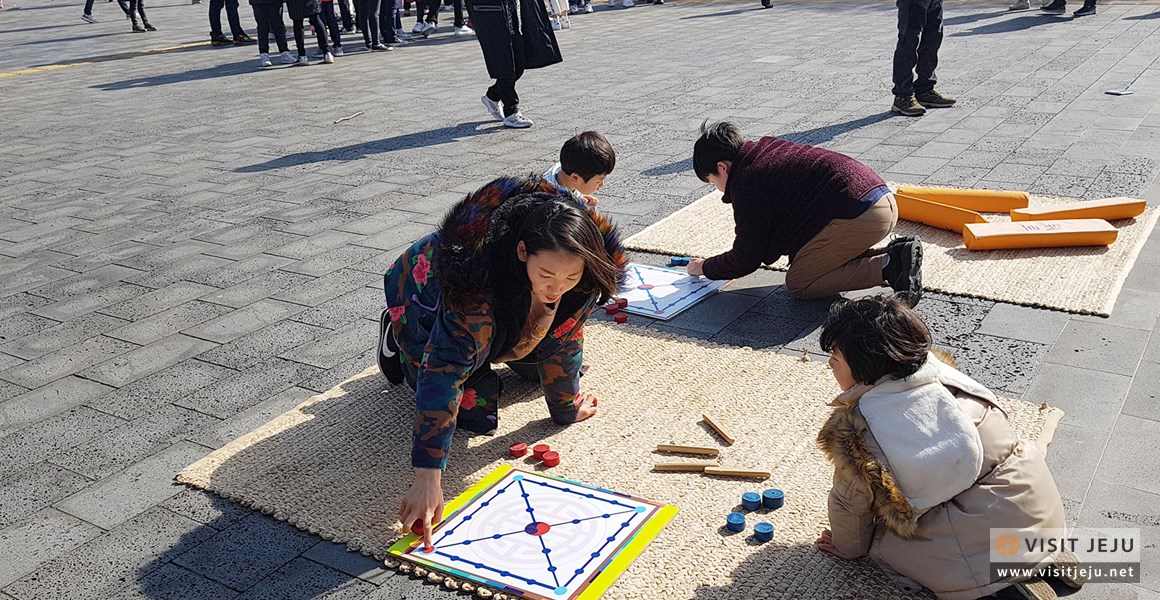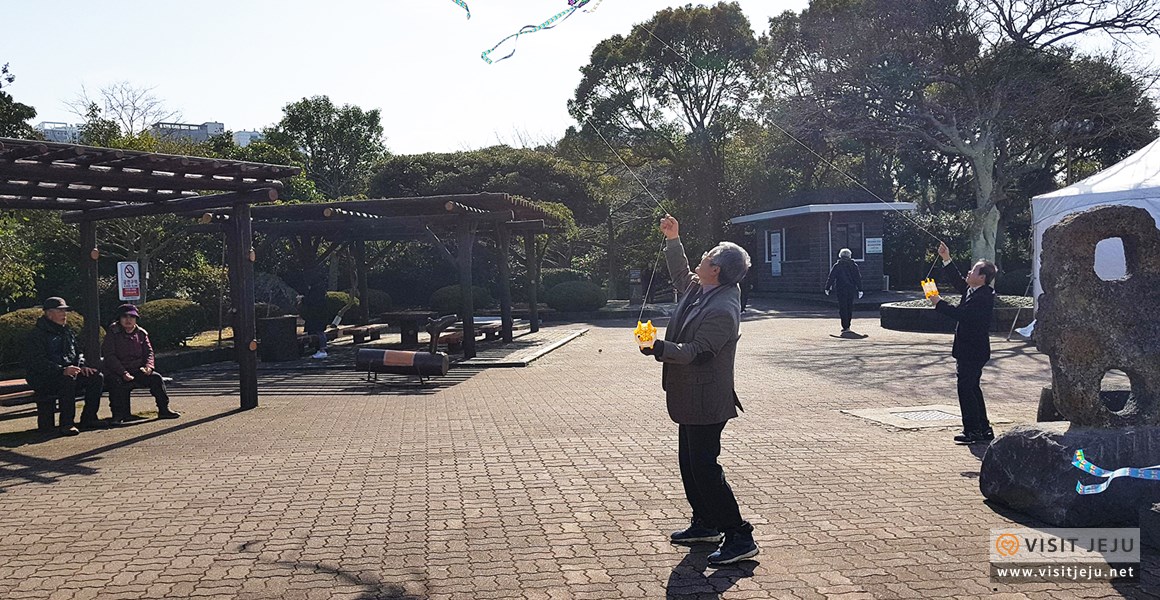 When the camellia blooms, be intoxicated by the strong red attraction
Camellia Road
Jeju in winter vibrates with the lovely sasanqua and deep-red camellia. However, who knows the hidden story behind their beauty? The Korean camellia drops off by clusters and resembles the sacrifice of the Jeju Uprising. Let's acquire the power to heal the pain at the time in the camellia tree road in 4.3-gil, Uigwi Village, Namwon-eup. In the visitor center in Camellia Village in Sinheung-ri which has a history of 300 years, enjoy meals and make soap utilizing edible camellia oil (advanced inquiries & reservations are required). Jeju camellia blooms in every maze in the island. Our hearts bloom red with the joyfulness from finding the right way and happiness from red camellia flowers.
▸ Camellia Road in Uigwi Village: Uigwi-ri, Namwon-eup, Seogwipo-si (Counter direction from Uigwi 4.3-gil, the road to Songryeongigol after passing by Uigwi-ri Office and Uigwi Elementary School)
▸ Visitor Center in Camellia Village in Sinheung-ri: 22-1, Hansin-ro 531beon-gil, Namwon-eup, Seogwipo-si
▸ Seri World: 97-17, Beophwansang-ro 2beon-gil, Seogwipo-si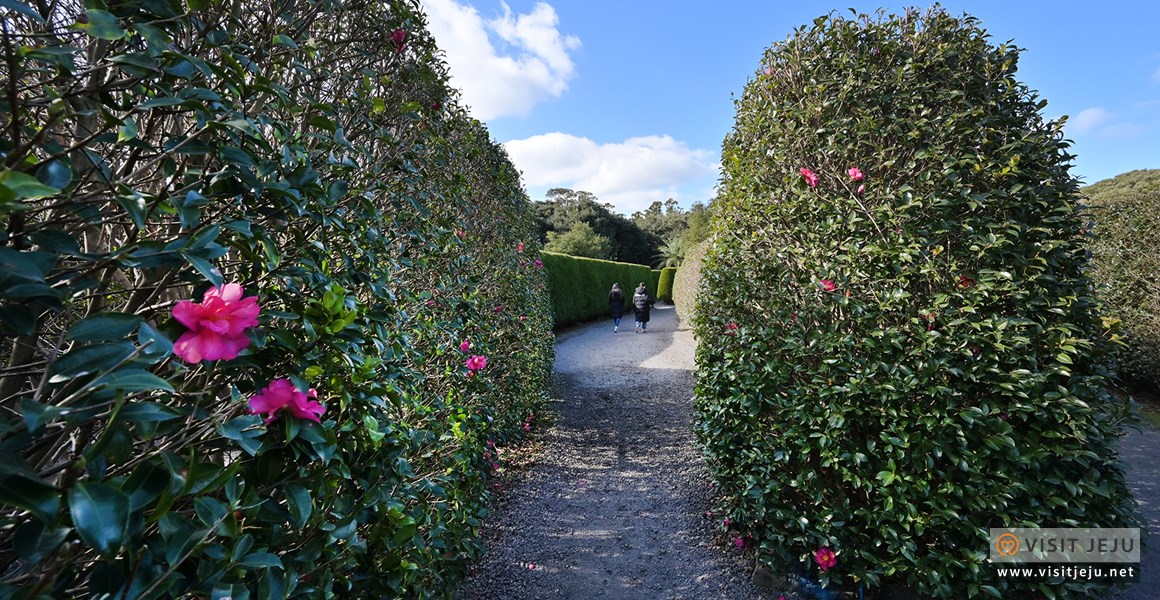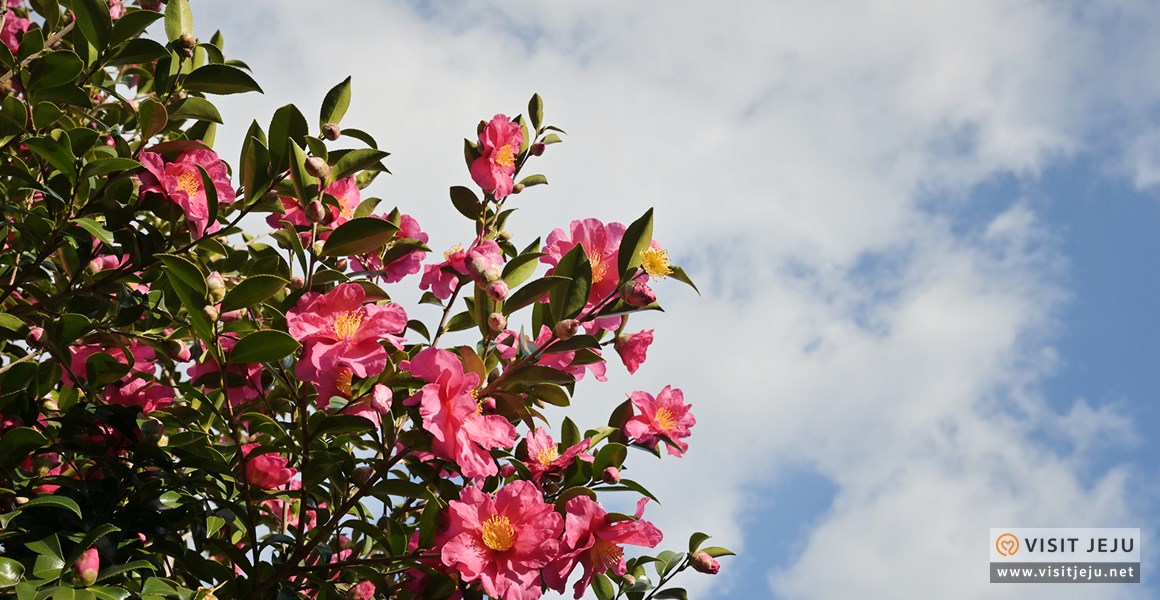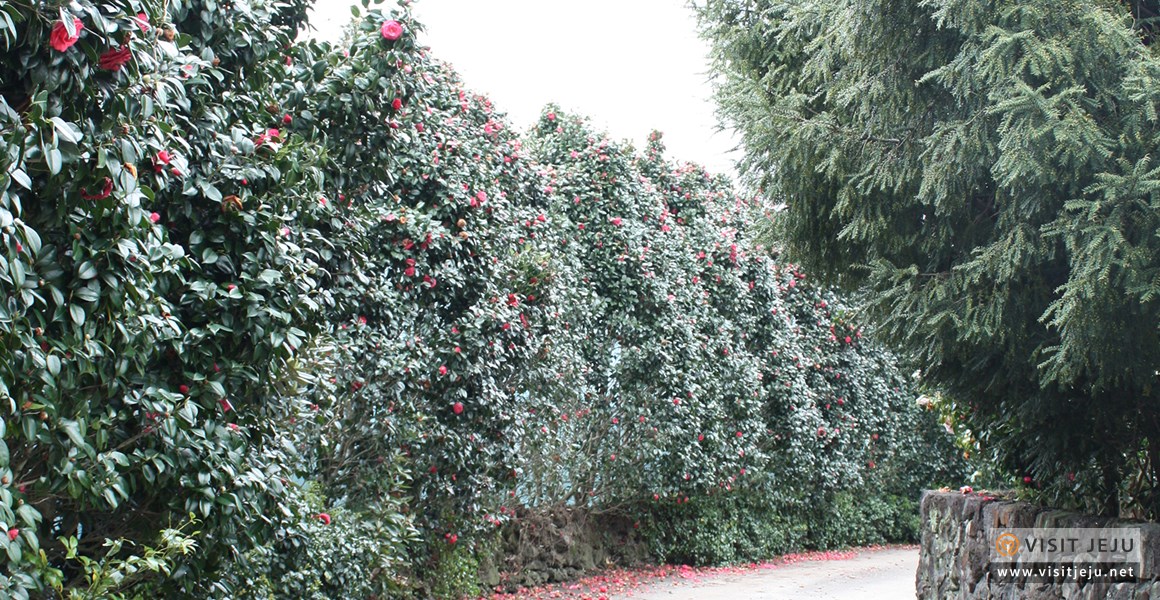 Healthy happiness which fills body and mind
Wellness Travel
Not everything on a joyful trip comes from outside. Organizing and planning activities in a cozy, comfortable place can also be the charms of traveling. To unwind after an exciting adventure, treat yourself to some luxury! A cup of warm tea and soothing music! You can loosen tangled thoughts over a cup of tea in a cozy tea house or heal your mind and body with retro music. LP music, where your selection is combined with a DJ's sensitivity, is an ideal time to let your mind wander. Top this off with a soothing footbath where the rising steam and aroma are sure to unwind any tensions from the day. Or head to a hot spring or heated pool, where a long soak soothingly carries away any worries.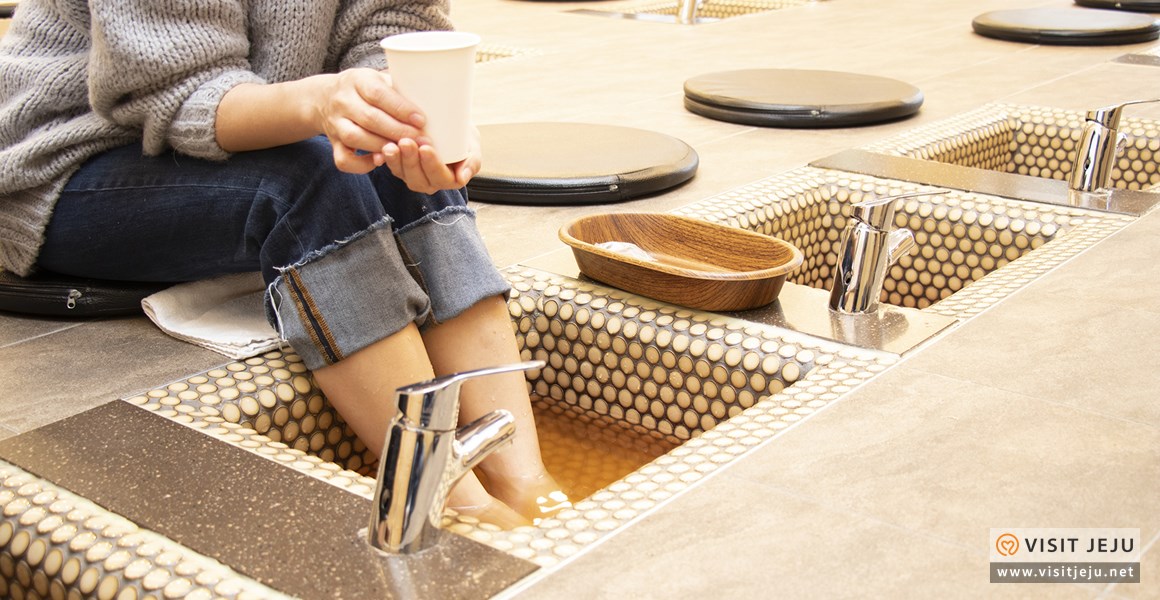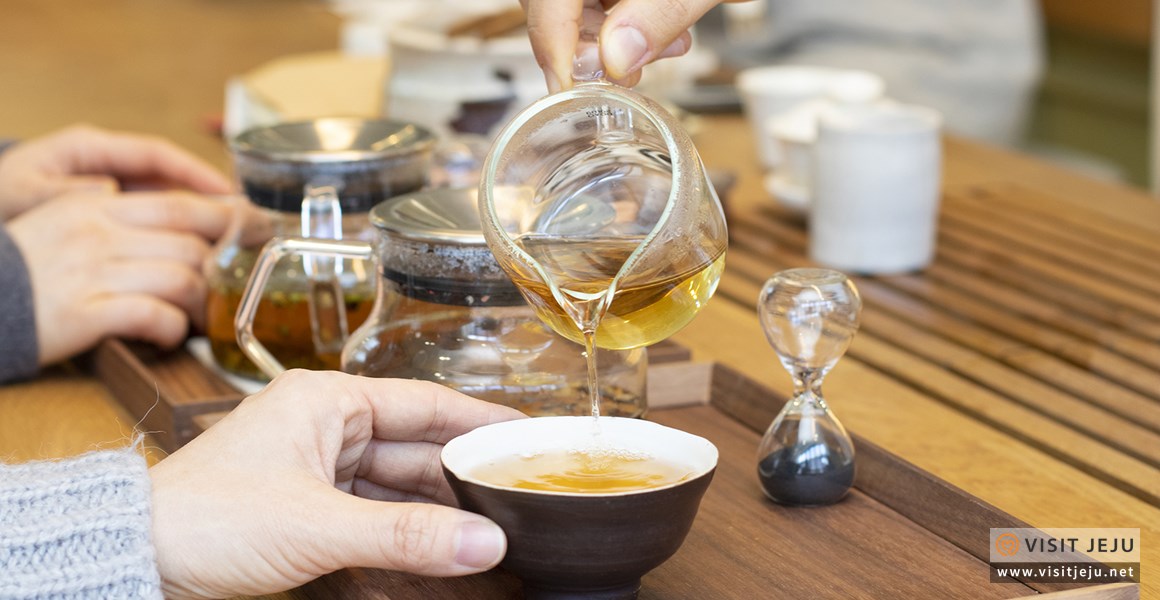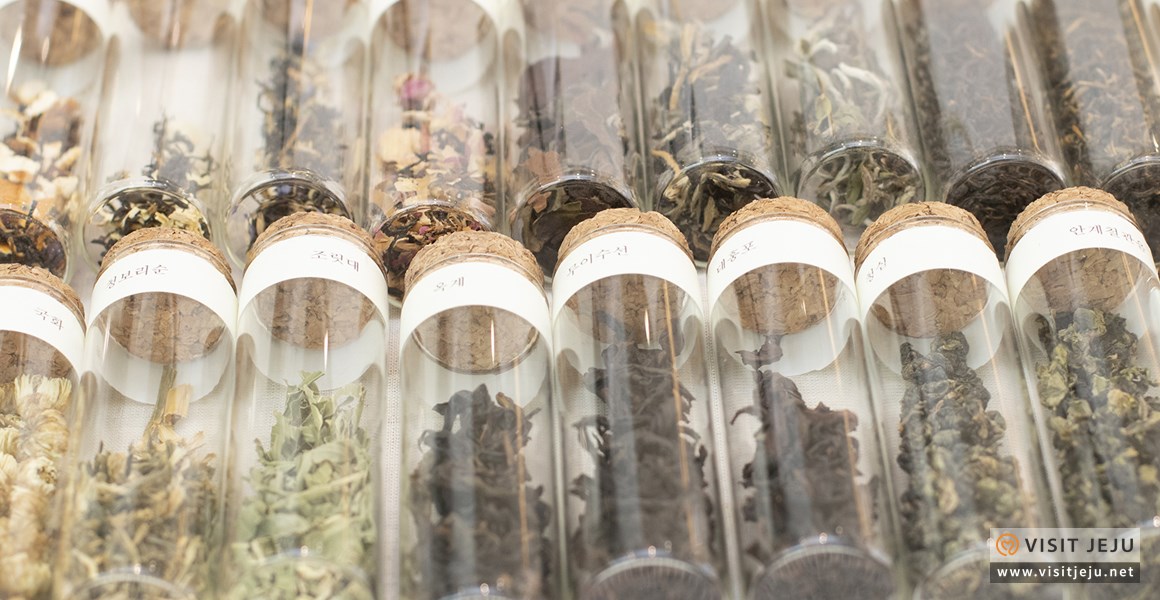 Into the fantastic charm of the frozen kingdom
Snowflake trekking
Hallasan Mountain in winter is a frozen world with a silvery gem. Be mesmerized by the shimmering reflections of sunlight off the snow crystals. You are sure to fall in love with the charm of the frozen kingdom. Carry some hot coffee and sweet chocolate bars on your challenging climb on the Baengnokdam Crater Lake course, Sara Oreum, or Witse Oreum. But, if you are a beginner, take it easy. Just stroll up the Eoseungsaengak Oreum, 30 minutes away from Eorimok. Don't feel like climbing? No problem. Take your car and enjoy the snow flowers in Rest Area at 1100 Meters. It's always best to be prepared with warm clothing, sunglasses and climbing irons. Check the local status and control information in advance through CCTV and Hallasan National Park.


▸ Seongpanak Course: 9.6km, takes 4 hours and 30 minutes (one-way) to Baengnokdam Crater Lake. Descend course through Gwaneumsa Temple is available.
▸ Eoseungsaengak Course: 1.3km, requires 30 minutes (one-way)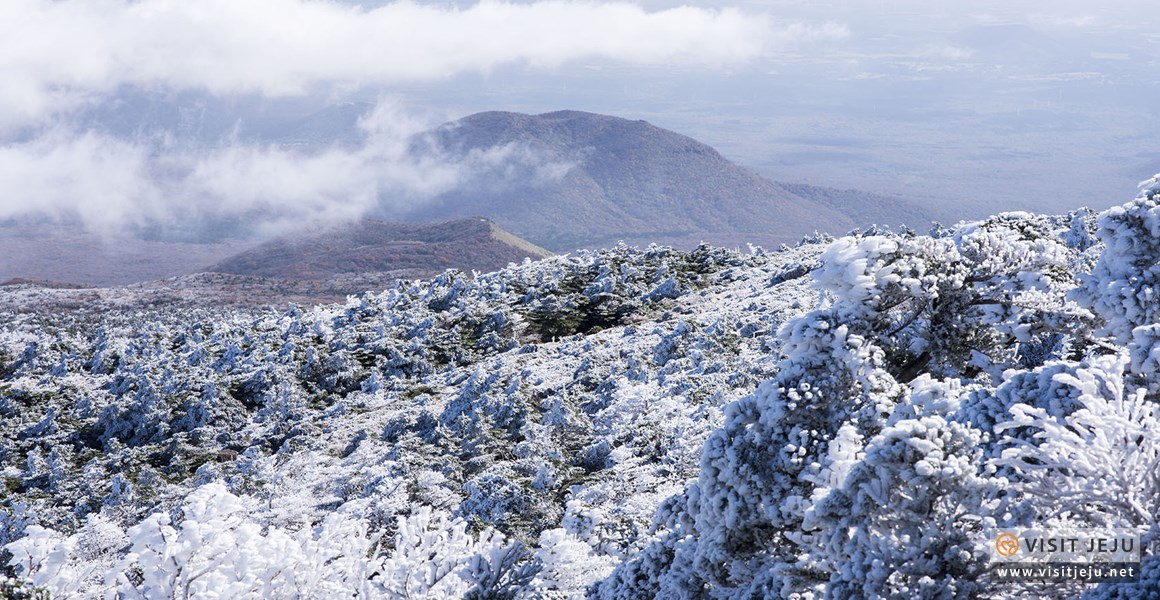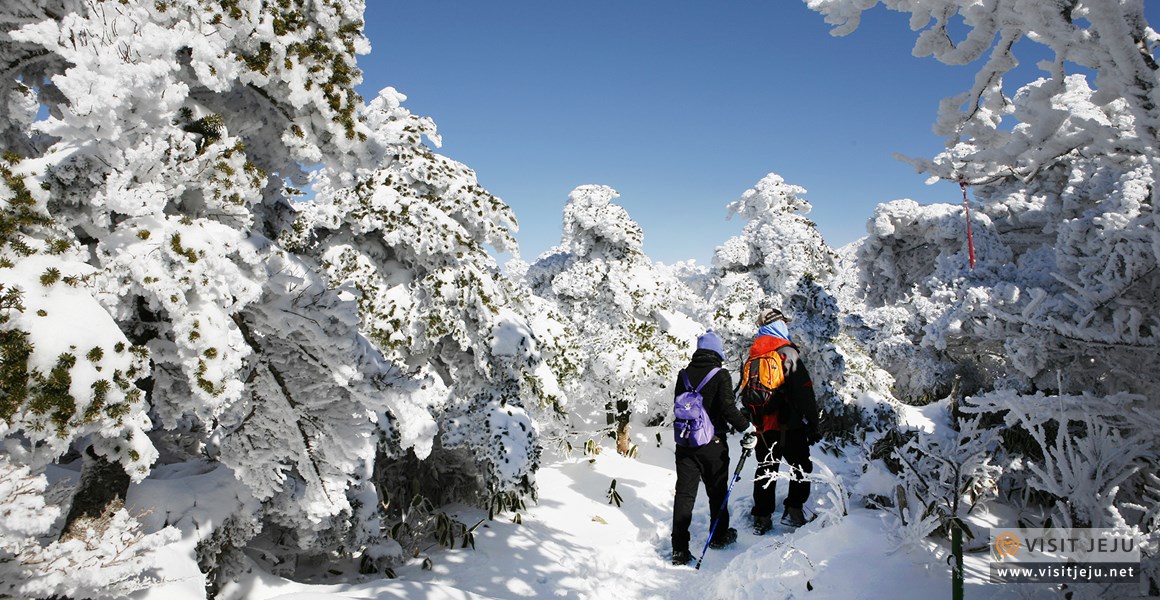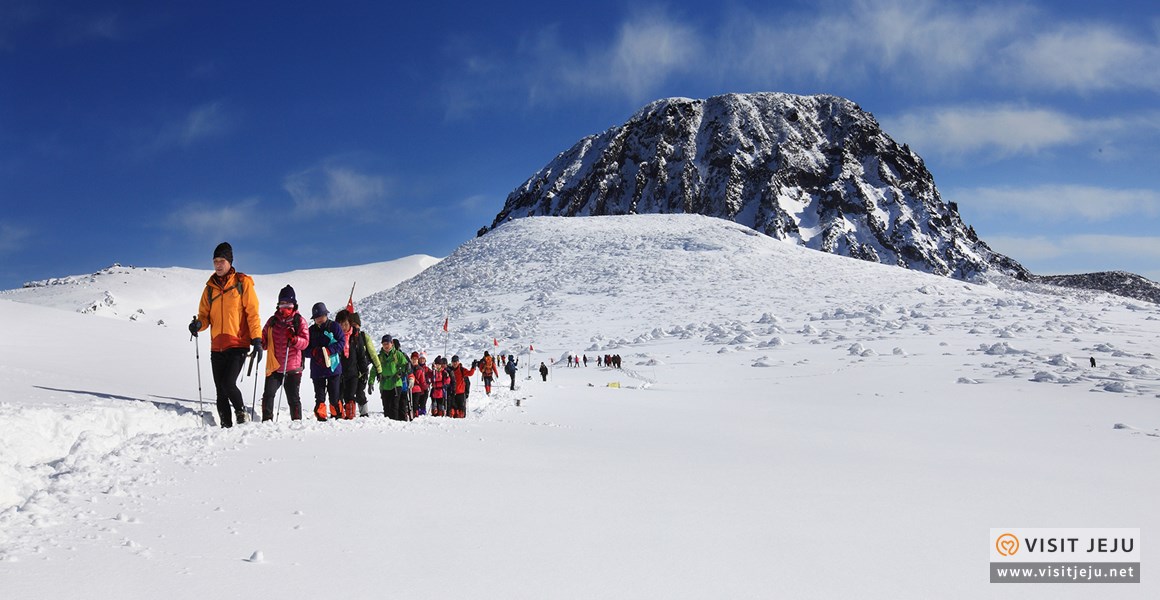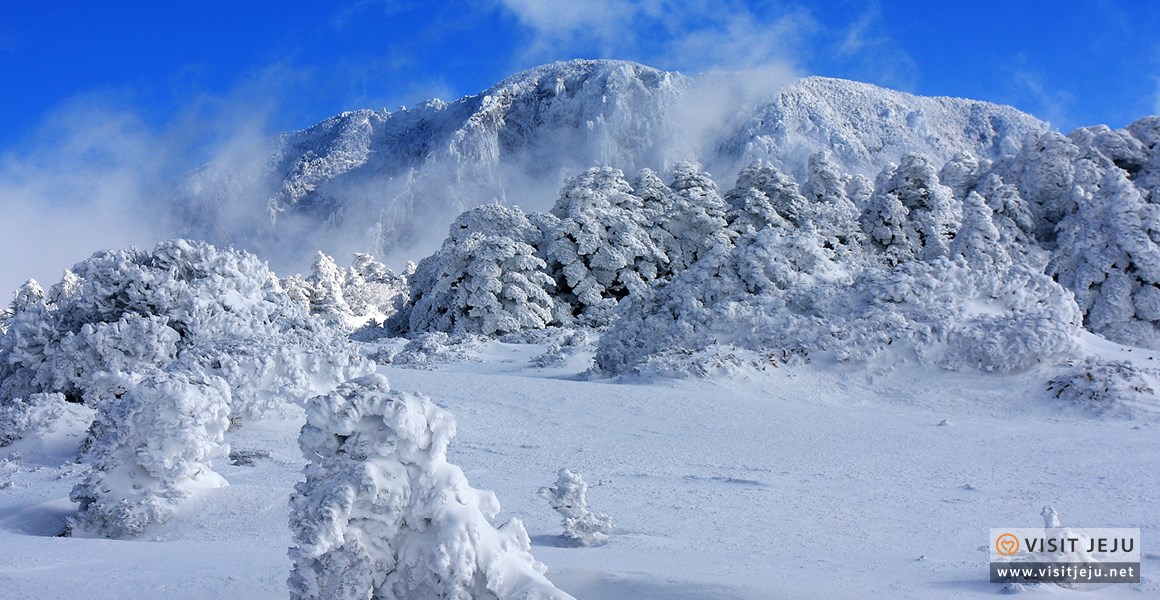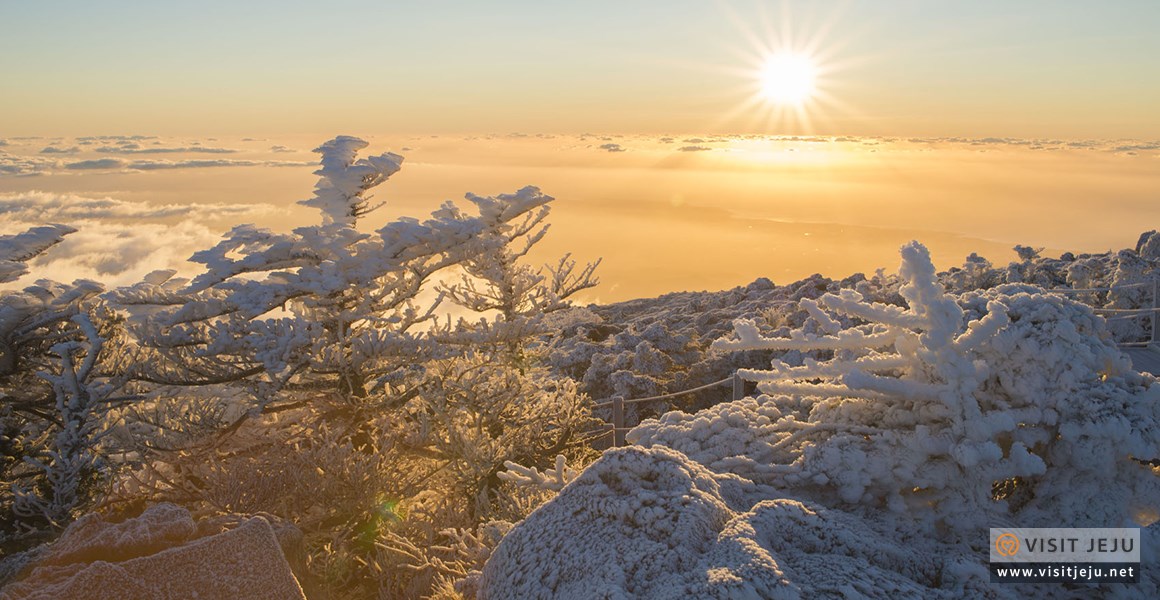 Approach the maestros of international arts
Special exhibitions at Jeju Museum of Art
The Jeju Museum of Art holds a special exhibition to celebrate its 10th anniversary. <French Moderns: Monet to Matisse, 1850-1950> is Korea's first unveiling of the works of 45 modernism artists possessed by the Brooklyn Museum in the United States, where you can examine the start of popular modern art, development of modernism and innovative period of art history. In the <Digitalization of European Modernism Arts>, which was prepared together, enjoy the works of masters incorporated with IT, and the modernism art book corner will take you closer to the masterpieces. How wonderful! You can see works of the world's renowned artists such as Monet, Renoir, van Gogh, and Matisse, with just one ticket to Jeju.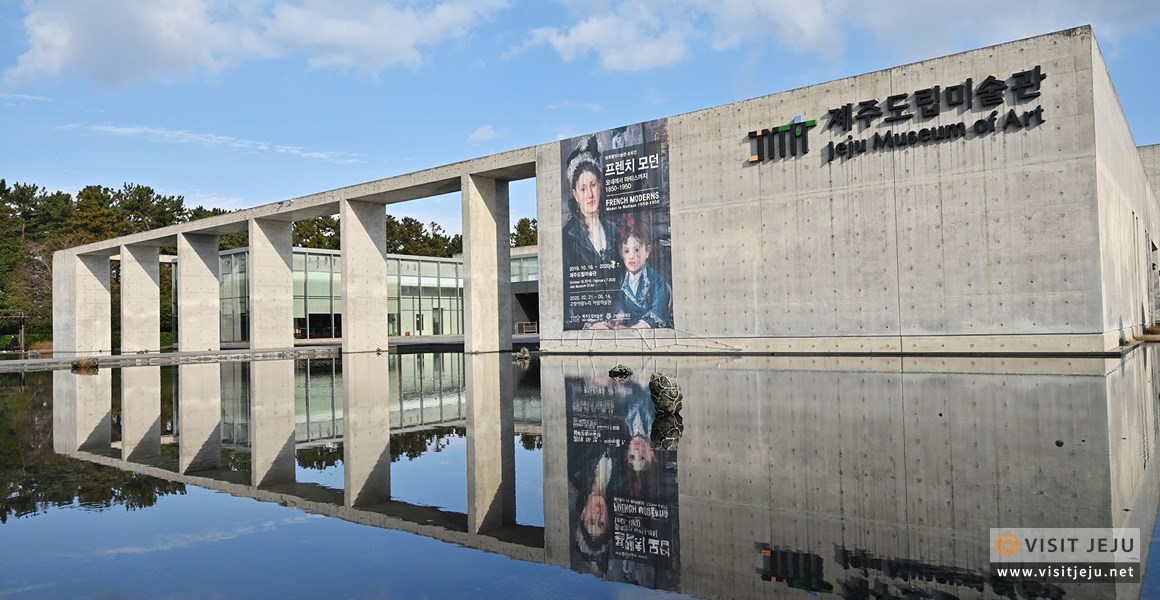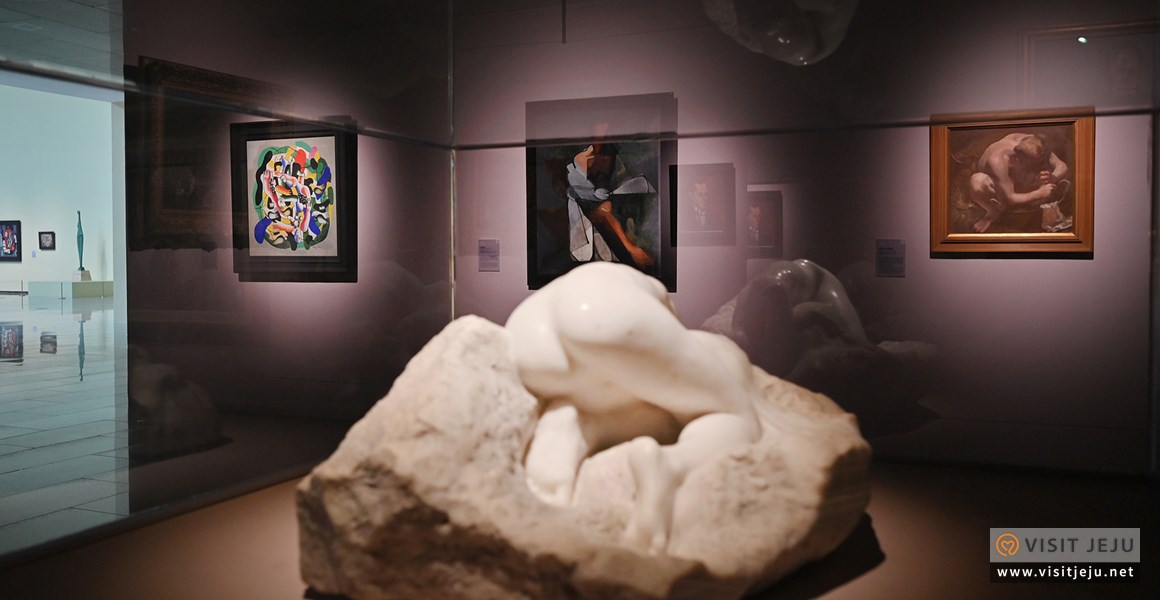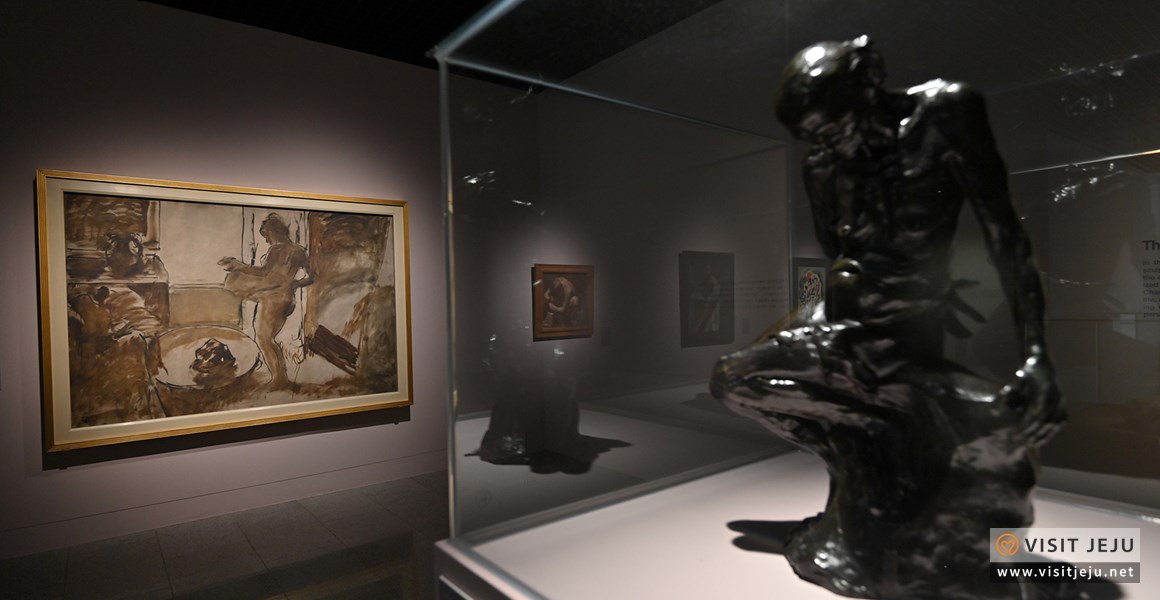 Your intense wish will come true
Seongbul Oreum Volcanic Cone
The origin of the name for this volcanic cone is not clear. People say it is the name of a hermitage in the Goryeo Dynasty or the name of a water spring. We cannot but wonder since some say the mountain body resembles a figure praying and others the rock resembles a figure praying. See for yourself and you decide. Enter at a tourist souvenir sales shop around the volcanic cone. Just check the guide map in the entrance of the volcanic cone before climbing. As you climb, the vegetation changes and carries you to another dimension. Fog adds to the sensation of entering another world possibly inhabited by a Taoist hermit while the landscape of Ttarabi Oreum, Hallasan Mountain, and Seongsan Ilchulbong Tuff Cone are clearly visible from the summit on sunny days. The climb takes approximately 40 minutes.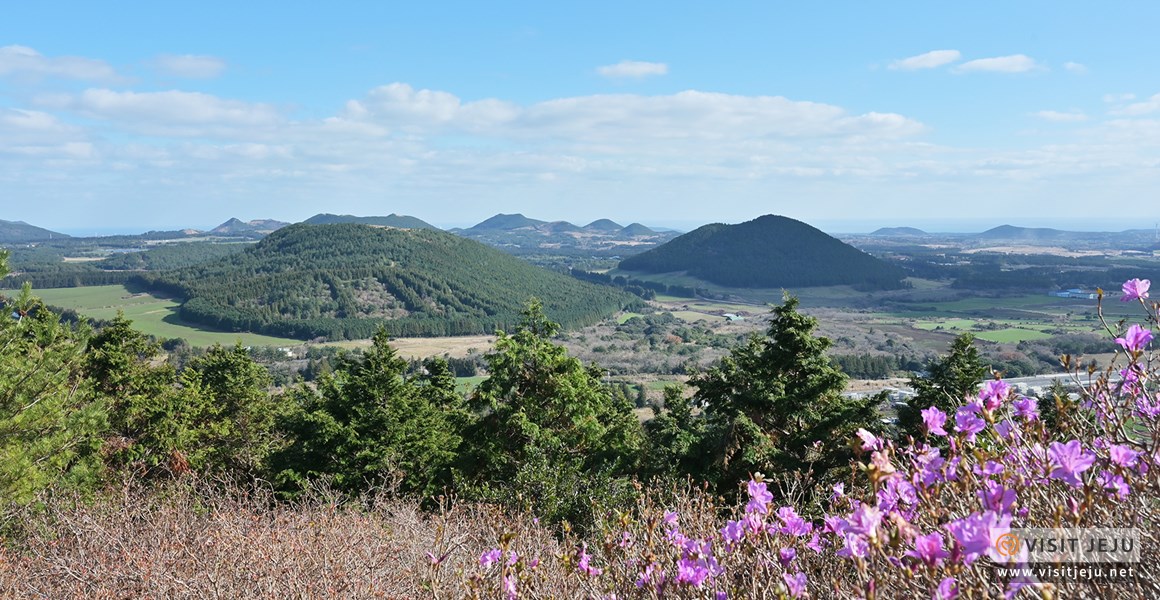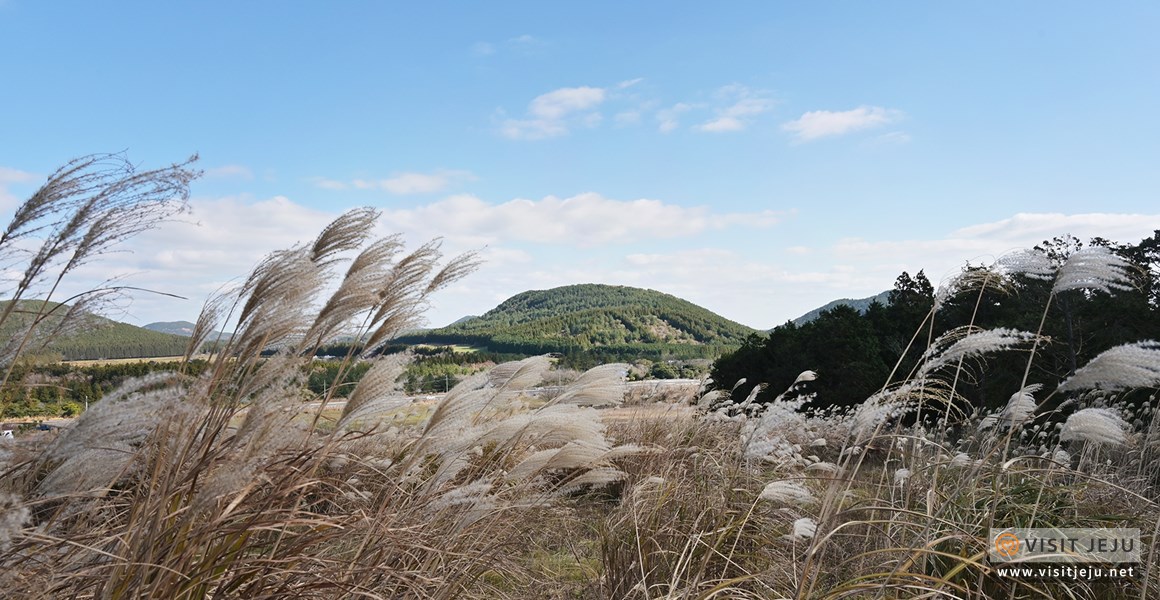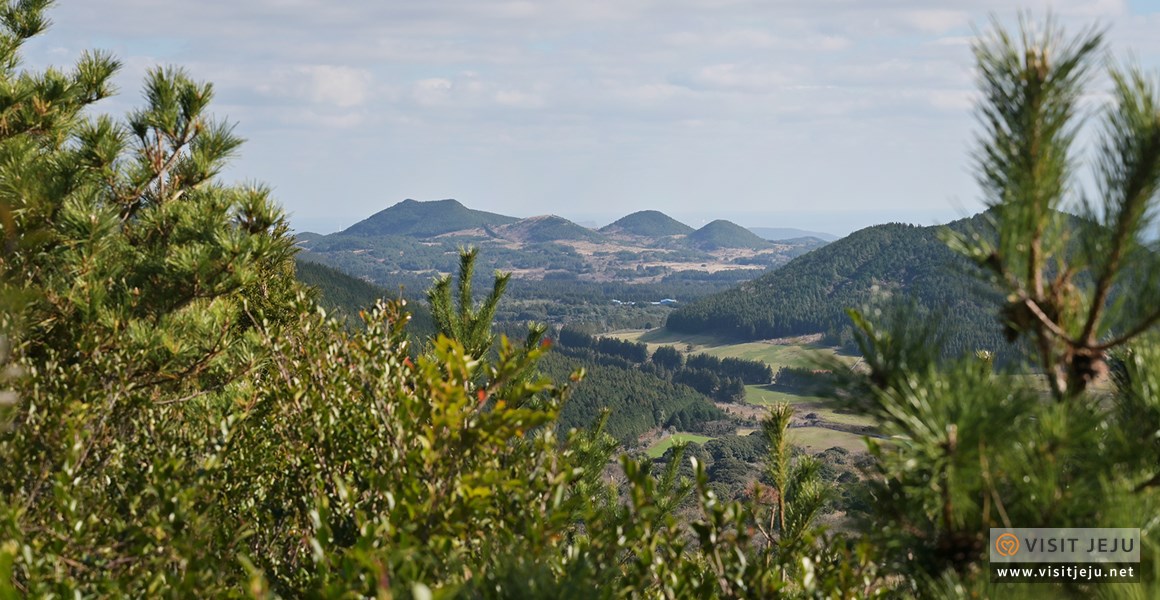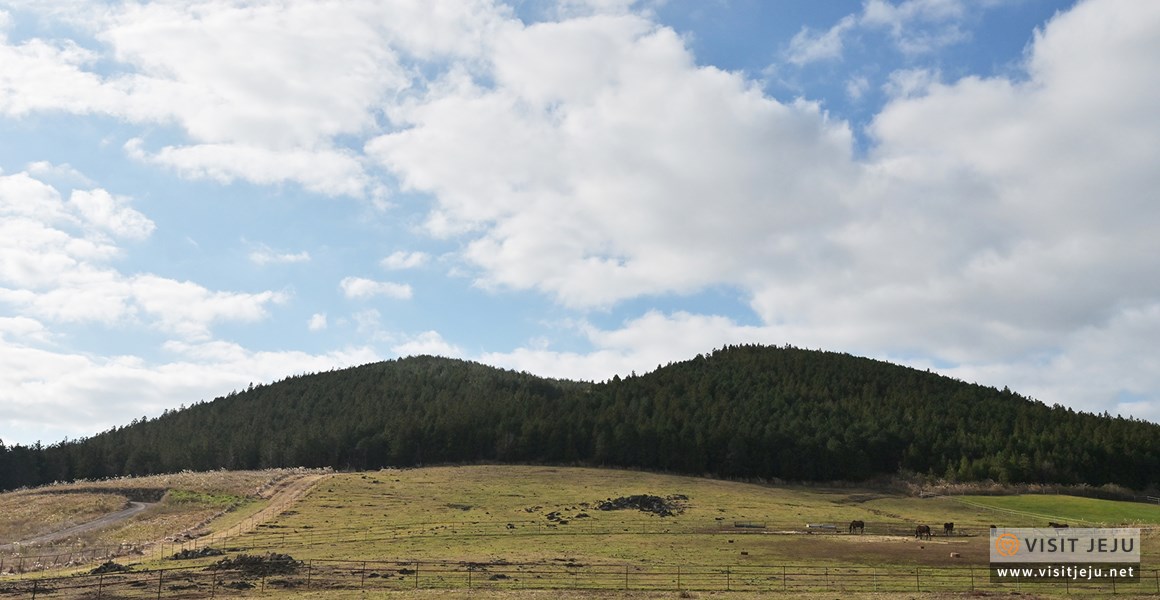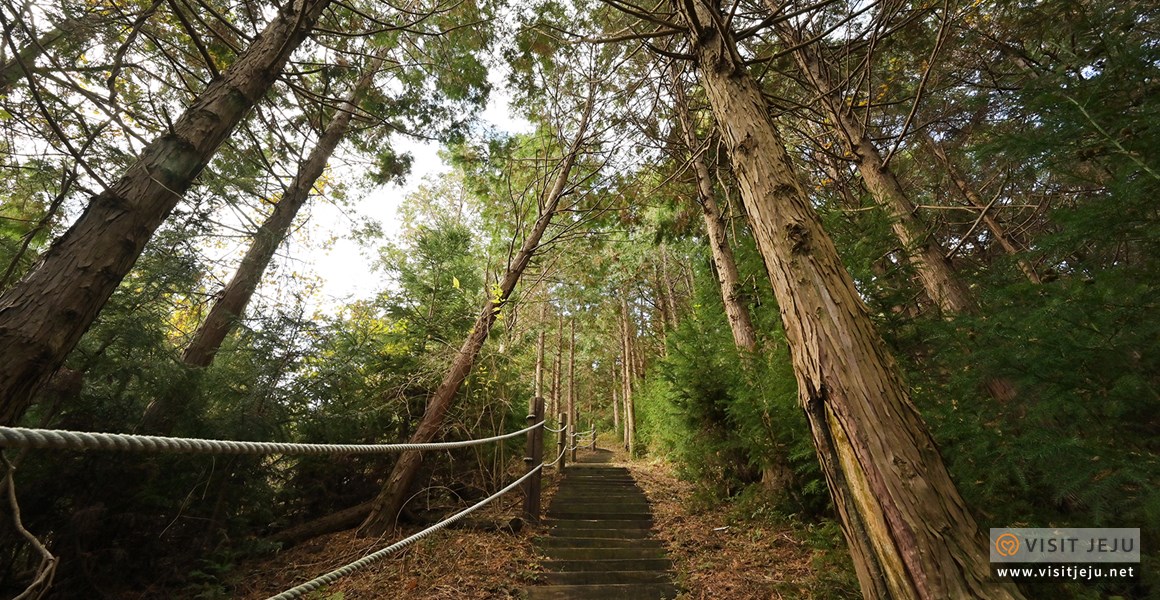 Always magnificent, but even more so today!
Sagye-ri
Sagye-ri is known for the magnificent charm of Yongmeori Beach and Sanbangsan Mountain, and the sun rising over Hyeongjeseom Islands in the Sagye Sea are must-see sights. But, there is even more at Sagye-ri. At low-tide, the green moss and rock figures on the beach sculpted by waves appears otherworldly. Even traces of Paleolithic Era such as human or animal fossil footprints, remain. Stylish cafes welcome those who are drawn to the mysteries of Sagye-ri. Some of these cafes are converted buildings and situated at the entrance to a cave, which add to the ethereal atmosphere. There is also an unusual bakery with appearance of hanok. Joo Seumjil Trail around the village is well known as a sight-seeing road. It's a 40-minute walk and there are convenient parking lots. Savor Sagye-ri, little by little, and remember that your presence makes it even more magnificent.
▸Sagye-ri: Sagye-ri, Andeok-myeon, Seogwipo-si
▸Joo Seumjil Trail (Parking lot at the opposite side from the entrance): 3612, Sagye-ri, Andeok-myeon, Seogwipo-si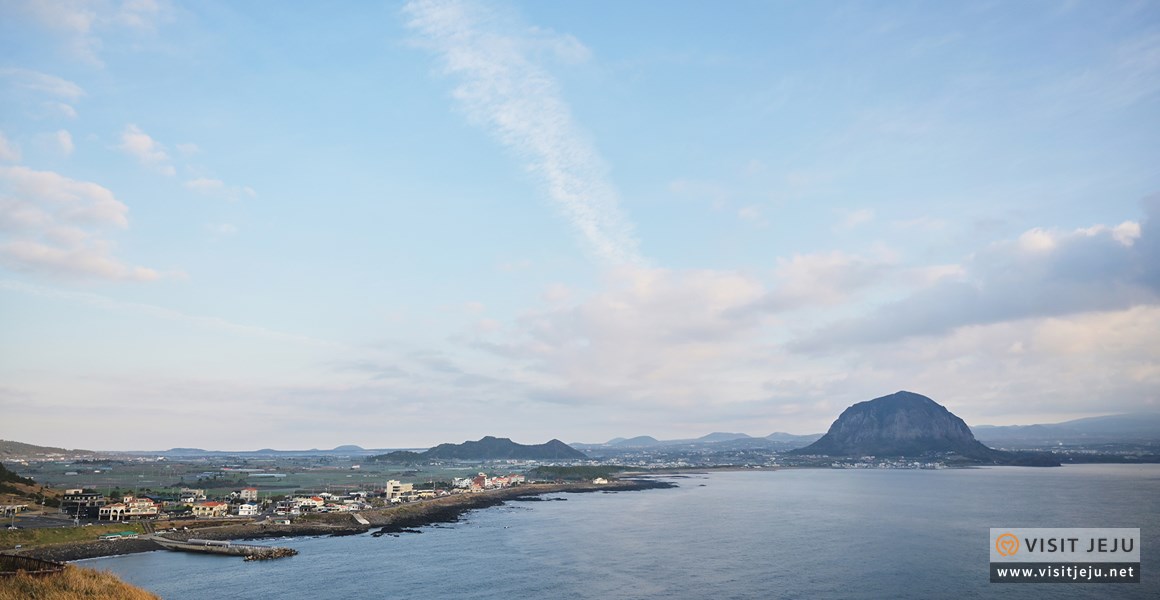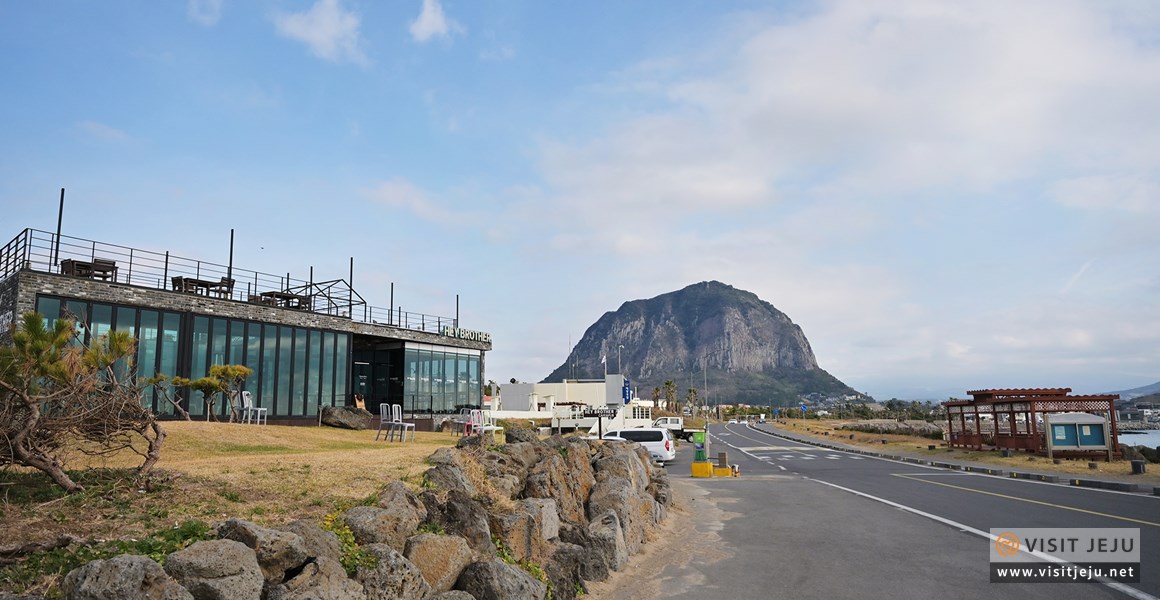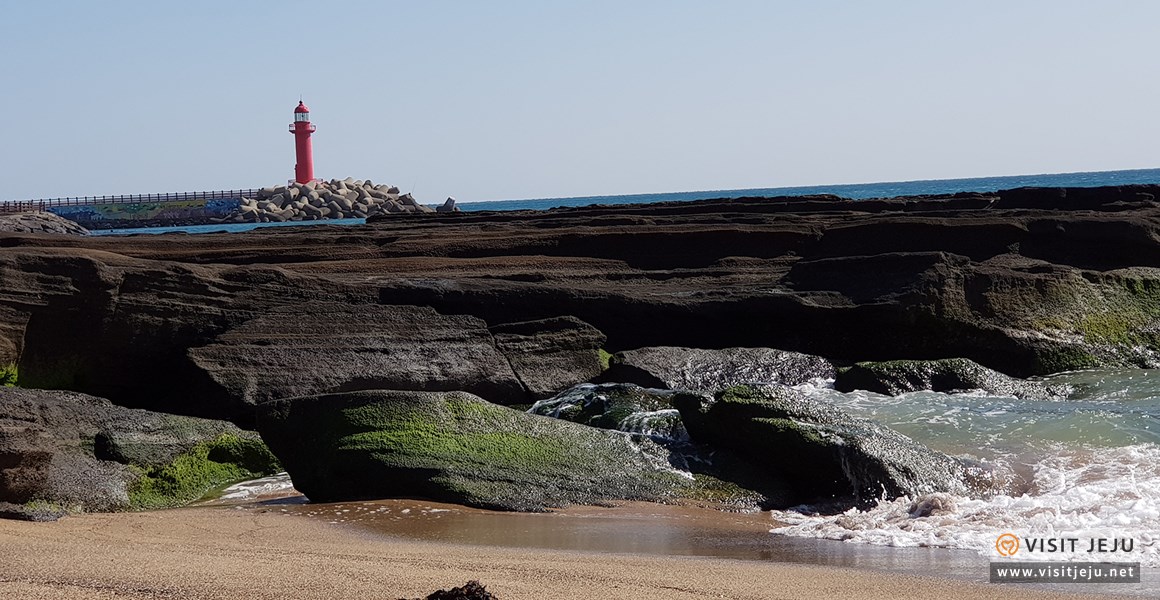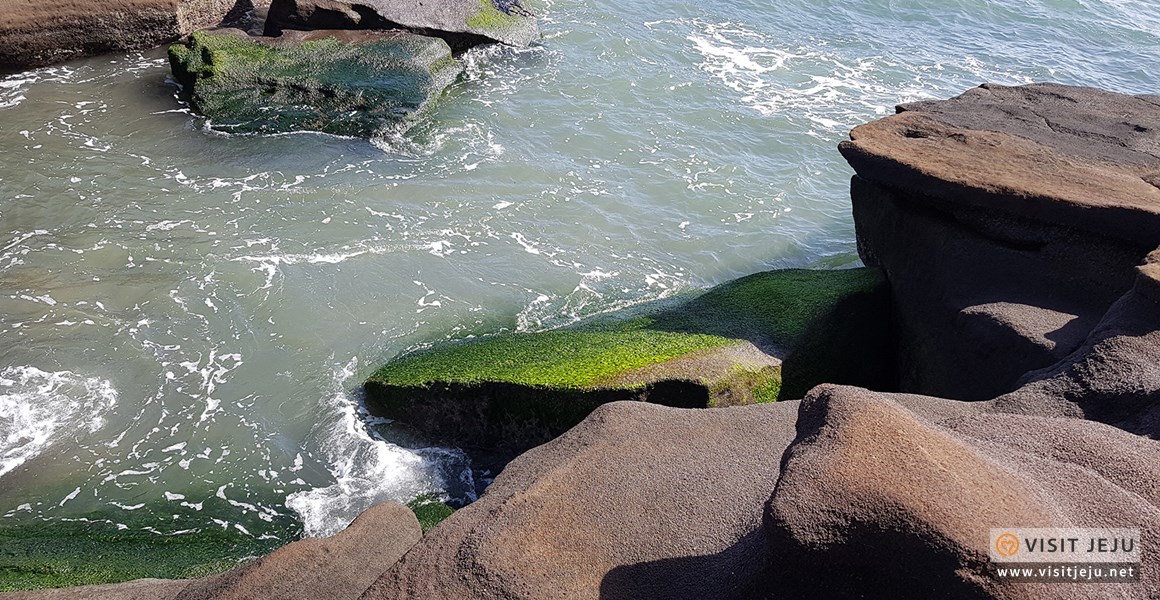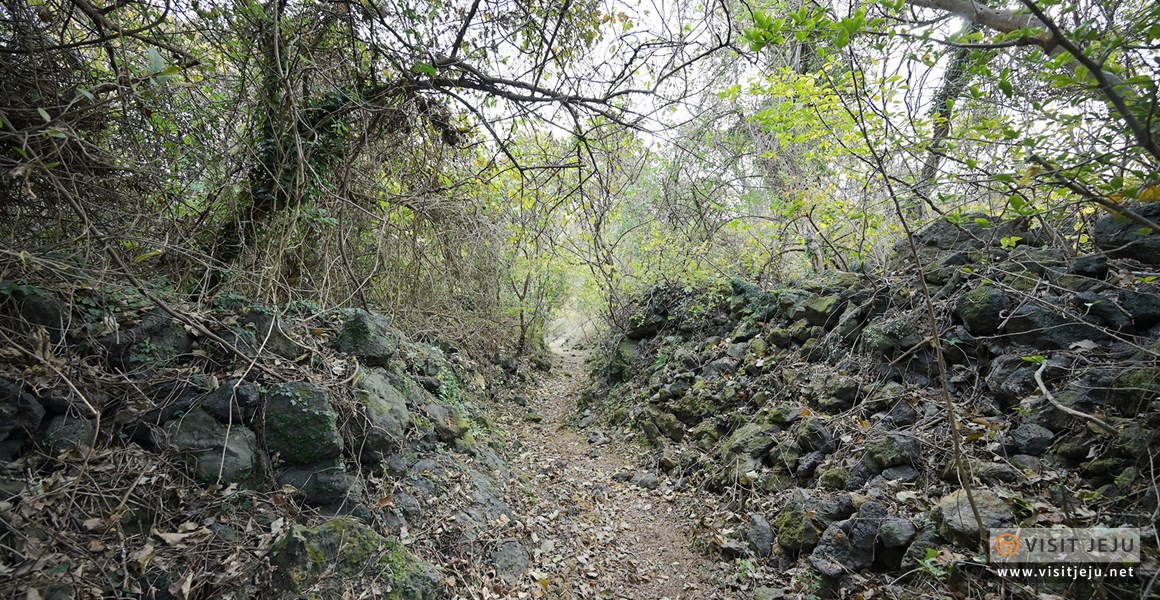 Tamna's appetizing tastes, tremendous happiness
Experience picking Redhyang and Hallabong citrus
Pick mandarins and more. Picking Experience of Redhyang and Hallabong, both of which feature rich taste and flavor, have been becoming famous among travelers. The fun of picking big fruit like a child's face is combined with the delight of presenting the fruits you harvested yourself to your loved ones. The harvest season differs according to species and it is said that Redhyang picking starts first followed by Hallabong. Since both are grown in greenhouses, the experience is available regardless of the weather and temperature. Make inquiries in advance for optimum picking time since these vary by species and area. Let's make sweet memories on Jeju.
▸Jeong Seok-won Farm (Redhyang and Hallabong): 404-1, Harye-ri, Namwon-eup, Seogwipo-si
▸ Haepoomeun Farm (Redhyang and Hallabong): 1073, Seoseongil-ro, Seongsan-eup, Seogwipo-si
▸ Jeju Jerahyang Farm (Redhyang): 410-2, Hacheon-ri, Pyoseon-myeon, Seogwipo-si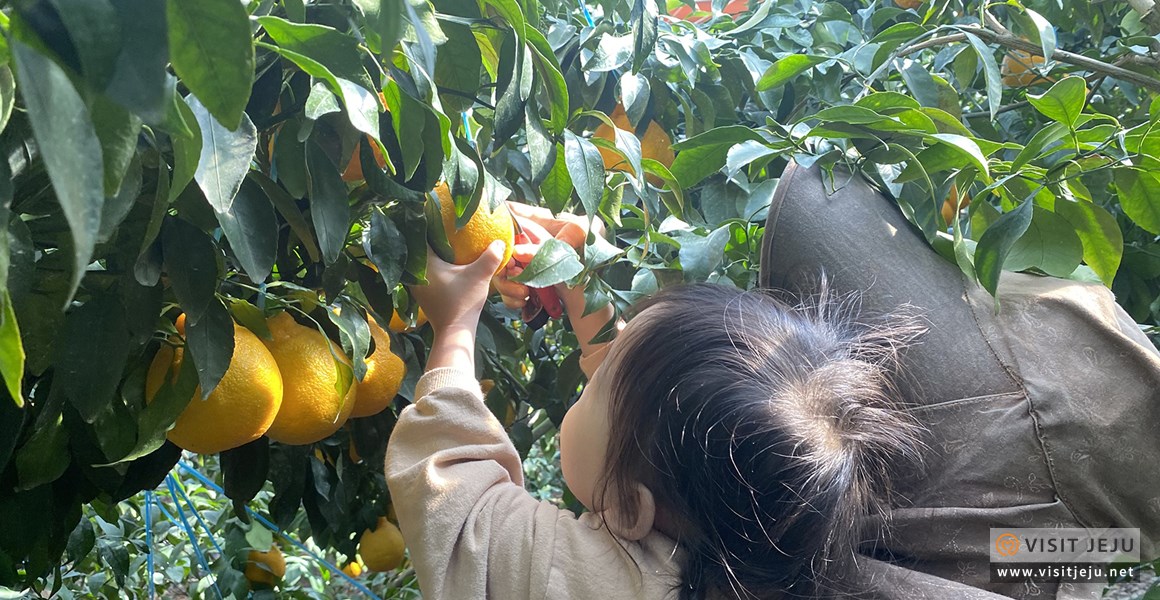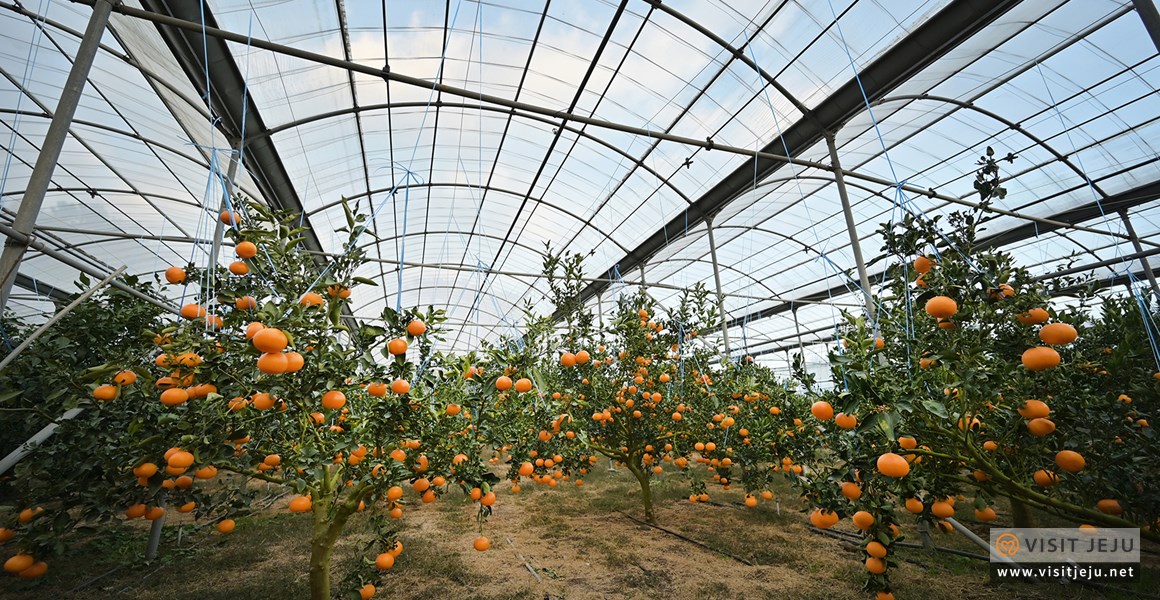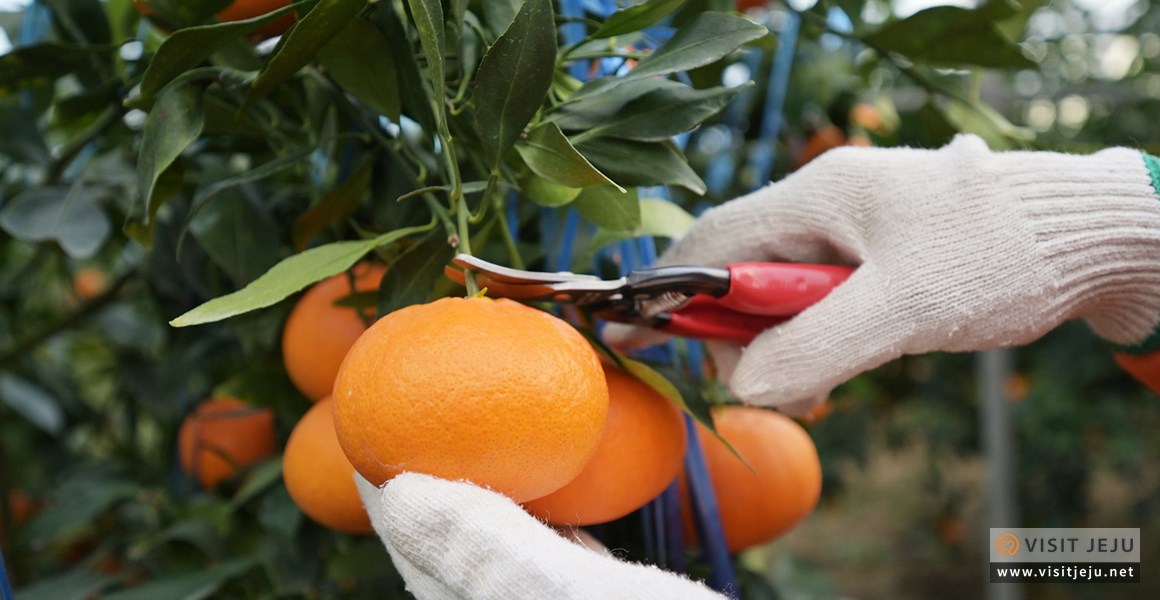 A dining table offering the quaint flavors of Jeju Island
How about sitting at a dining table full of delicious foods with the mood of a new start in the New Year? There are many kinds of special dish in Jeju; Jeju-style steamed pork slices and stewed mackerel with kimchi neatly placed in brassware. There are also some fusion dishes in Jeju; spicy stewed silver pomfret and set menu with batter-fried beef that a dexterous restaurant owner serves with mom's heart, and fusion food plated prettily with made-in-Jeju ingredients. From the the well-constructed old houses of Jeju to the spaces which stimulate SNS sensitivity! Restaurant's interior, table setting, and taste are all delectable! Most of all, even the price is nice. Always thanks to restaurants in Jeju where your investment for your loved ones is repaid with memories to last a lifetime and energy for the New Year!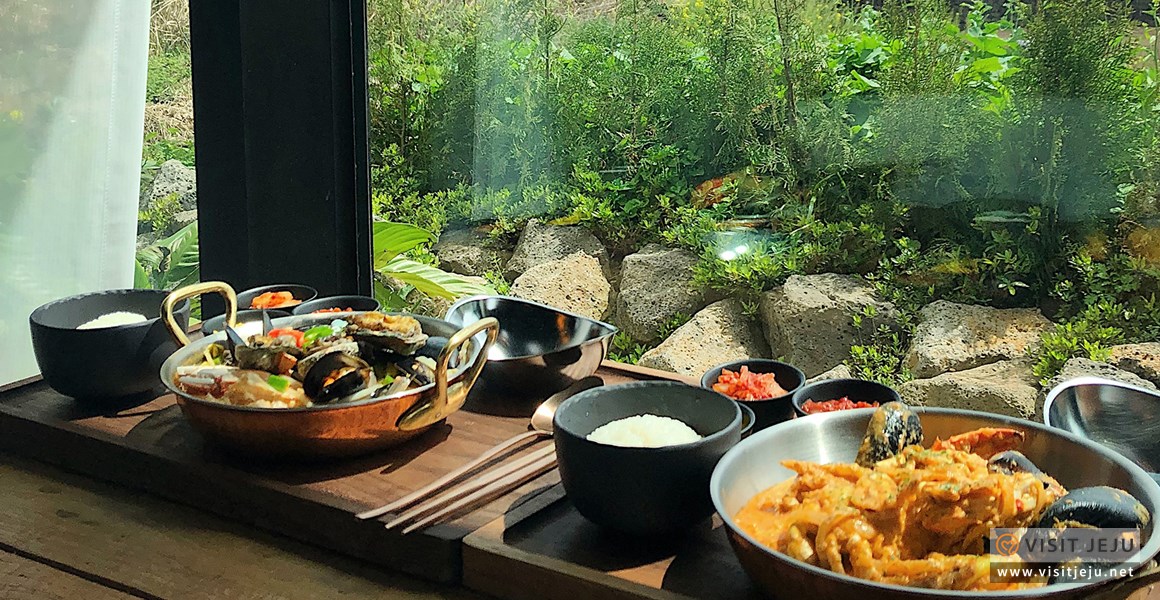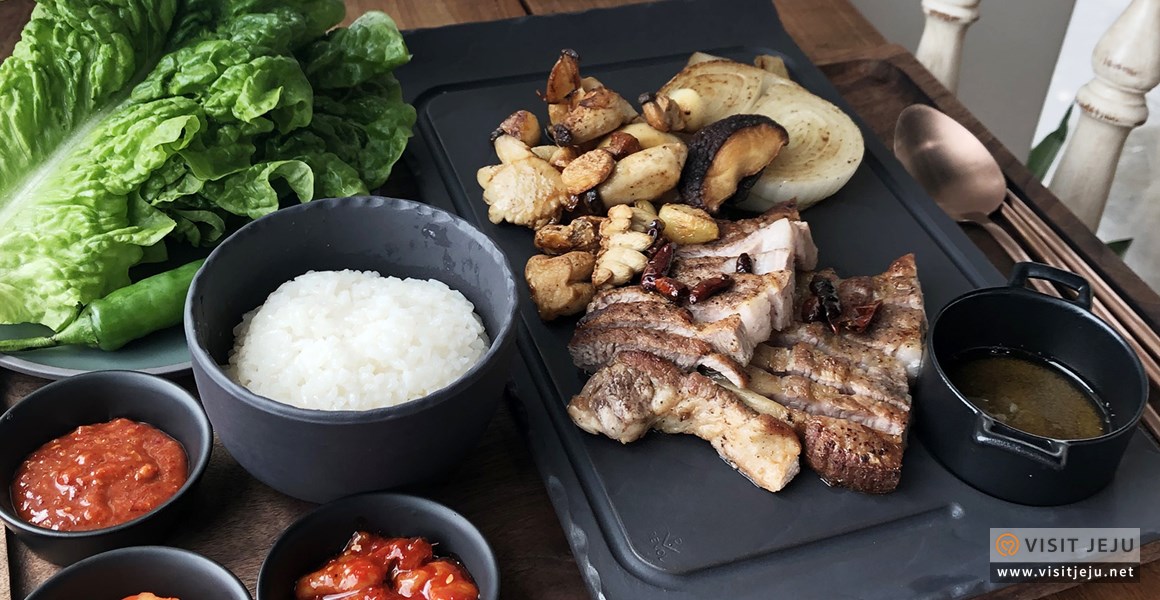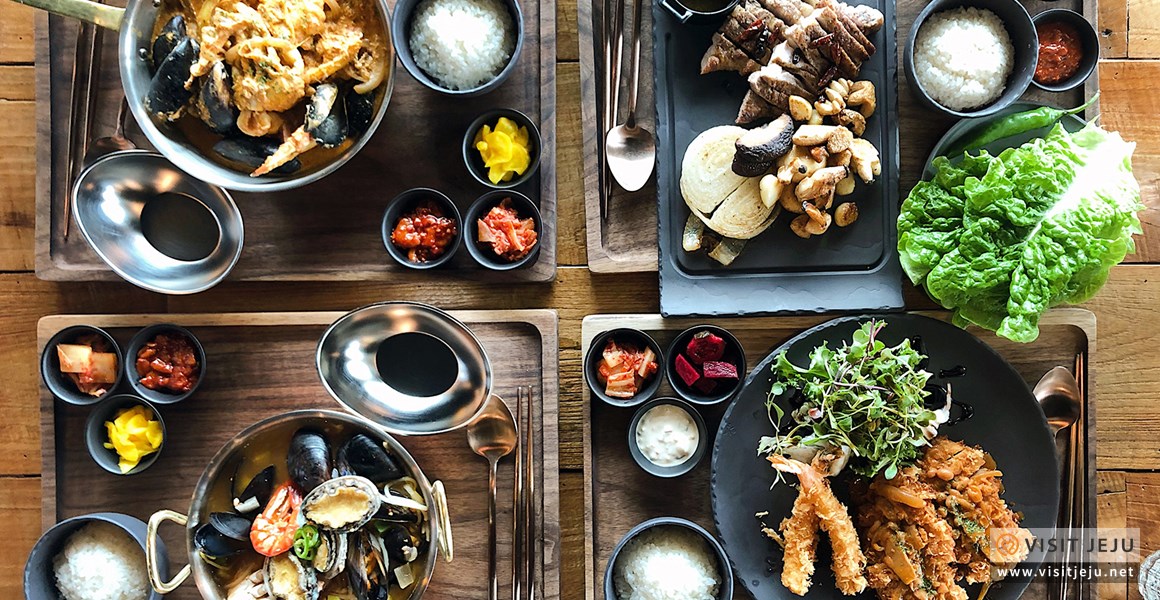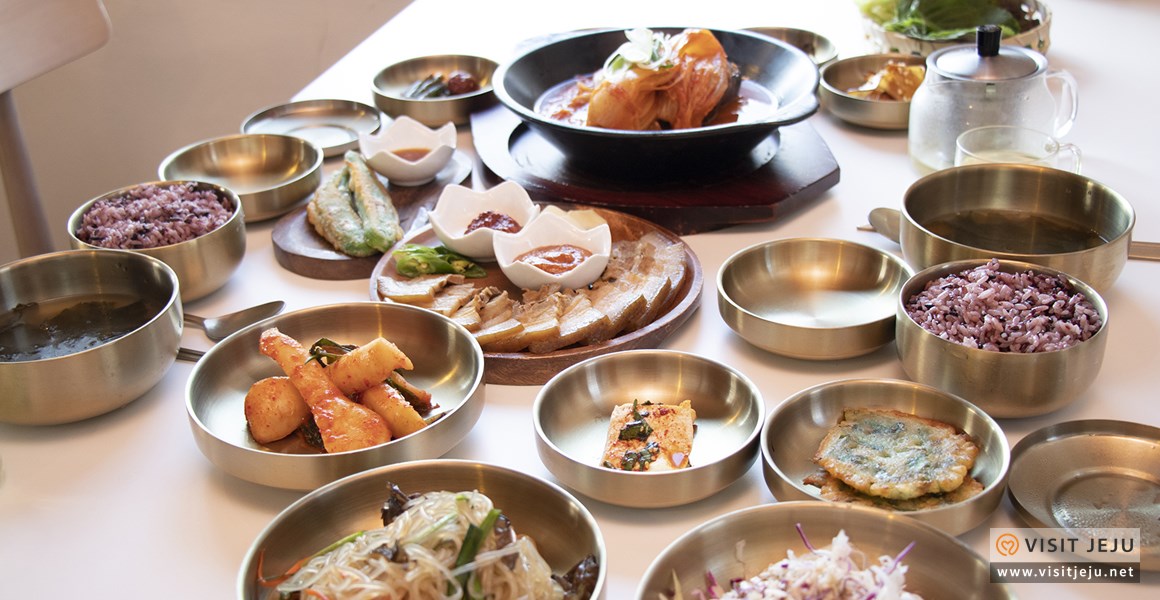 Notice

※ The above information was written on 2019-12-17. Please confirm the information prior to your trip.
※ Unauthorized use of the content above (text, photos and videos) is prohibited and subject to copyright by the Jeju Tourism Organization.